Jordan Fisher Thinks His Love Of Tom Holland Will Stop Them From Ever Working Together
"I feel like you'd leave me for [Tom Holland]," and I said [to my wife], "No, I'd see if he'd like to join us and, if he doesn't, then we'll just have to be homies."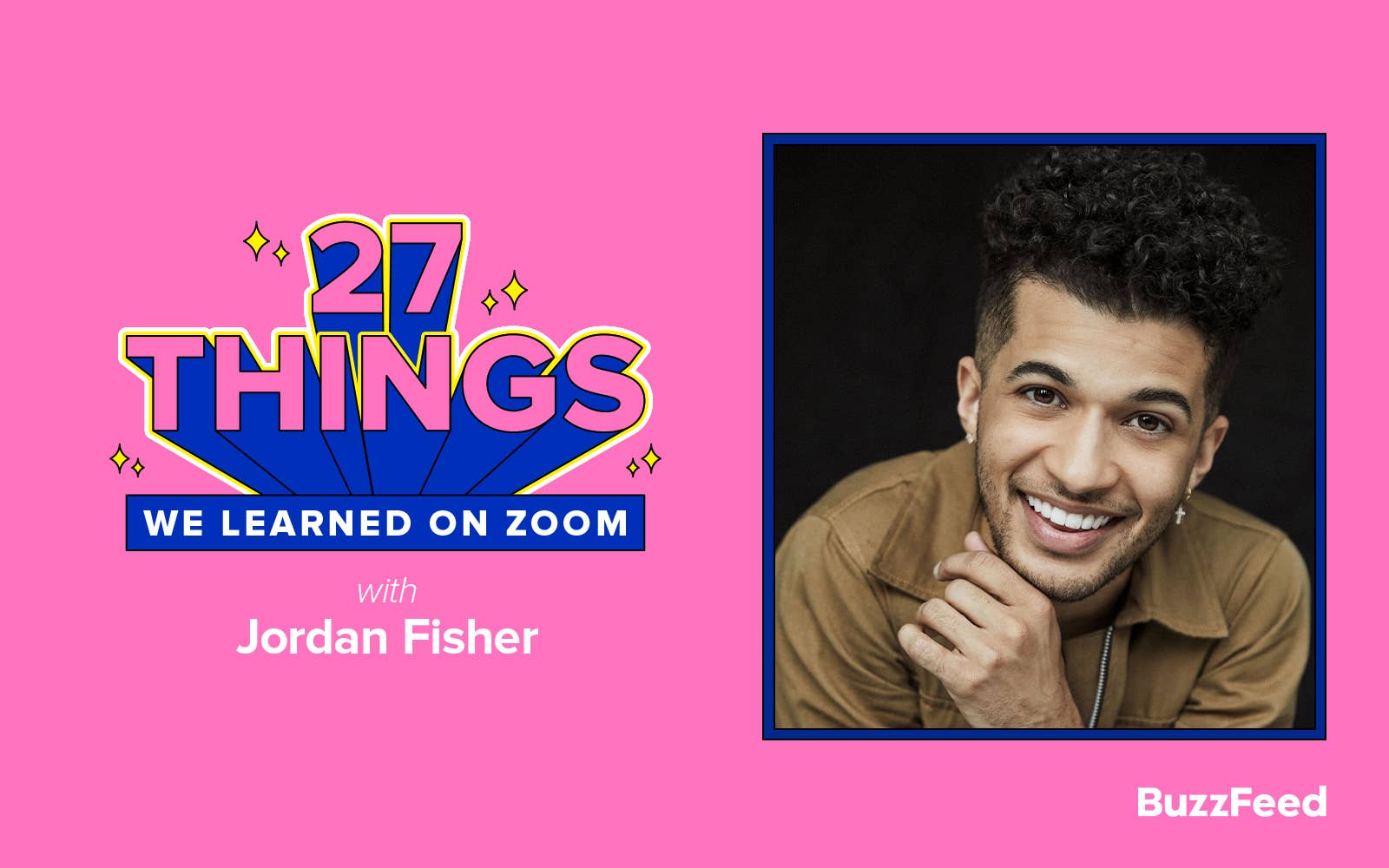 Last week, the amazingly talented and beautiful soul that is Jordan Fisher fit us into his booked-and-busy schedule to talk about his latest role, Archibald's Next Big Thing Is Here!, his love love LOVE for Tom Holland, and his life-long passion for Broadway. Here's everything else we learned:
1. What is the first thing you do in the morning?
I let my dogs out and then I'll follow that up with a cup of coffee. Anything that I do in the morning, I do to get to my coffee.
2. What are you currently binge-watching?
What am I currently binge-watching...[turns to his wife, Ellie]. Am I currently binge-watching anything? Well, we just watched The Righteous Gemstones on HBO. We're late to the show, but we cooked right though it. BUT, if I'm going to sit down and watch anything — you know, not for work, but for enjoyment — it's usually going to be anime. Or sports. OH OH, WandaVision! It's probably my favorite show that I'm watching at the moment.
3. Name a celebrity on your bucket list to collaborate with on a project.
Well, anyone who knows me/follows me on the internet knows I'm obsessed with Tom Holland, but, I imagine at this point, he'll probably never want to work with me though, 'cause I'm probably kinda creepy to him [laughs]. My wife and I were talking about it and she was like, "I feel like you'd leave me for him," and I said, "No, I'd see if he'd like to join us and, if he doesn't, then we'll just have to be homies." But if I had to give you a REAL answer, it would be Steven Spielberg and John Williams.
4. If anyone could play you on Broadway, who would you pick?
Patti LuPone.

5. Who was your childhood celebrity crush?
Oooh, Emma Watson and the actor who played Fleur Delacour in Goblet of Fire. [Writer's note: he's talking about Clémence Poésy.] I would also say Eva Mendes in Hitch specifically — she was something else.

6. What's a typical day like working on Archibald's Next Big Thing Is Here!?
I will always love working in the voiceover world. There's nothing like getting in the booth, in your sweats, with a cup of coffee in your hand, and the material's in front of you, and the director or creator wants a few takes and then they're like, "OK, just be stupid. Have fun with it." I [got to] go to work and play every day, which is atypical for the industry. I've gone in a onesie before, in a beanie, and spent three or four hours just being obnoxious and laughing and open and willing to be balls-to-the-wall.

I'm so fortunate that I've been so busy. Maybe that's my [quarantine] hobby: counting my blessings every day.
7. Have you picked up any new quarantine hobbies?
I have zero time to pick up any new hobbies. Truly, Ehis, I can't. It's actually a bad habit of mine — you have an addictive personality, [Writer's note: I mentioned this earlier in the interview off-handedly] well I have an obsessive personality, so when I find something that I get into, I get into it 120% and that's all I want to do. But, between starting a production company, [Twitch] streaming, everything I do in esports, being a content creator, an actor, a writer, an artist, a producer...I can't [pick up anything else]. AND, I have a WHOLE WIFE! We're trying to start a family, we have dogs — but, honestly, I'm grateful that I haven't had time to pick up any new hobbies during COVID/in quarantine. I'm just so fortunate that I've been so busy. Maybe that's my hobby, counting my blessings every day.
8. Who was the last celebrity you exchanged DMs with?
I don't know if you consider Starbucks a celebrity...? But I've been DMing with Starbucks and Lana Condor 'cause we just did an UberEats press thing for her new movie.
9. What is the most-used emoji on your iPhone?
Definitely the laugh-crying emoji: 😂
[Writer's note: we then went on to discuss how, even though Gen Z no longer thinks this emoji is cool, we're still gonna use it because it gets our point across.]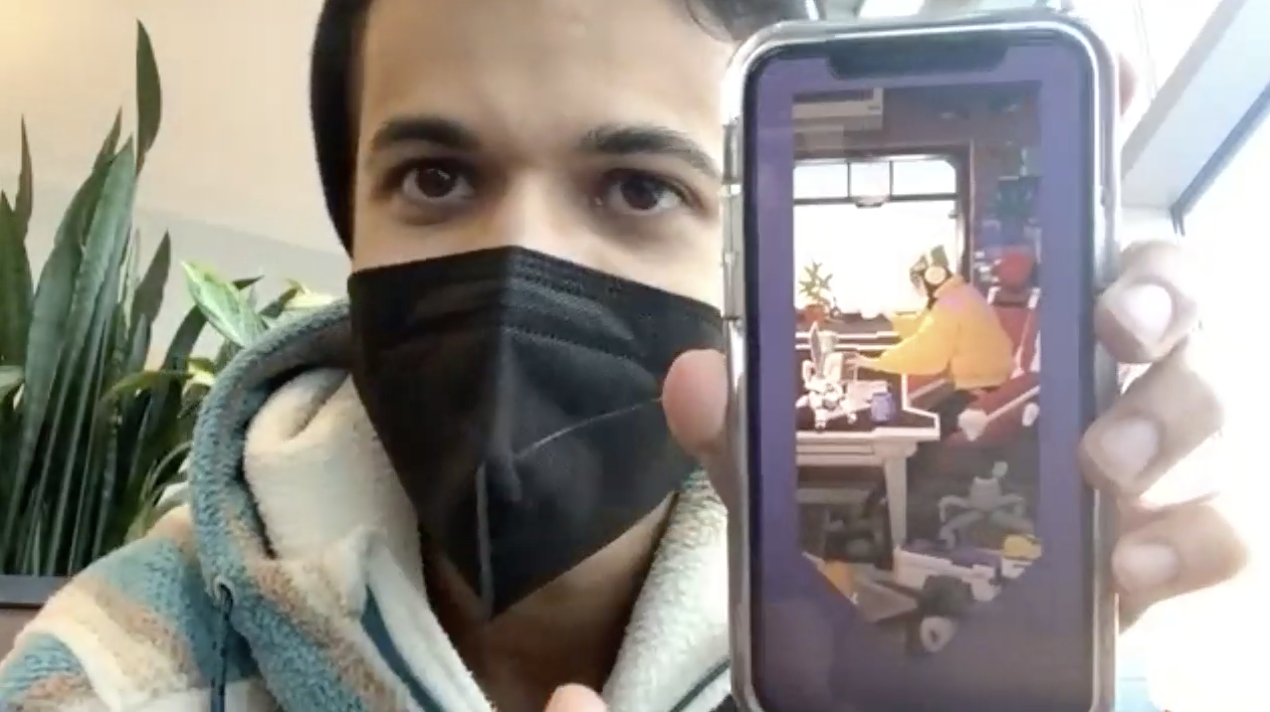 10. What is your current iPhone wallpaper?
[Writer's note: Jordan and I got side-tracked and off on a tangent, so I'll summarize his wallpaper. It's a custom render of his favorite video game character — Killjoy from Valorant — listening to lo-fi hip-hop from one of his favorite channels, Chilled Cow.]
11. What was your favorite memory from Hamilton?
Oh, I definitely have a few. I mean, I could be mushy and tell you that that's when I fell in love with Ellie, which it was. But if I'm being very specific in terms of MY Hamilton experience, it'll probably be opening night — you know, there's a rush. It was my Broadway debut, and my first dream was being on Broadway and it took so long to make that happen. Before a new cast member makes their debut on stage, there's a big prayer circle in the green room, and everyone lays hands on you and gives you all the strength and courage and juice you need to go on. The term we use is "shove with love."

12. Who are you most similar to: John Ambrose McClaren from To All the Boys: P.S. I Love You, Jake from Work It, or Doody from Grease: Live?
Prooooooooobably John Ambrose. You know, real sensitive, old soul, friend-zoned a lot. We look a lot alike, too — dad jokes for days, we both play piano...yeah, I'd have to say John Ambrose.

13. Which do you prefer: acting on screen, recording music, or performing on Broadway?
Broadway, for sure. That will always be my favorite — there's nothing like it. There's a really great quote, I'm pretty sure Denzel [Washington] said it, "TV and film pay the bills; Broadway pays the soul." I live and die by that.
14. Name three of your favorite musicals.
Of all time? Oh, boy. How about I tell you the three musicals that most inspired me? [Writer's note: I allowed it.] Once on This Island, Wicked, and Rent.
15. If you could pick anyone — living or dead — to invite to dinner, who would you pick?
[Long pause] Alan Rickman. Also, for sheer entertainment, Prince. I just want him to be shady and spill the tea.
16. Which was harder: Dancing with the Stars rehearsals or Broadway rehearsals?
Dancing with the Stars — it's a pretty grueling experience, but worth it! But the scariest part was learning something new and mastering something new every week. I'd never moved my body in that way before, and whether it was shitty or not, we had to perform live every Monday.
17. What was your most starstruck moment?
Probably the very first time I met Justin Bieber. Also, when I met Steph Curry — I'm pretty sure I didn't say words.
18. What is the best gift you've ever received?
My wife.

19. What is the best thing that's ever happened to you?
Therapy.
20. What is your go-to adult beverage?
Rye Manhattan on the rocks. It's pretty much a daily cocktail [laughs]. [Writer's note: Jordan suggested to me — and anyone else into mixology/pairing foods and drinks — to purchase The Bar Book for your bar cart.]
21. What is one thing you cannot leave your house without?
Well, technically, my keys. I'm not precious [laughs]: my phone, my wallet, my car keys, my mask, my smile. [Writer's note: Alexa, play "You're Never Fully Dressed Without a Smile."]
22. What is something you've always wanted to learn how to do?
Well, I've always had a thing for languages. When I'm practiced up, I'm semi-conversational in a few, but I would like to be completely fluent in multiple languages. Aside from Sarcasm and English, I'd love to be fluent in Japanese, Russian, Spanish, and American Sign Language. There's something about communication that I love — to be anywhere in the world and be able to speak [anyone's native] tongue.
23. Do you have any guilty pleasures?
No — any of my pleasures outside of work [come with] zero guilt. But I do love anime. OH, okay, I guess I have one: Keeping Up with the Kardashians and The Bachelor.
24. What is your go-to comfort food?
Tomato bisque and grilled mac & cheese.
Team Peter for now; team John Ambrose for forever.
25. What's the last book you read?
Jordan: Field Notes on Love by Jennifer E. Smith.
Me: Was that for work or for pleasure?
Jordan: ...I can't answer that question.
Me: OOOP!
26. What is the best piece of advice you've ever received?
It's not a phrase, but the mindset of when you're on your deathbed, you're not going to be concerned about your work or your career, you're going to be concerned about the people you're surrounded by. I don't live to work, I work to live.

27. Finally, most importantly: #TeamPeterK or #TeamJohnAmbrose?
Team Peter for now, Team John for forever.

Thanks for chatting with us, Jordan! Be sure to catch him in Archibald's Next Big Thing Is Here!, now streaming on Peacock.