Gay rap?! That may seem like an oxymoron, but N'awlins reppin' and openly gay rapper Fly Young Red proves that those terms don't have to be mutually exclusive. In fact, he definitely throws down the gauntlet on that in his video "Throw That Boy Pussy," which dropped Tuesday.
The video, directed by Level8Studios, opens in typical rap fashion with Fly Young Red wearing a gold fitted cap, chain, and jersey clappin' and chillin' solo to the beat, evocative of Soulja Boy's "Crank That." He says, "I'm about to make them dance now. Yeaaah!"
Enter oiled down booty-clappin' video vixens—right? Absolutely wrong. Unless those vixens are twerkin' "Fly Boy Dancers."
Penetrate Fly Young Red's world where he prefers to be surrounded by flowing bottles of alcohol and an assful of wobbling, fiercely flexible 'gentleman'—boy pussy at its finest.
He raps unabashedly, "Roll that boy pussy / Yeah, you got me lookin' / Thinkin' 'bout f*ckin' / Let me get a rubber." These vulgar, hyper-sexualized lyrics are blunt enough to make even mainstream, straight rappers blush.
Fly Young Red says the inspiration for the song came from seeing MILFs, that's—men I'd like to f*ck—in the club.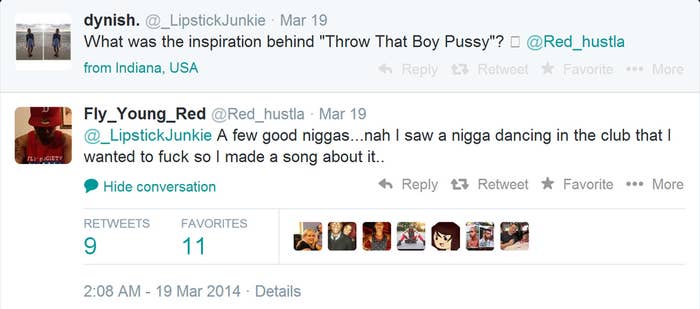 While the song is bound to arouse ire for some, the beat is so hard and club-banger worthy. It's sure to be a crowd-pleaser at a gay club near you—actually, at ANY club near you.
The raunchy single is merely a sample of what's to come from Fly Young Red's soon to be released mixtape, "Pretty Boy Realness."
Too hot and bothered to hold out till its release? Hit up Red's 'The Worst Jhene Aiko Remix.'
Fly Young Red's entry may just be what hip-hop needs to foment a whole new subgenre, with "Throw That Boy Pussy," its classic.