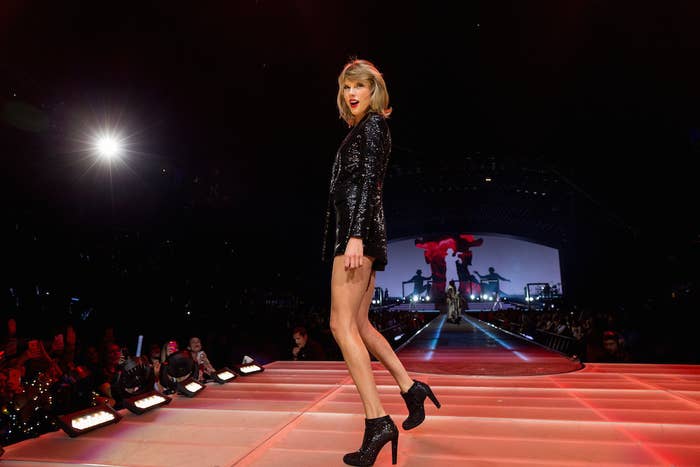 A little more than halfway through Taylor Swift's sold-out concert Saturday night at the Staples Center in L.A. — after she had sung a duet of her 2008 song "White Horse" with Orange Is The New Black star Uzo Aduba but before she brought Chris Rock, Matt LeBlanc, and model Sean O'Pry to "walk the runway" while she sang "Style" — she stood in front of the 15,000-person crowd and had a little chat with everyone there.
"If there's just a few things you remember from tonight," she said, "please remember these things: You are not the opinion of someone who doesn't know you. You are not damaged goods or tarnished if you've made a few mistakes in your life. … Instead of letting those things define you, instead of wallowing in those things, you decided to get dressed up, go to Staples Center, and have the best time ever with me, tonight."
"This is some Tony Robbins shit," my friend whispered to me — if the motivational speaker and "CEO coach" Tony Robbins were a size 0, 5'11" blonde goddess with a perfect tan and teeth so white they glow, wearing multiple sets of sparkly crop tops and hot pants throughout her show, with an audience of thousands of screaming teenage girls, screaming twentysomething women, moms, gay men, straight men (dude in front of me who knew all the words to "Blank Space": respect.), couples on dates, and — sitting briefly in front of us before he went back to his seat, pausing on the way to take a selfie with a fan — Taylor's dad, the stockbroker Scott Swift, wearing his all-access pass on a lanyard resting on his button-down Ralph Lauren shirt with rolled-up sleeves. Scott and Taylor's mom Andrea are rumored to be controlling stage parents, but it seems unlikely that Taylor got where she is with parents who were willing to just sit back and let things happen. Besides, if your progeny were on track to gross over $100 million on a world tour, you might be a little obsessive too.
Regardless, there is something about this current incarnation of Taylor Swift that has taken the tenets of self-help and cleverly mixed them with self-aggrandizement disguised as aspiration. She still sings "You Belong With Me" in concert, the song with the famous lyric "She's cheer captain and I'm on the bleachers." Now that she's so far removed from that girl on the bleachers — with friends like Lena Dunham, Cara Delevingne, Karlie Kloss, Selena Gomez, the Haim sisters, and Jamie King giving testimonials about her on a big screen during every costume change, talking about what a great friend she is and how much she loves her cats — maybe she still sings it because she doesn't just want us to believe that the girl on the bleachers still exists somewhere deep inside her. She needs to believe it too. Because if the girl on the bleachers can sell millions of albums and become a fashion icon and bake cookies in her $20 million New York apartment with her besties, then maybe you — yes, you, girl on the bleachers over there — can too.
Of course, you probably can't. But that's the rhetoric Taylor Swift is selling these days, rhetoric that feels like she's setting herself up for something bigger, that now her music career is only the means to a bigger world-dominating end, one where she becomes some mutant mix of Oprah and Madonna and Blake Lively and, still, that relatable girl on the bleachers. Because now, when people become famous on social media in five minutes, maybe it's important for her fans to think that it's realistic to aspire to #taylorgoals also.
She brought us here gradually. The other time I saw Taylor Swift in concert was almost four years ago at Madison Square Garden, and back then, her audience skewed much more female and much younger. Back then, in 2011, her concert was a festival of tweens, of 12-year-old girls there in groups of five with a bored-looking mom or dad as a chaperone; now, the 12-year-old girls are a little older, and mom and dad are singing along. Back then, Taylor's hair was longer and more wavy. Back then, she still played guitar on more than a couple of songs. Back then, she still made a heart symbol with her hands to the crowd and wrote messages to fans in marker on her arms. Back then, she still made a big deal about her favorite number (13).
The MSG show was the last night of the tour in support of her 2010 album Speak Now, the album where she definitively established herself as the leading practitioner of the extremely thinly veiled diss track. Speak Now is the album with "Dear John," the song that's clearly about her terrible-sounding relationship with John Mayer, which she has denied is actually about him ("I didn't say anything about the person's identity. 'Dear John' is a well-known concept," she told Rolling Stone in 2012), "Mean," the song about journalists who said mean things about her in the wake of her performance with Stevie Nicks at the 2010 Grammys, and "Better Than Revenge," the song that's allegedly about her ex Joe Jonas's ex Camilla Belle, who supposedly stole Jonas away from Taylor.
Taylor Swift doesn't perform those songs in concert anymore. In fact, she usually doesn't perform any songs from Speak Now these days. The only non-1989 songs she performed at Staples Center were from 2008's Fearless (besides her duet on "White Horse," she also sang "You Belong With Me" and "Love Story") and 2012's Red ("I Knew You Were Trouble" and "We Are Never Ever Getting Back Together").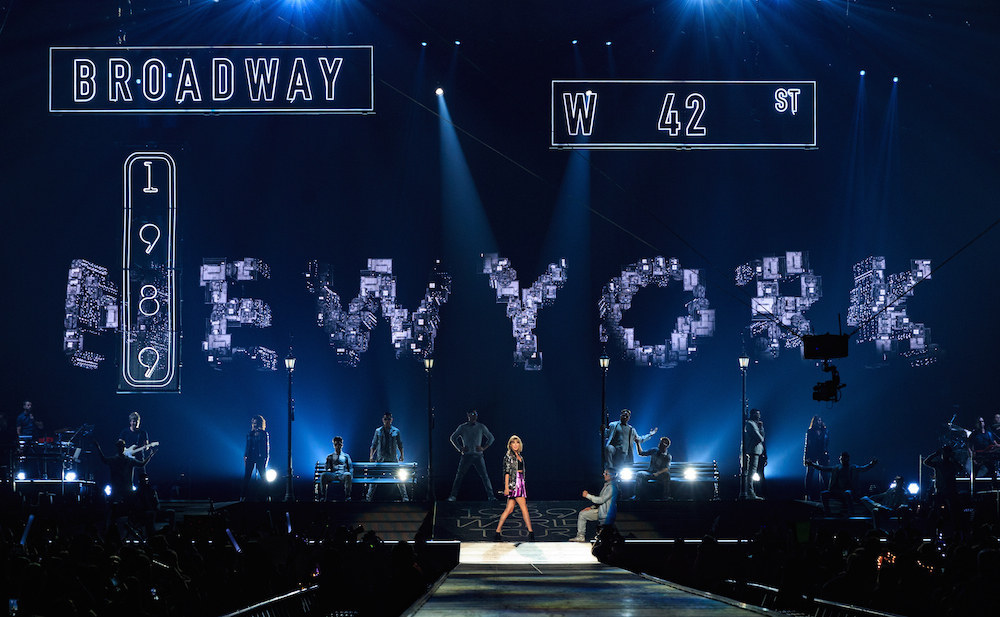 In 2015, no matter where she's performing that night, Taylor opens her show with "Welcome to New York," the ode to the city she's lately been calling home most often. It's a little incongruous to hear it performed in the middle of downtown Los Angeles, but maybe she's communicating something bigger: Moving to New York signified a shift for Brand Taylor, from a persona that could sometimes seem like a little girl playing dress-up, trying on everything from different outfits to different guys, to becoming a Grown-Ass Woman. She doesn't seem to be spending as much time in Nashville, at her condo that's been described as "Shabby-Chic Alice in Wonderland," with its life-size birdcage and topiary rabbit; instead, she bakes cookies and hosts slumber parties at her lofty Tribeca condo.
Because the biggest difference between 2011 and 2015 Taylor seems like it's in who she's telling us she wants to be, what the fantasy is that she's selling not just to her audience, but more crucially, to herself. On tour in 2011, she seemed to be living out a fairy-tale princess fantasy — she wore ball gowns; she got "married" onstage in a big chapel wedding; she even "flew" over the audience.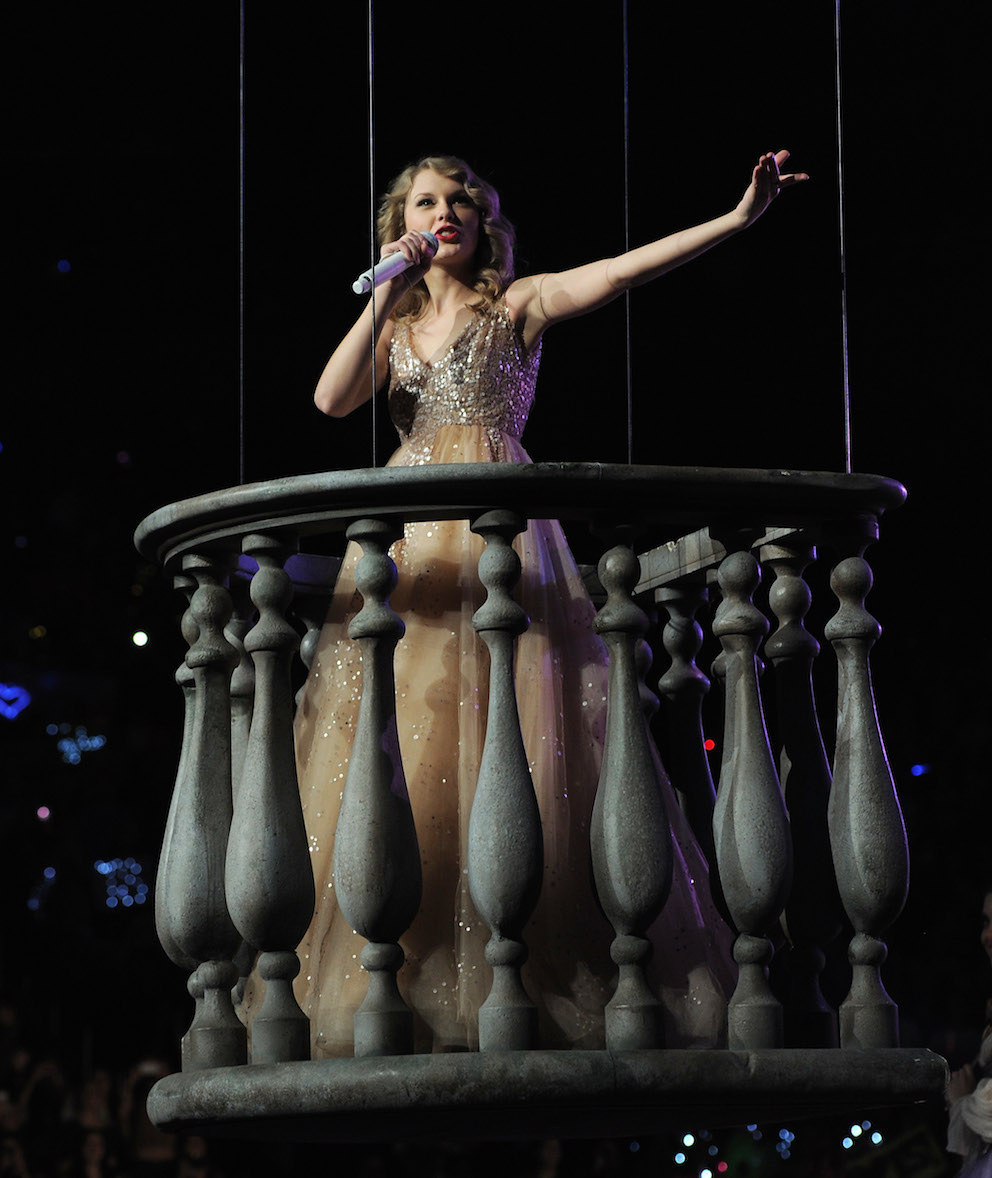 In 2015, she's living out a New York "It girl" fantasy — in her music, in her live shows, on Instagram. And with all her talk of #squad, what she's actually done is reframed the Mean Girl narrative of high school cliques into one where even the pretty girls are nice. "It's nice to be around girls that are really, really supportive," Selena Gomez says earnestly in one of the testimonial interludes. At another point, the Haim sisters just chant, "Squad! Squad! Squad! Squad!" But almost no one in her squad is fat, or unattractive, or not white.
It's also a version of female friendship that suggests that no one ever gets in fights, no one ever steals anyone else's boyfriend (Taylor told Vanity Fair that she and her friends don't care if they date someone another girl in the group has already dated: "The sisterhood has such a higher place on the list of priorities for us. It's so much more important than some guy that it didn't work out with"), and no one ever spends time alone. If you're not out doing the most fun things EVER with your squad, are you really even living?
But of course, even Taylor gets in fights. After all, 1989's "Bad Blood" is almost definitely (Taylor refuses to confirm) about her simmering feud with Katy Perry that may or may not be mostly about John Mayer and a backup dancer. She performs "Bad Blood" wearing a black latex catsuit, against a "gritty" backdrop of a water tower and apartment buildings, while her backup dancers do flips around her. The Taylor of shabby-chic Alice in Wonderland looked too nice to get in a fight, but this is don't-fuck-with-me-or-else-I'll-put-a-shark-onstage-to-mock-you Taylor.
Taylor's been bringing guests onstage forever — she's even sung duets with now-personae non gratae Mayer, Perry, and Joe Jonas, as well as newer frenemies like Nicki Minaj — and it's hard not to want to read into the choices she makes for her guests and the song(s) they sing with her. Because on Saturday night, when she brought Mary J. Blige on stage, they sang "Family Affair" and "Doubt" together. Even though "Family Affair" may be the more iconic of the two — "no more drama in your life" — it's "Doubt" that has the more relevant, I think, lyrics: "I made it to the end / I nearly paid the cost / I lost a lot of friends / I sacrificed a lot / I'd do it all again / 'Cause I made it to the top / But I can't keep doubting myself anymore."
Taylor's whole ethos is predicated on the fact that this doesn't have to be true, or at least, doesn't have to seem to be true on Instagram. Maybe she'll actually be right.