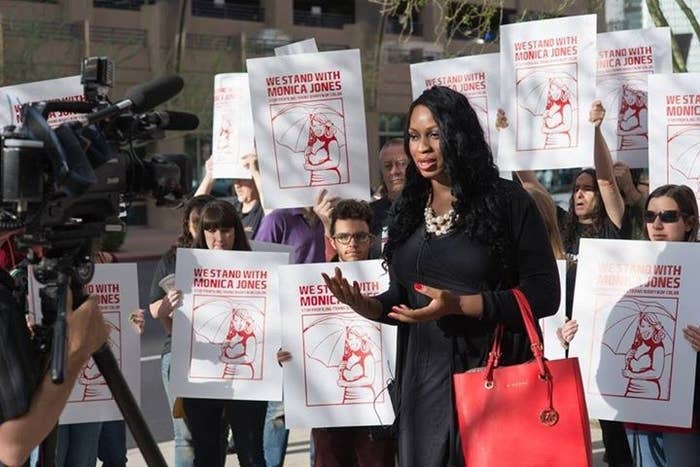 In a case that drew national attention over nearly two years — and accusations that Phoenix, Arizona, allows the profiling of innocent transgender women as sex workers — prosecutors have dismissed charges against Monica Jones.
"The case against her is officially over," said attorney Jean-Jacques "J" Cabou, who represented Jones along with the American Civil Liberties Union. "Monica never has anything to fear resulting from her arrest that night."
"We won a total victory on that front," Cabou said Wednesday in a phone call with BuzzFeed News.
But on another front, Jones reached a stalemate. She will not get a chance to overturn the law used to prosecute her in the first place — a law she recently told BuzzFeed News "unfairly targets women, transgender women, and people of color living in poverty."
By scuttling the criminal charges, prosecutors avoided Jones's recent legal challenge to the Phoenix ordinance that prohibits a nebulous concept of "manifesting intent" to commit prostitution. Critics say the law gives police license to arrest people for engaging in lawful activity, including talking to passersby, without evidence that the person actually planned to do sex work.
Jones was arrested in May of 2013 after she accepted a ride from an undercover cop conducting a prostitution-related sting. A municipal court found her guilty and sentenced her to 30 days in jail, but Jones appealed the charges to Maricopa County Superior Court, which voided her conviction this January on the narrow grounds that she received an unfair trial.
While Phoenix prosecutors considered re-trying Jones in the lower court, Jones and her legal team appealed the case to a higher state appellate court, arguing that the Phoenix law violated constitutional rights no matter how it was applied.
"The law on its face criminalizes protected speech, including speaking words and your appearance for the way you dress," said Cabou, who is also a partner at the national law firm Perkins Coie. The nebulously written law, based on an officer's assessment of person's intent, also "forces you to guess about whether standing on a street corner and waving your hands is criminal," he said.
Jones' appeal, filed on Feb. 11, attempted to toss that law out entirely. Eight days later, prosecutors filed paperwork saying they were dropping charges.
Neither Gary Shupe, an assistant city prosecutor for Phoenix handling this case, nor a spokesperson for the Phoenix Prosecutor's Office, returned calls from BuzzFeed News before this story was published asking why the city dropped charges.
Cabou would not speculate on why prosecutors dismissed the case. But, he said, dropping charges right after facing a constitutional challenge "seems coincidental to say the least."
"The law is still on the books, so they could send out officers to places where there is a lot of foot traffic and arrest people who are not traditionally empowered to push back against the police," Cabou continued. "Whether the city will do that after all the scrutiny of this law, I don't know. I hope not. "
"Perhaps now that there is no pending legal case we can bring a political solution," said Cabou, which could entail the city officials repealing the law. "If not, we'll blow it up the next time someone brings a case."