In the video, Michael Hackenberger, director of the Bowmanville Zoo near Toronto, is shown whipping a cane as another trainer leads the male tiger named Uno through a routine in the zoo's amphitheater.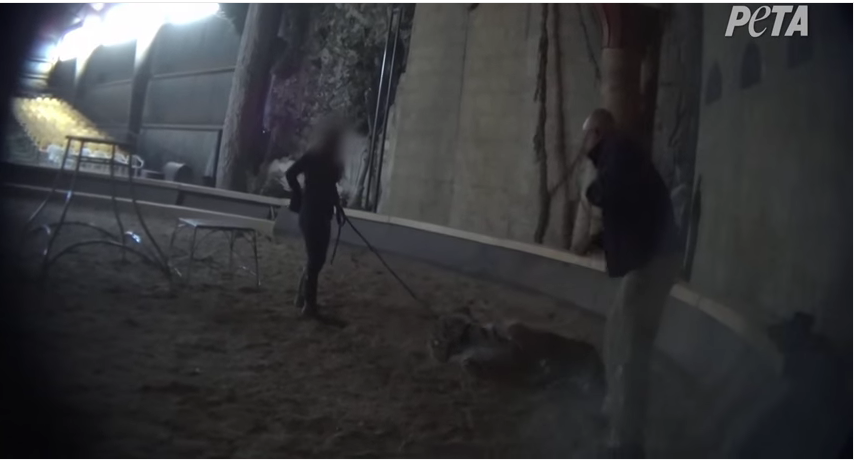 PETA spokeswoman Brittany Peet told BuzzFeed News the video was secretly recorded on Dec. 11 by a zoo volunteer at a training event to which she was invited.
"The jig is up on Michael Hackenberger's animal abuse," Peet said. "He was caught on video viciously whipping a young tiger as he cowered on his back in a submissive position to the point where he emptied his anal sacs."
The video has been edited to 90 seconds, but Peet said PETA has shared the entire video with the Ontario Society for the Prevention of Cruelty to Animals (OSPCA).
"We do have an open investigation into the matter," Alison Cross, OSPCA's director of marketing and communications, told BuzzFeed News. "It's too early in the investigation to share any details of the case at this time."
Hackenberger did not respond to a request for comment, but the zoo on Monday uploaded a lengthy video to YouTube in which he denied abusing the animal.
He claimed PETA misrepresented the footage, which he says shows him whipping the ground and air around the tiger as it lay on the ground, but not the animal itself.
"Maybe I viciously whipped the ground, maybe I viscously whipped the air, but I did not viciously whip that tiger," he said. "PETA once again is lying."
"My language? Foul and horrible. [But] I didn't whip the tiger — except twice to get him to turn around."
Peet told BuzzFeed News Hackenberger's claims were not credible because the PETA video also recorded him saying he enjoyed hitting the tiger in the face.
"I like hitting him in the face," Hackenberger says in the PETA clip. "And the paws ... The beauty of the paws being on the rock, when you hit him, it's like a vice."
"It's stings more," he says.
In his response video, Hackenberger denies he said those words and claimed they were "something PETA has created and put in there."
He called on the animal rights group to release the full footage.
"If we'd been running a video tape the whole time you were here," he told the PETA spy secretly recording him, "and you did a 45-second montage of the times I struck this animal, PETA would burn this place to the ground."
Peet told BuzzFeed News her organization would not release the full, unedited footage to the public because it did not want to jeopardize the SPCA investigation. When asked why they released a 90-second video instead, Peet said that "while law enforcement is investigating the full video, you never release the video...for legal reasons."
The show later said it would never again visit Hackenberger's zoo because of his conduct.