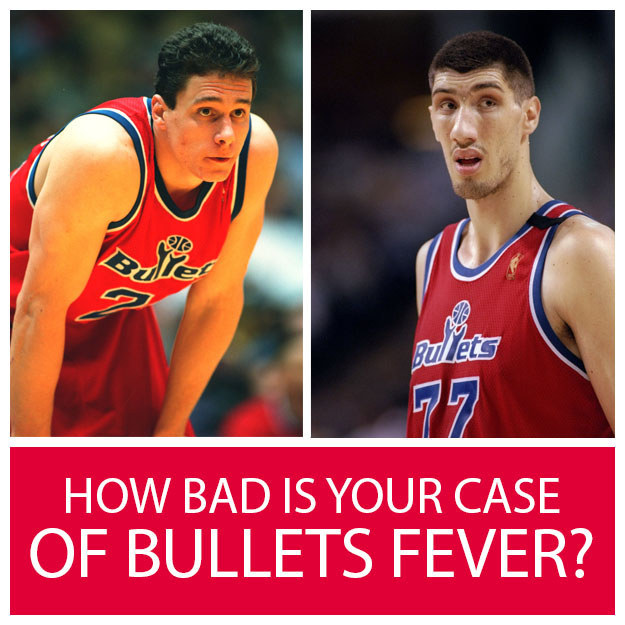 Your iPhone autocorrects a surprising number of words to "Gugliotta."

The words "plantar fasciitis" ruined your childhood.

Your closet is full of Tim Legler merchandise.

You've owned a life-size Gheorghe Muresan poster.

You bought it unironically.

Ideally, you would like to be buried with it.

Your favorite word in the English language is "DAGGER!!!"

You are deeply, unfortunately familiar with the nature of 10-day contracts.

You look back on the days of Ledell Eackles sometimes, and smile.

You have described Trevor Ariza as a "young Calbert Cheaney."

At night, you fall asleep to the sweet, sweet thought of a Wes Unseld outlet pass.

You still have that Agent Zero t-shirt. You'll probably never throw it out.

You're convinced that Jim Lynam was just one, maybe two pieces away from turning it all around.

You'll never understand what happened to the once-promising career of Peter John Ramos.

In your dreams, the ping pong balls always come up Washington.

You believe heaven has a court called the Capital Centre.

And on that court in heaven, there's a a sixth man from Providence named God.

You will always be skeptical of people named Kwame.

You have gotten into serious bar arguments over the relative merits of G-Man vs. G-Wiz.

You're all about the defense, the dunks, and the slams.

You have suffered for this team.

You have died a thousand deaths for this team.

You would do it again for even the faintest whiff of a championship.

You are aware that the championship will probably never come, but you're going to lose your mind this (and every coming) spring anyway.

Bullets Fever happens to you every year.