1.
A, tbh, kinda cute mini dust pan for quickly clearing away those tiny messes that pop up throughout the day, like countertop crumbs and stray pet kibble. Hang it up or stand it on your counter for easy access, and you'll be shocked how often you find yourself reaching for it. 

Promising review: "This mini dustpan is perfect for those small messes that happen. Because it's small it's useful and easier to use than those large dustpans. It's also cute, which makes me happy while I clean." —Lisa Fine Finds
Get it from Amazon for $11.95. 
2.
A pair of affordable wireless Bluetooth earbuds because boring things like work calls and chores are a lot more enjoyable when you're not tethered to your tech by cumbersome cords. Better yet, these come with a handy travel/charging case and connect to your devices in just one easy step. 
Promising review: "These are the first pair of wireless buds I have purchased, previously using only the single over-ear type pieces. I expected to have difficulty pairing, but these paired the first time super easy. The volume and sound is significantly better than my old style. Nice little charging and travel case, and a variety of sizes of silicone buds to fit your size/preference. Update — after using these a few weeks I am still very pleased with this earbuds. Good value for the price!" —J. L. Hoover
Get it from Amazon for $23.99+ (available in five colors). 
3.
A versatile chop, slice, and dice unit so you can drastically *cut* down on food prep and cleanup time with interchangeable blades that can each be popped into the dishwasher. Never chop an onion by hand ever again? Yes, please!! 
Promising review: "Makes life so much easier. I can't imagine chopping onions or bell peppers by hand anymore, and it does so much more. We used to have a Prepworks chopper which was a similar idea, but you had to press so hard to chop, and it broke after not too long. This one requires very little effort to cut through the food and it has a generous container." —Amazon Customer

Get it from Amazon for $29.99 (available in three colors).
4.
A pair of lightweight tapered joggers to finally give all your inferior (aka sagging, stiff, and scratchy) lounge pants a chance to retire. This supremely soft style strikes a fine line between jogger and legging, making it perfect for just about everything from exercising and errands to enjoying a glass of wine on the couch. 

Promising review: "These are literally the best leggings/joggers I have ever owned, and I plan to eventually buy every single color. I originally saw these on TikTok and heard they were like the Lululemon ones but cheaper. I've never owned Lululemon leggings, but if they feel anything like these, then I have clearly been missing out. These are soft and absolutely perfect. I love the pockets and jogger style and that they fit like leggings and can be worn to the gym or dressed up with a cute outfit. I need to buy every color of these before they're gone!" —Courtney

Get it from Amazon for $28.99+ (available in women's sizes XS–XXL and 15 colors). 
5.
A patented pet hair remover if Fido's shedding is taking over your home and you're tired of constantly lugging out the vacuum. This roller uses bristles, not sticky tape, to catch lint meaning you can clean and reuse it over and over and over again.
ChomChom Roller is a Massachusetts-based small biz creating an eco-friendly, reusable alternative to sticky lint rollers. 

Shortly after adopting my sweet, mostly-white dog, and dying a little inside every time my dark green couch was covered in his hair, I started hunting for a solution. My (tbh kinda old and weak) handheld vac couldn't keep up with his ultra-fine hair, which frequently gets caught in the couch fibers. I wanted to avoid anything single-use like traditional lint roller sheets so, eventually, I succumbed to the ChomChom hype and, BOY, does it live up to it. Just a few swipes over each couch cushion and ~TA-DA~, it suddenly doesn't look like a small Chihuahua-mix completely runs the house. One tiny complaint echoed by other reviewers is that the button to release the hair trap is in an easy-to-bump location near the handle, but just be aware of your hand placement and it's rarely a problem. I've been using it almost daily for over a year on clothes, throw blankets, and furniture and would RUN to replace it if it ever broke. 
Get it from Amazon for $29.95. 
6.
A pack of shockingly absorbent Swedish dishcloths that are an eco-friendly alternative to single-use paper towels. They're super sturdy, soften when wet, and can be sanitized in the dishwasher or microwave between clean-up jobs so you know they're not harboring any unwanted germs.
Promising review: "I had actually seen/used them in Europe, but forgot all about them until I saw them on Amazon. They are easy to clean — I throw them in the dishwasher or clothes washer almost daily. They save me from using so many paper towels and, in most cases do a better job than paper towels. I also keep one upstairs in the bathroom to clean up water splashes in the sink there. These are a really good idea. You don't realize it, but you need them in your life :)" —Frequentfliermom
Get a 10-pack from Amazon for $20.95+ (available in 10 colors).
7.
An aesthetic flexible power strip for actually utilizing each and every outlet even when your excessively massive laptop charger is present. 

iJoy is a small business selling a variety of tech accessories, speakers, and headphones.

Promising review: "I rarely write a review (this is the second in the past few years). One of the best purchases in a long time. Nice design and very practical. It solves all of my problems as it can go any direction. It's worth every penny. I turned around and bought two more. I am about to buy my fourth one. Love this!" —Pond P.
Get it from Amazon for $19.95+ (available in four colors). 
8.
Dishwasher cleaning tablets because (to my shock and horror) you actually have to clean the things that cleans your dishes. Thankfully, these terrific little tablets make doing so as quick and easy as...well...running the dishwasher.
Promising review: "This stuff is amazing! I used it in my dishwasher. Had standing water on the bottom, dropped one tablet in the water. Put it on the light wash cycle, and at the end of the cycle, the water was gone! It thoroughly cleans, and I have not had any other problems. I now use it regularly. I recommend this highly to keep your dishwasher clean and eliminate clogs from buildup. It was recommended to me by my super, and after my positive experience I am happy to cosign his recommendation." —cheapchicshopper
Get a 12-pack from Amazon for $17.98 (also available as a six-pack).
9.
A genius bag cleaner ball so when you reach into your purse or backpack you aren't greeted with gross piles of mystery dirt, crumbs, and sand. And it's reusable! Just take out the inner ball, give it a rinse, and it's ready to toss back in your bag.
Promising review: "These are THE BEST. They collect so much dirt and dust from my tote bag and keep everything clean. Super small and easy to clean as well!!" —SueMagoo29
Get it from Amazon for $11.99 (available in three colors). 
10.
Plus, a handy magnetic purse hanger to eliminate the choice between sticking the handbag you spent half your paycheck to get on the floor (ew, dirty) or on your lap (ugh, annoying). Unlike hooks, you can slap this tag on bathroom hinges, metal bar stools, and under tables for holding power that can support up to 8 pounds.
Bagnet is a woman-owned small biz that sells magnetic bag holders and phone slings.
Promising review: "This is the best bag holder ever! I was completely blown away, the magnet is SO strong. Works in so many places: in restrooms (try the hinges if the door isn't metal), at restaurants (on tables, chairs, even under the table), at the gym to hold my water bottle and keys so they don't end up on the floor. But my absolute favorite place to use it is on my car! I can attach it to the side of my car while I unlock it without having my hands full and leaving me vulnerable. If you have ever felt nervous trying to fumble with all your stuff while trying to unlock your doors in a dark parking lot, you need this! My only regret is that I didn't know about it sooner. I am going to get one for everyone in my life for Christmas. Any person who carries a bag should have one (or two). Seriously, it's life changing​." —robert rodriguez

Get it from Amazon for $19.49+ (available in 21 styles). 
11.
A gluten- and cruelty-free lengthening mascara if you're tired of getting excited about mascaras that never live up to their promises. This one is different — or at least according to the 222,000+ 5-star reviews.
Promising review: "Holy grail mascara! I've used this mascara for about three years now and it still tops any other mascara I've tried. It will transfer if you apply it to your lower lashes, so I use a different mascara for my bottom lashes, which I don't mind at all. I always get asked if I'm wearing falsies! It's a mascara that stays wet longer, so I always apply one coat, let it get tacky, then apply a second coat for best results." —Joseph Gonzalez
Get it from Amazon for $4.99.
12.
A clip-on Kindle hand strap that makes it MUCH easier to lounge with your favorite e-book without accidentally bumping the screen or, worse, dropping it. The metal brackets are adjustable, so you can utilize this strap whether you use a case or not. 

Promising review: "This product is the best for easily holding my Kindle, especially while reading in bed. It is unobtrusive, lightweight, and very convenient to use. I had the same strap for several years and recently lost in on a plane, so this is a replacement. An exact replacement because I was so pleased with its predecessor." —Nikki B Sapp

Get it from Amazon for $12.50. 
13.
A folding over-the-door drying rack for line-drying delicates and knits even if you don't have a ton of space for a standalone rack or access to an idyllic, sun-soaked backyard. Apartment dwellers, I see you.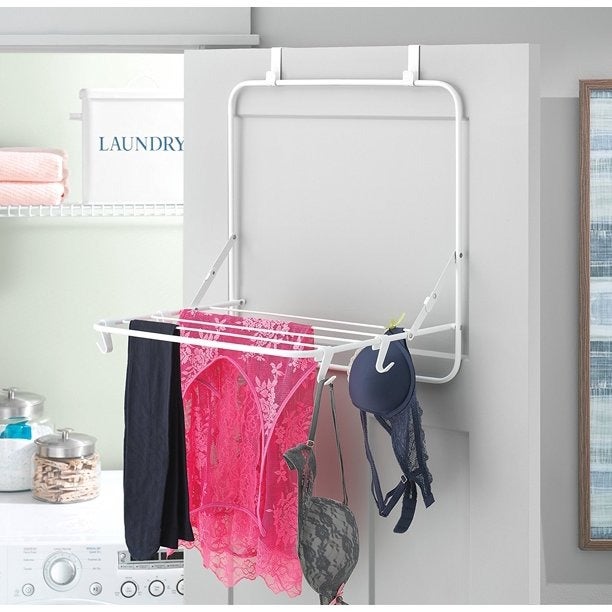 Promising review: "Super easy to assemble, you don't even need directions. Fits most doors. I like the additional hooks that come with it to hang things like bras and bathing suits." —walmarterrific

Get it from Walmart for $24.76.