History will record that today, March 30, 2016, was the day the Great Canadian Chicken War ended. The owner of Swiss Chalet announced it is is paying $537 million to acquire Quebec's St-Hubert. The rotisserie rivals will now be one.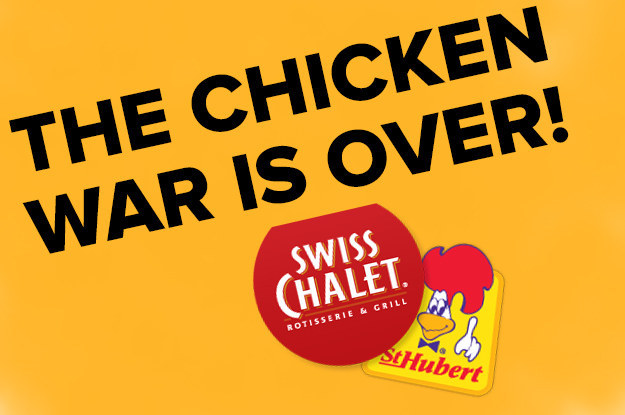 Almost immediately, things got political.
Yep:
This person couldn't wait for the leader of the sovereigntist Parti Québécois to pour hot gravy all over this outrage.
There were understandable concerns about the monopolization of chicken in this country.
Maybe Trudeau needs to step in.
And there were puns. Cluck yeah there were puns.
This was inevitable.
...As were the tweets asking St-Hubert if the acquisition could put sauce integrity in jeopardy.
For the most part, people used the news as an opportunity to rep their favourite bird house.
The Montreal Gazette's food critic weighed in to say that each chain has its strengths, but St-Hubert is the chicken and sauce brune winner.
This woman likes St-Hubert more than Swiss Chalet, but thinks Costco is better than both ¯\_(ツ)_/¯
While some were upset about the news, this guy's dream of mixing one chain's chicken with the other's sauce just became a little more likely.