The International Business Times is an online publication claiming eight country editions around the world, and more than 50 million global visitors a month.
Its 2017 media kit lists Australia as its third biggest market in terms of monthly unique visitors, and states that "Each edition of the International Business Times is tailor-made for the country it serves."
But a review of IBT Australia's website by BuzzFeed News found that its Australian news content is actually being produced by writers in the Philippines, and the address listed for its Australian office is occupied by people who say they don't work for the company.

In response to detailed questions about the operation of IBT Australia, the company issued a brief statement to BuzzFeed News to say that management in the US is "currently assuming control" over the Australian edition. (IBT Media is part of the Newsweek Media Group, which operates the longstanding Newsweek magazine, as well as other properties.)

"IBT has recently taken significant steps to organise all of our media properties around a unified global vision," read the statement.
"As part of this process, our management team in New York is currently assuming control of the IBT Australia site — which was previously managed under a franchise arrangement — and implementing a new strategy whereby small offshore teams of reporters provide overnight coverage in support of much larger teams of journalists in New York and London."
In a subsequent statement, the company reiterated that leadership in New York took over the Australian edition months ago, and that this was not in response to inquiries from BuzzFeed News.
This appears to be contradicted by Australian corporate records that show International Business Times Pty Ltd continues to be operated by James Kong, the franchisee referred to in the company statement. (He registered the company in 2006.)
Domain ownership records from DomainTools also list Kong and International Business Times Pty Ltd as the registrants of IBTimes.com.au and IBTimes.com.ph. Those are the active URLs for the Australian and Philippines editions of IBT Media.
Kong, a Sydney-based entrepreneur, did not respond to detailed questions from BuzzFeed News.

Kong is also the founder and chair of Tune Media, a company operating at least 18 English-language websites which primarily rely on writers in the Philippines and India for content.
One property is an Australian news website staffed by overseas writers and editors. Tune Media's website lists the same Sydney office address for its headquarters as IBT Media, but multiple visits by BuzzFeed News found workers who said they do not work for either company.
Joel Milag, the Philippines-based CEO of Tune Media, told BuzzFeed News via Facebook Messenger that Kong is still involved with IBT Media. He described Kong as being responsible for the "IBTimes APAC edition." When asked if any Tune Media writers still contribute to IBT Australia, Milag said, "Some of them."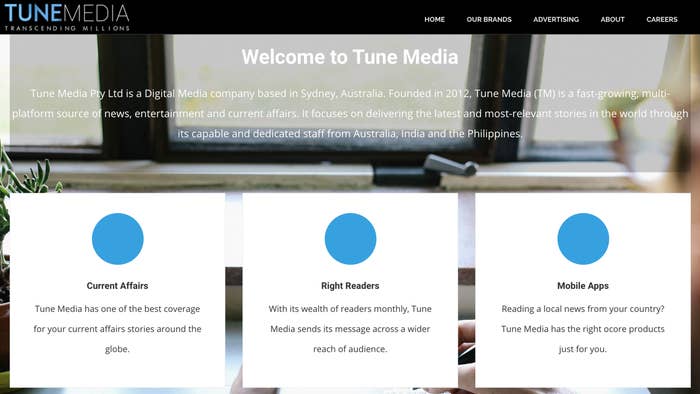 IBT Media isn't alone in its use of overseas editorial labour. Media companies such as Reuters employ writers and editors in India. It's also increasingly common to see overseas publishers such as Tune Media target lucrative English-language markets where readers generate higher advertising returns.
This dynamic explains why teens and young men in Macedonia run so many American politics websites, and why people in Vietnam and Kosovo operate sites and Facebook pages dedicated to Native Americans.

Americans, Australians, and others in developed nations are used to consuming cheap goods from overseas. Increasingly — and often unwittingly — they are also getting news and information from there as well.
What makes IBT Media stand out is that it's a relatively large American media company that's apparently operating a country edition without anyone in the country actually writing for it.
Peter Fray, a journalism professor at UTS in Sydney and the former editor of The Sydney Morning Herald, said he's concerned that readers of IBT Australia likely assumed they were reading stories produced by locals with domain expertise.

"We've got to acknowledge we're living in a globalised market, but at same time I think it goes against the contract publishers and journalists have with their audiences," he told BuzzFeed News.
"The audience expects the journalist to have done sufficient reporting and research to know what they're talking about, and to have a sense of the market they're living in.
"With great respect for the abilities of people in the Philippines and India, I don't think they know diddly shit about Australian business."

BuzzFeed News first began looking into IBT Australia and its relationship with Tune Media earlier this year when it became clear the two operations shared management personnel and writers. A review of authors of Australian content on IBT Australia found writers based in the Philippines or India who sometimes also contribute to other Tune Media properties.

Two of the most prolific business news writers for IBT Australia of late are Frenalyn Wilson and Dan Perez. Wilson is a Filipina woman who uses a different last name in her byline than in her Facebook and Linkedin profiles. BuzzFeed News was unable to determine whether or not Perez is a real person.
Wilson's real name is Frenalyn Untalan and her Facebook profile lists her as a writer for both IBT Media and Tune Media. (She declined to comment when contacted by BuzzFeed News.)
Dan Perez, unlike Untalan/Wilson, does not have a bio on the IBT website and, unlike other writers, the URL for his byline also does not contain his name. (IBT Media and Kong did not respond to questions about Perez, or about the use of pseudonyms).
These two authors have been churning out much of the Australian business content for IBT, which amounts to between three and six stories per weekday that are aggregated from other sources. BuzzFeed News also identified four other current authors for IBT Australia whose social media accounts and other publicly available information indicate that they are based in the Philippines.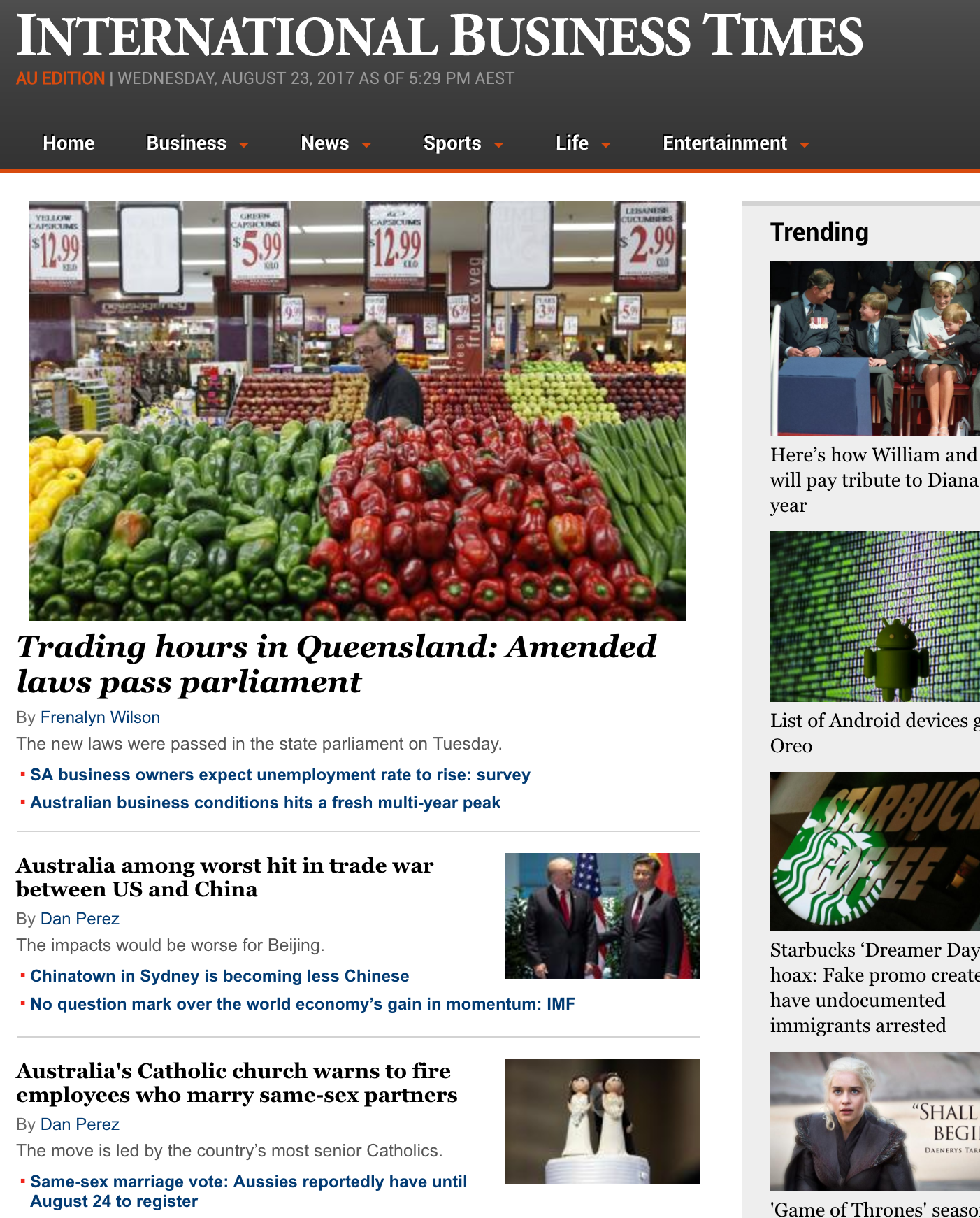 IBT Australia has used writers in the Philippines since at least 2011. One former writer, Vittorio Hernandez, said in his bio on the IBT site that he began contributing to IBT Australia in 2011, and his byline is on stories from 2011.

Another former writer for the site is Shaurya Arya. His work also appeared on Tune Media's morningnewsusa.com, which is targeted at an American audience.
At some point after he stopped writing for the site, IBT Australia changed his byline to "Leo Oliver," though his original bio page remains live, and Arya's Twitter handle shows up on stories from Leo Oliver. (Domain registration records for an unrelated website suggest Arya is a real writer based in India.)
Kong did not reply when asked if IBT Australia used Australian-sounding names for some writers in order to make them appear more local.
He also wasn't present at the Sydney address listed as the IBT Australia offices when BuzzFeed News visited on three occasions. In fact, none of the people working in the space said they work for IBT Media or Tune Media, in spite of both companies currently listing it as their offices.
A first visit in March found a large space with an IBT Media logo on the wall, and three people working at desks. When asked if they worked for Tune Media or IBT Media, a woman said no, and explained they were working out of a rented office space.
Two return visits this week resulted in similar exchanges. When asked if the space he was working in is the IBT Australia office, one man looked up from his desk and answered, "I don't know."
He fetched another man who said no one from IBT was in at the moment. "You know media people, often they don't come in they just work from home," he said.
He said his name is Danny and that he and others in the office work for a law firm. Danny accepted a business card and said he would give it to James Kong. BuzzFeed News returned the next day and asked a different man in the office if he works for IBT Media. He said no and referred inquiries to Danny, who was not there.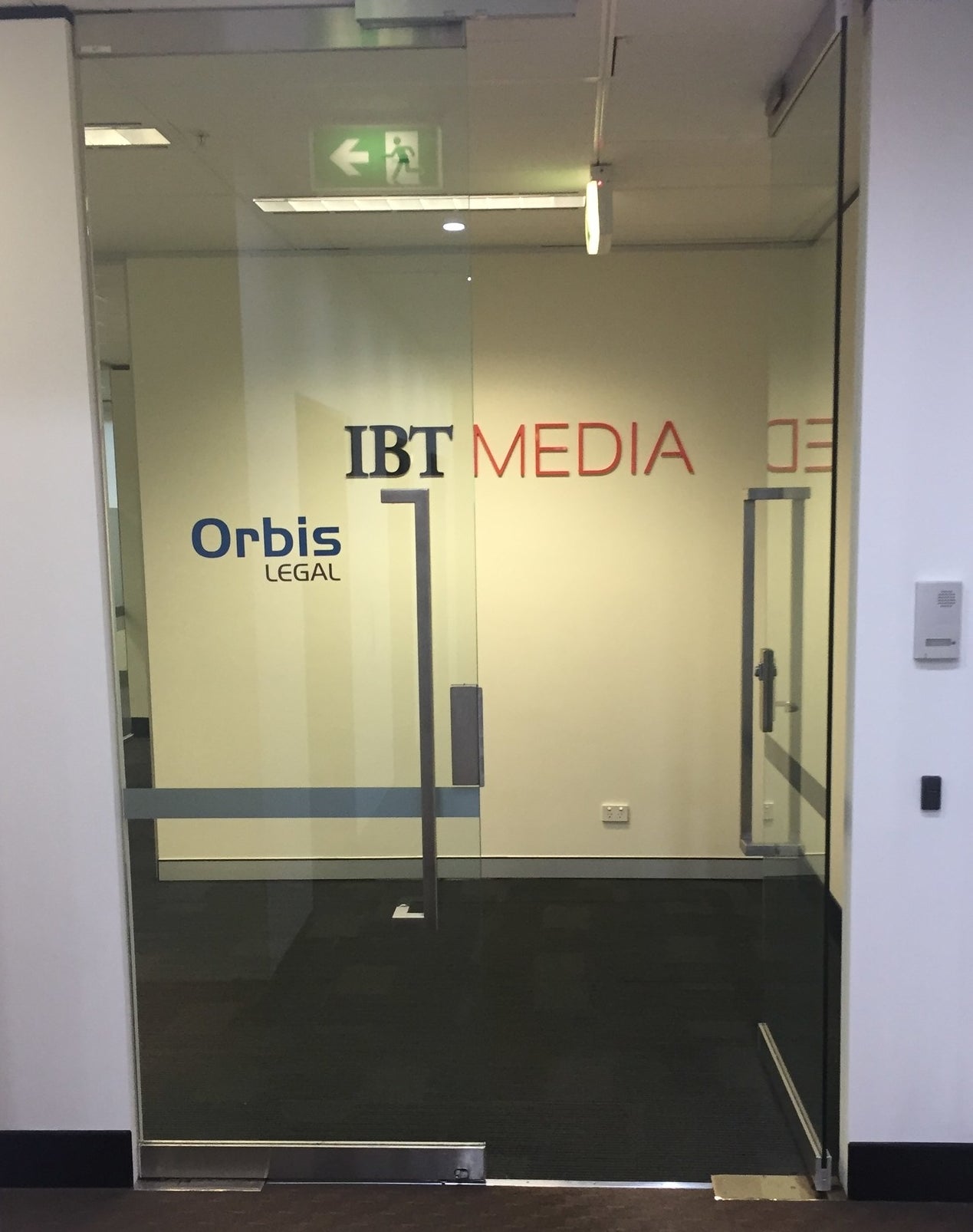 IBT Media's statement to BuzzFeed News noted that it's in the midst of restructuring, and it appears one result is that IBT now operates six international editions, rather than the eight still listed on its websites.
IBT Italy and IBT Japan were shut down "months ago," according to a statement from the company. "Like the Australian site, the Italian and Japanese editions of IBT were operated under a franchise model. They were shut down months ago as part of this review," the statement said.
The company has been engaged in restructuring since at least last year. Last summer it laid off more than 30 editorial staffers, following layoffs of at least 15 people in March.
Former employees soon began making public complaints about not being paid severance. Former staffers also raised concerns about money the company had donated to a university run by a controversial Korean cleric, David Jang.
The founders of IBT, Johnathan Davis and Etienne Uzac, attended the university and are closely linked with Jang and the school, according to reporting from Mother Jones. Neither man is listed among the company's current management team, but Uzac still serves as chairman.

In April the company, which acquired Newsweek in 2013, rebranded itself as the Newsweek Media Group. It said the reorganisation was done to "provide consumers and business leaders with a unique perspective that maintains Newsweek's longstanding, global reputation for integrity and trusted journalism".
Fray says the IBT Australia operation is an example of what happens when publishers adopt a strategy of generating content in the cheapest possible way.
"They're stuck in 'How do we produce the most content at the lowest cost per click', hence you end up with things like this," he said.
Additional reporting by Mark Di Stefano.