1.
A flexible power strip with two USB ports, three outlets, *and* a five-foot extension cord that'll fit anywhere you need it to. That awkward space under your desk where you plug everything in? Yep, problem solved.

iJoy is a small business that specializes in headphones and tech accessories. 

Promising review: "I rarely write a review (this is the second in the past few years). One of the best purchases in a long time. Nice design and very practical. It solves all of my problems as it can go any direction. It's worth every penny. I turned around and bought two more. I am about to buy my fourth one. Love this!" —Pond P. 

Get it from Amazon for $19.99 (available in four colors). 
2.
Or a six-outlet USB wall charger and surge protector plus a smart night-light with a dusk-to-dawn sensor! You'll have all the space you need to plug in your gadgets. The light even has a touch sensor with three adjustable brightness levels.
Promising review: "So happy that I bought this beautiful wall charger. It looks much more expensive. The six outlets are nicely positioned so that I can use all of them at the same time. Two USB outputs are ideal for charging our phones. Highly recommend!" —Elaine
Get it from Amazon for $17.97 (available in two options).
3.
An electric mug warmer so your coffee stays warm all morning long. Honestly, who has time to keep running back to the microwave to reheat a beverage?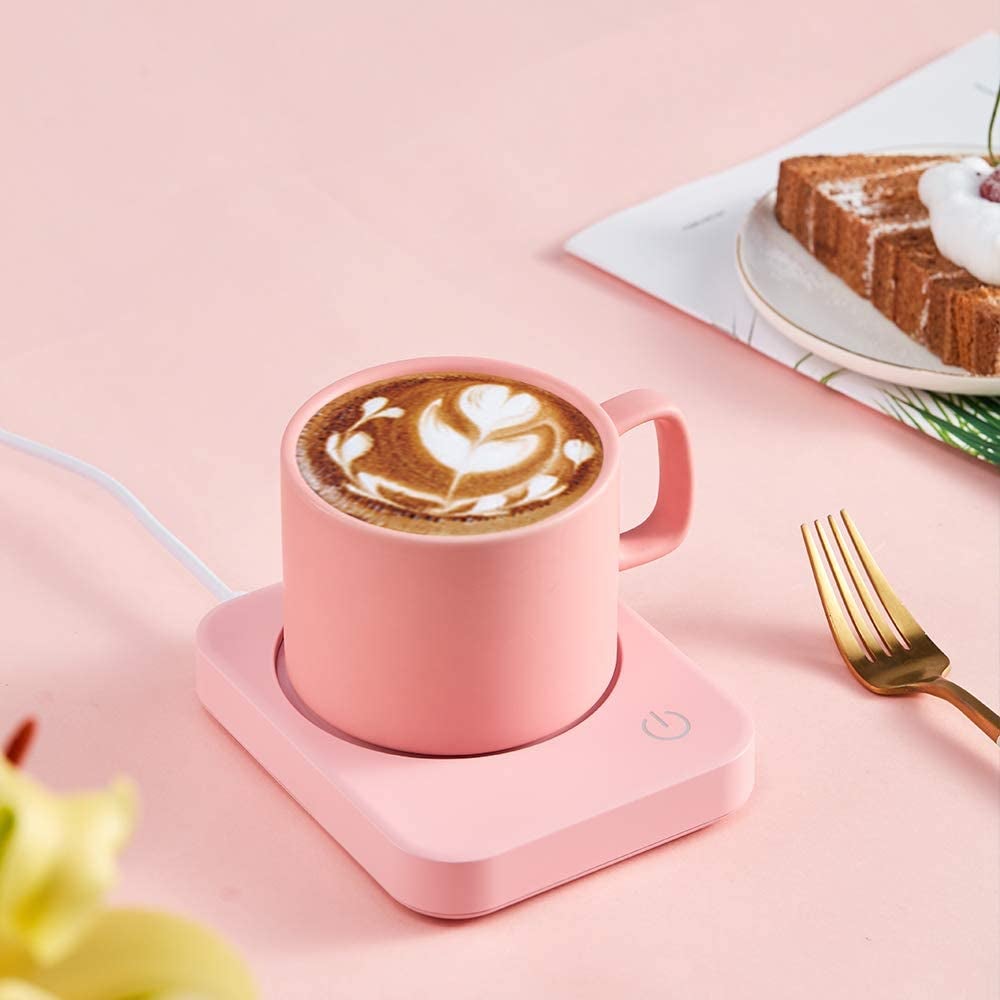 Tip: Reviewers suggest turning the heat down from high to medium once your drink gets down to about the halfway point so it stays a comfortable temperature!
Promising review: "This is my third Vobaga coffee warmer. I bought the first one in 2018, and it's still going strong. It keeps my coffee hot to the last drop. It's important to remember it doesn't heat up cold beverages to piping hot. It keeps hot beverages hot." —hottytoddy
Get it from Amazon for $22.39+ (available in five styles).
4.
A toothbrush holder and dispenser if you're ready to part ways with the cups and trays occupying your counter. This nifty gadget dispenses your toothpaste *and* gives you space for other products.
Promising review: "I love this item! I saw it originally on TikTok and thought it would be perfect for our bathroom! We have one bathroom upstairs and five people who use it. This cleared up so much counter space for us! There are ventilation holes where the cups go to help make sure they dry properly. The toothpaste dispenser has really been working to get every last drop out of the tube. Would definitely recommend for a family or a kid's bathroom. There is also a little storage compartment behind the toothpaste that is great for extra brushes, cotton swabs, or flossers." —Sariyah J

Get it from Amazon for $15.99+ (available in three colors).
5.
A folding travel mirror when you've lost all faith in hotel mirrors. It has three light colors and adjustable brightness settings, so you'll get the exact lighting you need to nail your makeup look. You'll never leave home without it!
Check out a TikTok of the travel mirror in action. 

Promising review: "Absolute must for travel. Hotels and Airbnbs rarely have both good lighting and a good mirror to sit down and do your makeup at. With this guy though, you won't have that worry. The different lights are wonderful for different settings; the mirror is sturdy and lightweight. It does not feel cheap at all; in fact, it is the best travel mirror I have purchased. I am now using this on a daily basis, so I think it was an awesome find, not just for traveling but also for every day! It also is really slim and fits in your carry-on easily." —Alexandra
Get it from Amazon for $35.99 (available in five colors). 
6.
A Core Max 2.0 for an elevated home workout without investing in a giant gadget that takes up half of your living room. You can work your arms, legs, and abs with this thing!
7.
A brilliant gooseneck mount you can easily attach to your headboard (or pretty much anywhere) and watch your fave show *without* straining your neck.
This lil' gadget is compatible with phones, tablets, and the Nintendo Switch. So, no matter how you choose to relax after a busy day, it'll support you!
Promising review: "This is exactly what I was looking for. I had been wanting to play my Nintendo Switch in bed without having to hold up the entire console. This mount allows me to have the screen hover above my head while my arms and neck can relax. This is the ultimate in laziness and I love it. :)" —MK
Get it from Amazon for $21.99. (also available in white).
8.
Or if you don't have space for a gooseneck mount, a flexible universal tablet stand that'll hold your tablet so you don't have to! Use it sitting up, lying down, or on uneven surfaces. The legs are foldable for easy storage, too.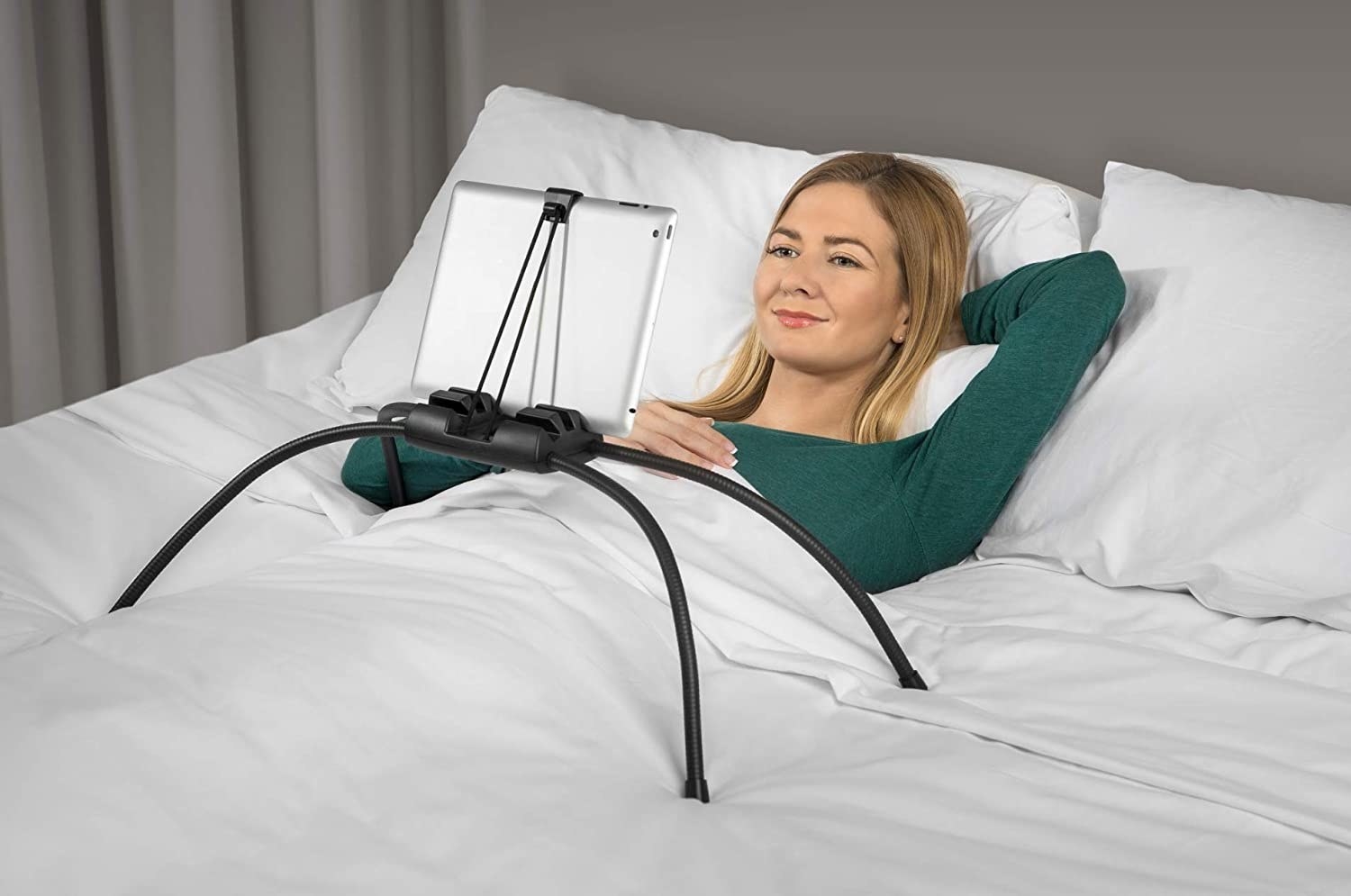 Tablift is a small business created by Scott Blevins after he had trouble finding a tablet stand for his bed. This is compatible with Apple, Samsung, Microsoft, and most other tablets (but you may have to remove the case in some cases).
Promising review: "Probably the best gadget I've ever purchased. Injured my back and have to lay flat. This works just great with my iPad. My hands and neck don't get tired. Very well made." —Junker
Get it from Amazon for $39.99 (also available in white).

9.
A gentle Wake Up Light Sunrise Alarm Clock for the most soothing wakeup call ever. The light simulates the sun rising, so waking up will feel *much* more natural than being startled by an abrupt phone alarm.
Promising review: "OK, guys. Here's the deal. This is gonna be a long review, but tl;dr — this is an amazing little product, and I highly recommend it. I suffer from mild insomnia and generally have to use sleep aids, which is fine but not ideal for every night. I also moved from SoCal to Washington state a year ago, and I have NEVER been exposed to so little sunlight in my life! Living in the dark winters here is insanely difficult for me. This👏🏼Little👏🏼Alarm👏🏼Clock👏🏼 Has changed my life, and I've only had it for like three weeks. The sleepy time setting has the ability to KNOCK me out without the use of sleep aids! What?! My brain totally responds to the way the light functions. The morning alarm is so gentle and peaceful (you can completely control the noise and brightness settings). I wake up much more naturally rather than to the blaring honk or passive-aggressive chiming of a traditional alarm (looking at you, Apple). The light settings are so fun as well! I love having it on a low setting while I'm journaling, reading, watching TV — anything really! I would pay two or three times the price for this thing. It's 100% worth it." —KatieM
Get it from Amazon for $39.98+ (available in two options).
10.
A "flaming" humidifier if you want to set the mood with a ~fire~ gadget that also serve a purpose — it delivers soothing aromatherapy with essential oils and helps keep the air perfectly hydrated.

Check out a TikTok of the flaming humidifier in action. 

Promising review: "I like how this diffuser kind of looks like a mini fireplace and it's perfect for winter. I also like how long the water of this diffuser lasts — I always add my favorite essential oil in it when I go to sleep every night without worrying it will run out of water. I used to have insomnia and it helped me to sleep through the night with my relaxing essential oil scent, and it also worked as a humidifier." —Benny
Get it from Amazon for $32.69 (available in black and white). 
11.
A truly genius cup rinser because doing dishes is enough of a drag, so why not simplify the process? You can use this for everything from baby bottles to beer glasses. Keeping your fave cup clean at all times has never been easier!

Check out a TikTok of the cup washer in action. To install, you can use the instructions and materials provided to easily hook it up to the hot water line. Note that this won't install on sinks without a flat edge!  

Promising review: "Never knew I needed one until I saw it on TikTok, and with water bottles and toddler cups it is essential to my household!" —Gayla Brink
Get it from Amazon for $24.99. 
12.
An amazing ball launcher when your dog's energy level is just a bit higher than yours. This will prevent your arm from falling off during a game of fetch! Plus, your pup will no longer look at you with utter disappointment when you make a pathetic throw.
Promising review: "I thought about getting an automatic launcher but didn't want to pay the price for one that used regular tennis balls and they make a lot of noise. I bought this and it's perfect. So easy to use and shoots it a good amount of distance. My  Border Collie never gets tired of chasing the ball and now my arm doesn't hurt from throwing. Best $20 I have spent in a long time." —Amazon Customer
Get it from Amazon for $22.95 (also available for smaller dogs here).
13.
A Magic Bullet blender that you'll get so much use out of, you might as well store it right on the counter. It's the perf size for a personal smoothie *and* it has several functions: chopping, mixing, blending, whipping, grinding, and more!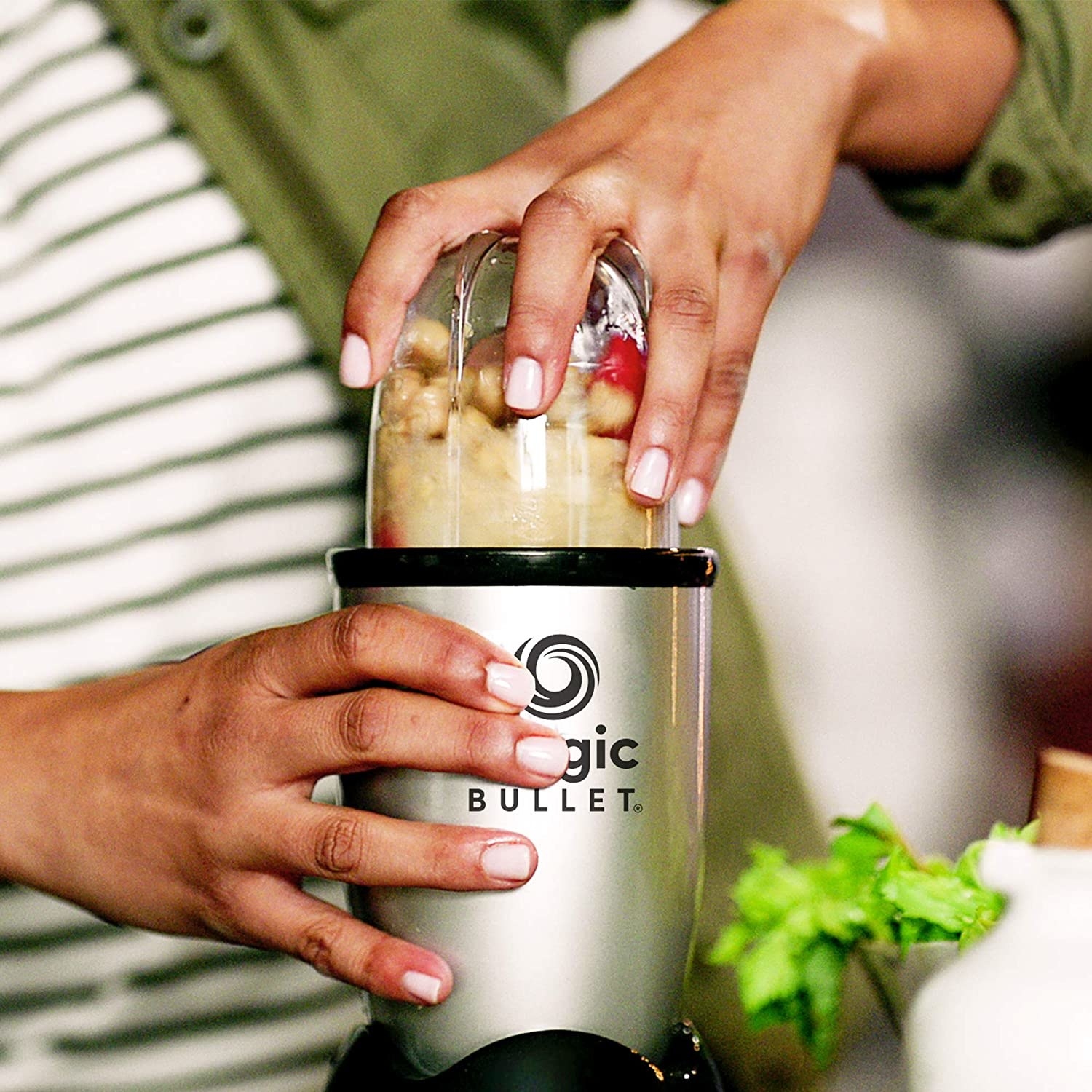 This comes with a 250W motor base, one cross-blade, one tall cup, one short cup, one party mug, two lip rings, two Stay-Fresh resealable lids, one to-go lid, and a 10-second recipe guide.
Promising review: "I use this almost every morning. This was my savior during the quarantine part of the pandemic when I was working from home. I was able to easily make smoothies for breakfast or a snack instead of eating junk. Blended quickly and easily, easy to clean, and came with so many cups and travel options I was able to continue my healthy habit when I went back to work!" —Marissa Vittorio
Get it from Amazon for $41.18.