Serena Williams Pulled Out Of The French Open Ahead Of Her Match With Maria Sharapova Due To An Injury
"It's actually hard to play when I can't physically serve," she said.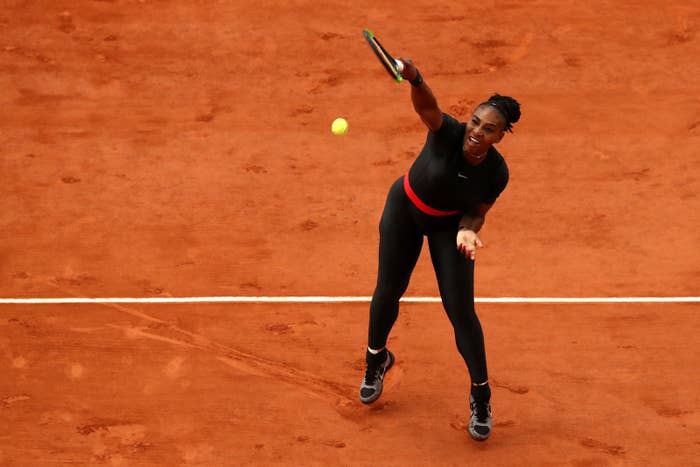 Serena Williams pulled out of the French Open on Monday, citing an injury ahead of her slated fourth-round match with Maria Sharapova.
Williams called the decision "very difficult" and said she was "beyond disappointed" at a Paris press conference.
The 23-time Grand Slam winner performed well in her initial matches but said issues with her pectoral muscles are the reason for her withdrawal.
"In my doubles yesterday I tried a lot of different tapings and support," she said. "It didn't get a lot better."

"I'm beyond disappointed," she continued. "I gave up so much, from time with my daughter and time with my family, all for this moment. So it's really difficult to be in this situation."

The 36-year-old recently returned to tennis after giving birth.
"It's actually hard to play when I can't physically serve," she said. "Every match has been getting better. Physically I've been great. I can only take solace in the fact that I'm going to get better."
Williams said the decision was also very difficult because she loves to play Sharapova.
"It's a match I always get up for," Williams said. "It's extremely disappointing, but I made a promise to myself that if I'm not at least 50%, I shouldn't play."

Sharapova will now advance to the quarterfinals for a ninth time.
Williams told reporters Monday that she had "never felt this in [her] life."
"This is so painful," she said. "I've pretty much had every injury in the book — but not this."
Shortly after the announcement, Williams posted a message on Instagram: "You always live to fight for another chance. I've done a lot of fighting and this is just the beginning. Thank you a [sic] for the support. I love you."
Williams is scheduled for an MRI on Tuesday.