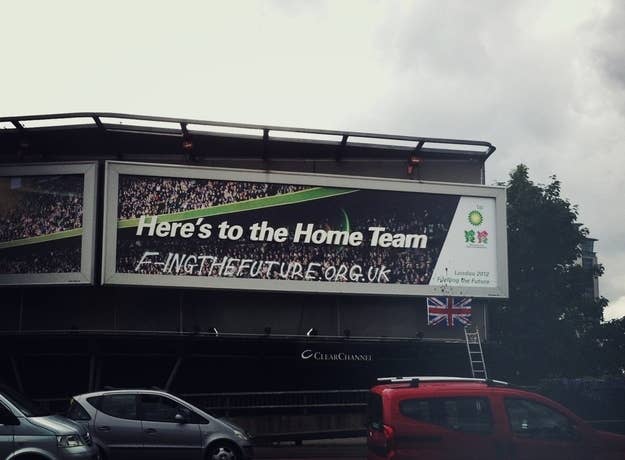 The impressive six-panel board, which is certainly costing the oil giant big bucks, sits on a popular stretch of Cromwell Road. The adbusters not only splattered every panel with oil-like black paint (including the torch image), they also defaced the lock-up panel with the url f-ingthefuture.org.uk.
On the site, everyone is inviting to post photos of defaced bp ads. Copy from the site's manifesto:
BP's green logo is plastered all over the Olympics. The company is 'Official Fuel and Gas Provider' and also sponsor of the Cultural Olympiad and London 2012 Festival.
Worst of all BP is 'Sustainability Partner'. That's right, the organisers of the Olympics have decided to allow BP, one of the dirtiest companies on earth, the opportunity to rebrand itself as socially responsible and take an active role in proposing how society should approach climate change.
Well, it's only been two years, British Petroleum, you can't be too surprised. The athletes bursting through the bp "exploding sun" logo is a pretty dubious design element.