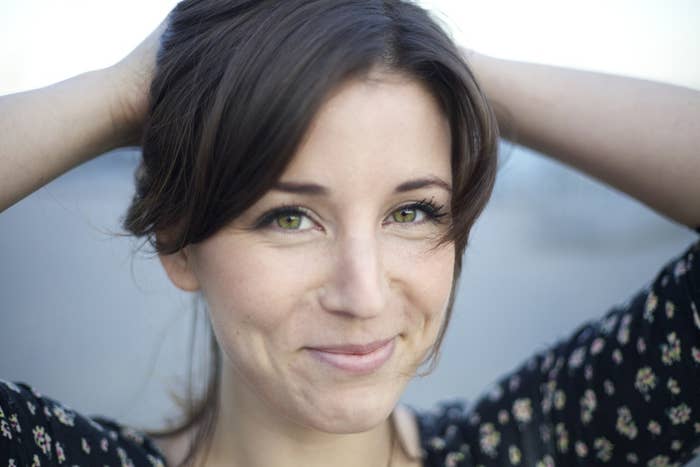 Robyn Dell'Unto is Canadian. She's a native of a town in Ontario with an unpronounceable name, Mississauga (see, told you it was hard to pronounce). She probably calls doughnut holes "Timbits" and she might drink milk out of a bag, no judgement here. Her music, however, is very different from other recent Canadian imports Justin Bieber and Carly Rae Jepsen.
Thanks to the exposure of having her indie sounds featured on Degrassi and Being Erica, this 27 year old has gained fans here in the US as well. Like most independent artists, though, that minor exposure can only get them so far, unless of course their song was featured in an episode of Grey's Anatomy - I digress. Dell'Unto has been trucking along with or without the help of having her music on TV shows.
Her first album, I'm Here Every Night, dropped in late 2010. At first listen it may seem like typical singer/songwriter fare from a woman in her early 20's who loves wine, but Dell'Unto's sweet earthy voice and clever lyrics make her rise above that formulaic sound. One of the many stand out songs, and one of the most personal, is "Cuba" (below) - she reflects on the loss of her grandmother and realizes that life goes on and it's meant to be lived enthusiastically.
But, no matter the subject, Dell'Unto always delivers an honest tone and her follow-up effort continues that trend.
Before the creators of Veronica Mars popularized fan-funding earlier this year, Dell'Unto called on her fans in the summer of 2012 to help her, via Kapipal, with the creation of her sophomore album, Little Lines. Throughout the creation process she has given supporters access to music videos,unreleased songs, and a behind the scenes look while in the studio. The new album is expected to be released winter 2014, so sometime in January or Februrary (not December 2014, like I had mistakenly thought).
So go forth and discover this (relatively) new artist before people try to compare her to Carly Rae Jepsen just because they're both Canadian.
For more information on Robyn Dell'Unto you can Google her, but if you're too lazy you can click these: Twitter, Facebook, Official page.