Anyone on Tumblr knows that sometimes the community of bloggers gets obsessed with certain things. Recently, thanks to a post by Tumblr user teenytigress, bloggers of all fandoms have become obsessed with this: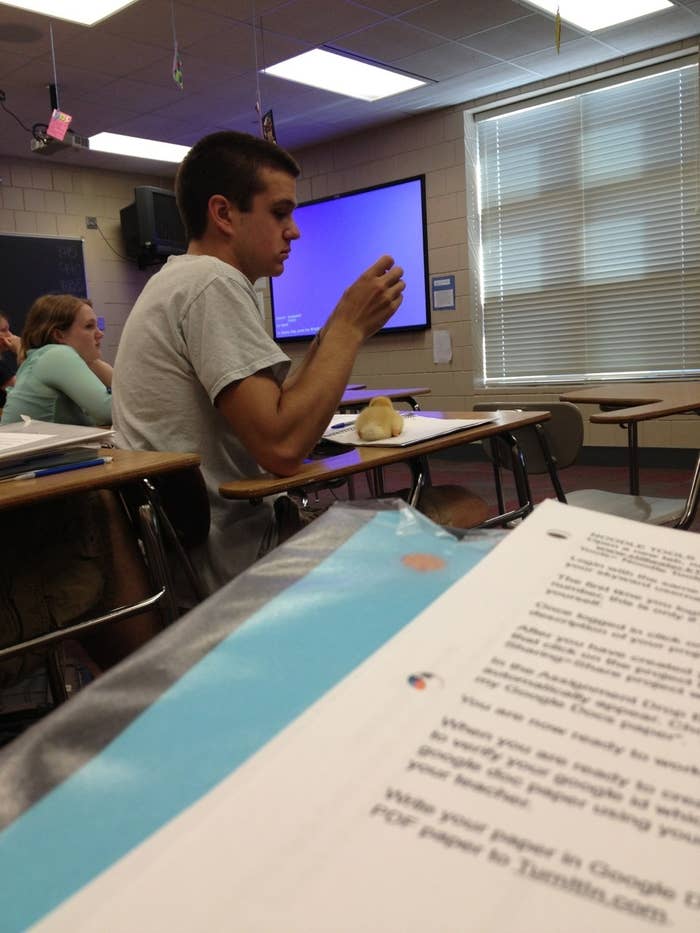 This guy in Libby's class, possibly named Marshall, is apparently doing a project in which he's trying to get a duckling to imprint on him. The caption of this picture read, "SO THIS GUY IN MY ENGLISH IS DOING A PROJECT FOR BIO WHERE HE GETS A DUCKLING TO IMPRINT ON HIM SO HE JUST CARRIES IT AROUND WITH HIM TO ALL OF HIS CLASSES AND I SWEAR THIS DUCK IS THE MOST WELL BEHAVED FUCKING POULTRY IVE EVER SEEN IT JUST SITS ON HIS DESK QUIETLY AND SOMETIMES HE PUTS IT IN HIS POCKET AND IT JUST SLEEPS LIKE WOW YOU GO DUCKY."
The duck has irregular updates, but each one is cuter than the last: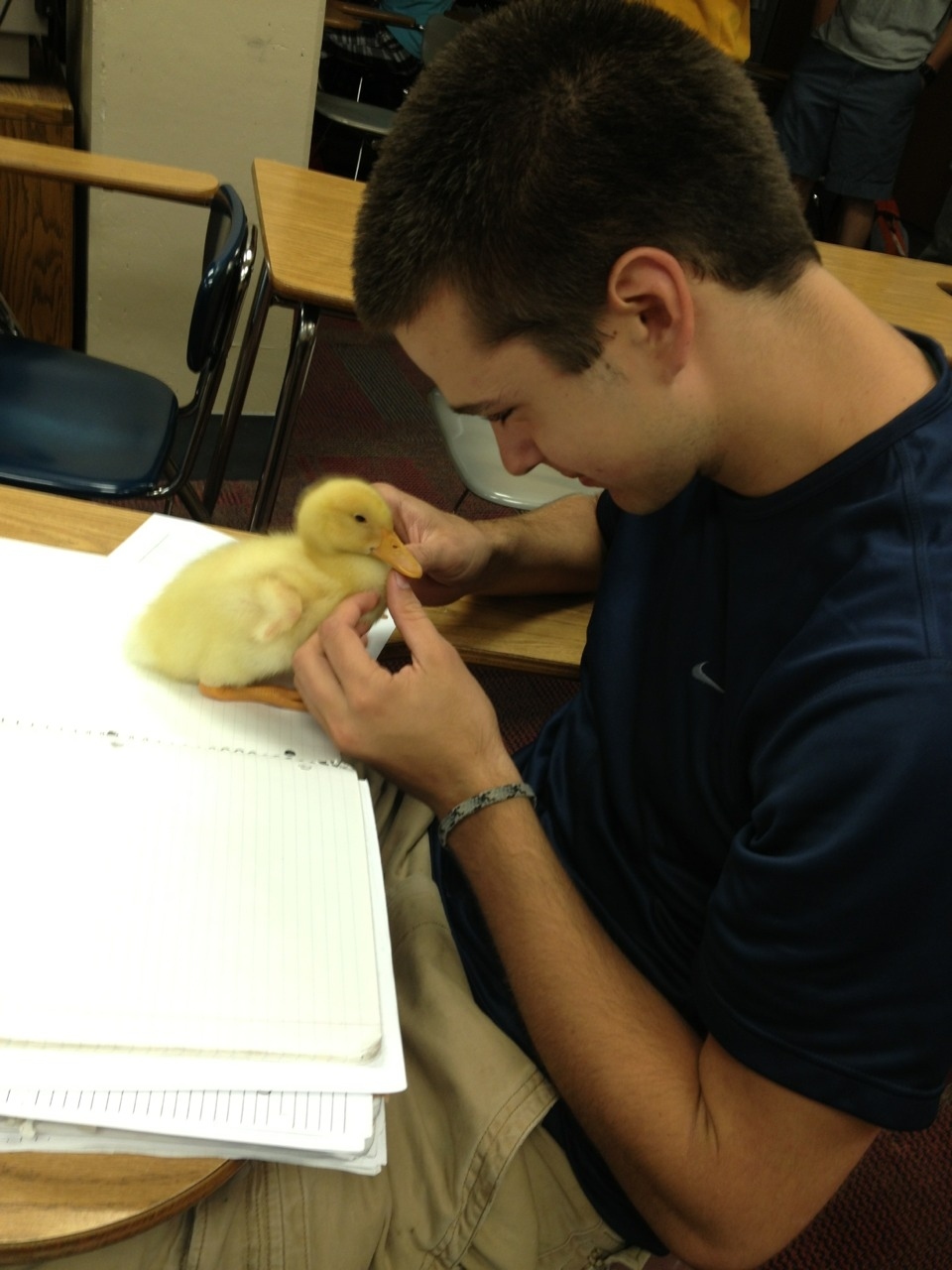 "THERE HE IS, WHAT A GEM AND LOOK AT THAT FUCKING DUCKLING AH I CAN'T."
I CAN'T EITHER, LIBBY.
This little guy doesn't just sit and look cute, though. He even takes little field trips, as narrated by Libby:
In this picture, there was a fire drill at school. "DUCK UPDATE: TODAY WE HAD A FIRE DRILL," narrates Libby, "AND HE CARRIED THE DUCKY OUTSIDE WITH HIM AND CRADLED IT PROTECTIVELY AND MOTHERLY INSTINCTS ARE FUCKING ADORABLE."
I mean, seriously. I can't with this little guy. I've started following these updates by now because I need my dose of cute duckling.
This last update we have is probably the cutest so far.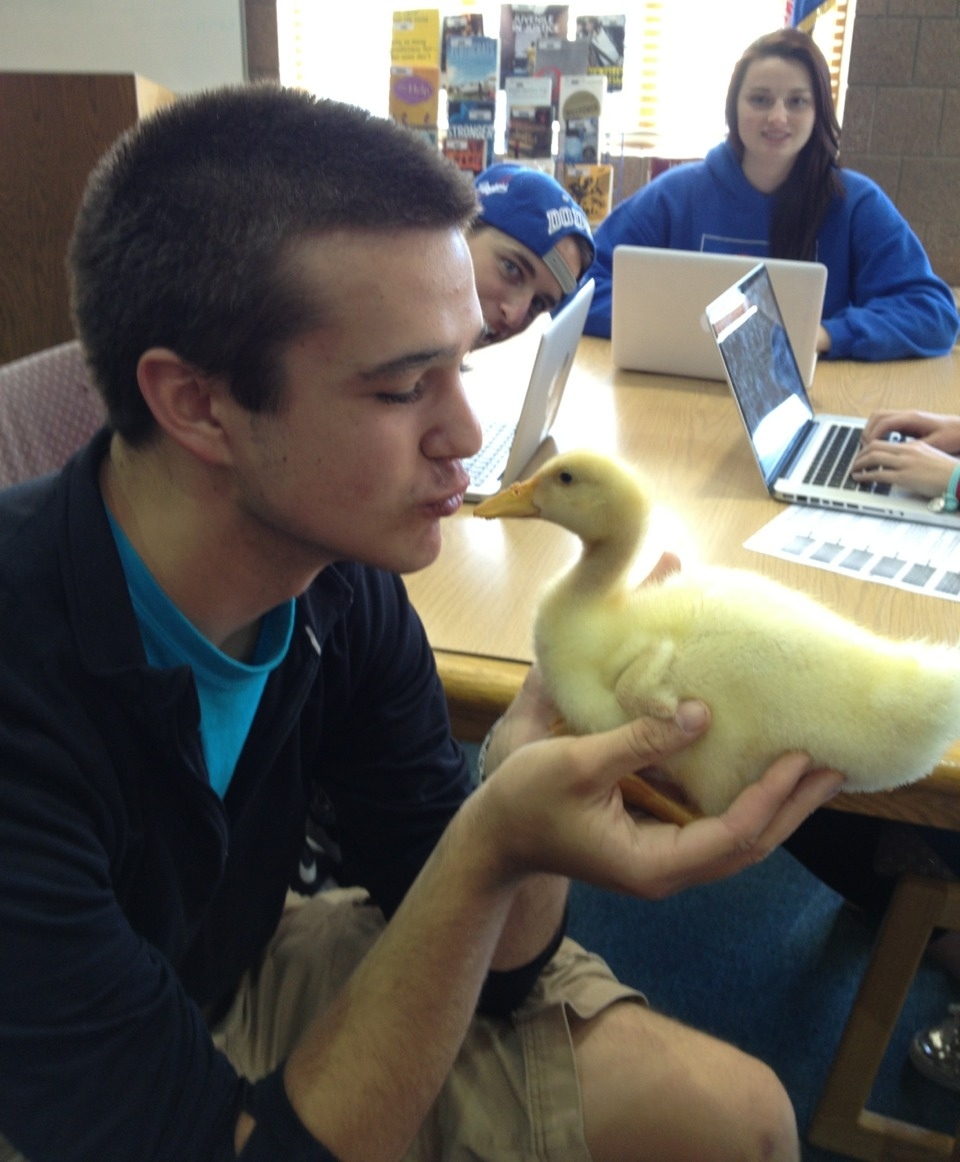 "DUCK UPDATE: IT HAS IMPRINTED AND THINKS THIS BOY IS IT'S MOMMY. OMG."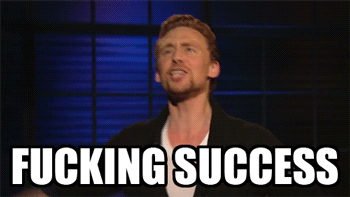 All the work has finally paid off. Frankly, I wouldn't mind that kind of work.