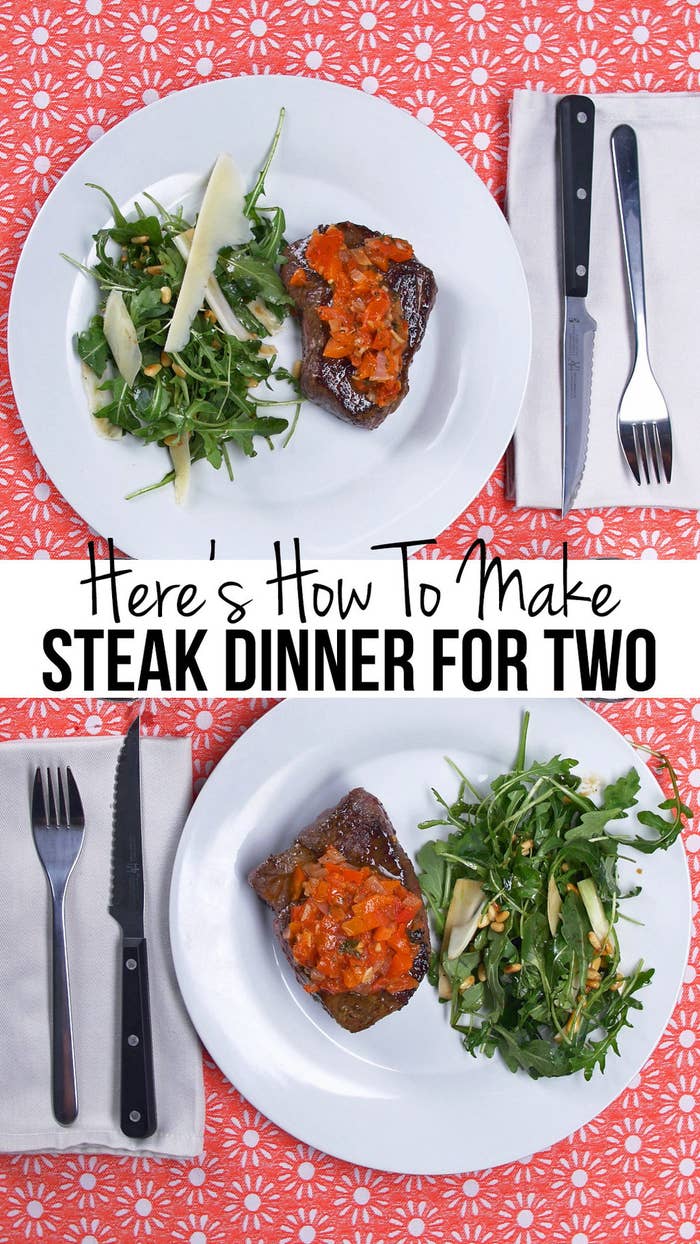 Here's what you will need:
* 4 small- to medium-sized tomatoes, chopped
* ½ medium red onion, chopped
* ½ red bell pepper, chopped
* a handful of parsley, chopped
* 2 cloves of garlic, minced
* 1 tsp oregano
* 1 tsp sugar
* Filet sirloin (about 1 lb total for two)
* Olive oil
* Balsamic vinegar
* Salt & pepper
* ½ medium-sized fennel
* Shaved Parmesan
* Arugula
Directions:
For prep:
Chop/ dice tomatoes, red onion, bell pepper, garlic, and parsley.
Then, for the steaks:
Season two cuts of filet sirloin (or your favorite steak) with salt and pepper. Heat a cast iron skillet, and coat with olive oil before adding meat. Cook first side three to five minutes. Flip and cook for another three to five minutes. Be mindful that both cuts might have unequal cook times depending on thickness. (Suggested times are for medium-rare).
Set aside and toss about a ⅛ cup pine nuts into a small skillet. Cook until golden brown. Pass off to your cooking partner for the salad.
Next, for the salad:
In a medium sauce pan, add a few tablespoons of olive oil and your prepped vegetables. Then throw in four small/medium-sized tomatoes, ½ red onion, ½ red bell pepper, two cloves of garlic, and a tablespoon of parsley. Add one tsp of oregano and one tsp of sugar. Stir and simmer for 15 minutes; add salt and pepper to taste.
For the dressing:
In a small bowl, mix ½ cup olive oil, several splashes of balsamic vinegar, salt, and pepper.
And finally for the salad, slice up half a fennel. On a large plate, place arugula and top with sliced fennel. Coat with dressing, and top with shaved Parmesan and toasted pine nuts.
Plate your steak and top with tomato sauce. Serve with salad and your favorite wine. Enjoy!
Recipe inspired by Frame By Frame Italian: http://amzn.to/1JGaIWc