Cornbread Stuffing As Made By Tia Mowry & Cory Hardrict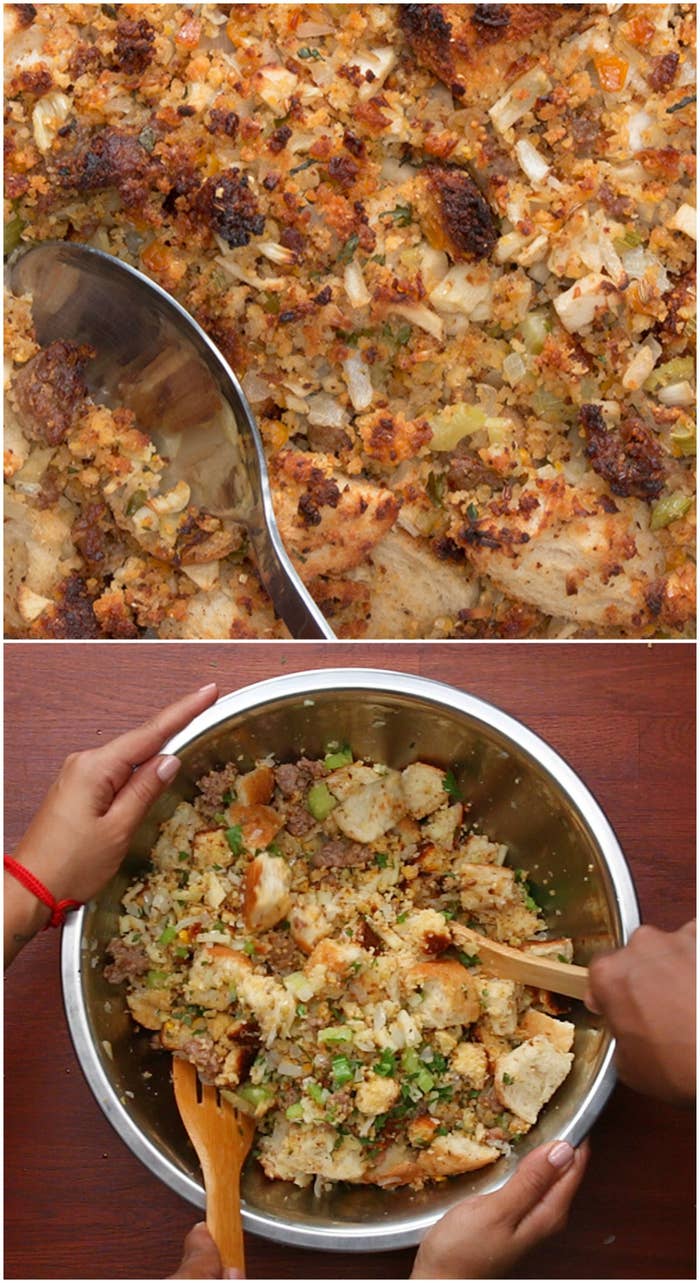 INGREDIENTS
Serves 10
Tia's Cornbread
¼ cup unsalted butter, melted
1 cup yellow cornmeal
1 tablespoon baking powder
1 tablespoon sugar
½ teaspoon kosher salt
1 cup buttermilk
½ cup corn kernels
¼ cup honey
2 large eggs
-OR-
1 box cornbread mix, prepared according to box instructions, cut into cubes
Cornbread Stuffing
4 cups cubed white bread (we used an Italian loaf)
4 tablespoons unsalted butter
1 onion, diced
2 cloves garlic, minced
3 stalks celery, diced
½ head fennel, diced
Salt, to taste
2 green apples, peeled & diced
½ teaspoon ground nutmeg
1 pound italian sausage, casing removed
¼ cup parsley, minced
2 tablespoons sage
3 cups chicken broth (or stock)
PREPARATION
Tia's Cornbread
1. At least one day before serving the stuffing, make the cornbread.
2. Preheat the oven to 400 degrees F. Generously grease a 9-inch baking pan with 1 tablespoon of butter.
3. In a small bowl, mix the cornmeal, flour, baking powder, sugar and salt. In another bowl, whisk together the melted butter, buttermilk, corn, honey and eggs. Using a rubber spatula, add the wet ingredients to the dry and mix just until combined. Do not over mix.
4. Pour the batter into the prepared pan. Bake until a toothpick inserted in the center comes out clean, 20 to 22 minutes. Let cool for at least 1 hour, then cut into 1-inch cubes for the stuffing.
For the Stuffing
1. Spread 4 cups of white bread cubes and 4 cups of the cornbread cubes in a single layer on a baking sheet and leave out overnight to dry out.
2. Preheat oven to 400 degrees F. Grease a 13-by-9-by-2-inch baking dish with butter and set aside.
3. Transfer the bread cubes to a large bowl.
4. In a large sauté pan set over medium-high heat, melt 2 tablespoons butter. Add the onion, garlic, celery, fennel and sprinkle with the salt and cook until the vegetables are translucent, about 5 minutes. Add the mixture to the bowl of bread and mix.
5. In the same sauté pan, add the remaining 2 tablespoons butter and let brown for 30 seconds. Add the apples and nutmeg and sauté until the apples are tender, 3 to 4 minutes. Add the apples to the bread bowl and mix.
6. Add the sausage to the pan and cook, breaking it up as it browns, 8 to 10 minutes; transfer the sausage to the bread bowl and mix.
7. Mix in the parsley and sage.
8. Transfer the bread mixture to the buttered baking dish.
9. Pour the chicken stock around the edges of the baking dish.
10. Put the baking dish on the middle oven rack and bake, uncovered for 40 minutes, until golden brown.
11. Enjoy!
Don't forget to catch Tia on The Cooking Channel with Thanksgiving with Tia Mowry this Sunday, November 13, 2016 at 8pm ET! Check your local listings for specific details.
Want BuzzFeed Tasty right in your inbox? Sign up for our newsletter!