1.
Some all-natural, no-scrub Bottle Bright tablets for anyone who can't remember the last time they actually cleaned their water bottle with anything other than, well, water. It's also great for cleaning a coffee mug that you might have left out for a few days that now has a ~questionable~ substance at the bottom.
Promising review: "At work, we have stainless-steel coffee pots with a plastic top that no one cleans and they are often left on for hours at a time. The bottoms got very gross and someone tried to clean them with hot water and soap but not much happened. I bought these, added hot water and two tablets (since they are bigger than a water bottle), and let the pots sit overnight. So much came off with no scrubbing! I then soaked again for about another hour with two more tablets and almost all of the grime was gone. I did scrub just a tiny bit to get all the stains out with a brush I had. They are almost like new! I did this on two pots and we were all amazed by the results. I'm ordering more so that we can clean regularly since it's so easy!" —Heather
Get a pack of 36 from Amazon for $24+ (also available as a pack of 78).
2.
A super-long extendable duster so you can finally reach all those dust bunnies and cobwebs that have taken up residence on your light fixtures and cleaning fans. No need to grab a ladder to dust off hard-to-reach places anymore — all you have to do is extend the pole and get to dusting!
Promising review: "I love my new duster. The ability to extend the pole makes it easy to clean the ceiling fan blades, chandeliers, and the AC vents. Because it's so lightweight it makes reaching very easy." —Linette Leadon
Get it from Amazon for $9.99+ (available in five colors).
3.
A *loooooooooooong* vacuum hose attachment that will amaze you with how much dust it'll suck up from your dryer vent. Some reviewers say this has even unearthed long-lost socks that were trapped down there! Bonus: you'll sleep easier knowing you've cleared out the risk of a fire starting from a clogged dryer vent.
This hose adapter fits on most vacuum cleaners (except for some Dysons).
Promising review: "This thing is seriously amazing. I figured out how to use it very quickly and it worked like a charm. I had a sock stuck way down in my vent and would've had no idea! I still can't believe how much lint and dust came out of my dryer. My husband is already talking about other uses for this unique tool, like getting into tight spaces in our cars." —J. Johnson
Get a set of two from Amazon for $10.99+ (available in four colors).
4.
A wood polish and conditioner to give all your scratched-up hardwood floors, wood paneling, or wooden cabinets a much-needed face-lift. It'll also help condition, nourish, and rehydrate the wood as it works to get rid of all the nicks, marks, and scratches.
Promising review: "This stuff is absolutely AMAZING. My wife and I were getting tired of looking at our worn-out cabinets and wood paneling and were very close to paying a professional thousands of dollars to refinish it all, but then we came across this product. Our paneling and cabinets were looking rough. We have two dogs who jumped up and scratched places. We also had an area that was damaged by water spots where our dog bowls were. Several other areas were just worn from heavy traffic. This stuff was like a magical eraser for water spots, scratches, scuffs, and any other blemish. We simply wiped the product on with a paper towel and let it sit for 20 minutes before wiping it off with a clean towel. Everything looks brand-new. I'm buying a couple more so we can finish our cabinets and wood paneling. We're so glad we found this product." —Kris
Get it from Amazon for $7.60.
5.
A jewelry cleaning pen formulated to restore your rings to their original glory. Fair warning: you might get temporarily blinded when you step outside and the sun hits your ridiculously shiny wedding ring. It's a risk we're willing to take.
Promising review: "If I could give this 10 stars I would! I'm a fanatic when it comes to keeping my jewelry clean, especially my wedding set. I tried this product on my diamonds, Swarovski crystals, and Brighton jewelry, and the results are nothing less than amazing! This restored one of my Swarovski rings that I had not worn in years due to the cloudy color to a sparkling brilliance just like the first day I bought it! I cannot recommend this product enough! I just ordered additional wands so I don't run out! Home run Amazon!" —Kristina B.
Get it from Amazon for $8.89.
Check out one BuzzFeeder's Diamond Dazzle Stik review to learn more about why we love it.
6.
Or this tarnish-removing solution perfect for reviving silver jewelry that no longer looks very silver anymore. Just dip your tarnished bracelet, necklace, or ring into the solution with the included basket, and the tarnish will be completely gone!
Just be careful not to soak most gemstones, since prolonged contact with the solution can damage them — all you need in that case is a quick dip and then a gentle wipe-down. Also, like most jewelry cleaners, this isn't safe for use with pearls.
Promising review: "I have several pieces of upscale silver jewelry that have tarnished to the point of being unwearable. Not a great investment. I have tarnish wipes, and those work well enough, but they are really designed for cutlery and not jewelry. Wipes don't get into the crevices of design work; nor do they get inside links on chains. I had come to accept that, no matter what I did, my silver pieces were always going to be a bit dirty looking. When I got this dip, I wasn't expecting much. All I can say is this: WOW. I opened the jar and dipped in half of a very tarnished (nearly black) bracelet for no more than a second, just to test it. When I pulled it out, I literally squealed. It was like new! Not a bit of tarnish, not a bit of dark, just that pure silver color. However, the smell of this stuff will knock you over. I *highly* recommend wearing rubber gloves when you use this (I didn't but will from now on) and rinsing your jewelry thoroughly after dipping and before wearing." —abby
Get it from Amazon for $7.99.
7.
A bottle of mold and mildew remover spray so powerful, you'll finally be able to lift the filth from that one suspiciously stained corner of your shower.
Promising review: "I bought this RMR spray with low expectations, even with the good reviews. I sprayed a small patch in the evening and let it sit overnight. The next morning, the grout where I had sprayed was as white as if it were brand new. I decided to spray the entire wall and part of the roof. The next day everything I sprayed had no visible mold. By the third night, I was pretty much spraying everything left in the shower. This stuff is amazing." —John Werner
Get a 32-oz bottle on Amazon for $16.99 (available in multiple quantities).
8.
A rubber squeegee brush if you're always cleaning up your dog's hair and still feel like you can never get it all. You will be absolutely gobsmacked by how much hair you unearth from the depths of your carpet whenever you use it.
Reviewers suggest using short, quick strokes over your carpet or rug to get the most pet hair out. This broom also works great for collecting pet hair on hardwood floors as the rubber bristles work like a magnet to gather all the hair into one big clump.
Promising review: "Didn't expect much, just bought this on a whim because on of those 'Things from Amazon that actually work' articles you see on social media. Well, I can say that it actually worked perfectly! I thought my carpet was clean because I have a full-size 'pet' vacuum, but I can tell that this broom is the only thing able to get deep enough and pull all that hair and dirt out of the fibers. Even works better on my tile floors than a regular broom. It doesn't kick up dust particles or leave them behind. Also, I feel you can use this instead of your mop since it also has a squeegee and can be cleaned just by rinsing it. So you get a twofer with this." —Nelio
Get it from Amazon for $12.98.
9.
A stainless steel cleaner for getting rid of all those pesky handprints on your oven or fridge. It won't leave behind any streaks, and they'll look so clean, people will think you got brand-new appliances! Don't worry — your secret's safe with us.
The plant-based, lavender-scented cleaner comes with a microfiber cloth for you to use on your appliances, and reviewers say you only have to use a little bit of the cleaner to clean your entire fridge or oven, which means one bottle will last you a really long time.

Promising review: "The stainless-steel appliances in our rental were so stained and smudged. Regular cleaners didn't work. The reviews were good and price was right, but what won me over was the plant-based ingredient list and lavender scent. I used the product the day it arrived in the mail. Worked like a charm! Easy-to-use spray, microfiber cloth included. So now my stainless-steel appliances look shiny and my kitchen smells amazing! Highly recommend." —diana,diana,diana
Get it from Amazon for $16.95.
10.
A bottle of concentrated floor cleaner with the ability to make your old floors look so shiny and glowing, you might just shed a tear. Because you need to dilute this cleaner with water, you'll get up to 1 GALLON of cleaner from the bottle.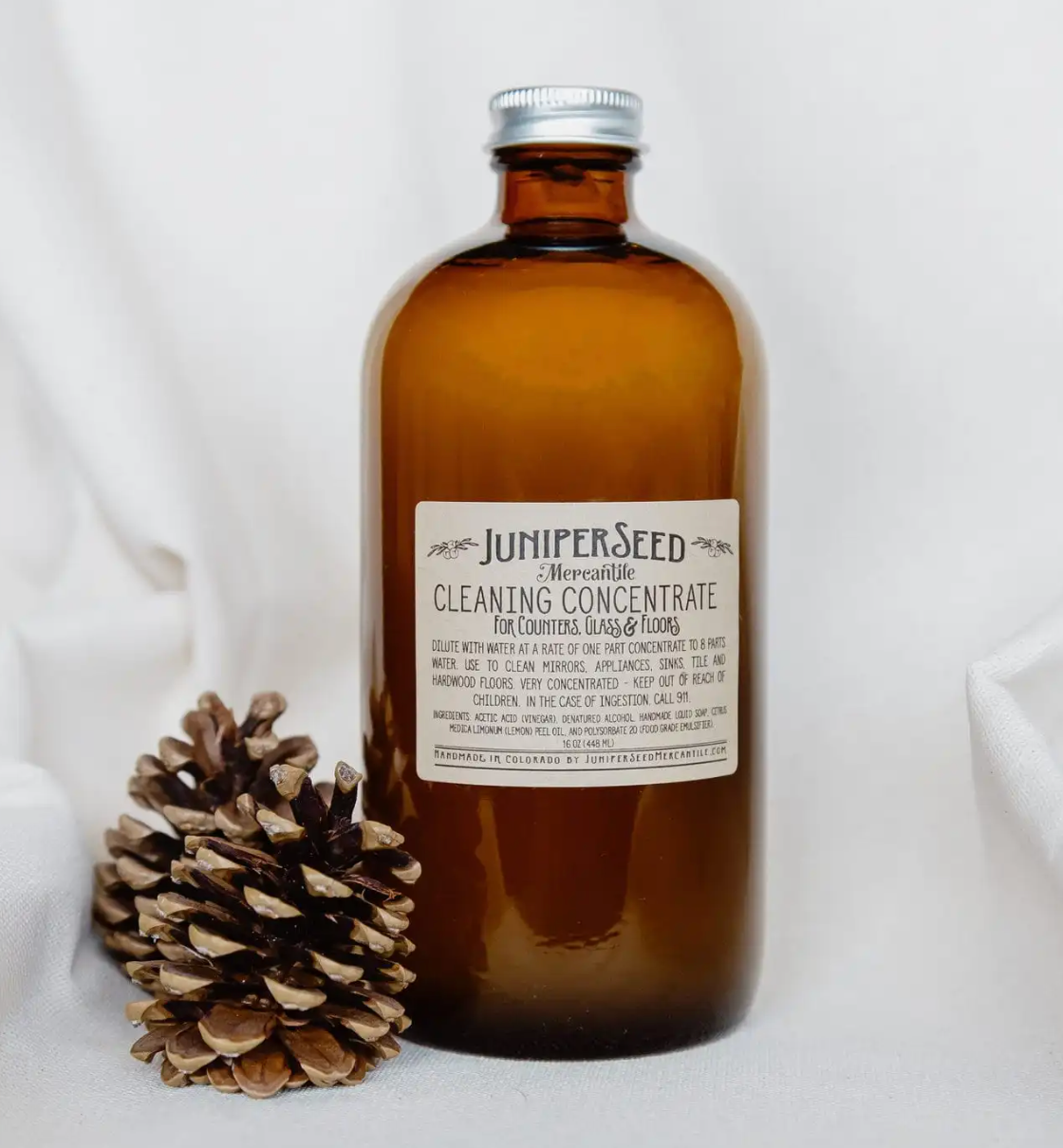 Juniper Seed Mercantile is a woman-owned small business based in Littleton, Colorado that creates all-natural bath and body products, home-cleaning solutions, and fabric alternatives to paper towels.
Get it from Juniper Seed Mercantile on Etsy for $16.
11.
A jar of the Pink Stuff, capable of removing set-in rust stains in your kitchen sink, burnt-on food in your oven, and dark scuffs on your wall. It's harder to find something this miracle cleaning paste can't do!
Promising review: "I added before and after photos of my filthy oven so you all would know this stuff is the real deal and worth it. I like that it didn't have a strong odor and it didn't use much effort at all to clean my oven. You can really see it removing the burnt-on grease after a few circular motions." —DNICEANDFAM

Get a three-pack from Amazon for $19.99.
12.
An Angry Mama microwave cleaner to finally get rid of all those food splashes that are covering your microwave right now and making it look like a Jackson Pollock painting. Using this simple gadget is 10 times easier than scrubbing the gross, dried food yourself.
To use, remove the head, add water, and vinegar, then microwave for about seven minutes. It softens the food particles so you wipe them away easily. You can also add a squeeze of lemon juice to the water/vinegar mixture to freshen up and get rid of the microwave odors that build up.
Promising review: "Used this for the first time today — it works! I didn't see a plume of steam as I anticipated, but nonetheless, it broke up all the grease and speckles left in the microwave and afterwards it all wiped away with ease. I did as recommended on the box and added a little vinegar and lemon to the water. I think this made a solid difference and this will be a household staple for our microwave cleaning." —Amazon Customer
Get it from Amazon for $7.99+ (available in three colors).
13.
A portable, hands-free Bissell SpotBot that will make you feel like you have your own personal cleaning robot. Basically, all you have to do is place it over a stain, turn it on, and sit back and relax as you watch it do its magic.
It also comes with a hose and tool attachment if you'd prefer a more hands-on cleaning session.
Promising review: "I have an older pug and he has always been good, but I knew one day this machine would be brought out. I had it nine months before my first use. He got sick one week, and I literally used the machine about 12 times in a week. All I can say is Bissell knocked it our of the park with this. It's amazing. It cleans so well. It is the simplest machine I have ever used that does so much. It is well designed. Quick setup. And clean up. It does all the work for you. And it does a fantastic job. I love it. Worth every penny. I'll never be without one. If you are on the fence, buy it. I can't believe how good this machine works. And the design is flawless. The tanks are so easy to fill. And clean for storage. And if it can clean 100% of what we had this week. It can clean anything!!! Like it never even happened. Thank you Bissell!!!" —David
Get it from Amazon for $171.