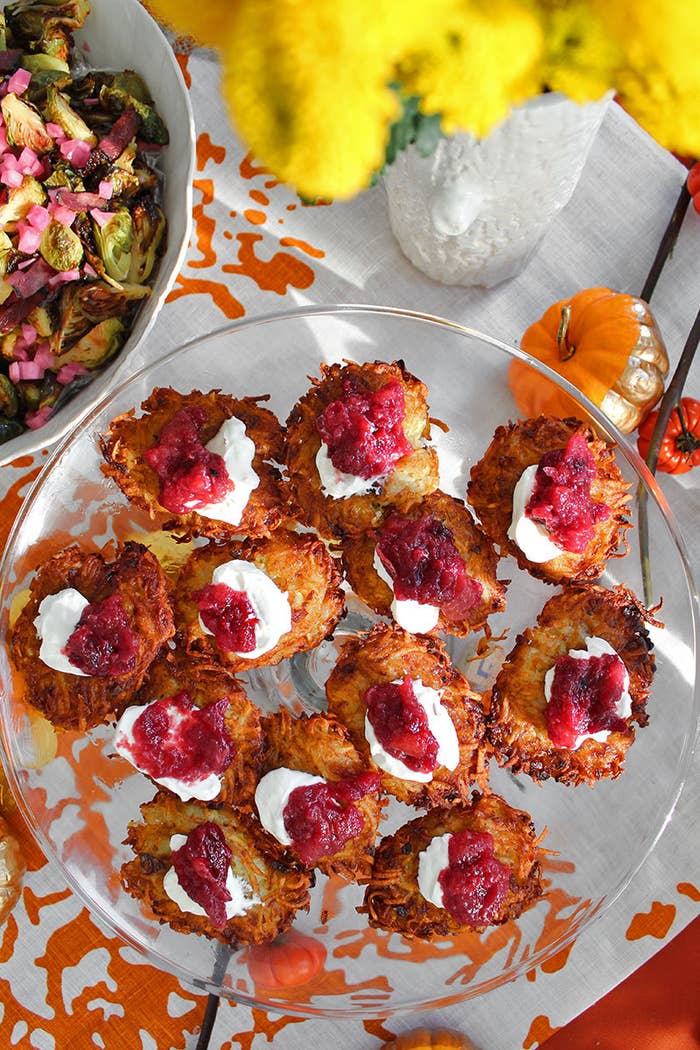 PART I: Make the cranberry applesauce.
PART II: Make the latkes.
You will need: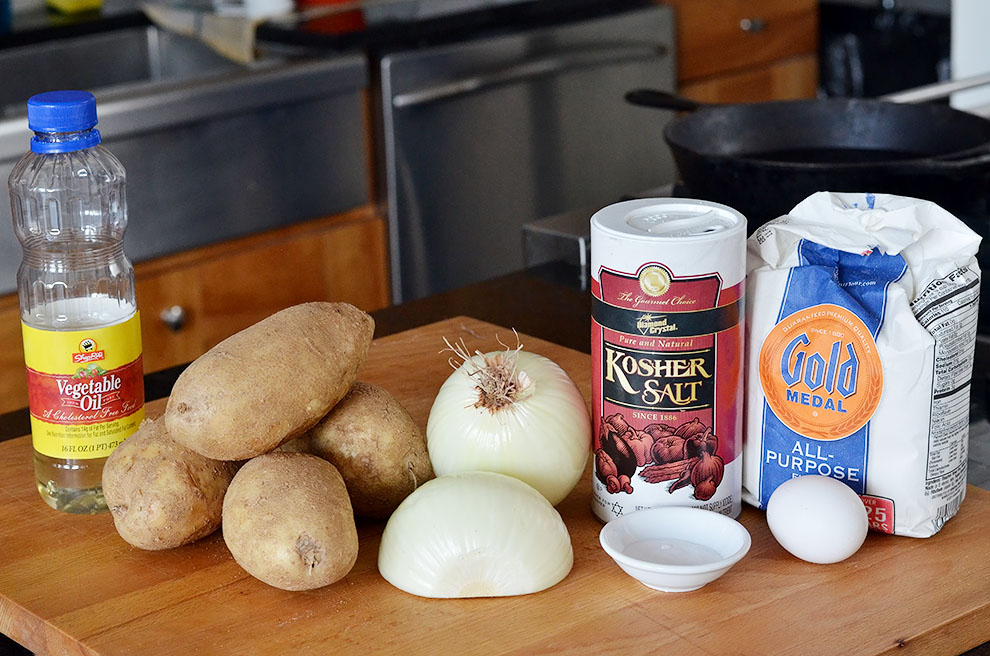 Finely dice the onions.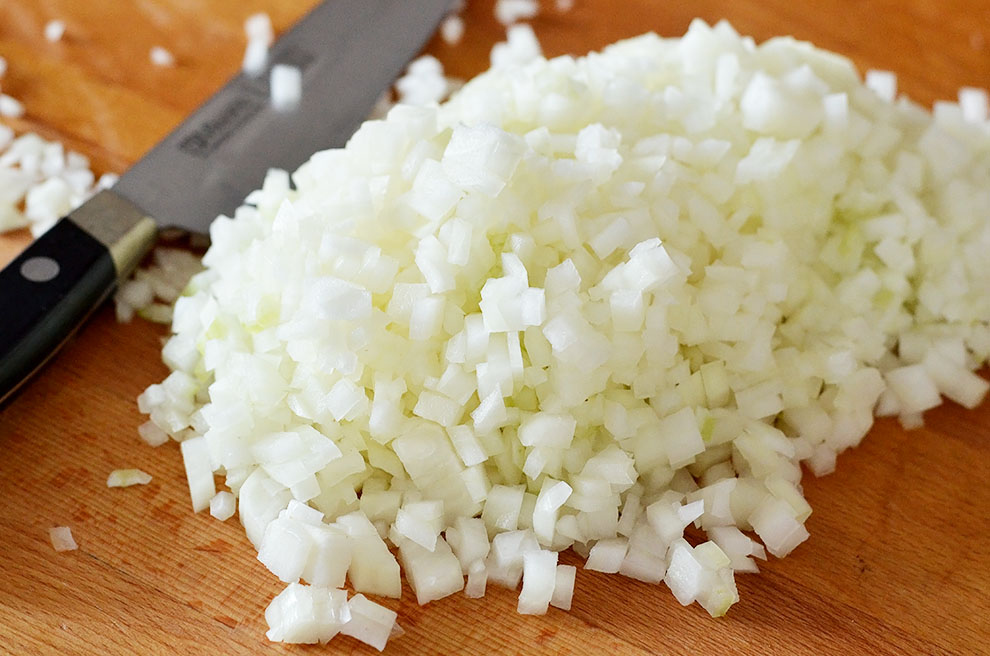 In a large mixing bowl, beat the egg and add flour, salt, baking powder, and 1 1/4 cup diced onions (set aside the other 1 1/4 cup aside for later). Mix to combine.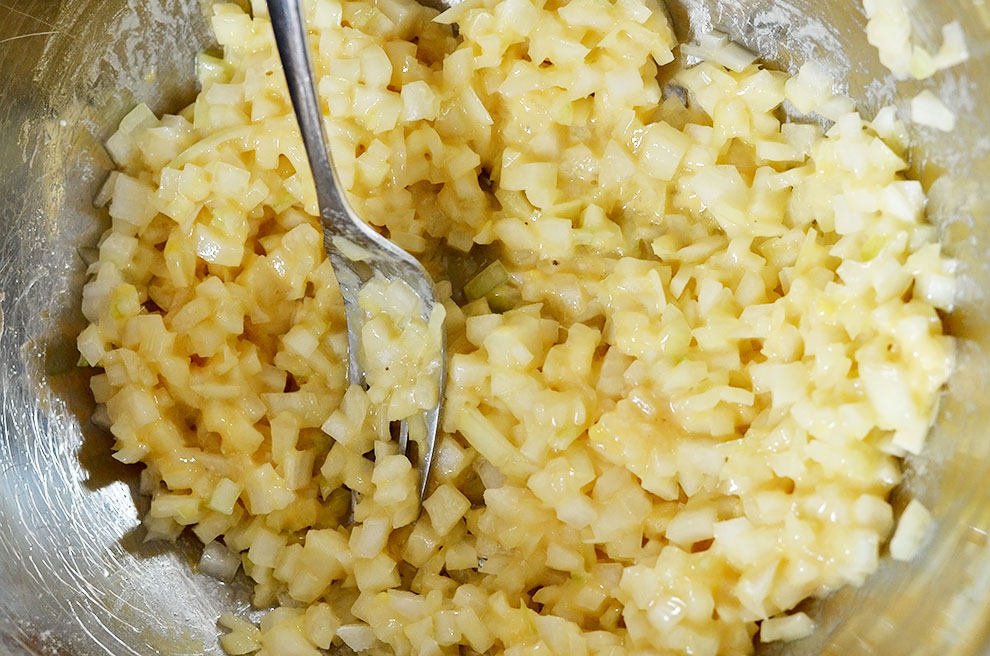 Set up a food processor with the grater attachment.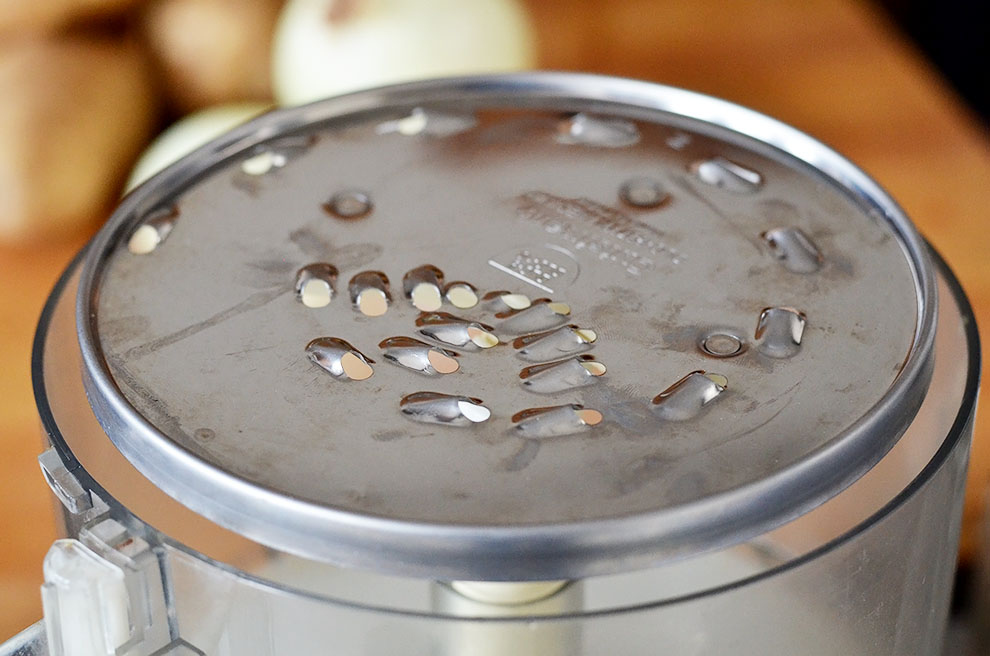 Peel potatoes and cut lengthwise into pieces small enough to fit into your food processor.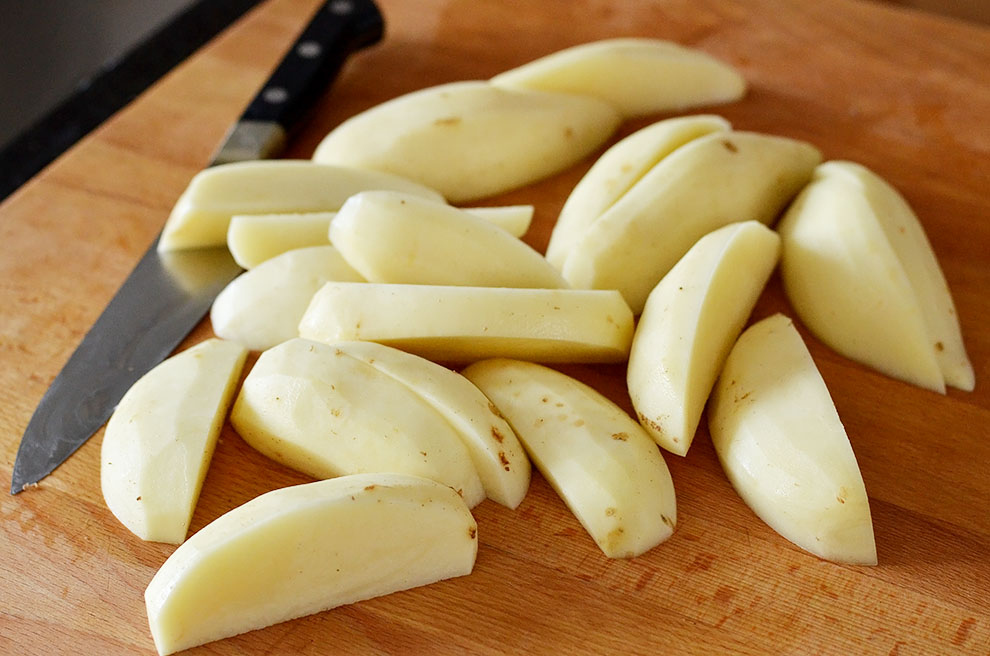 Feed potato pieces into the food processor one by one.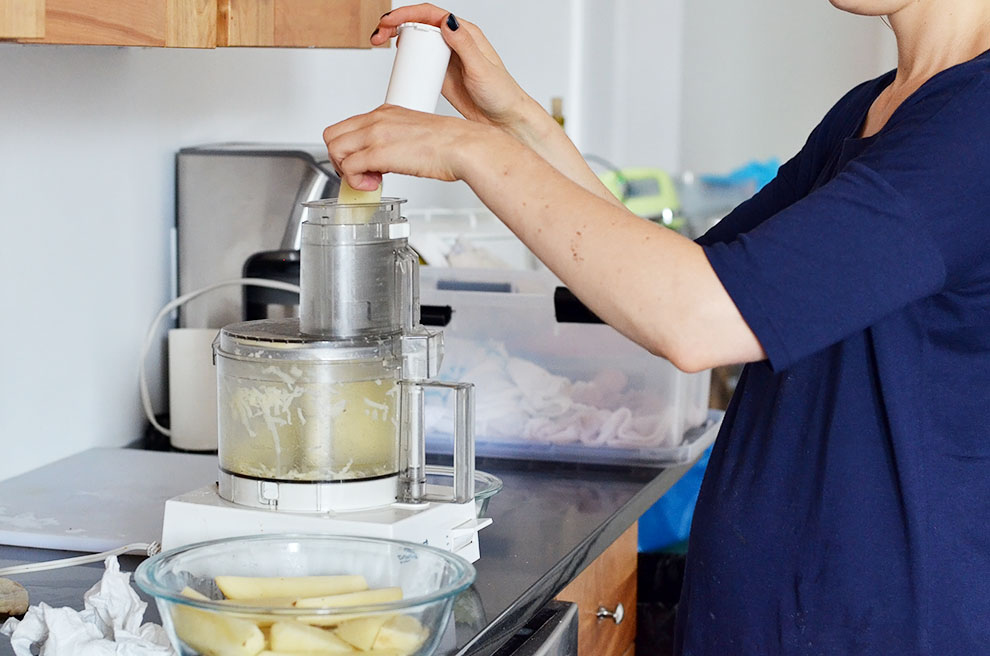 Then add the remaining 1 ¼ cup diced onions.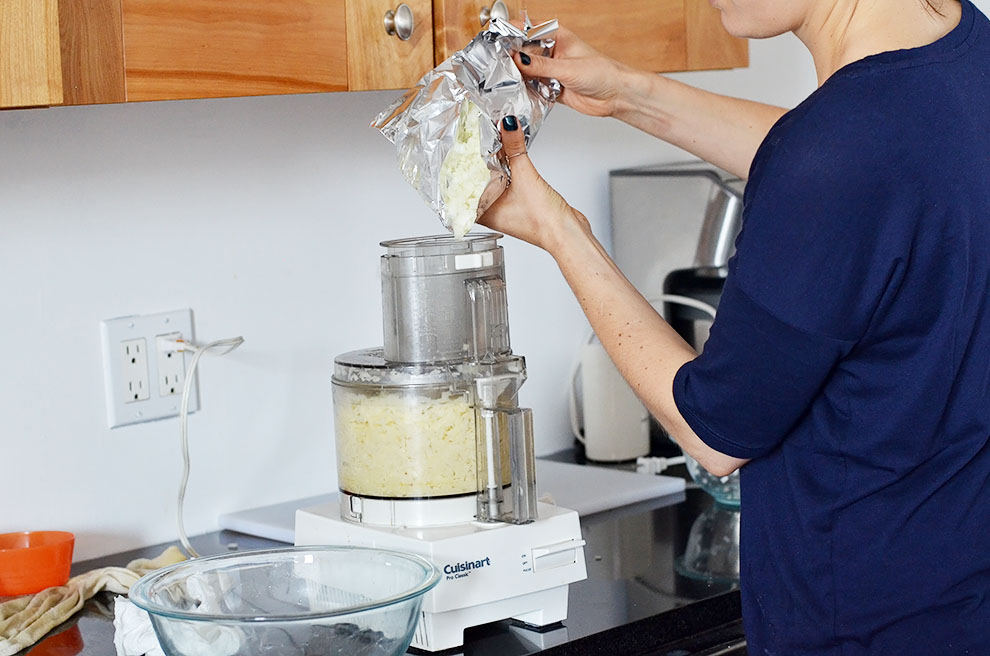 Set up a colander over a large bowl, and line it with a thin, smooth kitchen towel.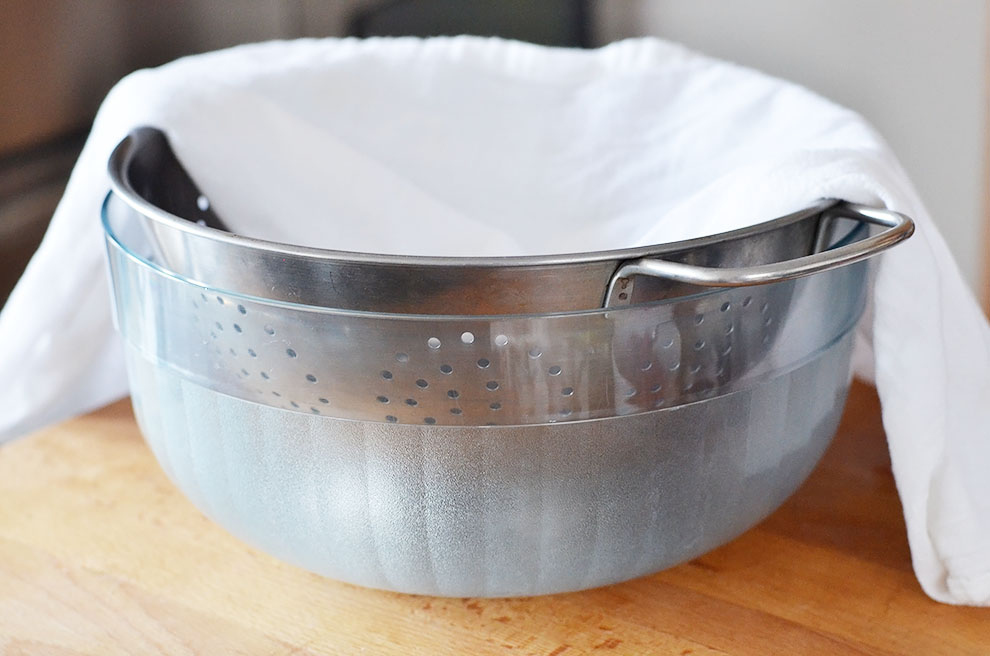 Dump your grated potato/onion mixture into the towel.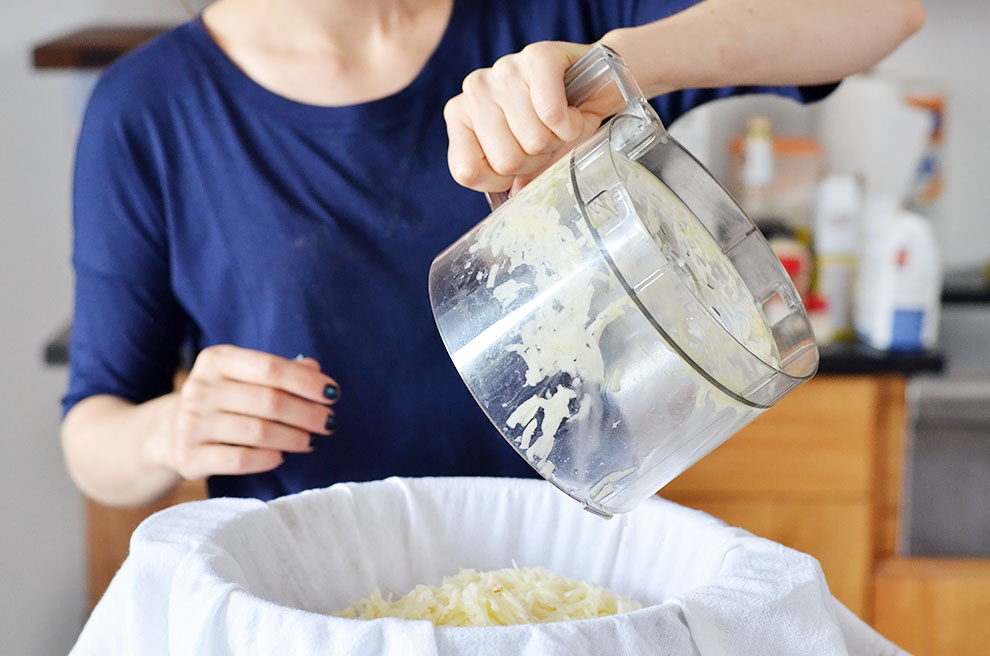 Ring out as much liquid as you can.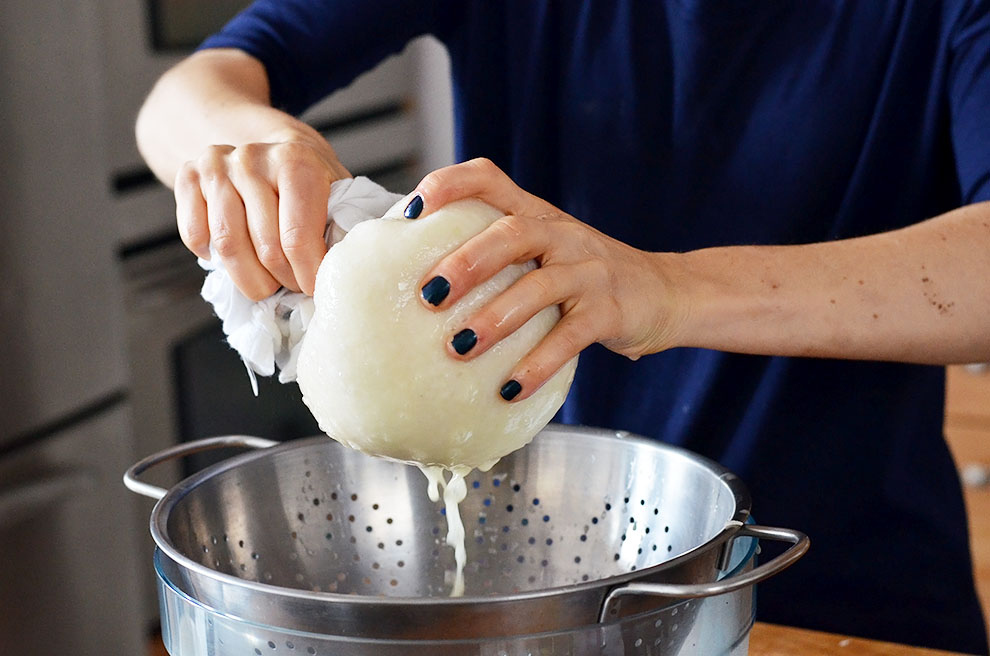 You should be able to squeeze out at least a cup.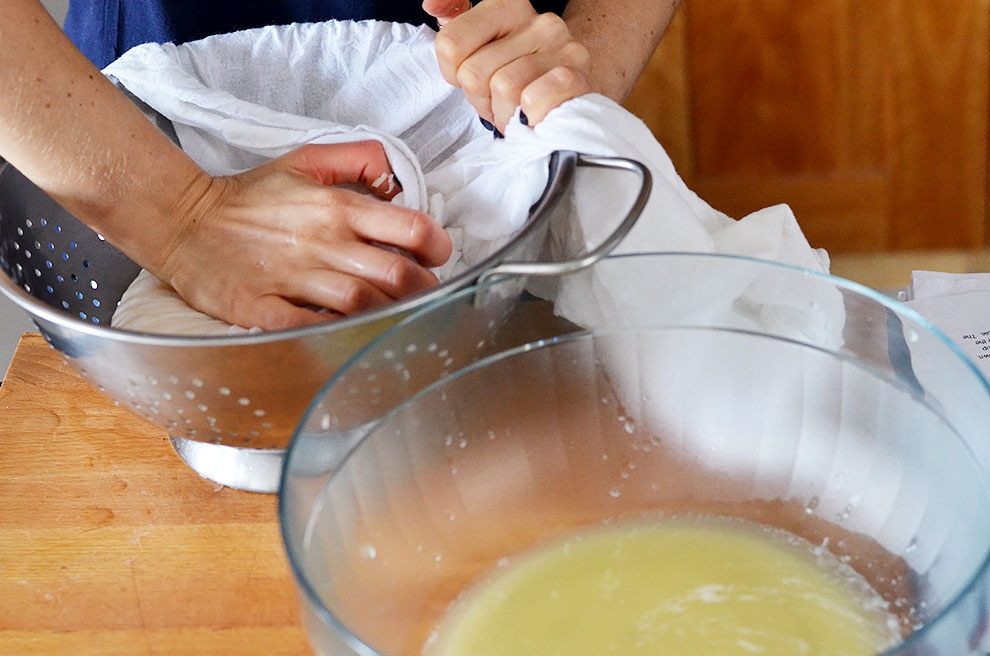 Pour out the liquid, but save the white potato starch that sticks to the bottom of the bowl.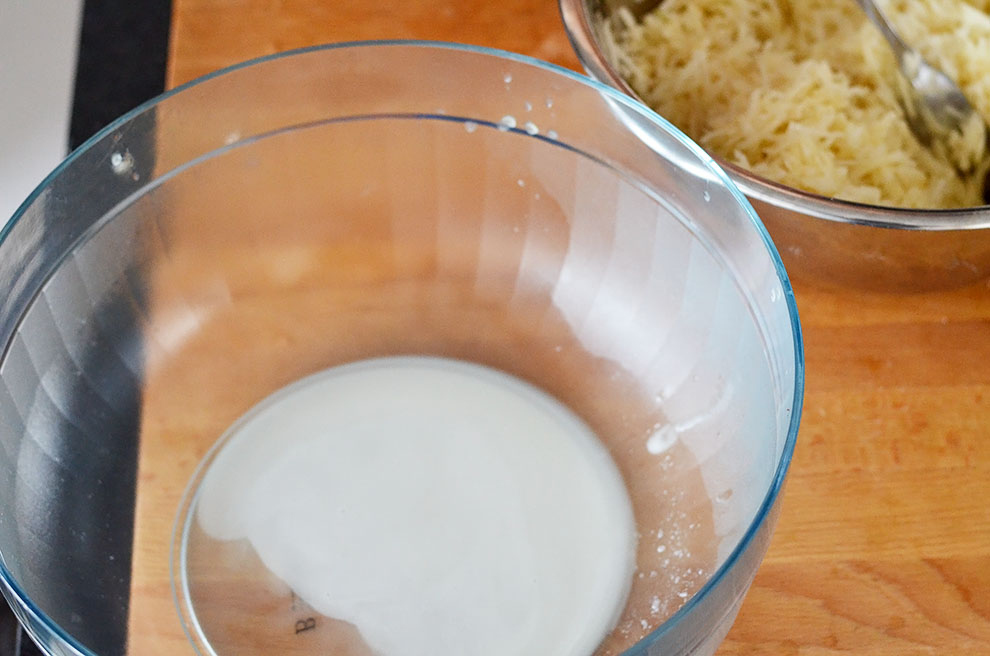 Add the squeezed potato/onion mixture and potato starch to the egg/onion/flour mixture, and stir it all up.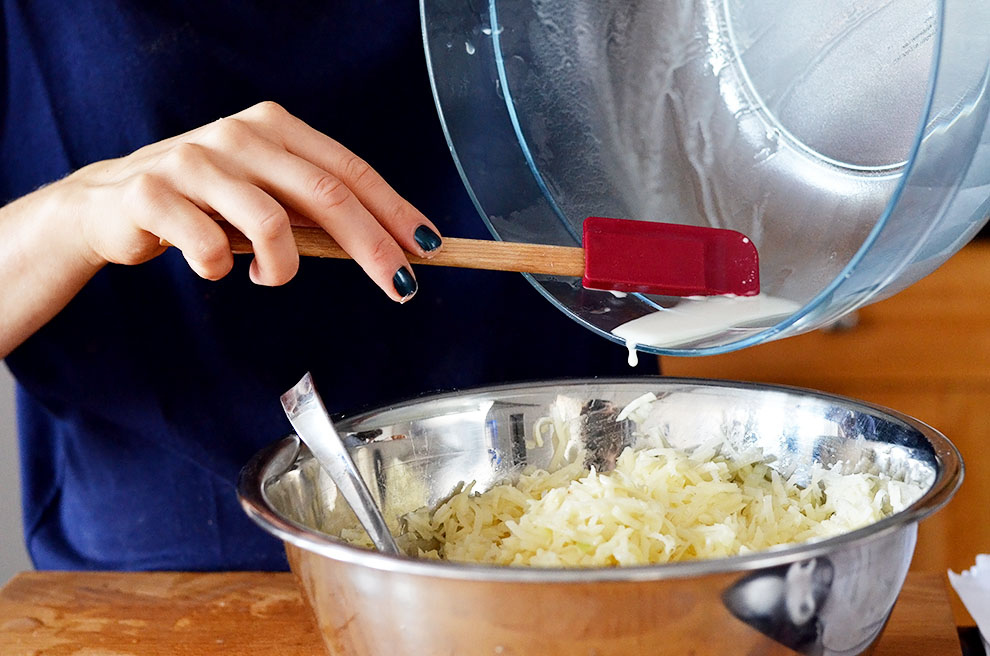 Pour enough vegetable oil into a heavy-bottomed skillet so that it is about 1/4-inch deep, and heat over medium heat to about 350 degrees.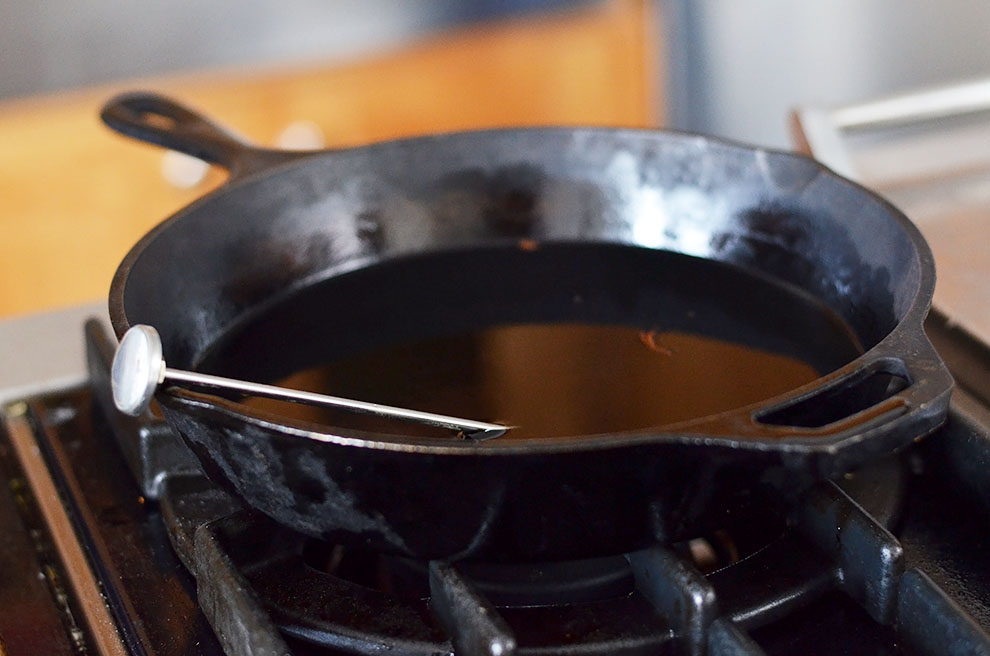 Set up a baking sheet with a rack next to your stove, as well as an empty mixing bowl to wring out extra liquid into.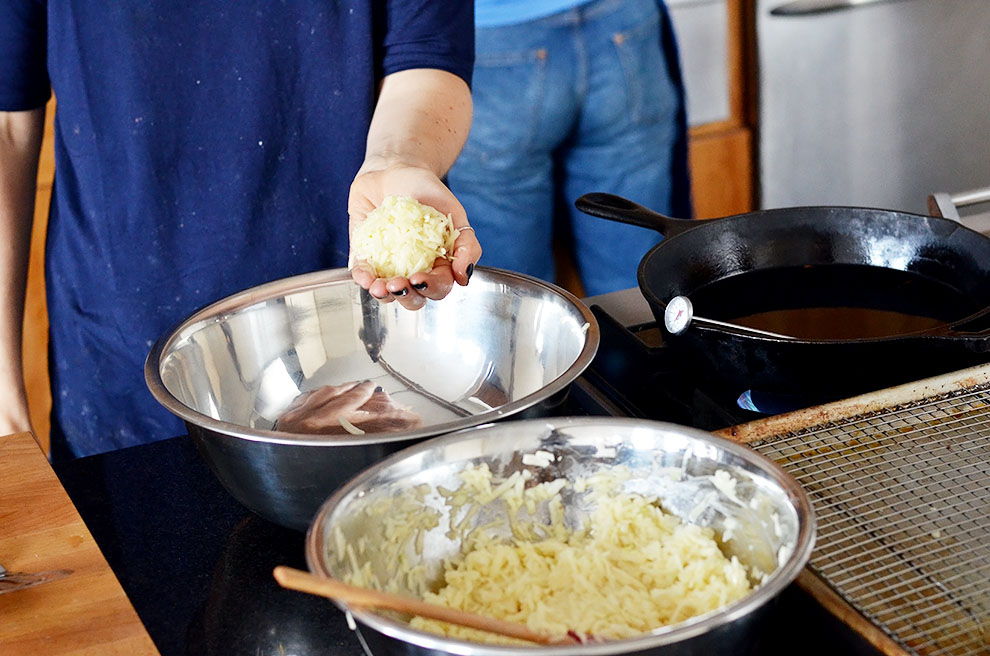 Grab about 1/4 cup of the potato mixture, and squeeze excess liquid out over the empty bowl.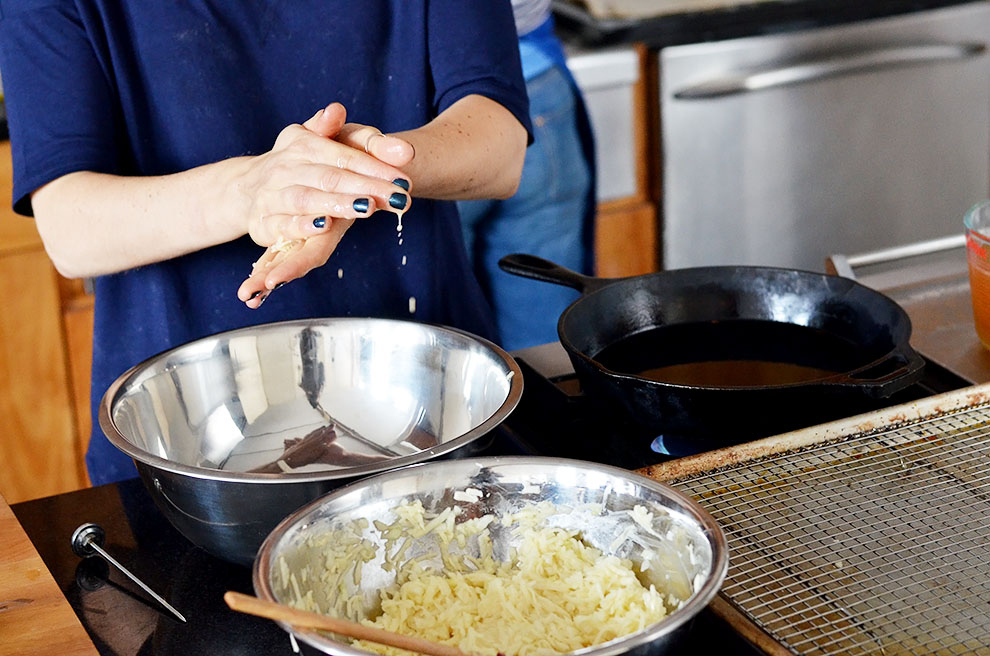 It helps to flatten mixture out over a slotted metal spoon.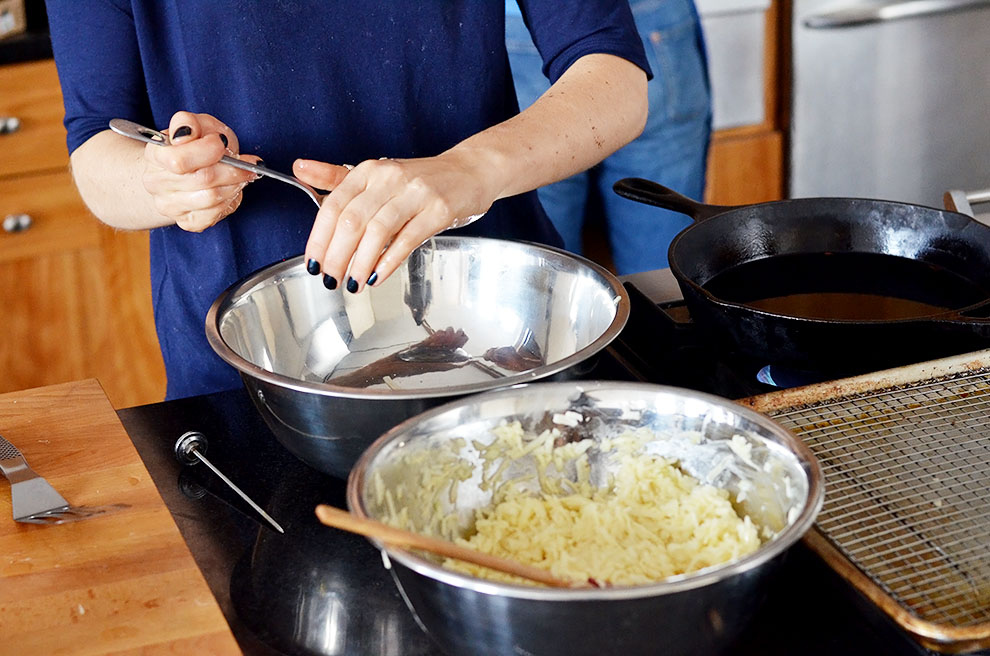 It should be packed tightly so that it doesn't come apart while frying.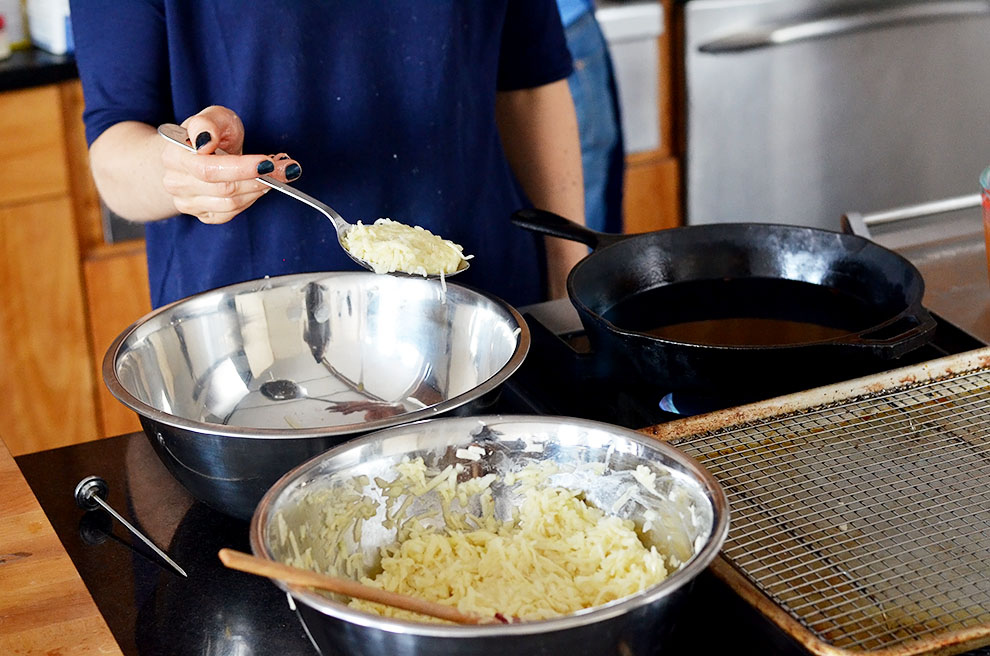 Slide the mixture into the oil carefully.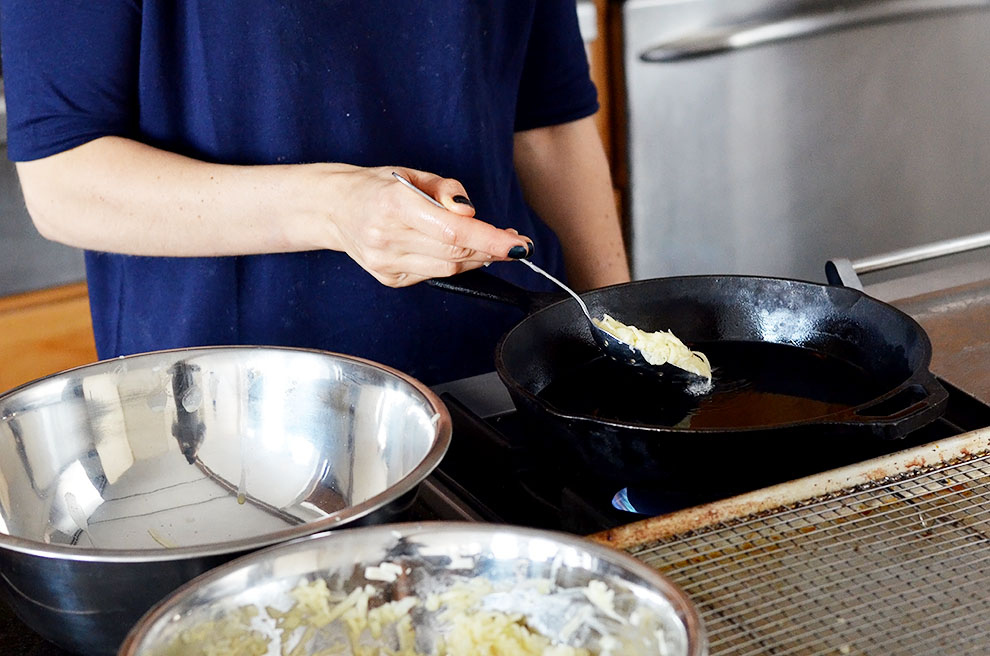 It should start to bubble immediately; if not, your oil isn't hot enough.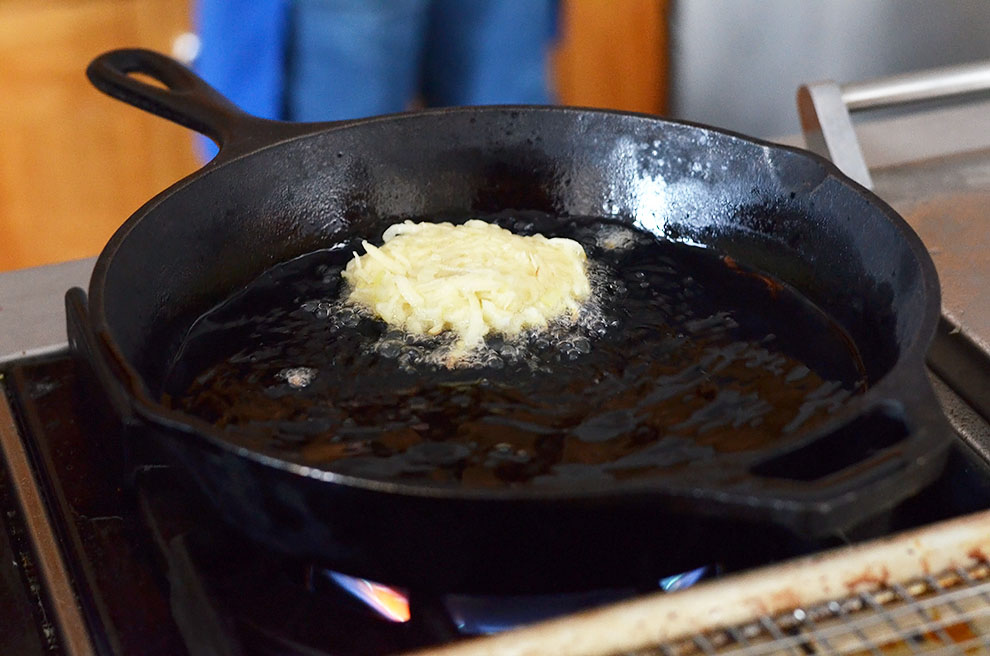 After about 2 minutes, or when the underside is golden brown, flip latke AWAY FROM YOU to brown the other side.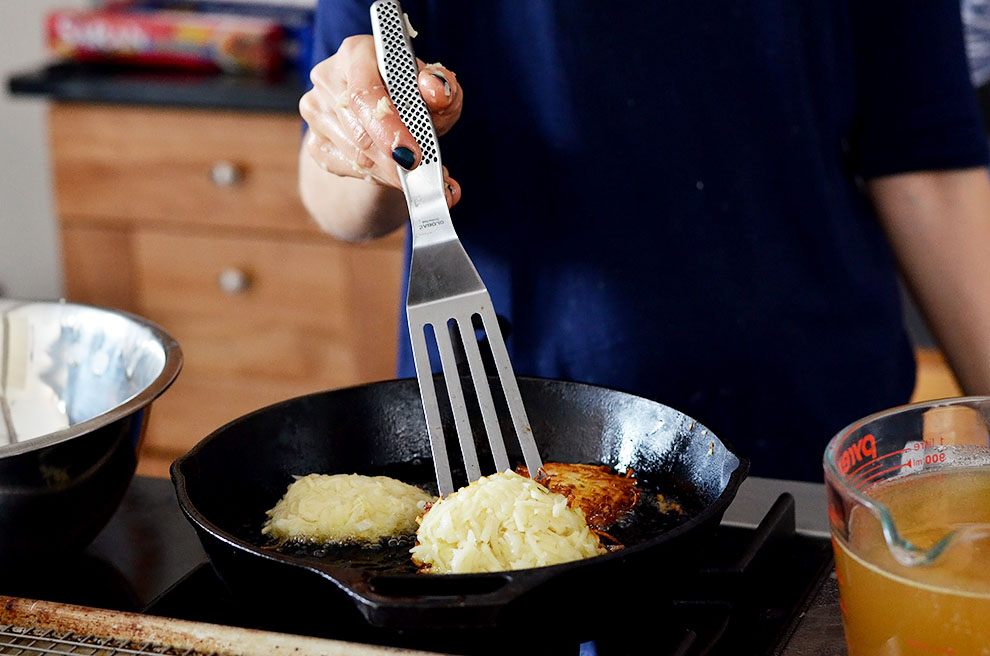 Repeat with a few more latkes, but don't crowd the pan or the oil won't stay hot enough.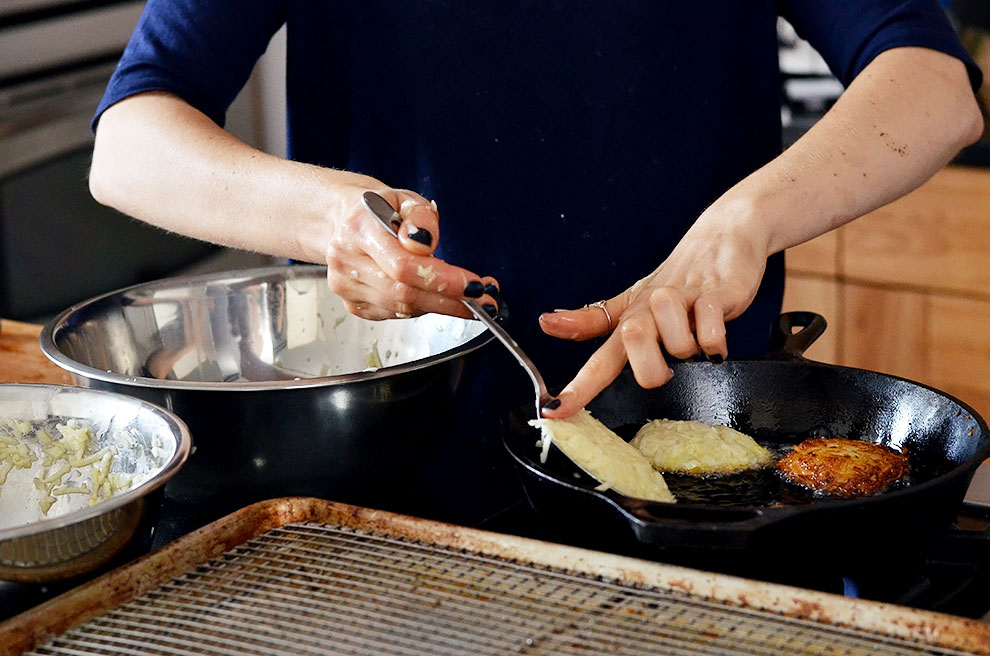 When latkes are golden brown on both sides, remove from pan and place them on the baking sheet with rack.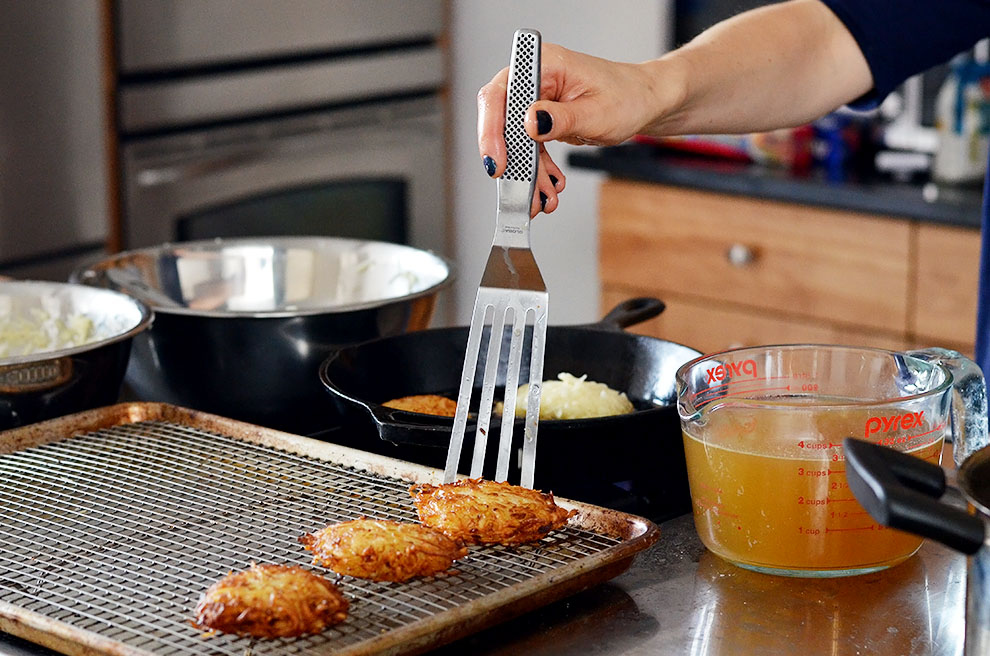 If your oil gets filled with too many rogue bits of potato during frying, just remove them with your slotted spoon.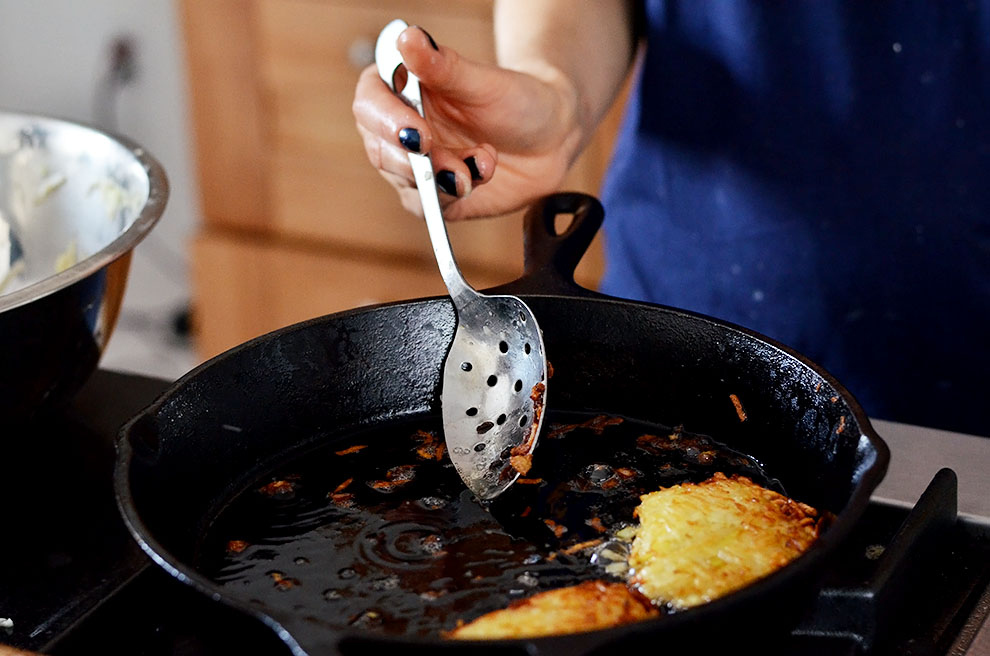 Once you're done frying, bake latkes in a 425 degree oven for about 8 minutes, to cook them all the way through.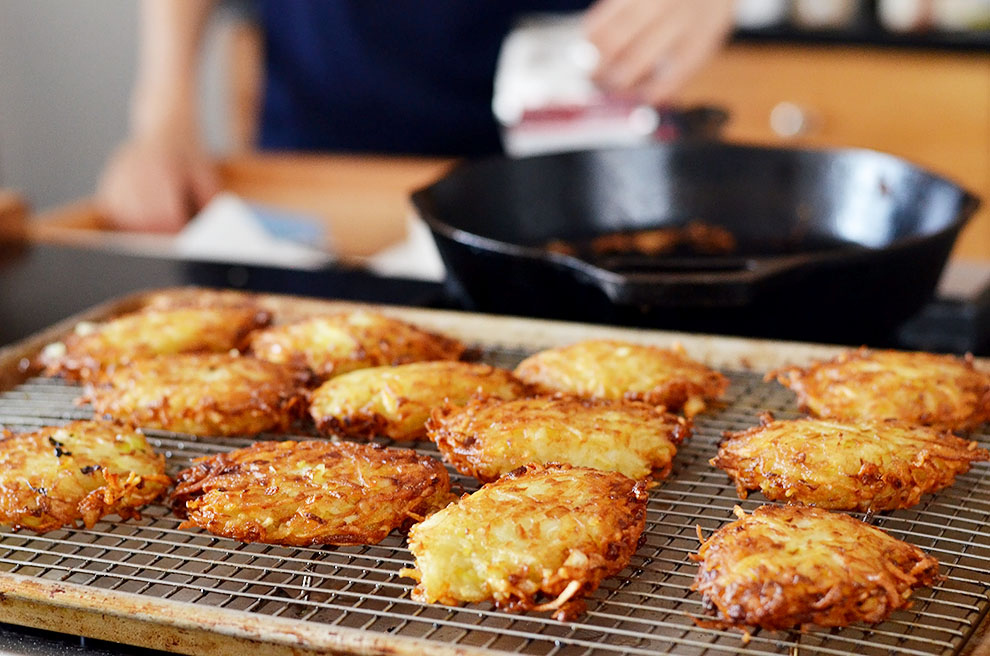 Garnish with cranberry applesauce and sour cream, and serve them immediately to your very, very happy guests.
Makes 10-15 latkes
INGREDIENTS
2 1/2 cups diced* onions, divided
1 large egg
2 tablespoons all-purpose flour
1 1/4 teaspoons salt
1 teaspoon baking powder
2 pounds Russet potatoes
Vegetable oil (for frying)
Sour cream (garnish)
Cranberry Applesauce (garnish)
*To dice means to chop into roughly ¼-inch cubes.
Special Equipment
Food processor with grating attachment
Deep-fry thermometer
PREPARATION
Line a colander with a smooth kitchen towel or cheesecloth. In a large mixing bowl, combine half of the diced onion (1 1/4 cups), egg, flour, salt, and baking powder, and mix with a rubber spatula just to combine.
Peel potatoes and cut into 1-inch cubes, working quickly so that the potatoes don't brown. Using the grater attachment of a food processor, grate potatoes and remaining 1 1/4 cup diced onion. Pour the potato-onion mixture out into the towel or cheesecloth set over the colander, wrap the towel around the mixture, and wring out as much liquid as possible. The potatoes should release at least 1 cup of liquid. Discard liquid.
Add dry potato mixture to the egg/flour mixture, making sure to scrape all potato starch off of the towel and into the mixing bowl. Stir until batter is combined and sticky.
Preheat oven to 425°F. Set a wire racks inside a baking sheet and place it on the counter next to your stovetop.
Heat 1/2 cup vegetable oil in a heavy-bottomed skillet over medium-high heat. Oil should be hot but not smoking, about 375°F. For each latke, take about 1/4 cup of batter and flatten it in your palms to about a 2-inch disk. As you do this, squeeze out excess liquid, then place the disk into the oil with a heatproof spatula. Cook latkes about 4 minutes each side, until golden brown. Cook in batches of 4-5 latkes. Between batches, use a slotted spoon to strain any leftover bits of potato mixture out of the oil. Add more oil as needed, making sure to let the oil reheat before dropping the next potato mixture in. Transfer fried latkes to the baking rack, and place in the oven for about 8 minutes, until crispy and deep brown.
Garnish with sour cream and cranberry applesauce.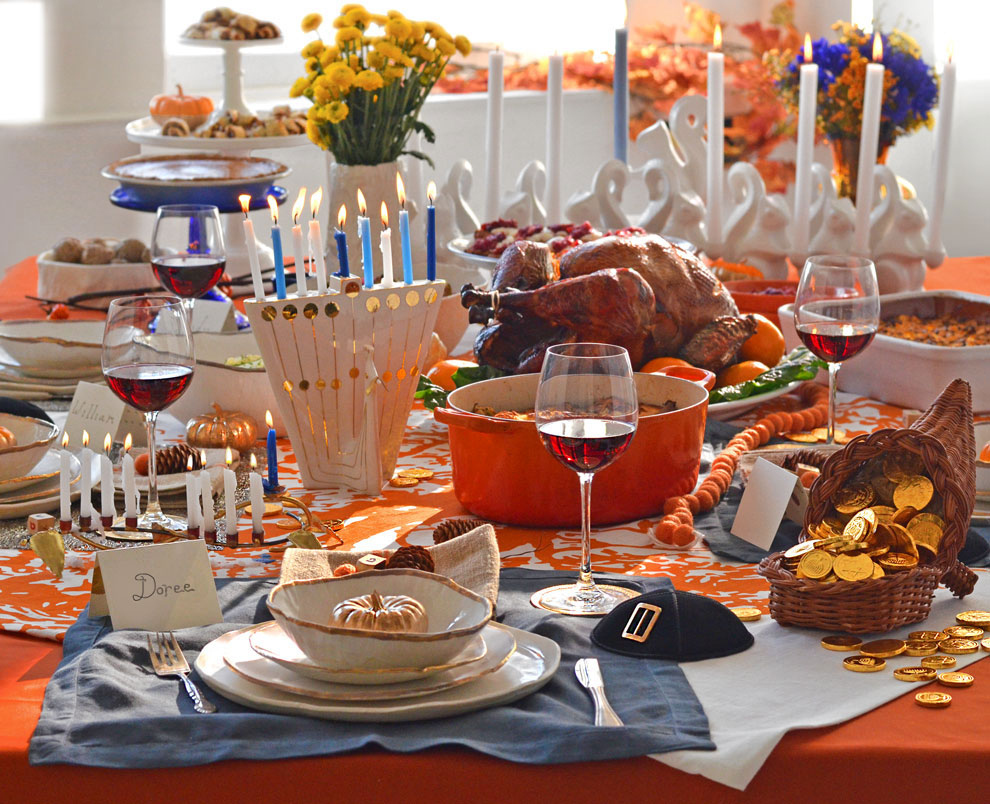 Planning on cooking this recipe, or another one from our Thanksgivukkah menu?
That's awesome! Take a picture of your finished dish, post it to Instagram, and tag it #Thanksgivukkah. The BuzzFeed food editors want to know how things turn out in your home kitchen. And, who knows? Maybe your photo will end up in a BuzzFeed post!