Soccer Ramps Up Efforts To Support Gay Players And Fans
With an out gay player, Major League Soccer announces partnership to help advance equality efforts in the league. "The diversity found in our League has always been a point of pride for us," MLS Commissioner Don Garber says.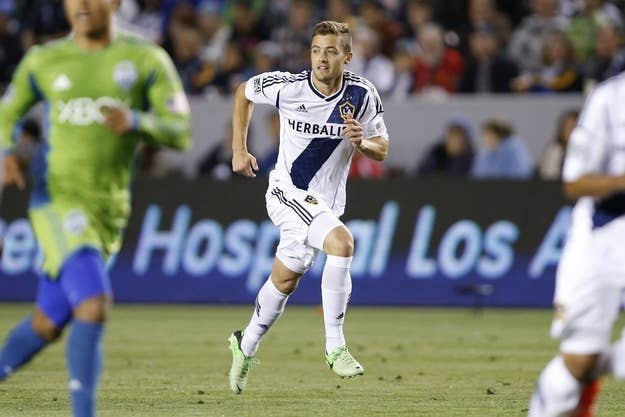 With its first out gay player, Robbie Rogers, playing for the Los Angeles Galaxy, Major League Soccer is launching a new effort to stop anti-gay attitudes and encourage diversity that aims to build on existing league efforts at opposing discrimination in the league.
Partnering with the You Can Play Project, a program started by Patrick Burke to fight homophobia and transphobia in sports, Wednesday's announcement by the MLS follows a similar partnership announced by the National Hockey League in April.
"The diversity found in our League has always been a point of pride for us. Our MLS WORKS 'Don't Cross the Line' initiative is a strong statement that we are a league that stands against discrimination," MLS Commissioner Don Garber said in a statement. "We are proud to partner with You Can Play to ensure that all of our fans and players know that MLS is committed to providing a safe environment where everyone is treated equally, and with dignity and respect."
The effort aims at improving the environment for both players and fans, as You Can Play's president, Patrick Burke noted.
"This partnership with MLS and the MLS Players Union confirms the message that MLS will not tolerate discrimination of any kind inside the locker rooms, on the field or in the stands. We will be able to provide vital resources directly to the players, while also ensuring that every soccer fan feels welcome to attend MLS events," Burke said.
Rogers made his comeback to the game following a brief retirement after he came out earlier this year on May 26, after having announced his trade to the LA Galaxy just a day earlier.
Rogers is the first out gay man to play in the leading five major league team sports of baseball, basketball, football, hockey or soccer.
Todd Dunivant, an LA Galaxy defender and member of the MLS Players Union executive board, supports the effort, saying in a statement, "As MLS players, we believe that our clubs are strongest when everyone feels safe and included in the locker room. In addition, we love our fans and want all of them to feel safe in our stands. We are excited to work with You Can Play to ensure that both our locker rooms and our stadiums are welcoming to the LGBT community."
According to a news release announcing the partnership, You Can Play will build upon MLS' existing anti-discrimination education and training resources and it will provide players with the ability to seek counseling or ask questions confidentially.