Seven-year-old Marlee walks onto the stage with her little sister, microphone in hand, and smiles out at the sea of faces staring back at her in anticipation.
After a few technical difficulties, someone takes Marlee's microphone and tries to fix it. Her song suddenly kicks in on the loudspeaker, and Marlee immediately takes the microphone back and belts into it, singing in perfect pitch.
Three thousand college students go wild while I try to furtively wipe away a tear. I'm not crying. I'M NOT.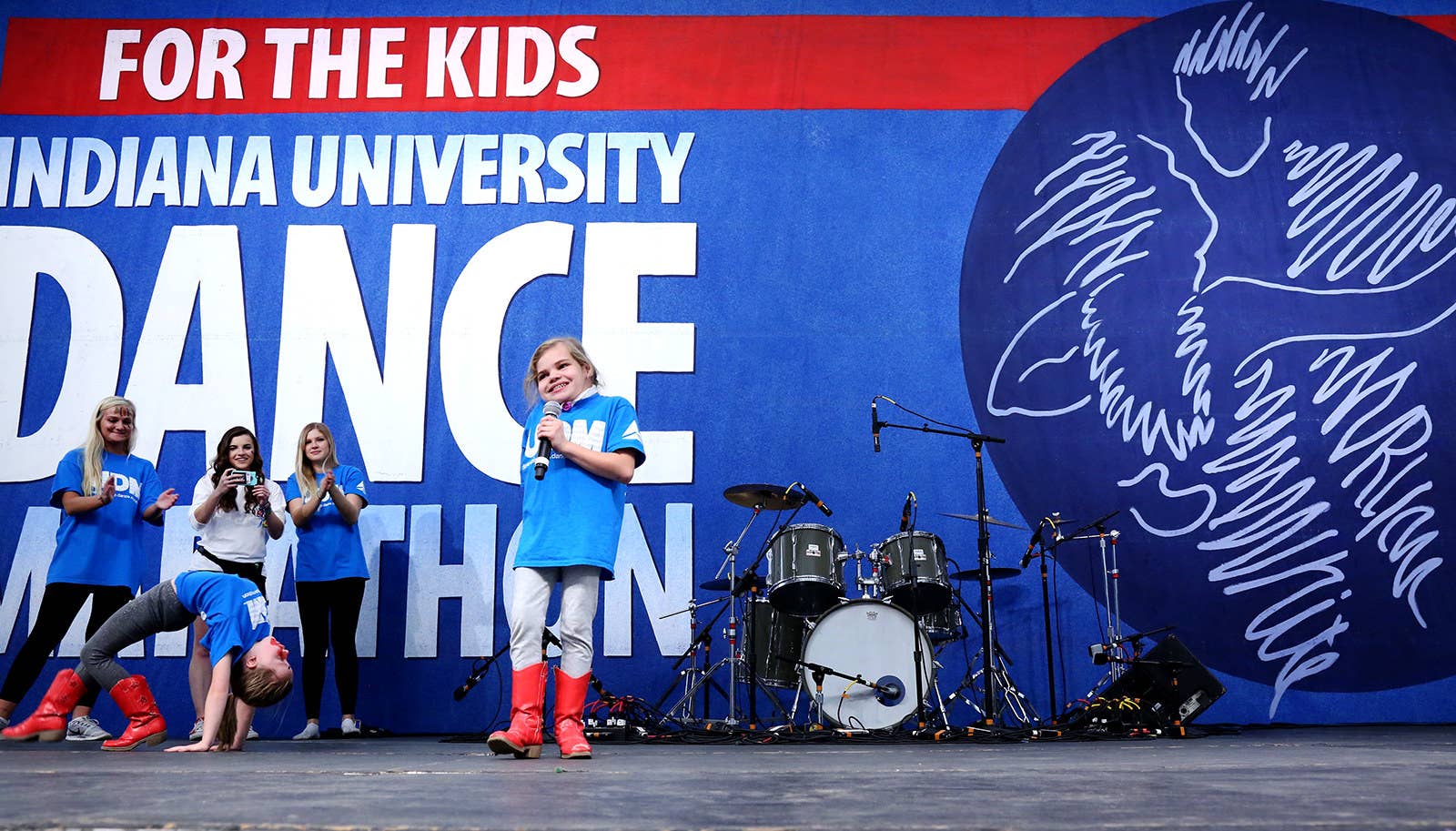 At Indiana University (IU), one weekend out of every year, kids like Marlee are treated like absolute rock stars. Because they are.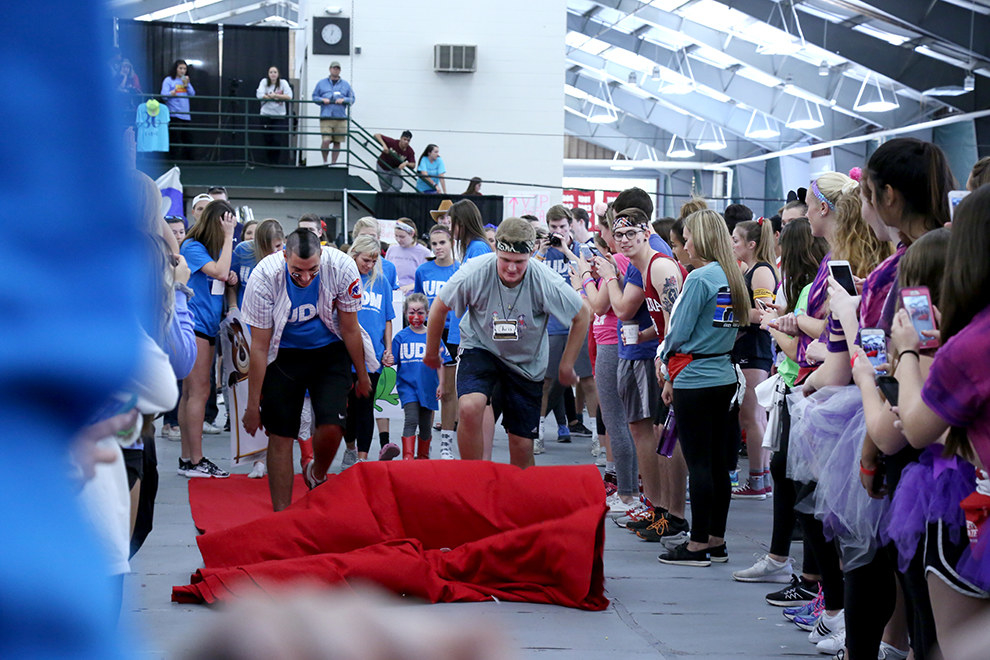 Indiana University Dance Marathon (IUDM) is a student-run organization that raises money for IU's local hospital, the Riley Hospital for Children. "Riley Kids" (as they're fondly referred to) have seen it all: surgeries, prolonged hospital stays, and missing out on school. But at this fundraising event — a 36-hour dance marathon held in their honor — they are the stars of the show.
The IUDM event is part of a broader series of fundraisers that take place across America and Canada for local Children Miracle Network Hospitals (like Riley Hospital). I was about to experience an event that more than 300 universities, colleges, and high schools participate in every year. How had I never heard of this before?! I drafted a sternly worded letter to my alma matter in my head. Then, I drafted a follow-up apology letter regarding my stern tone. (Welcome to my brain.)

I really didn't know what to expect as I walked up to the IU tennis center for my very first dance marathon. I pictured a quaint gymnasium with a smattering of people swaying slowly to the music to keep their strength up. (Honestly? I think I just watched the dance marathon episode of Gilmore Girls a few too many times. #TeamJess4eva)
I was in for a massive surprise.
The IU tennis center was enormous and packed to the gills with sleepless, hyped-up humans donning colorful wristbands, face paint, sports socks, and shower shoes. Also, there were fanny packs as far as the eye could see.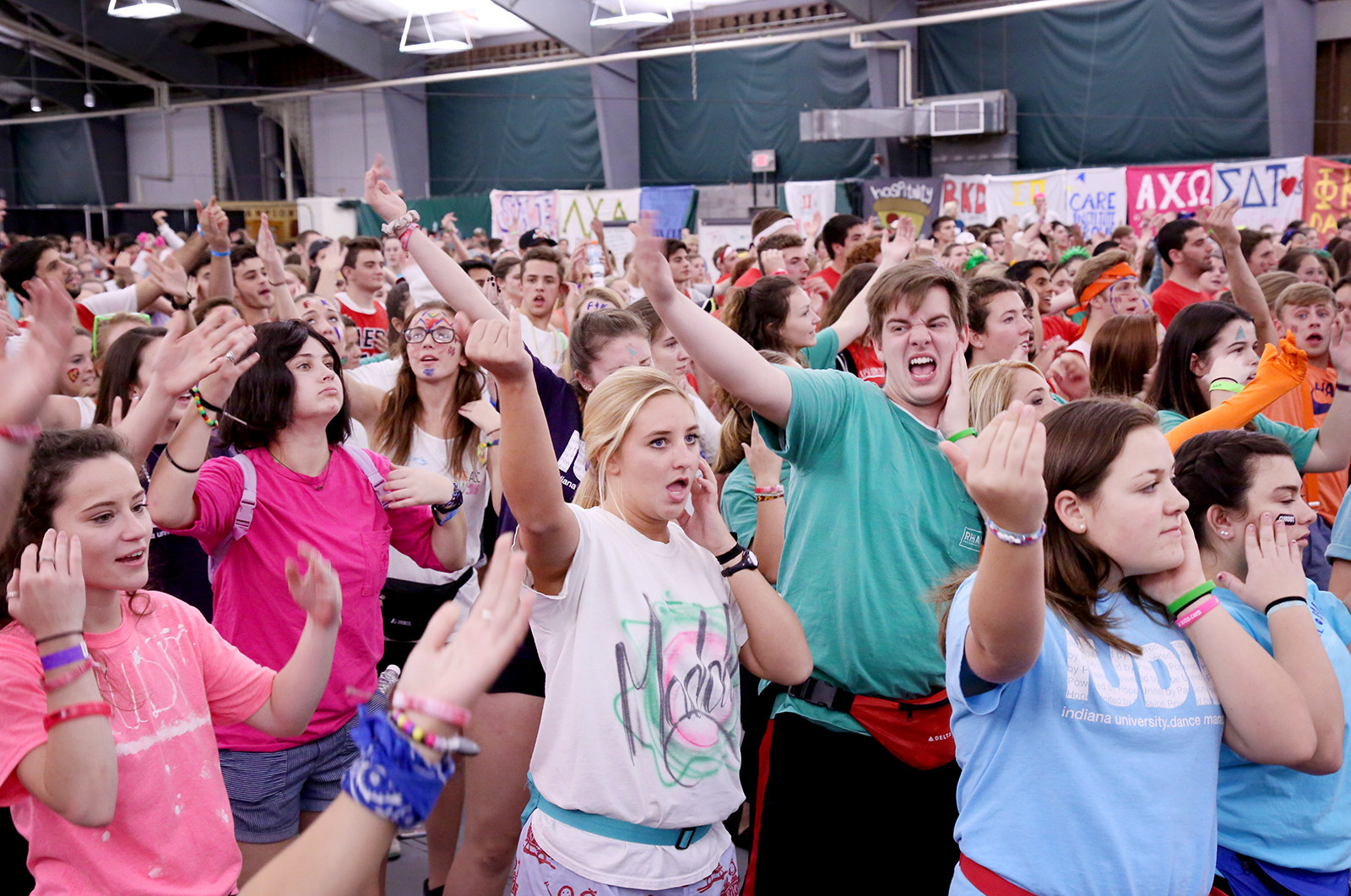 Mixed in the crowd were Riley Kids, dancing on their buddies' shoulders, twirling around with their parents, and bopping to the music along with the crowd.

Every 10 seconds, the music would jump from one hit song to another — Bieber to MC Hammer to Beyoncé — the dance moves keeping up with the change in music.

I found myself joining in already even though I didn't know a single move. But it didn't matter: I was one speck in a swirl of many. I could have started doing my fifth-grade tap-dance routine and, as long as I was moving to the music, nobody would have noticed.
An airhorn sounded across the loudspeakers and everyone went crazy, cheering and running around the room excitedly. The airhorn, I later found out, meant another $150 had been raised. I heard a lot of airhorns that weekend.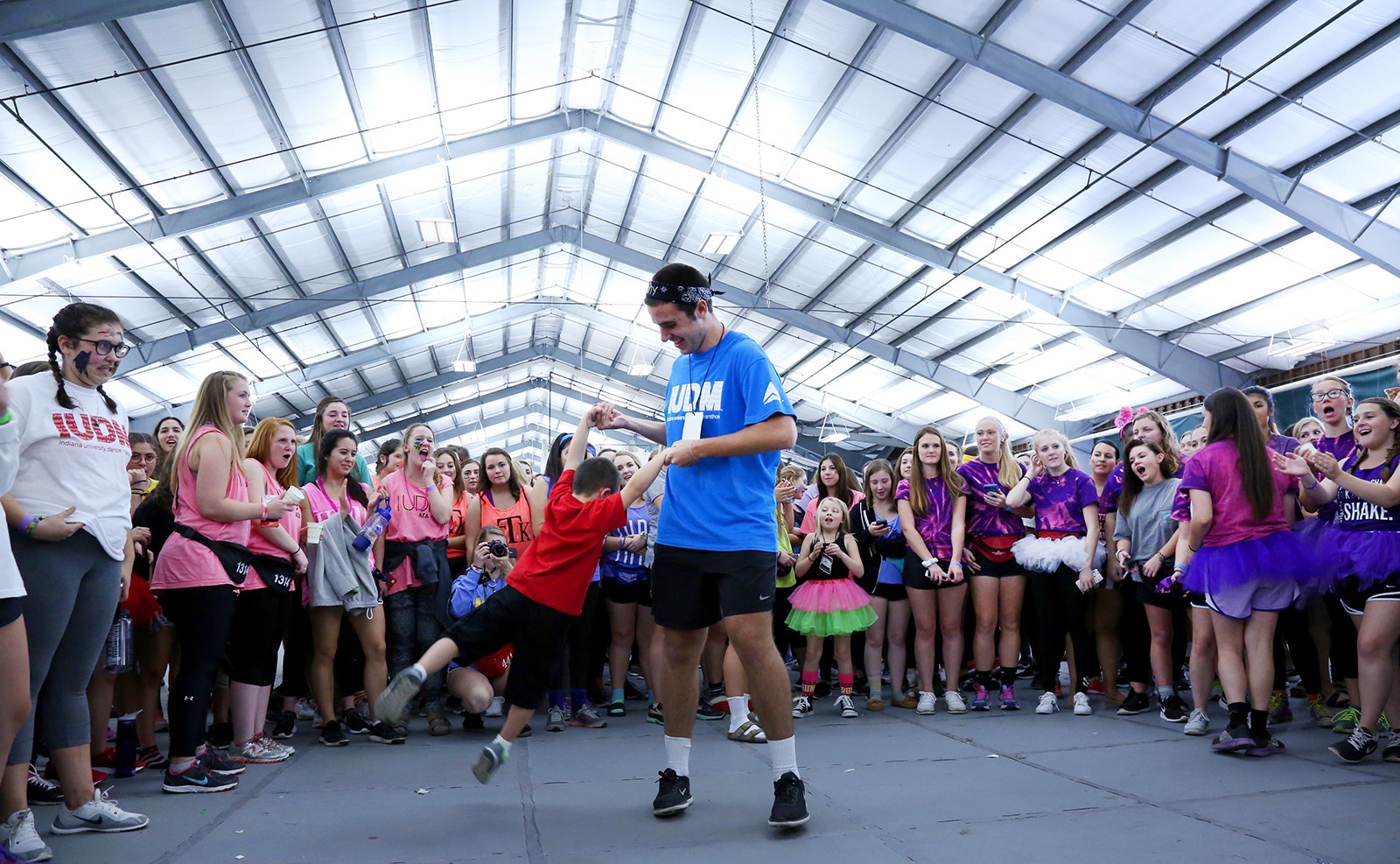 On the stage, I spotted the Morale Committee. These are the students who dance for the full 36 hours, the ones who keep the cheers going at 4 a.m. when everyone's been on their feet for 18 hours. They're also the ones who teach everyone the final dance number.
You might think this sounds exhausting, but when you're a regular at IUDM, making it onto the Morale Committee is a dream come true. Who doesn't want to party for hours with their friends in the name of raising money for a good cause?
So how does it all work? Participants of IUDM get to dance for a 12-, 24-, or 36-hour shift, depending on how much money they've raised over the course of the year. The more you raise, the more you dance!
And IUDM is so entrenched in the school culture that new students are naturally added into the fold every year. Want to join a fraternity? You'll need to sign up for IUDM if you want to pledge. Want to hang out with friends over the weekend? They're fundraising in front of grocery stores across the state and making a road trip out of it! You can't help but want to join...which is exactly what happened to me. So I decided to sneak my way in. Behold my brief foray on the Morale Committee:

With my three seconds of (nonexistent) fame over, I decided to do a little exploring. The venue was partitioned into various stations to keep everyone entertained (and awake!). Take your most magical week of summer camp and compress it into one weekend, and you've got IUDM:

If you weren't in the main space learning the Morale Dance, you were getting a slice of pizza at a booth, playing basketball against another committee, or getting your face painted by one of the Riley Kids. There was an area where you could read people's stories from Riley Hospital or leave a note of encouragement and love pinned to the wall. There was even a bouncy castle for the kids (they said I was too big).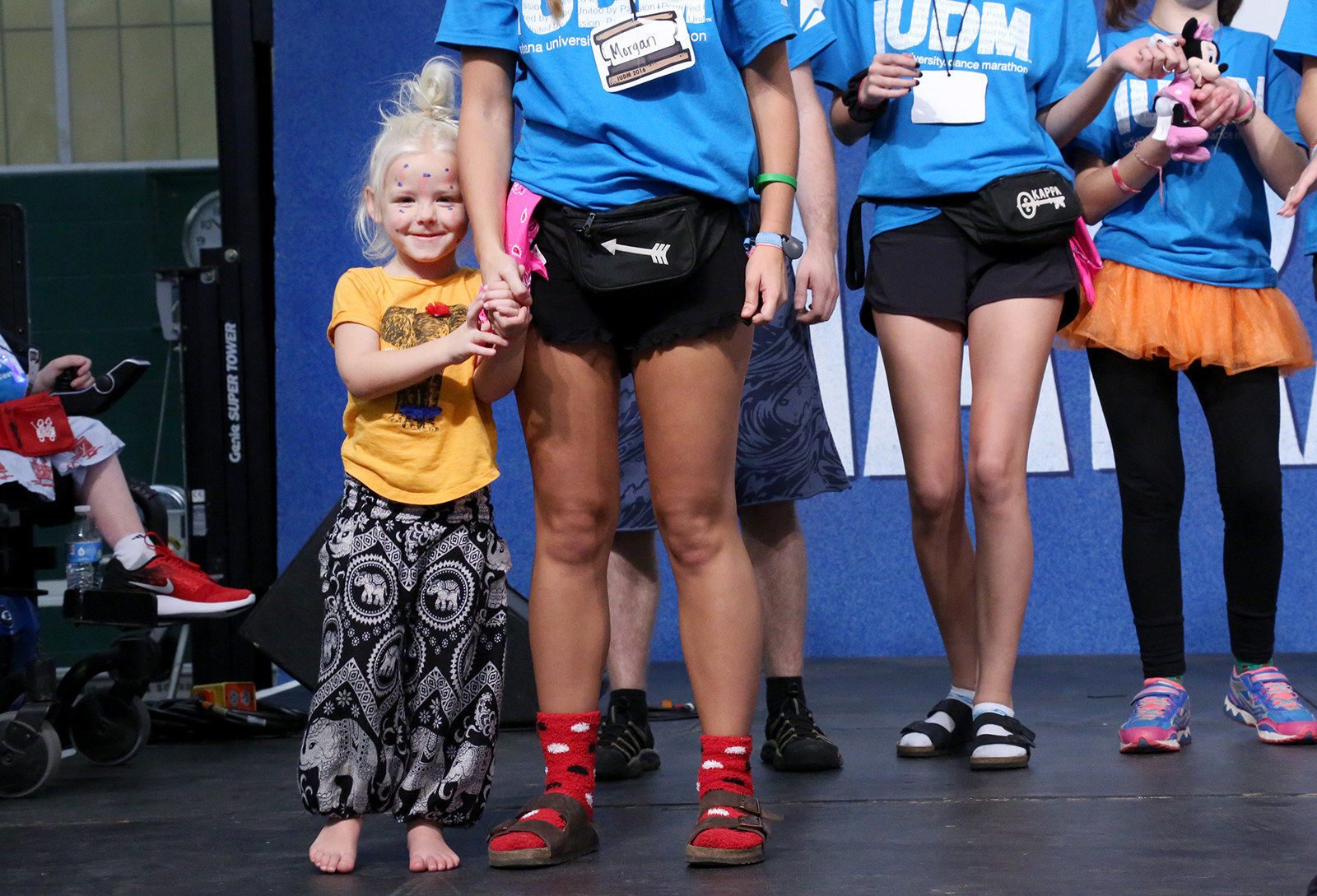 Thirteen brave souls took to the stage to fulfill a bet they made with their committees: successfully meet a certain (ambitious) fundraising goal and get your head shaved by a Riley Kid. For Cat, the one badass lady in the bunch, this meant that her committee was able to raise $100,000 — the last $20,000 of which was raised in the final week alone!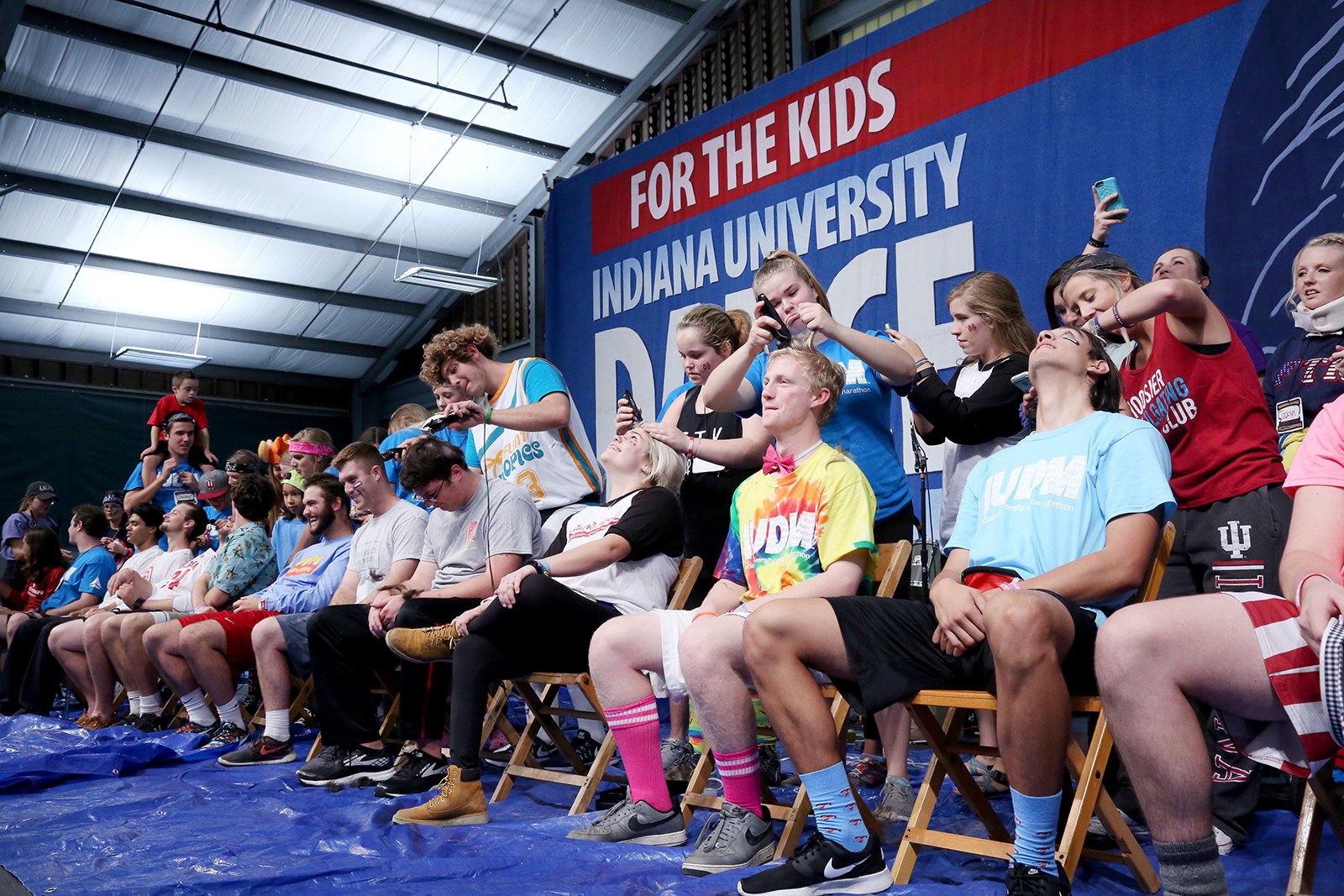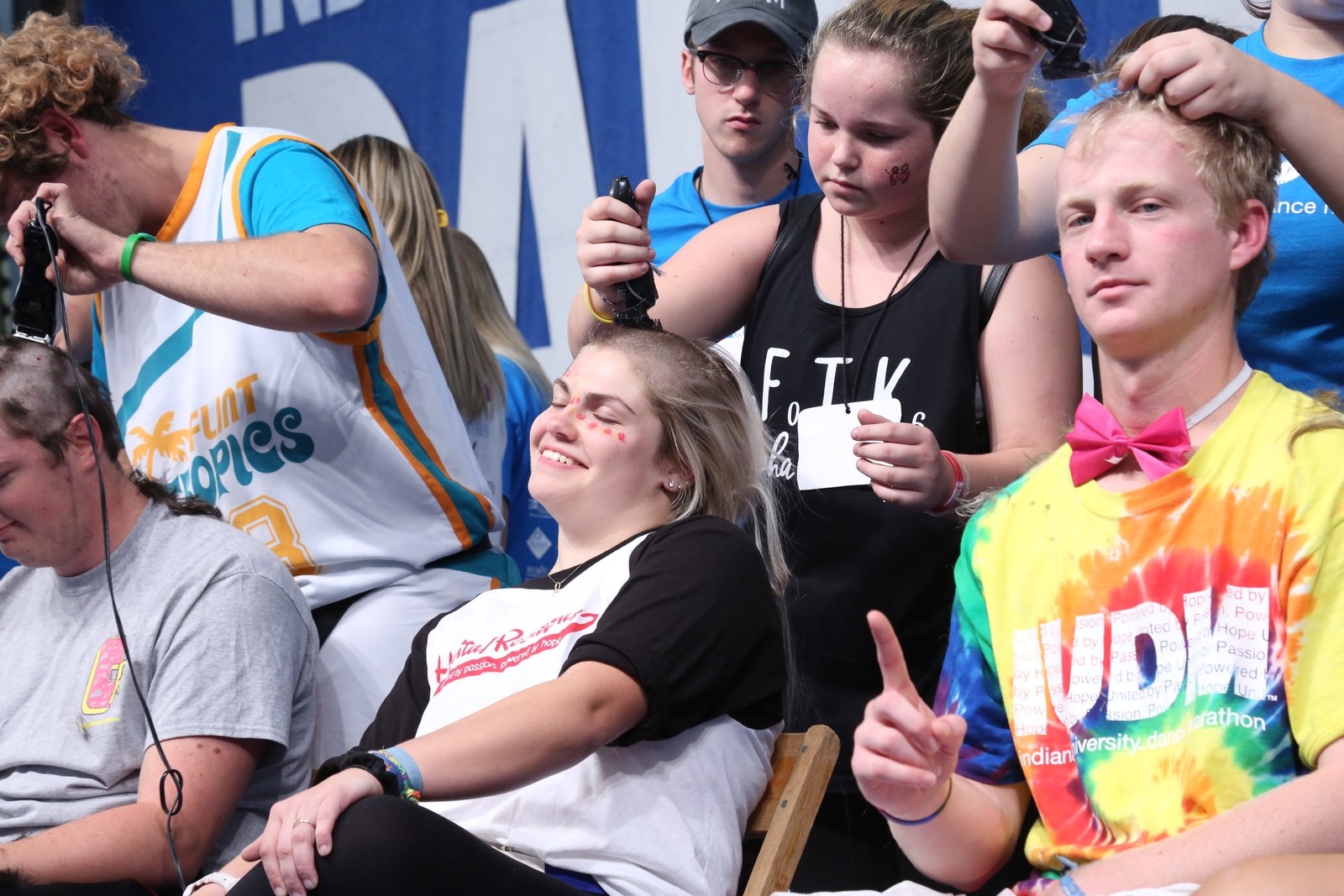 I got the chance to talk to Cat after her incredible transformation (real talk: Girl looks amazing with a shaved head) and found out that she is both a Riley Kid and an IU student! She lauded Riley Hospital not only for helping to treat her physical disability over the years but also for presenting a holistic view of rehabilitation and helping bridge the gap with people who might be less educated about medical disabilities. The hospital also helped channel her passion for sports into a successful athletic career as a wheelchair fencer: She went all the way to the Paralympic Games at 16 years old!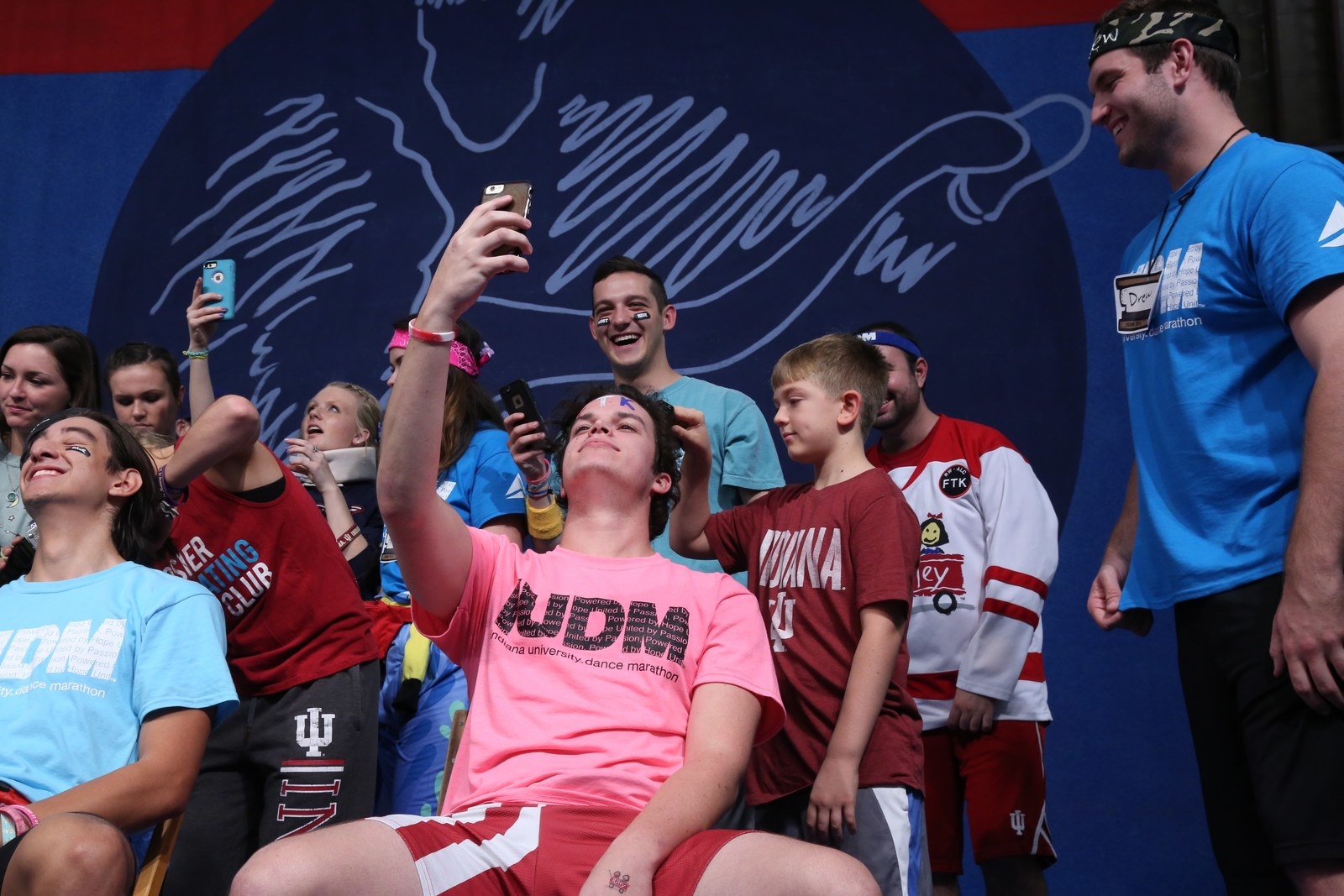 I watched some Riley Kids shave their partner's hair slowly and with precision; meanwhile, others went full steam ahead. I wondered what this meant to them and how they must be feeling. Later, Cat explained perfectly: "Letting these Riley Kids shave my head allows them to see that beauty, to an older Riley Kid, has nothing to do with what's on the outside of your body and has more to do with what's inside of you."

For the Riley Kid Talent Show, I sensed anticipation in the air, both from the performers who looked forward to this moment every year and from an audience that knew what was coming.
The show started, and frankly, I couldn't keep it together. But neither could anyone else. There was cheering, laughter, tears, and laughter-tears (which is a term I am copyrighting). We saw a clarinet solo, a flawless Taylor Swift number, a dance duet, an original song, and much more! Every kid shined on that stage, and if that didn't melt your heartstrings, the look of pride in every Riley Parent's eye would finish the job for you.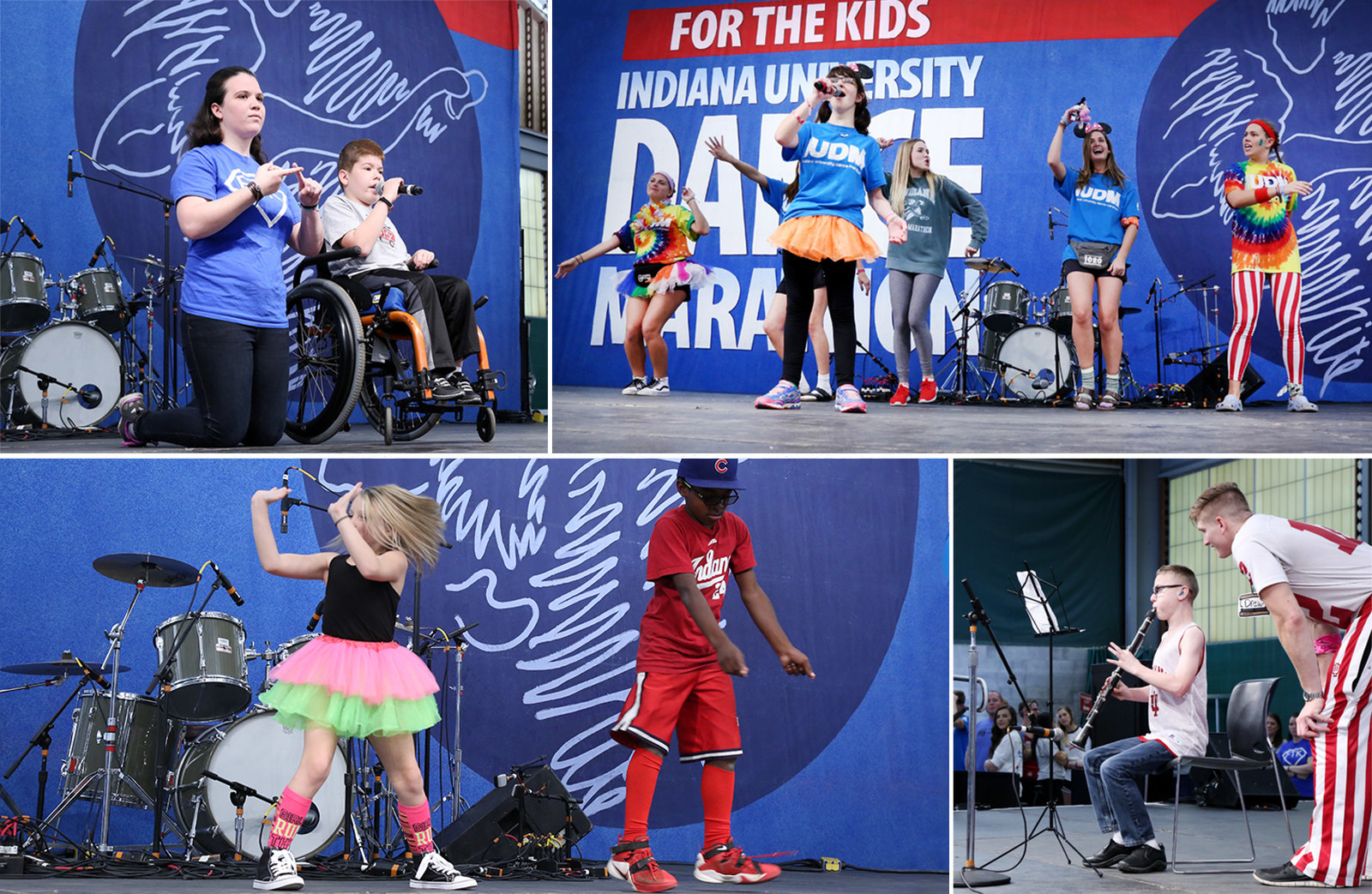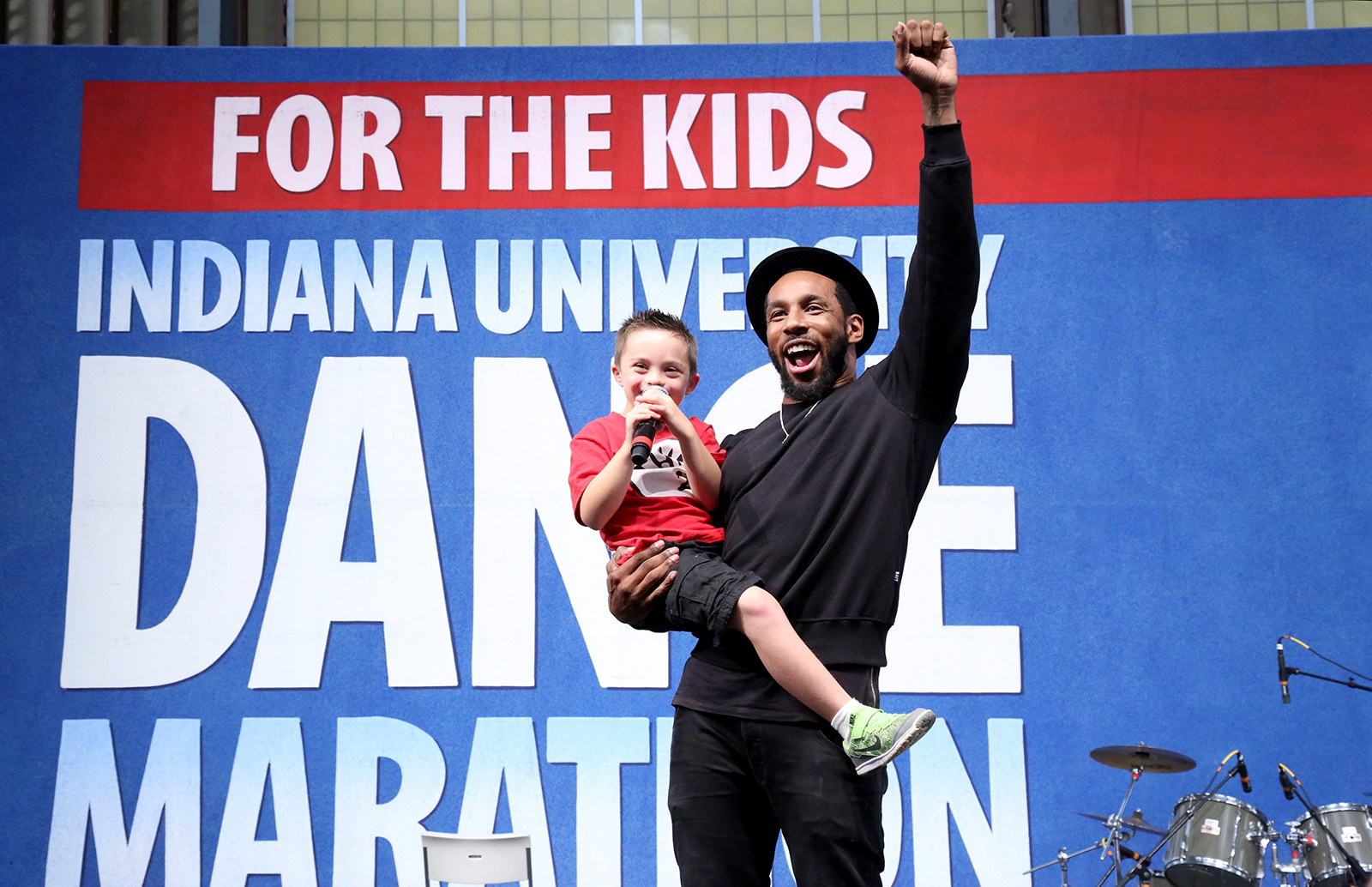 Maison, age 9, is an incredible dancer. He killed it in the talent show. He stole the show in a spontaneous dance circle the day before. And, just a few hours earlier, I had been lucky enough to dance alongside him to "Y.M.C.A."
Maison was such a good dancer that tWitch — celebrity dancer and SYTYCD star extraordinaire — challenged him to a dance-off, provided that IUDM raised $10,000 the day of his appearance. I think you can see where I'm going with this: They did raise that amount, and a dance-off did happen. And yes, it was as magical as it sounds.
I'll let Maison tell it in his own words*:

*baller dance moves
The incredible part about tWitch's visit wasn't just his swoon-worthy dance moves (although Maison's stanky leg move gave tWitch a run for his money tbh); it was seeing his eyes light up as he experienced his first dance-marathon event and responded, just as I had, to this inspiring group of people and their unstoppable energy.
As soon as tWitch's dance-off with Maison was done, he rushed into the audience, eventually starting a dance circle so epic and thick with people that I found myself climbing a crowd barrier just to get a peek. (I saw nothing. Don't want to talk about it. Devastated.)
Then it was time for photos with the kids, meeting their families, and hearing their stories. One little girl burst into tears upon meeting her dance idol. (You and me both, kid.)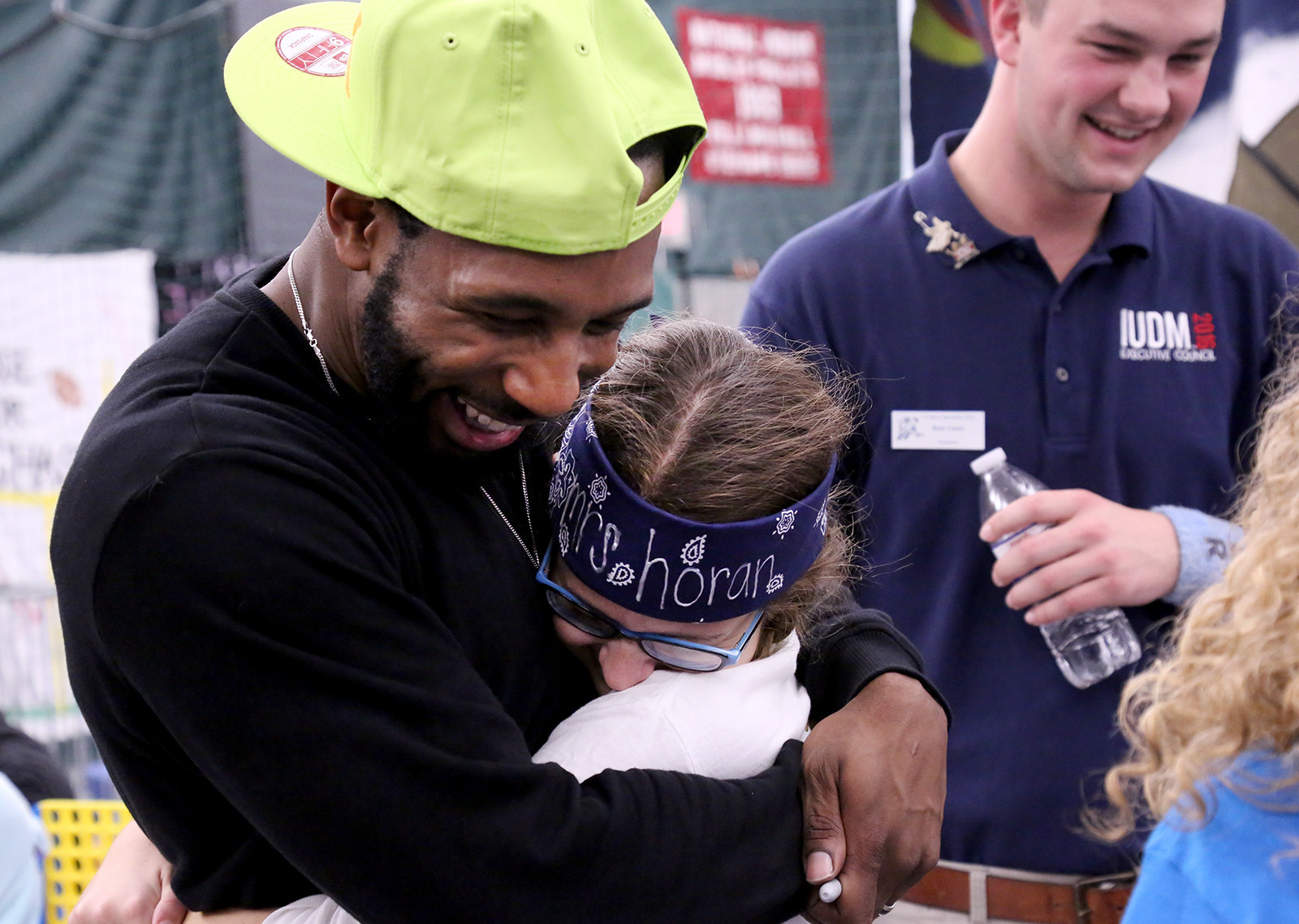 For the grand finale, concluding 36 hours of dancing, talent shows, shaved heads, testimonials, dance-offs, and — I suspect — enough coffee to fill Lake Michigan, IUDM wrapped up with the final performance of the Morale Dance, consisting of thousands of students, kids, and parents grooving to the music one last time.
After heartwarming messages from IUDM leaders, Riley family members, and a LOT of cheering ("For the kids! For the kids!"), the big number was revealed. Last year, an astonishing $3.8 million had been raised, so the bar was set high. But the relentless energy and goodwill of this hangar full of people was even bigger. And when the results were announced...well, see for yourself: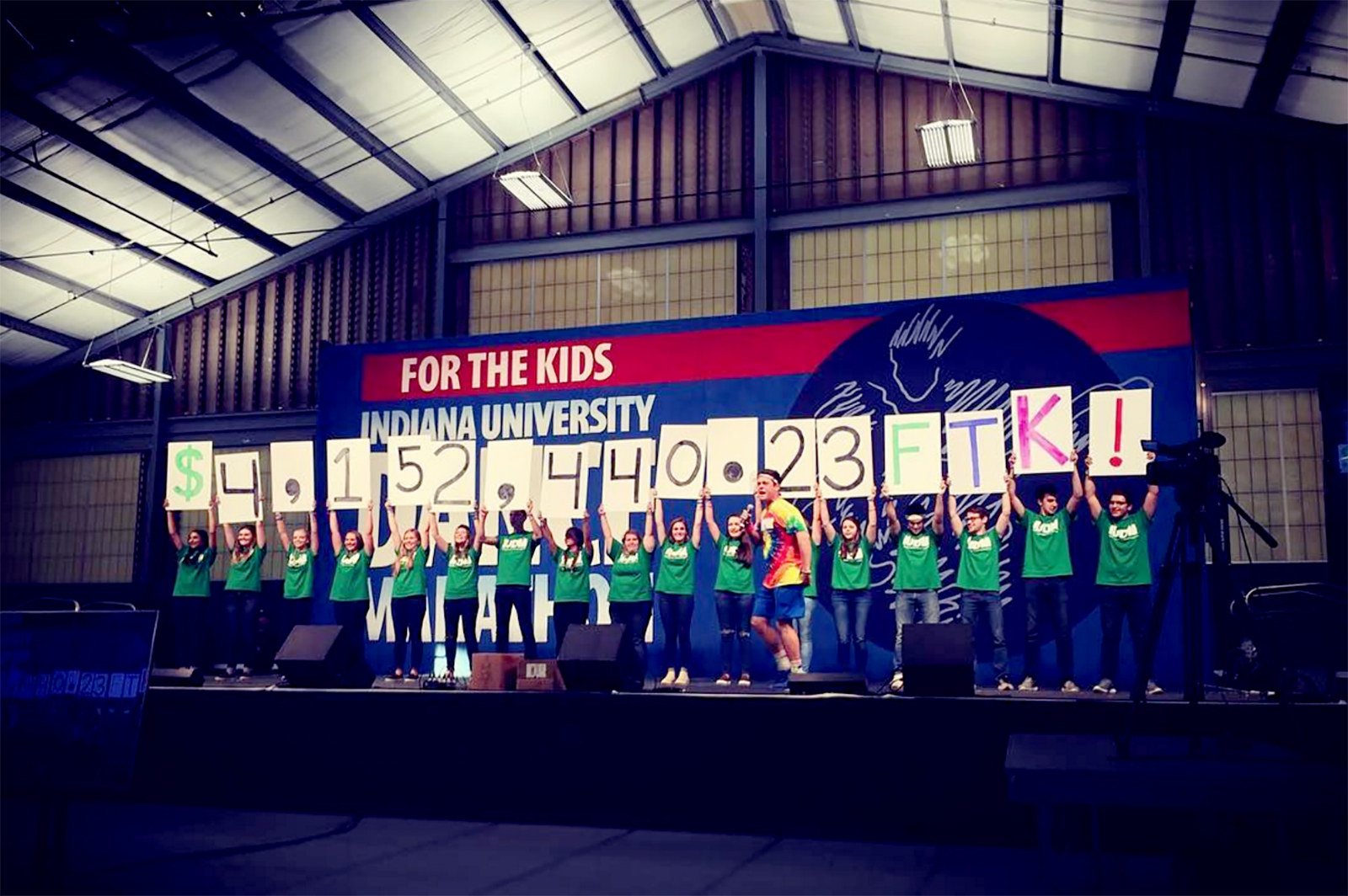 Think about that number for a second. Now, think about raising that amount little by little with social media posts, taking collections outside of grocery stores, and talking to family and friends about a cause dear to your heart. Makes a lot of things seem possible, doesn't it? At least, it did for me.

Every conversation I had at IUDM reinforced the idea of a community of people coming together. Not patients and hospitals or Riley Kids and volunteers, but a large family of individuals all working toward the same goal no matter how they came to be involved in it. Even more inspiring was seeing young people my age discover the joy of giving back and feeling like their actions could actually have impactful results.
Trying to make a difference in this world can sometimes feel overwhelming, or even impossible, but IUDM proved that putting a smile on a child's face is worth a million bucks. Or in this case, 4.15 million bucks.
Photography by Aubree Lennon / Design by Kirby Darland / © BuzzFeed