1.
A linen duvet cover that delivers a low-fuss, lived-in look and all-season comfort with a breathable weave that keeps you warm in winter and cool in summer.
I got this duvet cover about two years ago now — from luxe Aussie linen brand Bed Threads — and I instantly fell in love. It was my first foray into linen and you can bet I didn't stop there. The duvet cover is thick but breathable and just looks so, so chic even when it's crumpled up (I sleep burrito style).
Promising review: "The best linens I've ever owned; I'll never sell myself short on bedding again. I'm crazy about my sleep and I sleep so good with this bedding. Worth the price 100%." —Shelby R.
Get it from Bed Threads for $170+ (available in sizes Twin–Cal King and in 21 colors/patterns; pillowcases sold separately).
2.
And — if one simply isn't enough — another crisp linen duvet, this one from Cultiver, because if you're anything like me, fresh bedding does wonders for the soul. Add in an open window with a cool breeze and oh man, I'm in my happy place.
Cultiver is a small, Aussie textile brand from Nicolle Sullivan. Their 100% premium linen is woven from European flax. I have their 'natural' duvet cover and it is just dreamy. While it was soft the day I received it, it just keeps getting better with every wash. I also appreciate the interior ties which keep my duvet insert in place because nothing quite annoys me like waking up to find my insert in a ball in the the middle of my bed!

Promising review: "My gorgeous linen duvet cover and pillow shams make me feel as if I am sleeping in a cloud. So beautiful, soft, heavenly. I chose blush which is restful and calming." —MP

What's included: Duvet cover and two standard pillowcases.
Get it from Cultiver for $250+ (available in sizes Twin–King and in 18 colors). 
3.
A flannel, 100% cotton Casper sheet set that — like the My Little Pony you cherished in elementary school — has been brushed SO many times, it's buttery 🧈 soft to the touch.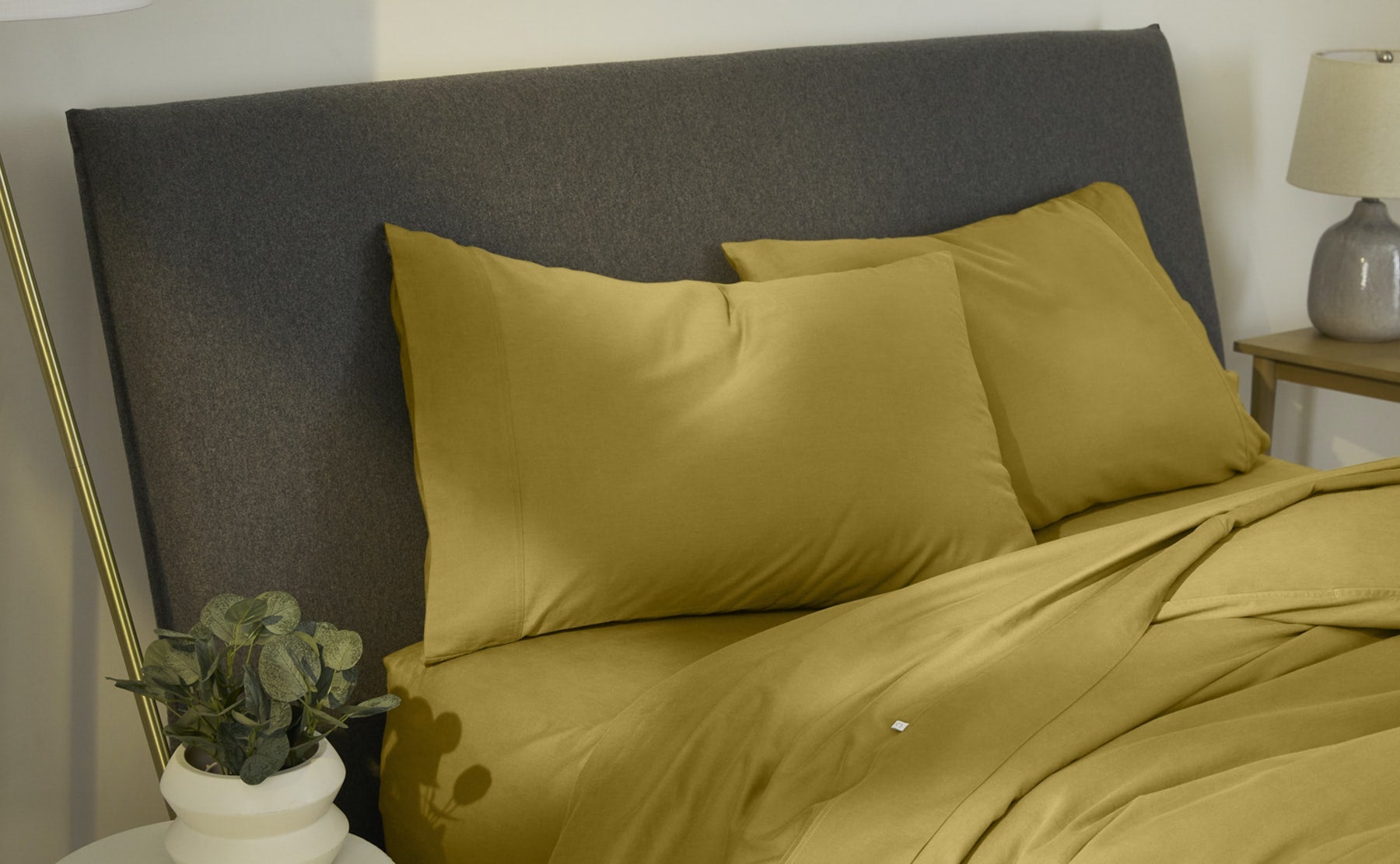 These are some of my current *FAVE* sheets. If you're thinking "huh, flannel? Isn't that for winter?" I thought the same but these are actually quite cool and suitable for year-round use. My absolute favorite feature is the thick, elastic pocket reinforcements which keep the fitted sheet nice and tight — a must since my Queen-size bed is split between myself, my BF, and two cats who bop between the head and foot of the bed all night long. These. sheets. do. not. move. They've never once popped off!!!
Promising review: "These sheets feel like home! So comfortable that they are the only sheets I want to use. My SO usually sweats in his sleep and he hasn't in these, so they are very breathable. I feel like you can use these any season. They feel like your favorite T-shirt!" —Julia

Get them from Casper for $109+ (available in sizes Twin–Cal King and in five colors). 

4.
A plush, high-pile Cariloha throw blanket made from bamboo-viscose which is both supremely soft and oh-so-cool against your skin. 

I have ~two~ of these blankets now (in the coconut milk color) because I found myself dragging it back and forth between my bed and living room. It also quickly — and I mean the second I took it out of the box it was shipped in — became my cats' favorite thing ever so rather than fight for enough to cover my ankles and still let them sprawl out, it just made sense to get another one.
Promising review: "I bought this blanket in the Grand Cayman Islands and I am about to buy a second one just like it because it is literally the BEST BLANKET EVER! Everyone in my family fights over this blanket. I have washed it many,  many times and it's still in pristine shape!" —Brunetteabionda

Get it from Cariloha for $119 (available in three colors). 
5.
A pillow-top mattress pad that you can sink into like you're in a slo-mo mattress commercial. Just don't go trying to balance a glass of red wine on it, OK?
The breathable, deep-pocket topper hugs your mattress like a fitted sheet, so you don't have to worry about it popping off in the middle of the night. Plus — major plus — it's machine washable, so you don't have to drag it to the dry cleaners. I've been using this for over a year now and it hasn't lost any of its plushness. I flipped it once so it would get equal use on both sides and that seems to have been a solid choice. I also put mine under my mattress cover so it's safe from any spills since I 100% eat in bed and always will even if I have spilled an entire chocolate milkshake when I go to reach for my TV remote. 🙃
Promising review: "Whoaaa this thing is amazing. I have a very expensive, firm mattress, that I bought when I was younger. The mattress is still in good shape so I didn't want to get rid of it. The firm thing just wasn't working for me anymore. I had a foam mat but it still was too hard. So I got this, put this over the foam mat and it's like a new mattress. I slept like a rock last night. Haven't slept that well in a long time. I also like that it's attached to the mattress pad, so it's not sliding all over. It slept very cool, I'm assuming that's because it's cotton. Highly recommend if you're looking to fix a mattress and not have to spend money on a new one." —Julie
Get it from Amazon for $69.90+ (available in sizes Twin–Cal King).
6.
A set of cutesy Pillowfort sheets absolutely made with children in mind but seeing as they do come in queen sizes....I'm all about them! 
I have these in multiple prints including cheetah, banana, and Dalmatian because c'mon — they're so freaking cute and affordable! The only thing I will say is that if you have an extra deep mattress or also use a mattress pad, the sheets may pop off the corners. I've 100% remedied that, though, by using these $8 bed sheet straps which basically operate like suspenders for your mattress. 
Promising review: "These sheets are so soft and luxurious. I can't believe it's marketed as for kids, because these look so good — like something I'd pay way more for at a trendy store. I bought an extra set because I love them so much." —ArlingtonVA
What's included: One fitted sheet, one flat sheet, and matching pillowcase(s). 
Get them from Target for $15+ (available in sizes Twin–Queen).
7.
An affordable Luna weighted blanket sure to help you fall asleep (and stay asleep) with its calming, hug-like embrace.
I have bad anxiety that loves to rear its head in the middle of the night but I was skeptical a weighted blanket could really do much to help. Boy, let me tell you I was WRONG. It takes some getting used to, but after a few nights, I couldn't sleep without it. There's just something about having some extra weight on you — it's like having your cat or dog lay on your stomach when they know you don't feel well. I feel like I'm not doing a good job describing what it's like, but TL;DR: If my house were burning down and I only had time to save one thing (other than my pets, obvi) I would drag this thing to safety.
Promising review: "I stalked my delivery man for hours before this came, it came very fast. as soon as I got it I ripped open the package and brought it straight to my room. Oh my GOD is this blanket amazing. I got the 20-pound one. It feels like I'm being swaddled like the perfect baby I am hehe. I have bad anxiety and can never sleep. As soon as I got it I took a long nap and woke up hours later. I never even napped after finals in college, this knocked me right out. I will say it's not very cooling, however I am always hot even if I sleep with no blanket at all. I highly recommend this blanket. I had looked at like 70 of them before getting this one. My bed is a full and it fits perfectly. Even my dog approves!!! :)" —Ceci
Get it from Amazon for $39.99+ (available in 14 sizes/weights and 21 colors/patterns).
8.
Or, if you'd like something a little more design-forward, a Bearaby weighted blanket that looks like it was knitted with needles the size of those jumbo novelty pencils we all clamored over in elementary school.
Pro tip: For the most therapeutic effect (increased melatonin, decreased cortisol, and less stress/anxiety), go for a blanket that is roughly 10% of your body weight. It doesn't hurt to go heavier, but it does take some time to get used to, so give it a few days! What I love about Bearaby's blanket is that the knit is so big you can stick your fingers and toes through the loops. Maybe that's just a weird "me" thing but I like getting a little extra air lol. 
Promising review: "I could not be more happy with my Bearaby Napper! The total body relaxation and relief is amazing! I had lower back pain waking in the morning but not anymore!" —Jennifer S.
And even more love from BuzzFeed shopping editor Maitland Quitmeyer: 
"I have this in the cooling version (in the color 'avocado') and let's just say I've used it quite a bit in recent times. The large knit style is super chic, and the organic cotton is breathable (and there's nothing in it to create the weight *other* than cotton, so no uncomfy glass beads). I *love* it, and it's actually extremely cute, looking like a regular old fancy blanket! It's heavy, but still I take it from bed to couch and back to bed all the time as I WFH. It doesn't overheat on the couch (thanks to the fabric and the 'holes' in the large knit), but provides a pleasant weight as I watch TV or work. And when it's layered over my duvet, it keeps me extra cozy and warm."
Get it from Bearaby for $249+ (available in four weights and six colors).
9.
A set of fancy-schmancy Looma sheets made from what feels like The Softest Material on Earth™ — aka 100% organic long-staple cotton.
I have never been one to splurge on sheets but these babies were the first to change my mind. You know that feeling of sliding into clean sheets with freshly shaved legs? How cool and soft and incredible everything feels? That is what these sheets feel like 24/7, even when you haven't taken a razor to your legs in months. PS: Looma — a small luxury linen brand from founders Denver Rayburn and Ishaan Jalan — makes their sheets with organic Himalayan cotton and pays their workers a fair, living wage.
Promising review: "I've had these sheets for a few months now. I wanted to give a review once they had been washed and slept on a few times. I can now say...hands down...THE BEST sheets I own. The color stays true and does not bleed. The fit stays perfect. And they truly do get softer with each wash...which is extra lovely because they start out already feeling great. They do get even better with use. I've owned a lot of sheets in my life, and as it's time to replace what I have it will be with Looma. Absolutely. I couldn't be happier." —Tracy C.
What's included: One fitted sheet (18-inch pocket depth; Split King includes two fitted sheets), one flat sheet, and two pillowcases. 
Get them from Looma for $188+ (available in sizes Twin XL–Split King and in eight colors).
10.
An ultra-lofty down duvet insert with puffy baffle box construction that keeps out the cold (again, I am an AC monster). Wrapped up in this, I basically feel like the Michelin Man which, until now, I didn't realize was my peak form.
I bought this two years ago after reading the reviews for *every* winter duvet insert on the internet (sadly not even exaggerating). Luckily, my research paid off and this is extremely warm, super lofty, surprisingly affordable, and just perfect in every way imaginable. I know I could swap it out during the summer for something lighter, but I blast my AC anyways so I keep it on my bed year-round. 
Promising review: "After reading multiple reviews for other comforters, I chose this one. Best decision ever!!! This comforter is perfection and I plan to buy another for our guest room. Thick, comfy, warm, and affordable. I tossed it into the dryer for a few minutes after I took it out of the packaging and it fluffed way up! Chose to buy a king size for our queen-size bed and am glad I did. The size is exactly what I hoped for." —Jenna
Get it from Wayfair for $69.99+ (available in sizes Twin–King).
11.
A set of sustainable Ettitude sheets that feel like silk even though they're made from 100% bamboo — a plant I would not have thought to categorize as soft.
Ettitude is a small, eco-friendly bedding biz. They are committed to operating as ethically as possible and have partnered with Climate Neutral to ensure carbon neutrality from 2020 onward. All of their bamboo is also sourced through, FSC-certified forests, and every year they donate 1% of their sales to 1% For the Planet. 
I have this set (in the sage color pictured here as well as a pinkish/reddish color called canyon) and they're soooo silky. Like others on my list, they also have nice deep pockets which prevent the fitted sheet from popping off every time I move. Basically, if a pair of sheets made my list — it's safe to assume that's one of the main reasons why!
Promising review: "Love my new sheets! Super soft and silky, fit very comfortably over my mattress topper as well. I never used to use a flat sheet but now I do because it feels like being in a silky envelope :)))" —Camille E.

What's included: One fitted sheet, one flat sheet, and two pillowcases (except twin sets, which come with one).
Get them from Ettitude for $168+ (available in sizes Twin–Cal King and in 14 colors/patterns).
12.
A luxe duvet cover with tailored navy blue borders that'll make you feel like you live in a 5-star hotel. If that wasn't your absolute dream when you were a preteen watching The Suite Life of Zack & Cody, then we are very different people.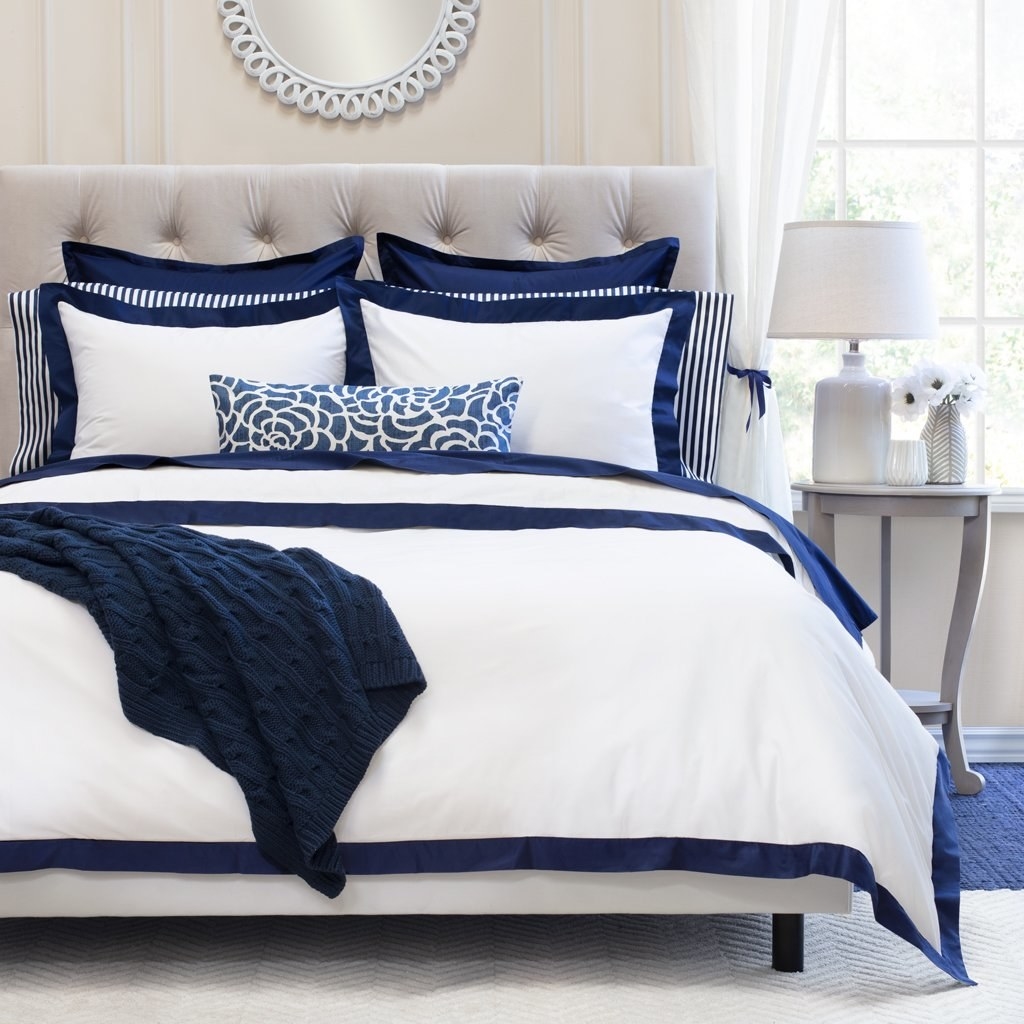 Crane & Canopy is a small, direct-to-consumer bedding brand that focuses on frustration-free designs! This set includes two matching shams and I'd be remiss not to mention that the duvet has a hidden zipper closure so you don't have to worry about re-buttoning it every morning! That is my absolute favorite part!
Get it from Crane & Canopy for $149+ (available in sizes Twin/Twin XL–King/Cal King).
13.
A Slip silk pillowcase that will prevent you from flipping and re-flipping your pillow in a desperate bid to chase the cool side.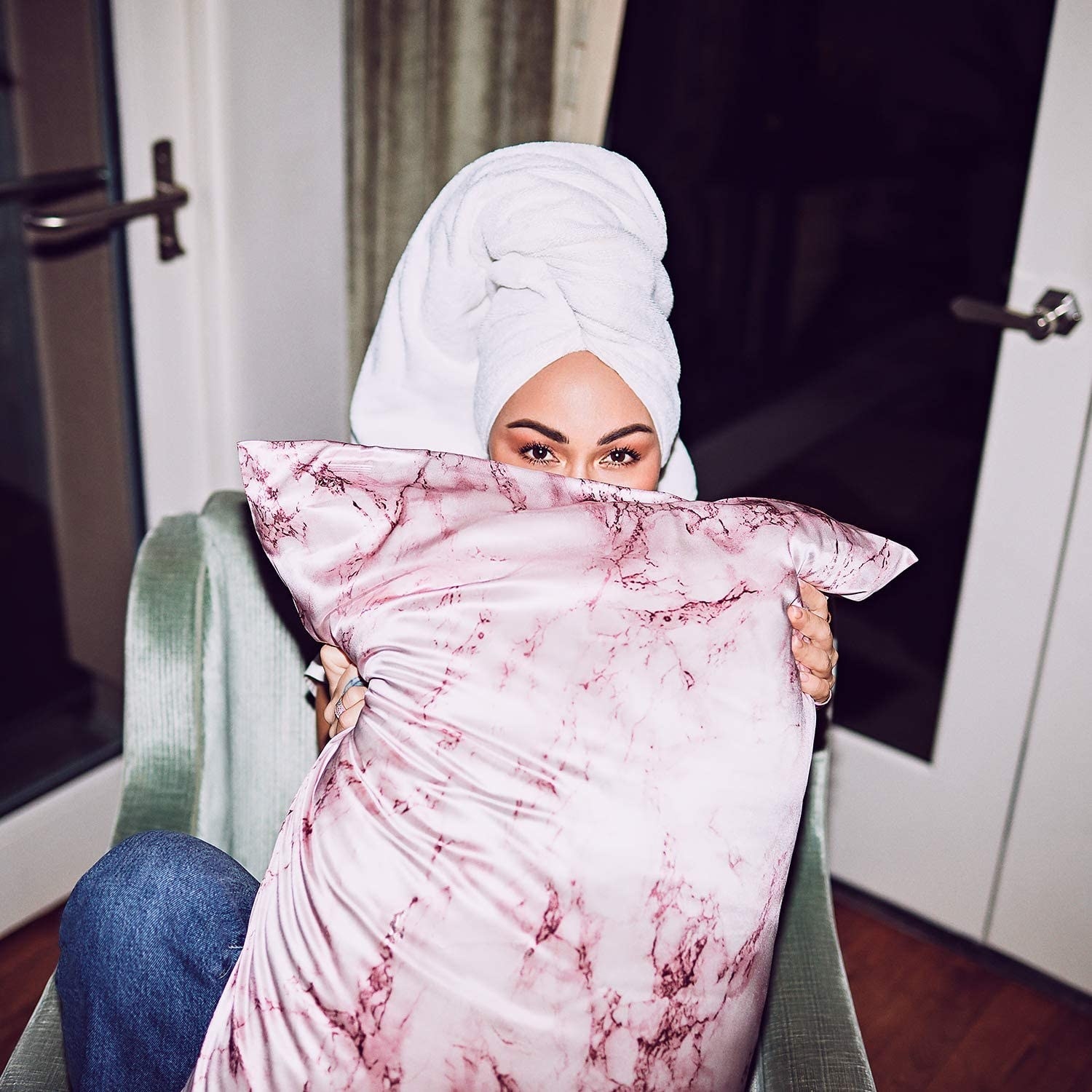 I've been sleeping on one of these babies for months now and it's definitely made for a more restful night. I have seen slight changes in my skin and hair (particularly the latter — it's been much silkier and was even commented on by my stylist) but, honestly, the best part is how cool and crisp it is. As my boyfriend says, "The entire thing is like the cool side of the pillow."
Promising review: "I resisted buying this because of the cost. I finally caved after bleach was left on my hair too long and it broke off. This pillowcase is worth every penny! I have absolutely no hair breakage when I wake up. It's amazing." —Holly
Get it from Amazon for $89+ (available in two sizes and 12 colors).
14.
A fluffy matelasse coverlet and sham set if you're the type who simply *can't* sleep without a blanket but your duvet is far too heavy for summer use. This airy boi is up for the challenge.
As I mentioned above, I rarely take my thick winter duvet off of my bed — no matter the temperature outside. When I do, though, like when I'm having it dry cleaned or it's really just exceptionally hot and my AC can't cool my down, I like to use this baby! The 100% cotton coverlet drapes beautifully and between the texture and color, it just looks so elevated. 
Get it from Casper for $201.60+ (originally $280+; available in Full/Queen–King/Cal King and in two colors).