15 Key Parts Of Your Workday, As Told By Cats
Even cats get caught up in the daily grind.
2 p.m.: Lunch reinvigorates you and you really get moving.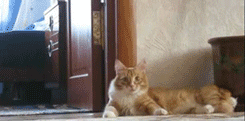 Can't get enough cats? Sign up for BuzzFeed's "This Week in Cats" newsletter and you'll get all the cutest kitty news every Friday!