43 Thoughts Everyone Has While Shopping At Target
"I SPY A CLEARANCE RACK. DON'T WORRY, CLEARANCE RACK, I'M COMING."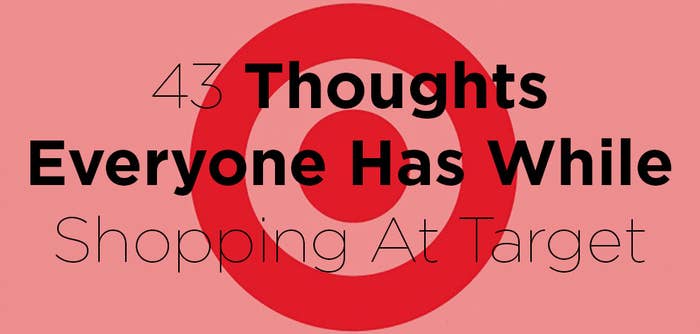 1. "OK, I need milk, shampoo, and maybe I should look at the school supplies section to see if there's cool pens."
2. "I just need those things."
3. "Starbucks! Yes, I need coffee to get this started."
4. "I guess it's kind of pointless to also get a hot dog and a cherry Slurpee since I'm gonna eat dinner soon."
5. "Eh, fuck it."
6. "I wish this lady would get her cart out of the way so I can see those little notebooks in the dollar section."
7. "Must. Fight. Urge. To. Organize. Dollar. Section. Bins."
8. "Oh, candles for sale? Um, yes please."
9. "You're lucky the candles are on sale, cart lady."
10. "Get a grip. You just came here for the necessities."
11. "30% OFF HANDBAGS? WHAT A DEAL."
12. "LOOK AT THIS CUTE JEWELRY BOX."
13. "I'm a damn treasure and I deserve this jewelry box."
14. "Hmm, I wonder if this is on sale with Cartwheel."
15. *Scans everything in cart with Cartwheel app*
16. "It's 5% off! GETTING IT!"
17. "If Target served wine, it would be better than the spa."
18. "I will not let myself go into the makeup section. I can do this."
19. "Don't go near the book section, don't go near the book section."
20. *Sitting in the aisle of books*
21. "Damn it."
22. "OK, but do I need Settlers of Catan and Ticket to Ride?"
23. "THE ANSWER IS YES."
24. "This is the only store that doesn't play music."
25. "Why does no one ever talk about that?"
26. "OOH, I SPY A CLEARANCE RACK. DON'T WORRY, CLEARANCE RACK, I'M COMING."
27. "Ooh, these paints are so cool."
28. "I'll take up painting again in my room once I hang up these fairy lights and new decorations."
29. "I should redecorate."
30. "Just kidding I'm broke and lazy."
31. "Has it really been an hour?"
32. "Should I get a personal pizza?"
33. "WHAT DID I EVEN COME HERE FOR?"
34. "Right, milk."
35. "Does that employee know this is my third lap around the store?"
36. *Employee: "Hi, how are you?"*
37. "Fuck. He knows."
38. "I need pasta sauce."
39. "THERE ARE TOO MANY PASTA SAUCE CHOICES."
40. "OK, time to check out."
41. "Should I tell the cashier I'm throwing a party and buying people gifts so he won't judge the large amount of food and unnecessary items I'm buying?"
42. *Leaves Target with four new DVDs, nail polish, three tops, a pair of shoes, and a new purse*
43. "Damn it, I forgot the freaking milk."
Note: Submissions have been edited for length and/or clarity.