Hi, I'm Caroline and like any millennial New Yorker, I order food on Seamless way more often than I should.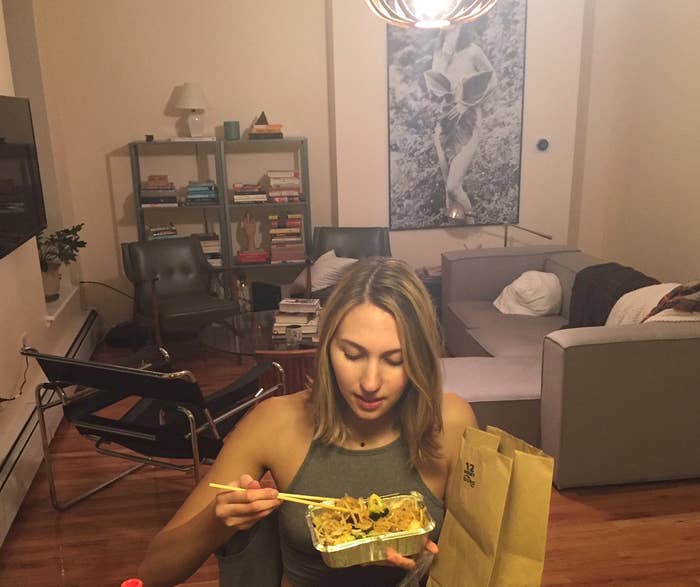 And in some cities, like New York, Seamless even delivers from local bodegas, where you can order grocery items like cereal or toilet paper when you're too lazy to leave your apartment.
SO, this past Valentine's Day, as I sat at home watching Netflix, I went on Seamless to order some groceries from a nearby bodega (which was really an excuse to deliver myself roses and chocolates).
And as I scrolled through the list of grocery items, something caught my eye in the "New Products" section...
Yep, Plan B. Right in between locally roasted coffee and deli quesadillas.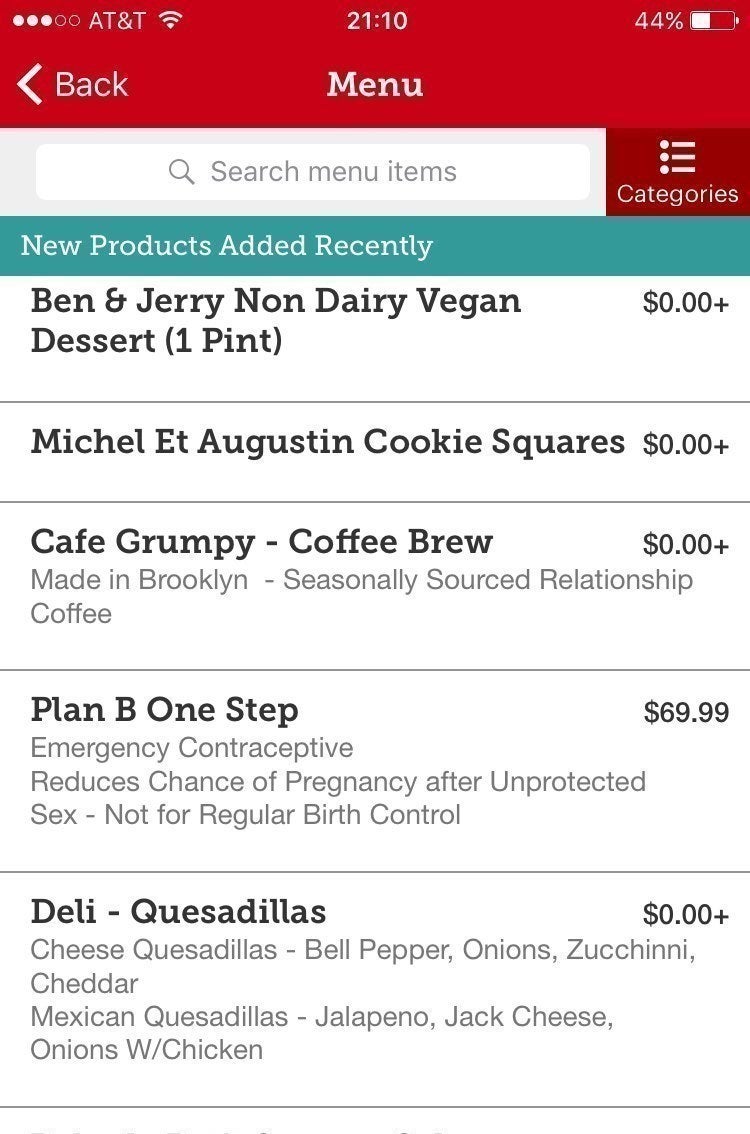 FYI: Plan B One-Step, also known as the morning-after pill, is a brand of emergency contraception that can be used to prevent pregnancy up to 72 hours after unprotected sex.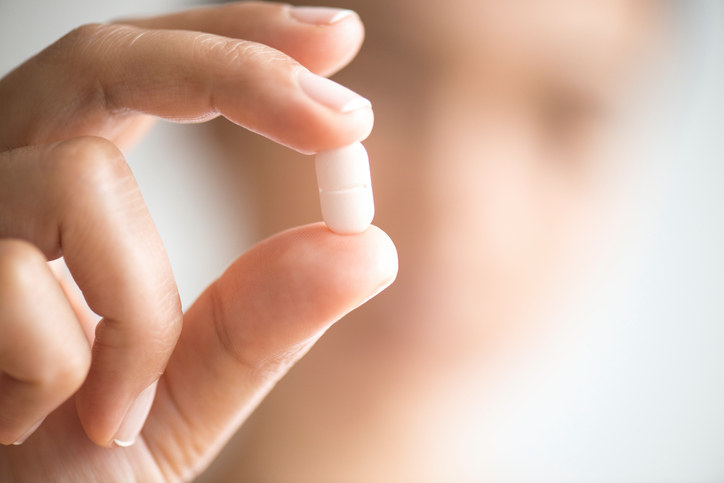 It turns out there are actually three bodegas in New York City that deliver Plan B through Seamless, and they all sell it for $69.99 — about $20 more than the retail price at most drugstores like CVS or Walgreens.
Other bodegas might sell the morning-after pill in store, but after doing a citywide search on Seamless, these were the only three that listed it in their inventories:
* East Village Farm & Grocery
* Corner Grocer
* Greenstar Foods
"The price of Plan B One-Step to wholesale and retail outlets has not increased since 2008," said Larkin. "But retailers set their own price and thus the price may vary across retailers." Good to know.
So, while $69 is pretty steep, it also buys you a convenient, discrete delivery.
But, OK, still: Is ordering Plan B on Seamless really as easy as getting pad thai?
So on Saturday morning, I ordered a bacon, egg, and cheese sandwich with a side of Plan B. And Gatorade.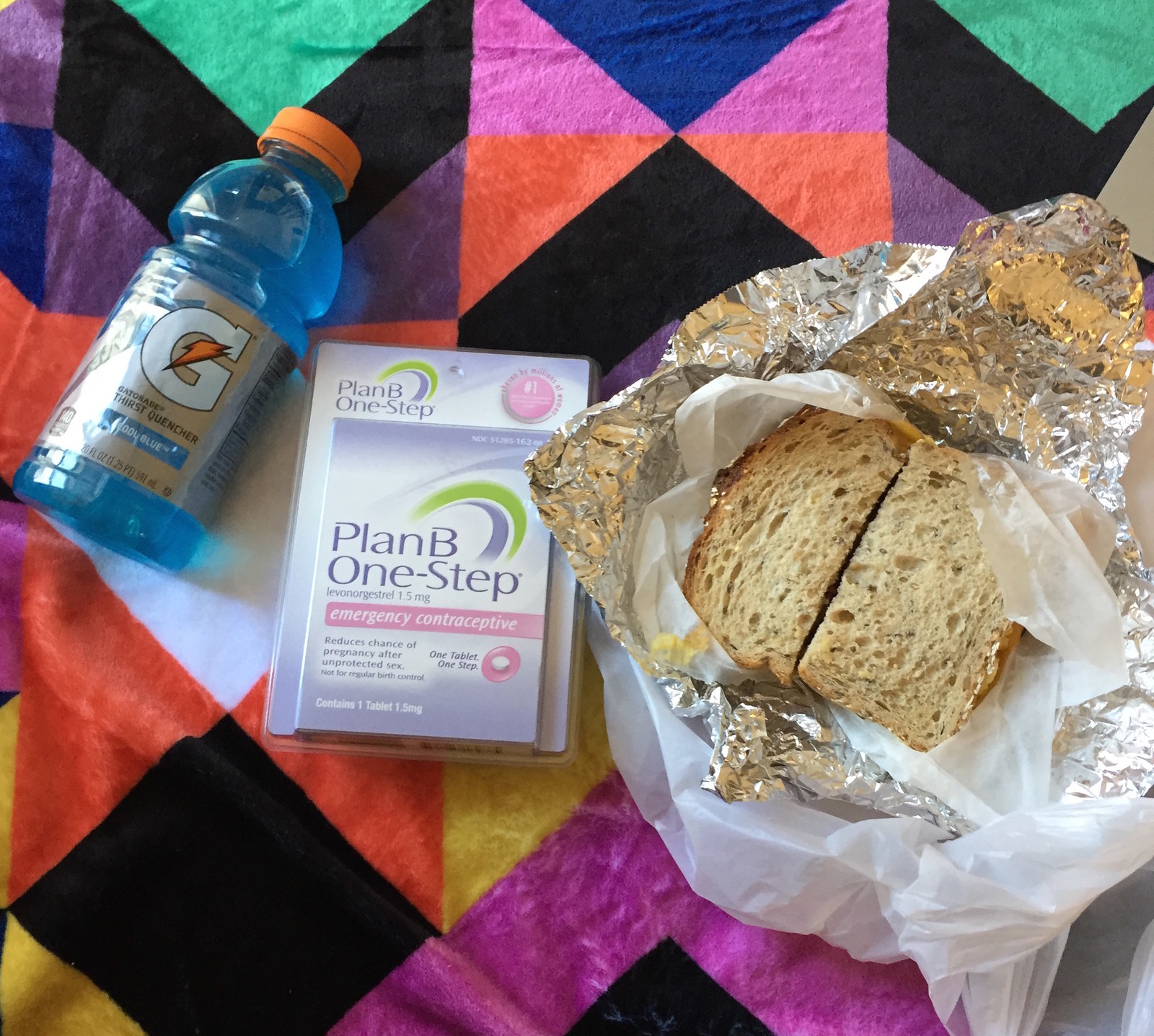 I was shocked at how easy the whole process was. In 30 minutes, I had the morning-after pill delivered to my door.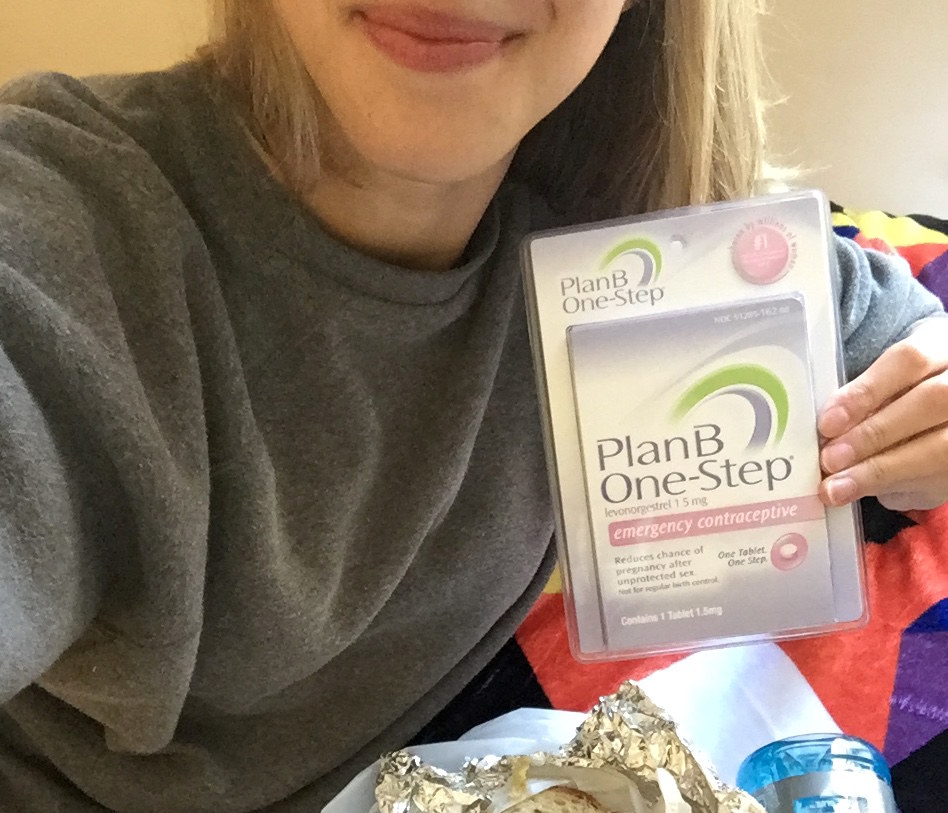 I also got Plan B delivered to my office from the two remaining bodegas.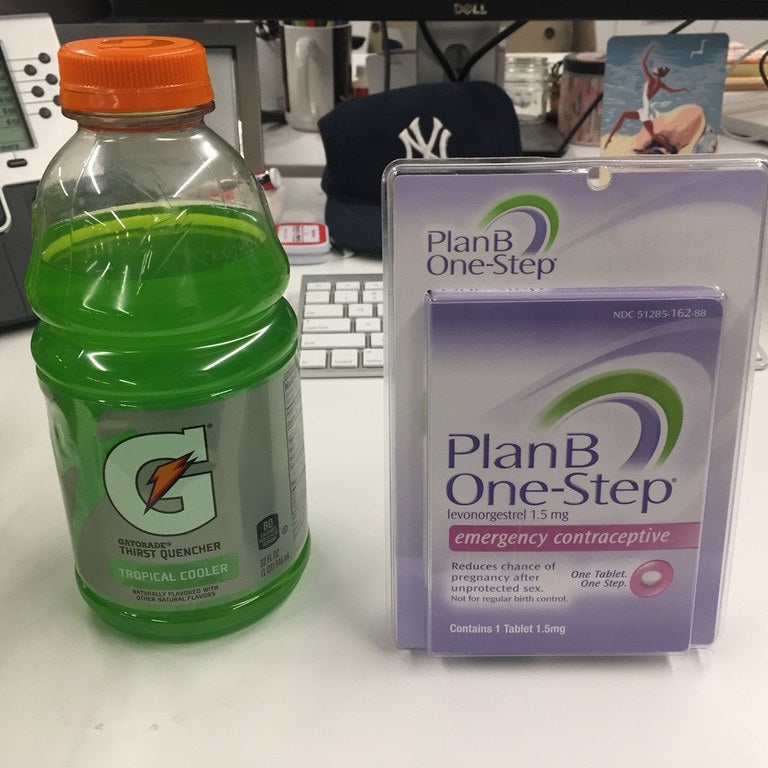 I even got a free drink with both deliveries since I spent more than $50 each time. The ginger ale would have been oddly appropriate if I did need to take Plan B, as one of the side effects is nausea.
The first order came in under 20 minutes, and they even left the delivery at the security desk in our lobby. The next one was about 20 minutes late, but the delivery guy was nice and totally normal. All in all, it was a pretty easy, discreet experience.
When I called the bodegas, all three owners said they started carrying Plan B in their stores after customers asked for it, and that the in-store inventories are automatically reflected on Seamless.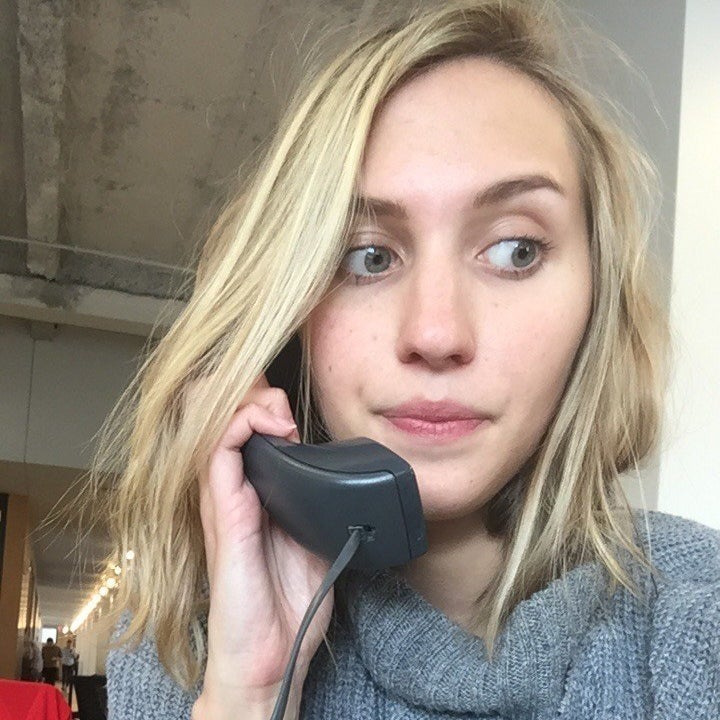 "We want to give our customers all the options they want, so after some customers asked for it, we started stocking it in the store," one bodega owner told BuzzFeed Health. This seemed to be a trend among all three stores, with each of them trying to suit the needs of their regular customers and surrounding neighborhood. One bodega started stocking Plan B as early as April 2016, and the two others started about two months ago.
Once they order an item to their store and update their inventory, the owners said it becomes automatically available on Seamless for delivery. "Anything we carry in the store we sell on Seamless as well," one bodega owner said.
The owners explained that Plan B costs more at the bodegas because it's more expensive for them to buy, unlike big chain drugstores who can purchase the drug cheaper when buying wholesale.
Despite the cost, they said Plan B has been a popular Seamless delivery. "It's about necessity... if the drugstore is too far away or closes at midnight or runs out of Plan B, we can still deliver the product to you," one owner said.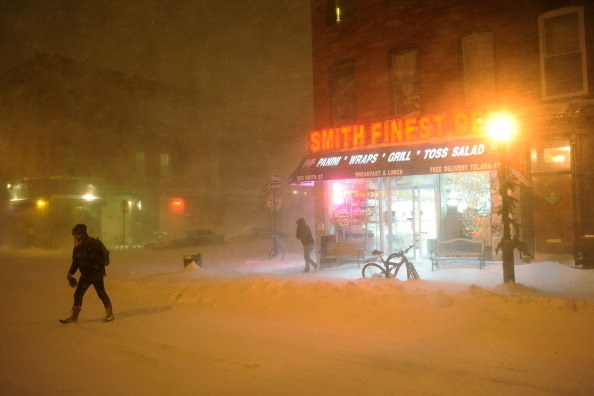 "It gives customers the choice to order it discreetly, which is important because, while some women have no issue asking for it in person, some may feel embarrassed or even shameful for different reasons," another bodega owner said.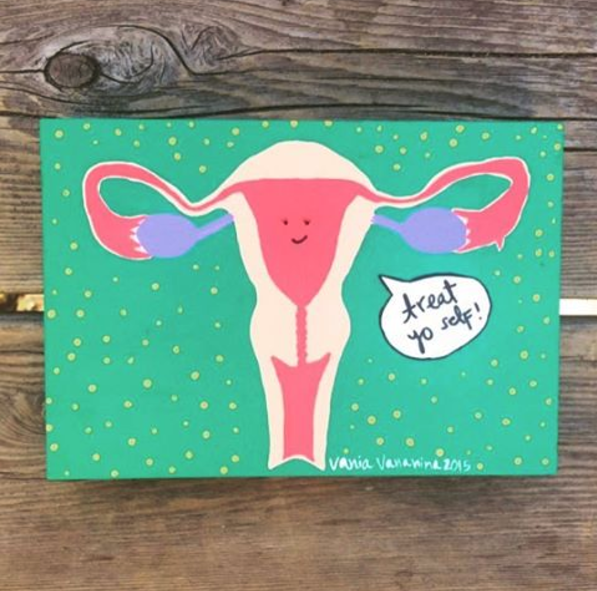 So, in conclusion: if you're willing to pay an extra $20, ordering Plan B on Seamless is convenient, discreet, and (mostly) ensures zero awkward employee interactions or surprise run-ins with neighbors or friends.