Easy Vegan Fettuccine Alfredo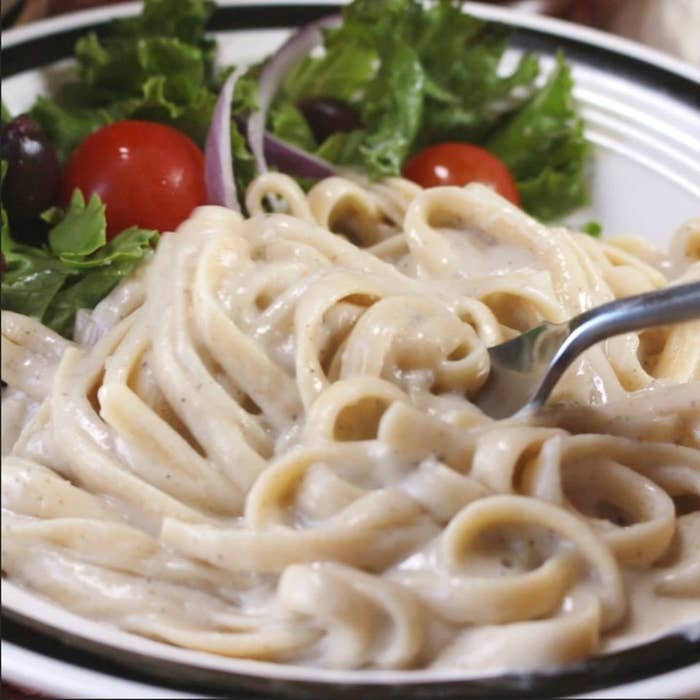 RECIPE:
Makes two servings.
Here's what you need:
- Two medium white potatoes
- 1/4 white onion
- One Tbsp Italian seasoning (a blend of basil, oregano, rosemary, thyme, and black pepper)
- One tsp lemon juice
- Two-four cloves of garlic
- 1/2 cup cashews
- One tsp salt
- 12 oz fettuccine pasta
Boil four cups of water in a small pot. Peel and chop the potatoes into 1/2 inch cubes. Cut a quarter of an onion into cubes, and combine with potato in the pot. Boil for 10 minutes, or until soft. Begin cooking 12 oz of fettuccine pasta in a separate pot. In a blender, combine 1/2 cup raw cashews with 1 cup of the water used to boil the veggies. Add the veggies, garlic, salt, lemon juice, and seasonings. Blend until creamy. Add more of the boiling water if the mixture is too thick. Add more salt to taste.
Tip: adding one tsp of nutritional yeast, and 1/4 tsp truffle oil will really make this dish pop with cheesy flavor!
Pour the sauce over the cooked pasta, serve and enjoy!