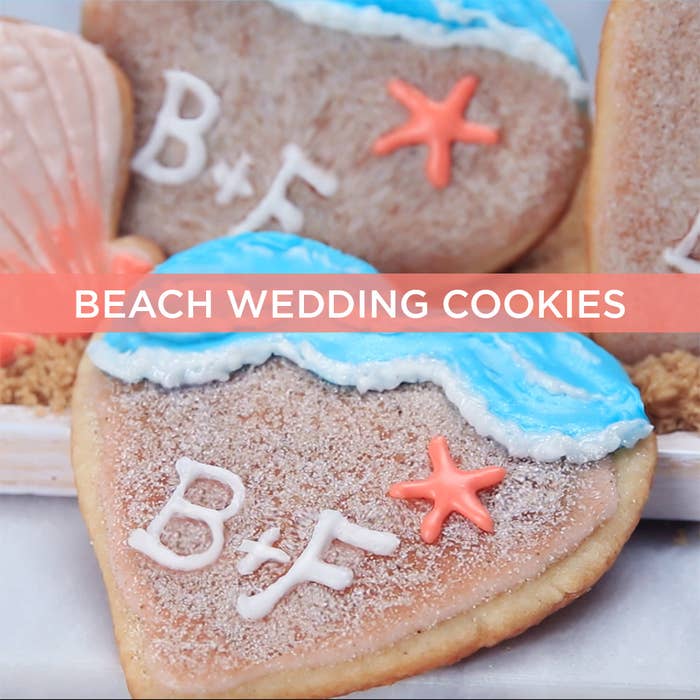 Ingredients:
· 1 batch of sugar cookies
· 3 cups of powdered sugar
· 3 tablespoons meringue powder
· 6 tablespoons water
· Food coloring (brown, blue, orange)
· 1/2 cup granulated sugar
· Pearling powder
· Brown sugar
Supplies:
Piping bags
Small plastic bag
Icing tips (optional)
Instructions:
1. Mix one cup of powdered sugar, one tablespoon of meringue powder, and two tablespoons of water in a small mixing bowl. Make three batches for each color.
2. To make the "sand," add one drop of brown food coloring and mix well. The "sand" should be fairly runny, so you may need to add a bit more water. To make the "water," add one drop of blue food coloring. The "water" should be slightly thicker, so more powdered sugar might need to be added to achieve the right consistency to hold its shape.
3. Spoon each color into a piping bag, and cut off the tip. Attach small icing tips if desired.
4. Apply a layer of the light brown icing to a heart-shaped sugar cookie. Spread it out with a butter knife, leaving the top left corner bare.
5. To make the "sand," place granulated sugar in a small plastic bag, with a half drop of brown food coloring. Rub the food coloring into the sugar thoroughly until it is even and light tan in color.
6. Sprinkle the "sand" sugar onto the cookie. The "sand" should stick to the wet icing. Let it set, then tap off the excess.
7. Pipe the blue icing in a ripply pattern on the the top of the cookie. Spread it with a knife, then carve waves with the edge of the knife. To each wave, add some white icing to resemble sea froth. Let dry before brushing the white icing with pearling powder.
8. Draw in the initials of the bride and groom on the sand. You can leave it as is, or pipe on white icing to highlight the letters.
9. With the remaining brown icing, add a small amount of orange food coloring to create a tiny starfish or other sea creature to the beach.
10. Display the cookies on a tray filled with brown sugar, or place them in small bags as wedding favors! Enjoy your beach wedding cookies!