Fall is almost upon us, and with it comes the siren call of a wardrobe update. To assist my fellow shoppers in their quest for sweater-weather glory, I have compiled the following reviews. Please note that these reviews reflect my own personal opinion of the services discussed, and I am in no way affiliated with Buzzfeed, Fashion Nova, ASOS, Forever21, NastyGal, GoJane or any of their parent companies, second-cousin companies, etc.

As far as accuracy is concerned, Fashion Nova reigns supreme. Every item featured on the company's Instagram (@fashionnova) is accompanied by the product's exact name, color ways available and price, making it extremely easy for customers to find what they're looking for once on the site (linked in bio). The company's website also features a ton of customer reviews, most of which boast about the high-waisted jeans (782 reviews on one pair!) and overall curve-friendliness of the clothing.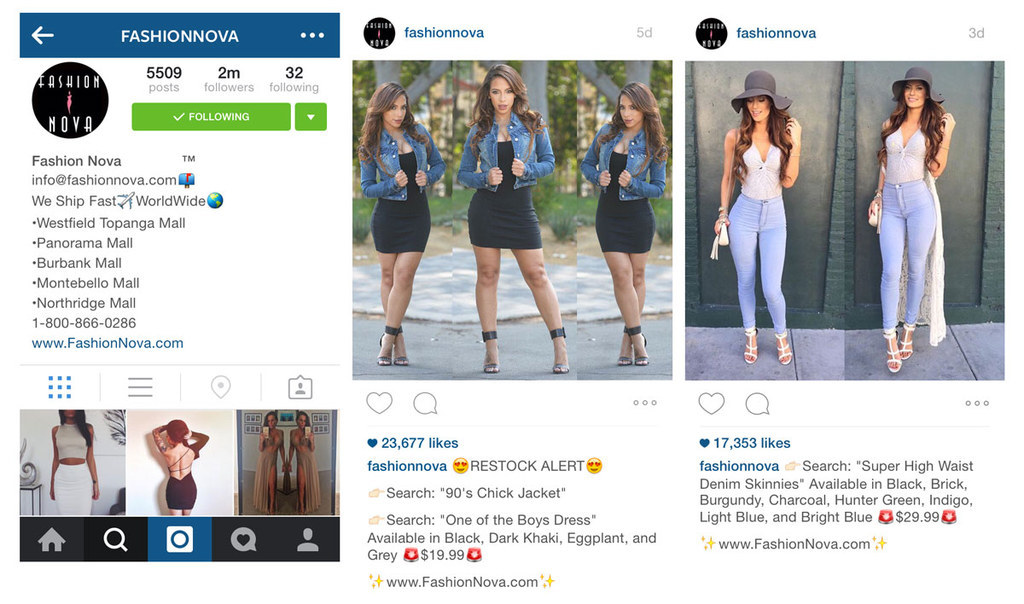 Fashion Nova Bottom Line: What you see is what you get, and when you're ready to get it, you know just how to find it. The garments do tend to be on the sexier side, so if you're looking for a "YOLO" tee, you're barking up the wrong tree. Also, insanely fast shipping (2-3 days in the US!) makes this the perfect Instagram to find booty-hugging jeans and wardrobe staples on a procrastinator's timeline.

Since launching a US site in 2010, this UK-based company has quickly become a "fast fashion" go-to. The company's main Instagram (@asos) features a mix of product shots and styled looks, as well as miscellaneous tumblr-esque celebrity throwbacks. Featured items are usually Geotagged with a Product Code, however any information regarding items seen in an ASOS "LIKEtoKNOW.it" photo can only be seen after the shopper creates a LIKEtoKNOW.it account, goes back and "Likes" the original post from the ASOS Instagram, then checks their email for a list of product details.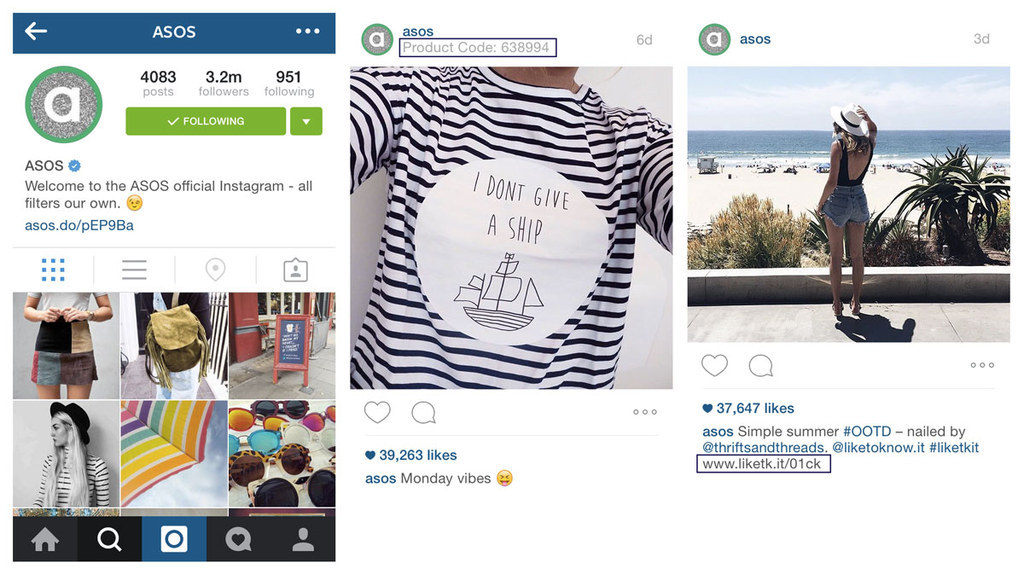 ASOS Bottom Line: Amazing account for fashion inspiration and items posted with Product Codes are easy to search for, but getting information on a product featured in a "LIKEtoKNOW.it" post is a bit of a hassle. The site does offer free shipping on US orders over $40 and free returns (WOO!), but you'll have to pay up if you want your items in less than 6 business days.

If you've seen a teenager in the past 10 years, you've seen something from Forever 21. The fashion giant's Instagram account (@forever21) is connected to a techy-chic "Insta-Feed", meaning that, after clicking the link in their bio, you can tap on a post and be directly linked to all items for sale in that image. While I love this 'Zenon: Girl of the 21st Century' approach, I was disappointed to find that many of the items pictured in the feed are not actually for sale, and instead you are linked to purchase "similar" items - some of which are really not that similar.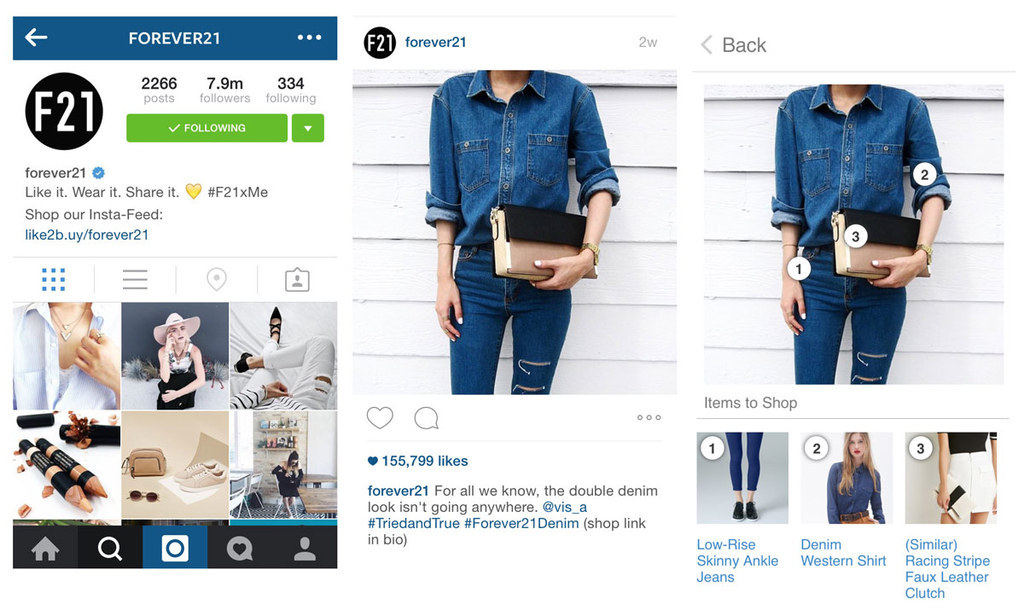 Forever 21 Bottom Line: The technology is super cool, but the disappointment of not being able to purchase the exact items pictured is not. Also, ladies with curves might have a hard time fitting into their predominantly narrow-cut garments (I'm an 8/10 with a sizable rack and had to return most of the "Larges"). The company does have a Plus Size section, however I have yet to see any of those items featured on their Insta-Feed.

Like Forever 21, the Nasty Gal Instagram account (@nastygal) is connected to an Insta-Feed, which is linked in their bio. The difference with this Insta-Feed is that, instead of linking you directly to the items featured in the picture, you are instead linked to the entire collection with which that item was launched, or to a slew of similar items (i.e. clicking a picture of a lacy bra would link you to the entire bra section). This approach leaves more guess work on the customer's side (which one of these 15 bras was she wearing again?), but also distracts you if the item isn't listed, which does happen.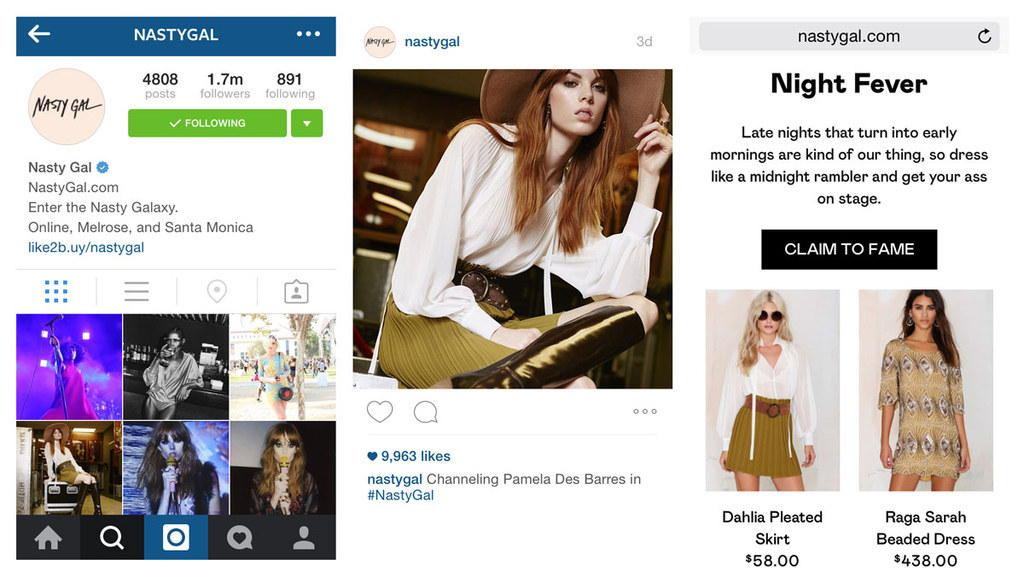 Nasty Gal Bottom Line: The technology is savvy, the layout is chic and nearly all items posted to the Instagram are available for purchase in the Insta-Feed (though they can be tricky to locate). The price point is, however, a bit on the higher side - ranging from $48 to $508 for non-sale dresses and $1,800 for a Vintage Chanel - so it's definitely not a go-to 'Gram if you're on a tight budget.

This up-and-coming online retailer specializes in supplying "fast fashion" at moderate prices. The company's Instagram account (@gojane) features a mix of product and outfit shots, as well as a few cutesy "fluff" pictures. Unfortunately, the majority of clothing posted to their feed is not accompanied by style names and/or product codes, so finding a "Featured" item on their actual site (linked in bio) is kind of a nightmare. If you're lucky enough to find an item code, it is probably for a pair of shoes, as those seem to be the most consistently-tagged products on the feed.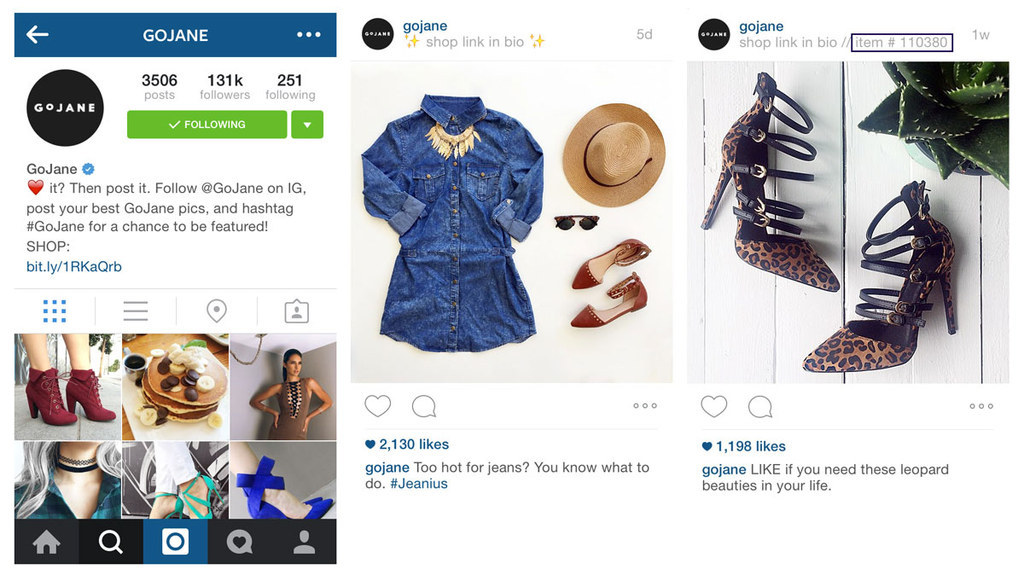 GoJane Bottom Line:
Lack of clarity in the tagging of featured items makes this Instagram difficult to shop, but if you don't mind playing a little Where's Waldo? on their website, you will be rewarded with reasonable prices and great variety. Shoes are definitely their most 'Grammed items, and the occasional discount code is bound to sing to any bargain-hunter's soul.
This post was created by a member of BuzzFeed Community, where anyone can post awesome lists and creations.
Learn more
or
post your buzz!