Upside-Down Apple Cake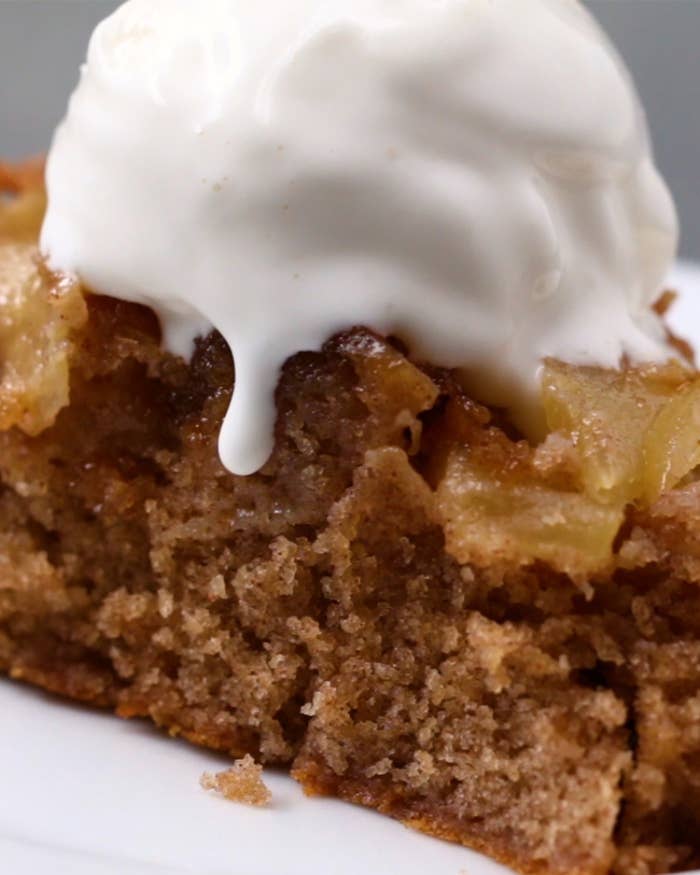 INGREDIENTS
Servings: 10-12
Cake:
¾ cup butter, softened
1½ cup sugar
3 eggs
1 teaspoon vanilla extract
½ cup milk
1½ cup all-purpose flour
1 teaspoon baking powder
¼ teaspoon salt
1 tablespoon cinnamon
4 apples, peeled and cut into ¼-inch slices (recommended: Granny Smith or pink lady)
Sauce:
1 cup butter
1 cup brown sugar
PREPARATION
1. Preheat oven to 350°F/180°C and grease a 9" cake pan.
2. In a bowl, cream together the butter and sugar.
3. Whisk in 3 eggs and milk until fully incorporated.
4. Add the flour, baking powder, salt, and cinnamon. Whisk until combined.
5. For the sauce, melt butter in a saucepan over medium heat, and stir in the brown sugar. Bring to a boil and continue to stir for 30 seconds, or until vigorously bubbling.
6. Pour the sauce into the greased cake pan.
7. Arrange the apples on top of the sauce in a circular pattern.
8. Pour cake batter on top of apples and smooth the top of the batter.
9. Bake for 45-55 minutes, or until the cake is done (the top will spring back when gently poked).
10. Cool for 10-15 minutes and loosen the sides of the cake by running a butter knife around the edge.
11. Place a plate upside down on top of the pan, then invert the pan, flipping the cake onto the plate.
12. Garnish slices with vanilla ice cream or whipped cream.
13. Enjoy!
Want BuzzFeed Tasty right in your inbox? Sign up for our newsletter!