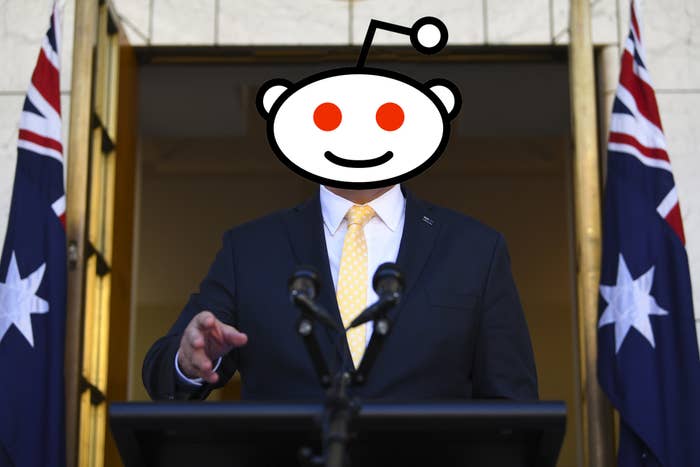 After a brutal year-long campaign, the results of Australia's historic referendum on whether to become a republic were finally in.
The "Yes" campaign won with 56% of the vote, just as polls had predicted. Elated republicans celebrated, while the monarchists grumbled to one another about a negative, dirty campaign. That night, the Wall Street Journal reported that negotiations had already begun between Australia and the Crown about the country's long-awaited departure from the Commonwealth.
A former prime minister and architect of the referendum was privately ecstatic at the result, but kept a distance from the celebrations. After all, the head moderator of the AustraliaSim subreddit is supposed to remain impartial.
The referendum, the media coverage, the former prime minister: all of it is part of AustraliaSim, a Reddit community and online roleplayer game in which participants emulate the argy-bargy of #auspol — with a startling degree of detail.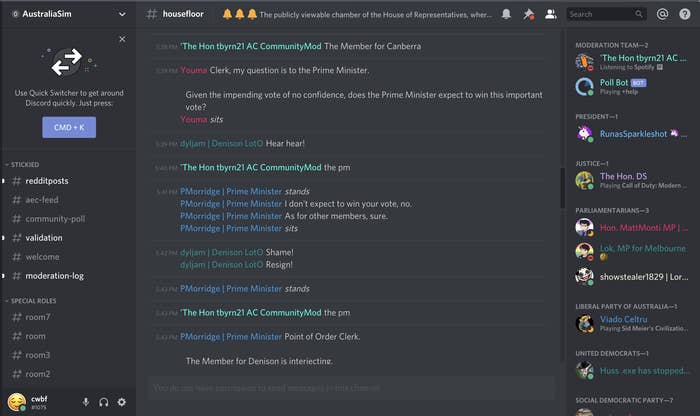 It's like the mock parliaments or model United Nations conducted in high schools and universities, except AustraliaSim plays out through a network of subreddits and Discord chatrooms. One aspect of the student iterations, though, has remained: participants take it extremely seriously.
In AustraliaSim politicians write, debate and vote on pieces of legislation. They create political parties and make deals to bind together in coalitions to try and form government. The party leaders hold online press conferences where they field questions from people acting as journalists who write real articles for fake versions of well-known publications. When there's a dispute over an interpretation of the AustraliaSim constitution, naturally it goes to the High Court for a ruling.

Why do they do this? For Reddit user, and former prime minister, Youma (the people interviewed for this piece asked to be quoted by their AustraliaSim username) it's fun.
Youma had been keen to find a community full of people who were also into politics.
"AustraliaSim was one of the ones I stumbled upon, and the way it ran just worked really nicely for me," they told BuzzFeed News.
"It also helped that one of the big issues being discussed at the time was the republic, which I quickly became the figurehead of."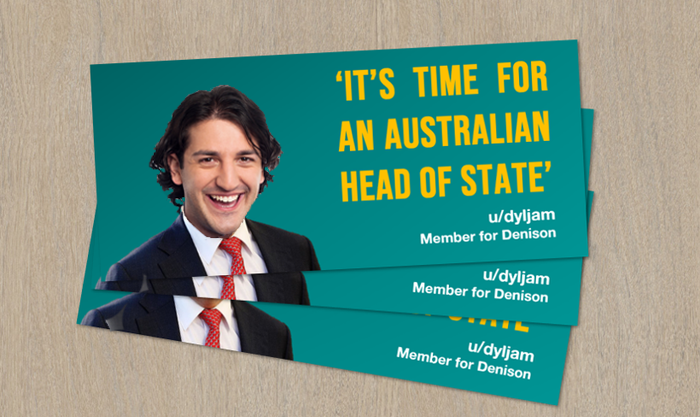 Youma's path to becoming prime minister of AustraliaSim, and then its head moderator, had humble beginnings. Youma started out as an independent member of parliament in March 2018, before joining and leading the Socialist Party. After the party was torn apart by factional infighting, Youma headed up new splinter group the Social Democratic Party, which joined a coalition that formed government following the Dec. 21 election.
"I was fortunate to have quite a few allies around the Sim, and through the formation of my Social Democratic Party, the Left Coalition won office in December last year making me prime minister," Youma said.
In AustraliaSim, elections happen every three months. Unlike actual Australian elections (in which voting is compulsory, punishable by a fine) participants in the simulation don't vote. Instead, the election results are determined using a custom-developed algorithm that models who an imaginary public would elect.
"The results are based on activity and effort and being topical," said current head moderator Tobycool_2001_1. "So it has also an element of popularity and luck. It still is luck to win an election."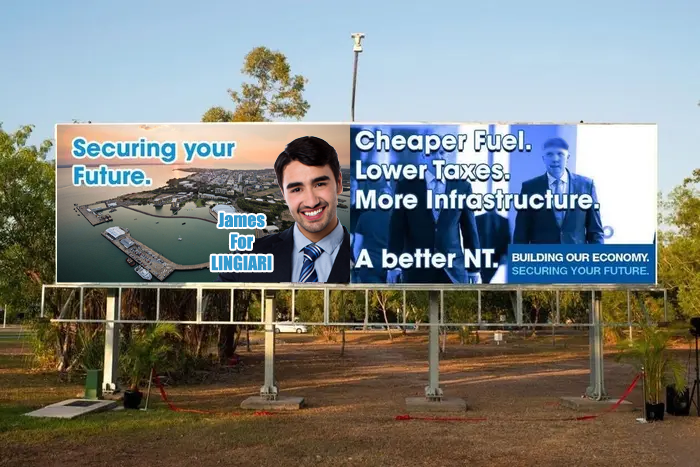 Tobycool_2001_1 declined to share the algorithm with BuzzFeed News, but said a group of AustraliaSim moderators created a system that considers a user's activity in the simulation, assessing the quality and quantity of their debate inside parliament and their campaigning outside, and uses that to make them more or less likely to win an election. It's designed to incentivise people to engage in substantive political debate.
Elections haven't always been run this way. AustraliaSim changed its electoral system after it was rocked by allegations of election fraud in 2017.

"It is widely believed that the person who started /r/AustraliaSim had actually been operating multiple accounts, including various MPs and members of the community, which came out only when all their accounts were deleted without warning," said longtime AustraliaSim user RunasSudo.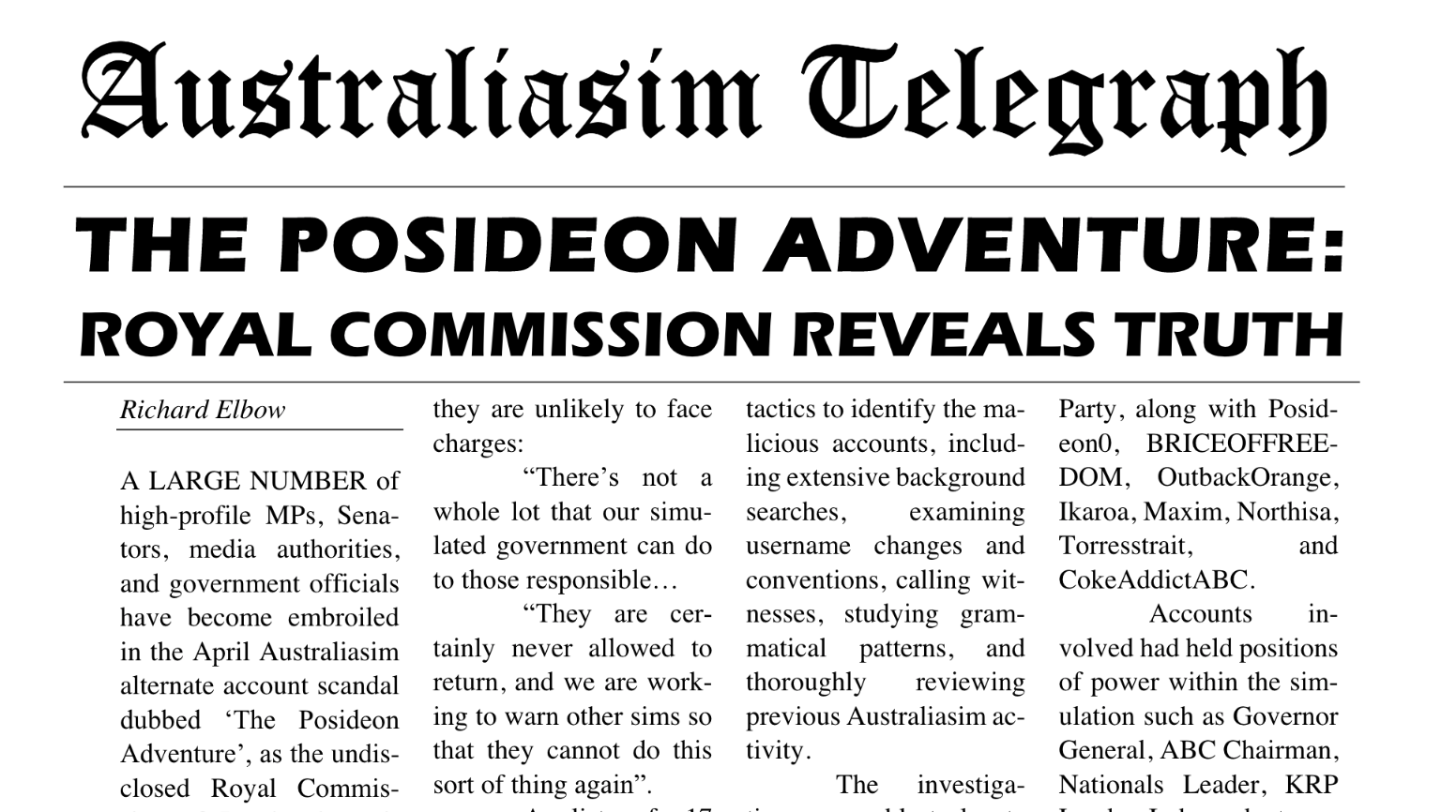 Shortly afterwards, an account identifying itself as the founder of AustraliaSim and its first governor-general, Posideon0, wrote that they had deleted their account due to fears they had been hacked.

In the now deleted post, the author made the claim that the other accounts had been manipulating the simulation's elections, and that they belonged to a group of Canadian university students running an unauthorised experiment into the influence of right-wing politics online. The theory was never proven — but the commissioner of a secret Royal Commission of Inquiry into the scandal found evidence suggesting electoral interference.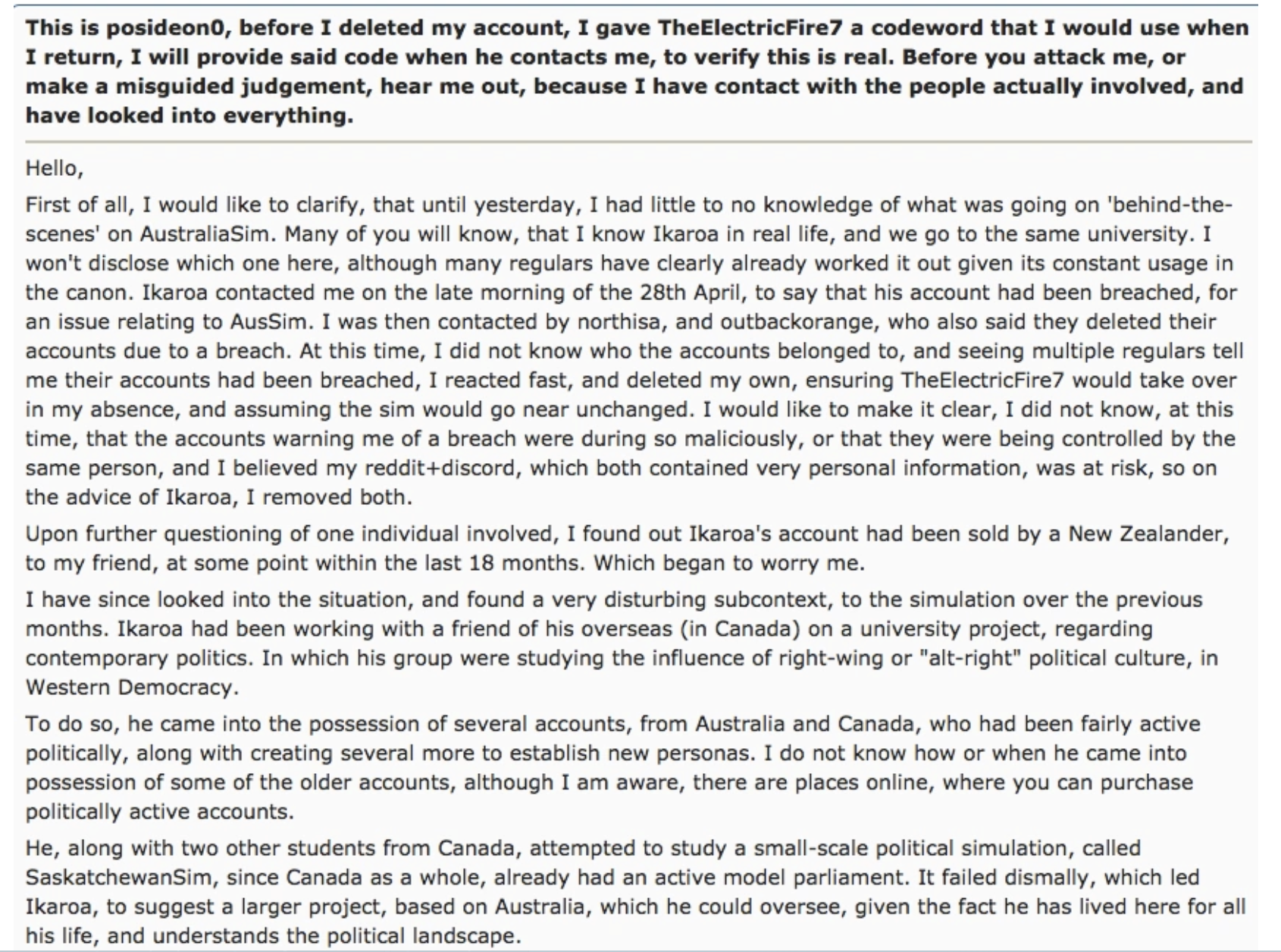 AustraliaSim has an Electoral Commission staffed with non-partisan members who determine the results. "It also releases information about elections and [each electoral district]'s boundaries," Tobycool_2001_1 said.

The Electoral Commission also regularly publishes polling showing how the simulation's parties are performing. And like Australia's 2019 federal election polling, it's not 100% accurate.

"The National Polling weekly [is] mostly accurate but with some variance," Tobycool_2001_1 said. "The election results consider a variety of other election-only factors, and are seat by seat, and are randomised to factor in swing voters."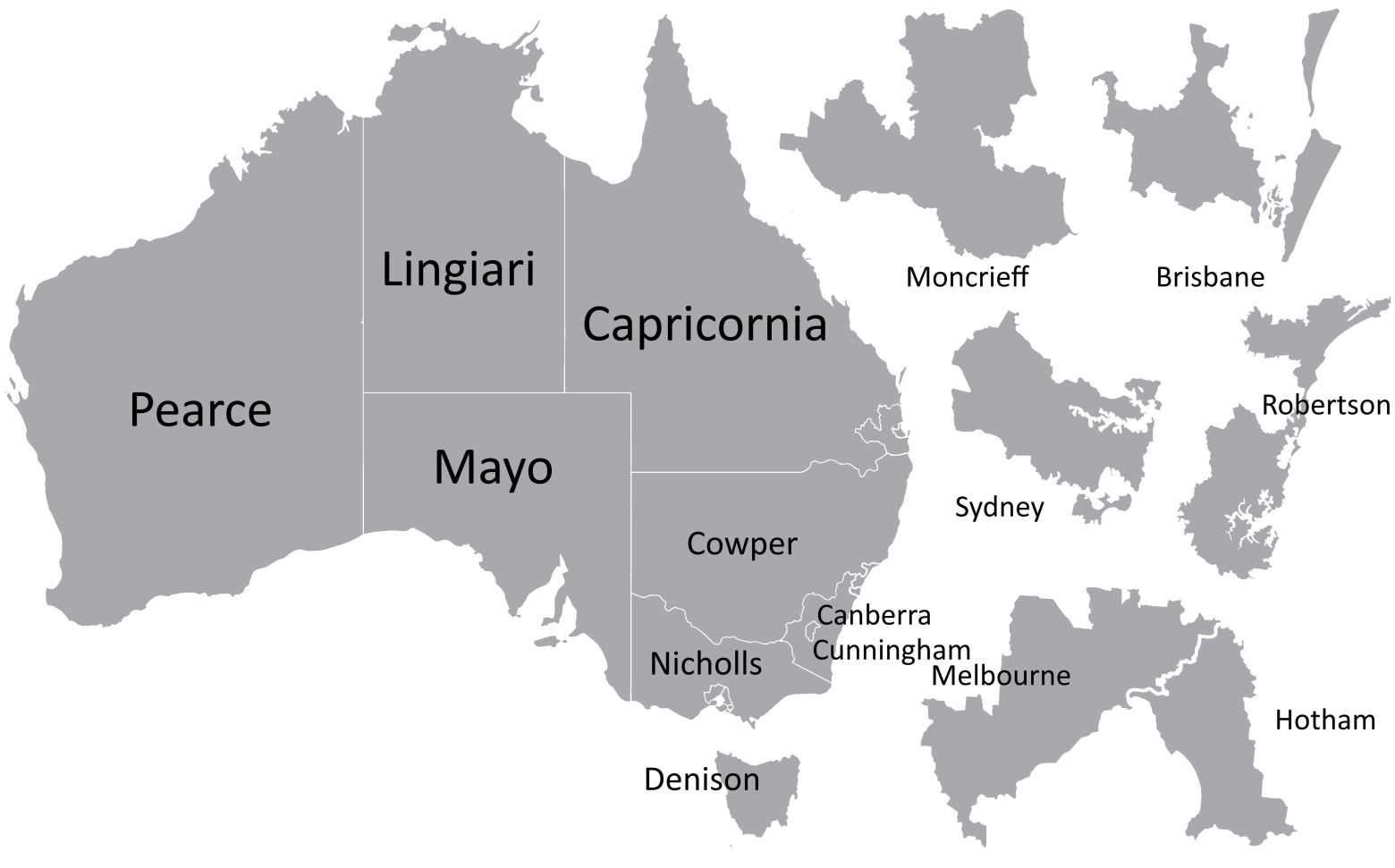 One way to increase your chances with the algorithm is to enthusiastically throw yourself into the legislative process. The path to passing a new law closely mirrors Australia's Westminster system, in that a bill has to pass through two houses and go through several readings. (Unlike the Westminster system, debate occurs on the chat app Discord.)

AustraliaSim users take pride in crafting legislation that, at first glance, is virtually indistinguishable from the real stuff, although typically much briefer. The 14th Parliament of AustraliaSim has recently passed "Appropriation Act (No. 2) 2019–2020" and "Aged Care Amendment (Staffing Ratio Disclosure) Act 2019".
In fact, the simulator's moderators recently changed the template to make it less realistic because they were worried users could fall foul of an Australian law — a real one — that makes it a crime to impersonate government bodies.
"I enjoy making it look like the real thing," said Tobycool_2001_1. "It really adds an aspect that you can debate the implementation of a solution, not just the merit."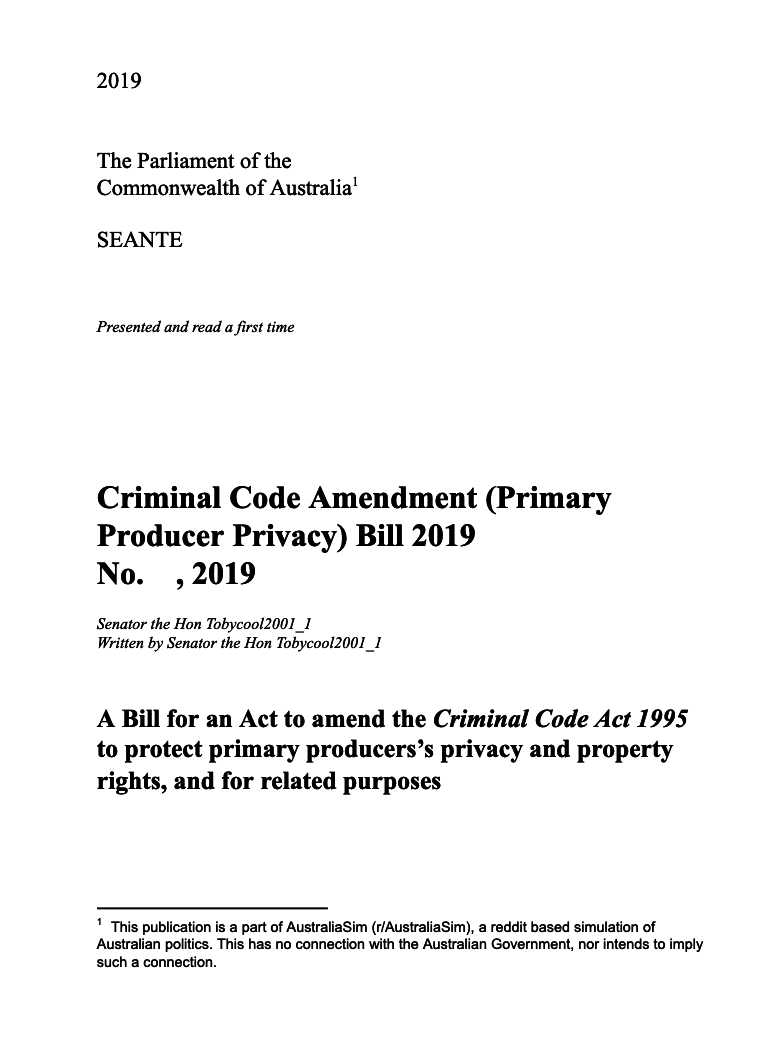 The head moderator and event team use the ABC (AustraliaSim Broadcasting Corporation) to publish news reports blending current news stories with existing AustraliaSim history, to create a narrative for politicians and press to base their activity on.

"The drought is canon. The climate protests are canon," said Tobycool_2001_1. "But, for example, Scott Morrison isn't prime minister. And the greyhound racing isn't an issue due to us passing a national ban.

"An event might be, for example, striking at the port over an enterprise bargaining disagreement. Or it might be an event based off a bill to legalise cannabis. It just adds spice for MPs and senators and the media. But, for example, we don't include real world events like shootings to prevent inappropriate or insensitive content in the simulation."
Another user, Lucifer, finds the strict adherence to procedure and gentle discussions in AustraliaSim comforting. He is based in South Carolina, surrounded by US politics in the age of Trump.
"Politics is too wild and personal here — it's nice to be somewhere it's not personal," he said.
He stumbled across the simulation about a year ago, and stuck around because he found the parliamentary systems fascinating. And then he accidentally won an election.
"I was always pretty inactive, but my party kept putting me on the ballet as a filler candidate," Lucifer said. "[But] the seat was emptied and the original owner's party no longer existed, so the seat went to a countback. It was a mess. I don't entirely understand it myself."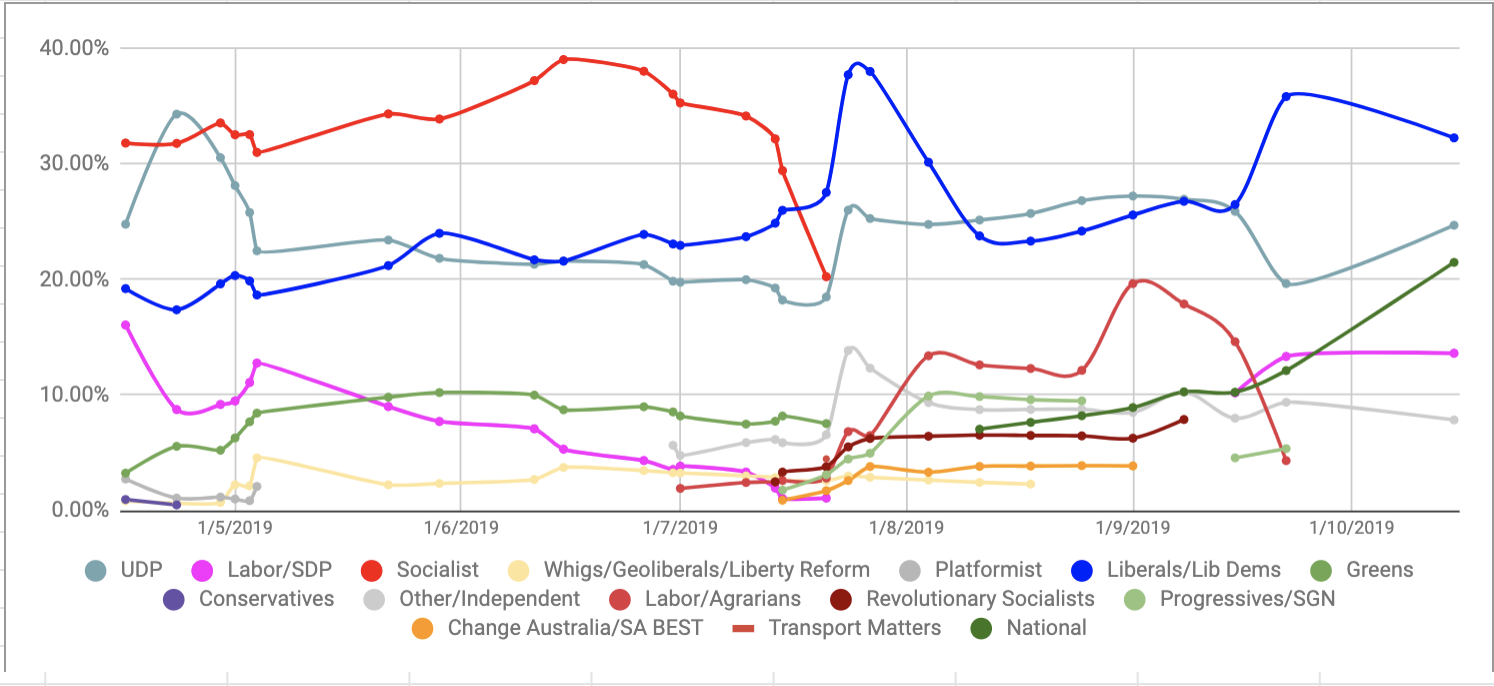 It was a confusing time, but Lucifer picked up the simulation's rules quickly. Fortunately, he was deemed eligible to serve because the AustraliaSim constitution, unlike its Australian equivalent, does not exclude foreign nationals from entering parliament.
AustraliaSim also incorporates some of the pomp and ceremony of real politics. User tbyrn21 was made a member of the Order of AustraliaSim earlier this year for his work as an MP and for services to the disabled community.
"The main piece of work I did was a bill to enforce disabled access into buildings," said tbyrn21. "I myself have physical impairment, so it is also for general awareness creating. [My Order of AustraliaSim] was awarded by Youma on March 17, which is AustraliaSim Day for us."
Redditor porriidge spent the better part of a year as the leader of the opposition before he became AustraliaSim's 17th and current prime minister a month ago.
"And yes, it involved plenty of sucking up to others," porriidge told BuzzFeed News. "We are simulating politics after all. Around 'election' time it's almost an addiction. Sitting at the PC waiting for the latest polls to be released, waiting for your opponent's speech to be delivered so you can counter it later."
But porriidge was annoyed when he spoke to BuzzFeed News. Just weeks into governing, he's frustrated about the lack of progress he's made on his legislative agenda. Why? His IRL job is keeping him really busy.

When outside life beckons, it can have a big impact in the simulation. Users have to stay actively involved or else face losing their seat and triggering a by-election. If someone doesn't log on to the Discord server during a debate, their absence is noted.
"Mr Speaker," current deputy prime minister Riley 8583 wrote in Discord when porriidge didn't log on one day, "I would assume the Prime Minister is attending to other tasks in regards to governing this great nation, however I am not completely sure about his whereabouts."
"I've been pretty busy outside of the sim the last two or three weeks," porriidge explained to BuzzFeed News. "Bit of a shame, considering the amount of effort I put in to actually get here."
Work-life balance issues aside, porriidge is grateful to be part of this small but active online community. Of the 500 people subscribed to the AustraliaSim subreddit, about 50 of them — roughly two-thirds are male — are active participants in the simulation.
"It's politics but with tolerant discord and no real consequences," he said.
Youma, who hopes to work in politics one day, said AustraliaSim has been instrumental in shaping their views about parliament.
"I tend to enjoy it as a sense of empowerment. In a world where everyone feels out of control, there's at least a place where you can shape the future in a way." ●
CORRECTION
A previous version of this post misspelled tbyrn21's username.