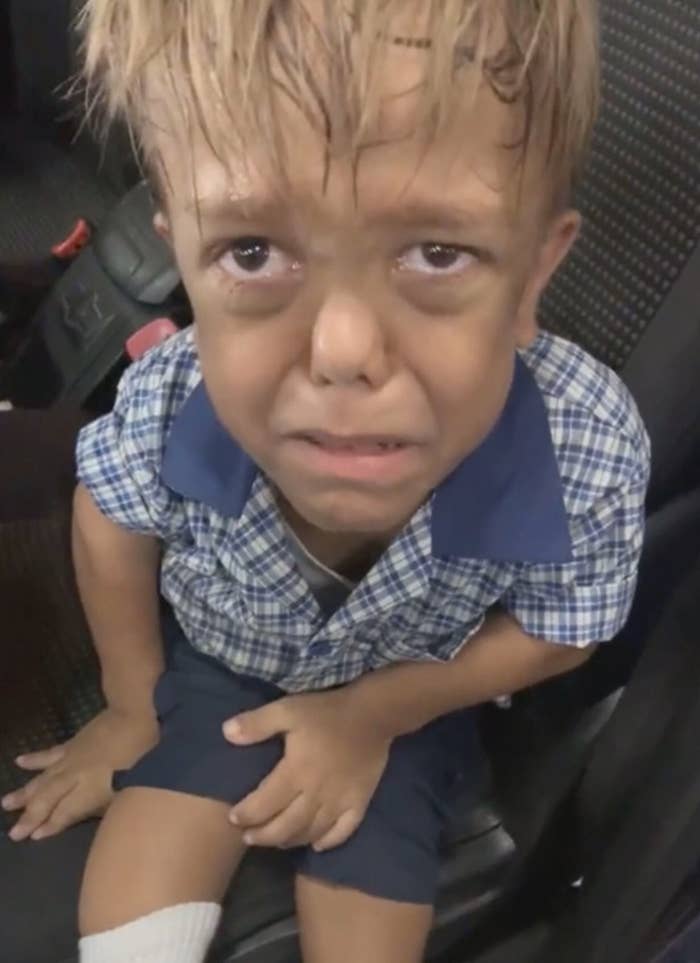 On the evening of Feb. 19, 2020, in Brisbane, Australia, Yarraka Bayles posted a video to Facebook showing her son, Quaden, in tears.

Quaden is 9 years old and has achondroplasia dwarfism. In the video, which shows him distressed in a car, Yarraka says she's just picked Quaden up from school and that she wants others to see the effects of bullying on her son. Quaden can be heard saying "I just want to die right now".
It went hugely viral, and the majority of the comments supported Quaden. But it wouldn't be more than 72 hours before parts of the internet would twist his life story into a bizarre conspiracy theory falsely claiming he was an 18-year-old scammer.
The morning after Yarraka posted the video, it was shared by Australian news publications and picked up by international outlets soon after. Celebrities began to tweet their support for Quaden.
On the afternoon of Feb. 20, comedian Brad Williams tweeted out a link to a fundraiser for Quaden. "I've set up a GoFundMe to send brave Quaden and his mother to Disneyland," Williams wrote to his 123,000 followers. "Let's show a bullied kid that he is loved!" At the time of publication, the GoFundMe had raised $467,000 and had been shared 267,700 times.
By the afternoon of Feb. 21 users on different social media platforms had begun to baselessly claim Quaden was a scammer.
Twitter user @ZoomerMatthew tweeted side-by-side photographs, one of which showed Quaden crying, and the other, him holding a handful of Australian banknotes. The tweet — which has been retweeted more than 5,700 times — was captioned "Y'all got played". @ZoomerMatthew didn't respond to questions from BuzzFeed News.

One of actor James Woods' 2.2 million Twitter followers responded to his sympathetic post about Quaden saying "You've been had" with a link to Quaden's actor profile.
Facebook user D Monarch DeLeon posted a video of a two-month-old Facebook live video from Yarraka's Facebook account of Quaden calling the Queen and Australian prime minister Scott Morrison racist. The video is captioned "This was captured from the so called bullied dwarf kids moms Facebook before she hid everything. [...] more to add to the mystery if everybody got scammed or not."
In the early hours of Feb. 22, Instagram and Twitter users were using photographs from Quaden's public Instagram account (which is now private) to start a strange new rumour: that Quaden was actually an 18-year-old pretending to have been bullied.
One viral post used a screenshot of one user's Facebook post that falsely claims that "he scammed everyone ... he's 18". The post includes pictures of Quaden wearing high-end streetwear and at a party next to a sign that says "18". (It was in fact his cousin's party.)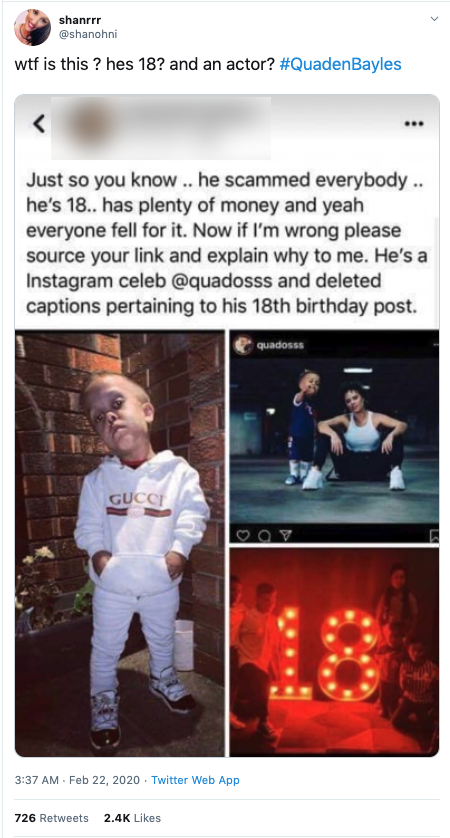 These photographs are, of course, not proof of Quaden's age. Photographs from Yarraka's Facebook account have documented Quaden's childhood since he was six weeks old. Multiple interviews with Australian media organisations to have also included his age.

The Facebook user who originally wrote the post told BuzzFeed News that she posted about Quaden being 18 after she saw a meme online.

She said once she found out his actual age, she deleted the post but someone had already shared a screenshot to Twitter, where it went viral. She's now deleted her account due to the backlash.
"I've received death threats and people looked up info from my job so my safety is compromised," she told BuzzFeed News in a message. "I need you to remove this false information before something bad happens to me because people are insane."
The woman provided a screenshot of her inbox showing abusive messages from before she deleted her account. BuzzFeed News has not named her due to her concerns about her safety.
Quaden's aunt Mundanara Bayles told BuzzFeed News that while the family is focusing on the positive comments online, they've noticed the negativity. She said the image of Quaden next to the sign — the metaphorical smoking gun for this conspiracy theory — was taken at her son Garlen's 18th birthday party.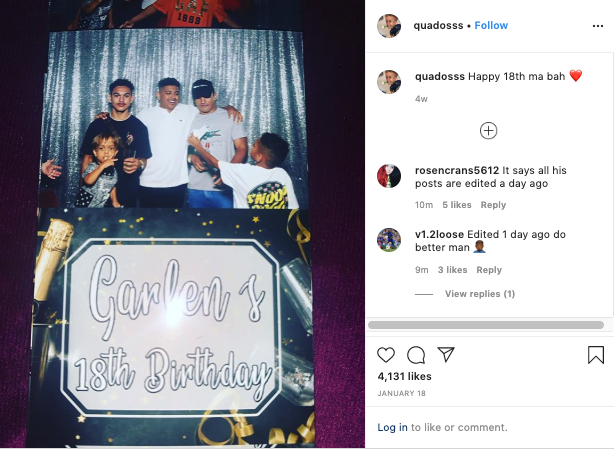 This viral hoax spread rapidly across the internet. Quaden's Instagram accounts were flooded with abusive comments making accusations that he was a scammer or an adult.

These conspiracy theories are now some of the most popular content available online about Quaden. According to BuzzSumo's metrics, the "Quaden Bayles" content that has received the second most engagements ever is a Feb. 21 YouTube video "Quaden Bayles Bullied Dwarf is really actor tricking you into giving him money". The video has been engaged with 1.1 million times on social media, just behind a Daily Mail article that has been engaged with 1.2 million times.
The YouTube video is now private, however a Discuss Global article about the video lists the channel name as "ErbyGames".

Erby Walls, who responded to the email listed on ErbyGames' YouTube account, confirmed that he had uploaded the video, which he said had been viewed more than three million times. He said that he'd seen people on Instagram sharing photographs of Quaden "in Gucci and flashing money", which is why he made the video.
He uploaded another video on Feb. 22 stating that Quaden is aged 9 and apologising. The video's been viewed 31,000 times — nearly 100 times less than the original.
False information about Quaden remains all over YouTube. While searching for Quaden returns mostly videos from traditional news sources, the most-viewed videos (shared through social media channels) skew towards misinformation. Of the top 19 videos on YouTube for "Quaden Bayles", nine are about rumours — and most of those are spreading hoaxes.
And it's not just limited to social media. Despite the lack of convincing evidence, the New York Post published an article titled "Quaden Bayles: Internet debates whether bullied Australian boy is really 9 years old". After citing strong evidence proving Quaden's real age, the article then includes four social media posts that incorrectly doubt his age. According to CrowdTangle, the article had more than 120,000 reactions and was commented on more than 75,000 times.
Other websites from the enormous — like video aggregator WorldStarHipHop— to the extreme — like far-right website the Daily Groyper — picked up the story. One even claimed without evidence that "the feds" were investigating Quaden.
Mundanara thinks all the claims of a scam are ridiculous. She pointed out that the Bayles family had nothing to do with the fundraiser.

"It was just some comedian in America who reached out to us that we've never met in our life," she said.
After first noticing the hoax posted on the comments of a CNN article on LinkedIn, Mundanara recalls staying up until the early hours of the morning reading all the abuse on Instagram.
She said that she's angry with how social media users misinterpreted videos to further their own conspiracy theories. She points out a video of Quaden with the flushed banknotes — viewed 7.5 million times in one user's tweet — was money raised for charity.
"He's actually sweating his arse off in a hot tin shed at a fundraiser in Salisbury for Indigenous victims of Australia's fires," she told BuzzFeed News. "He was happy with how much money he raised.
"It's so wrong. If only people did one or two more clicks," Mundanara told BuzzFeed News. "It's so draining. We've all got lives to live, businesses to run, children to raise. We don't want to deal with this."