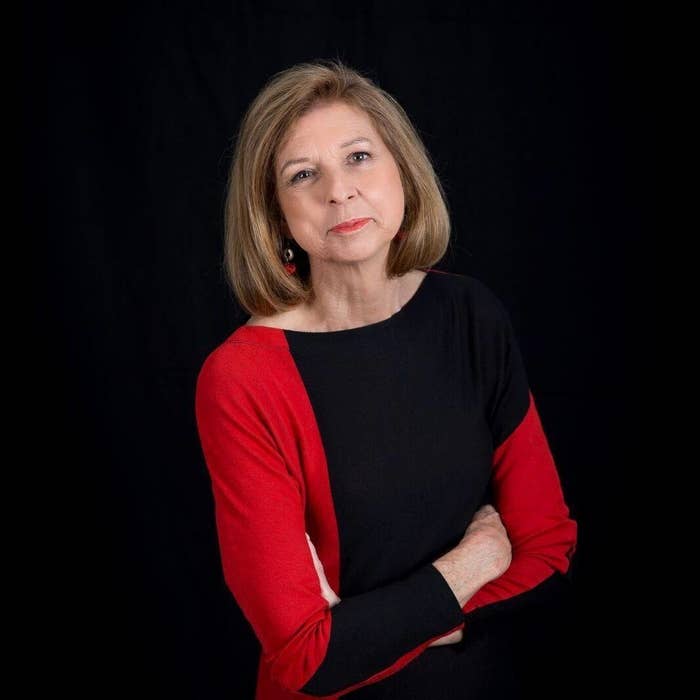 Men's rights activist and social commentator Bettina Arndt was appointed as a Member of the Order of Australia earlier this year.

The award to Arndt — which recognised her "significant service to the community as a social commentator, and to gender equity through advocacy for men" — was controversial, and provoked calls from a state attorney-general, a former Australian of the Year and a survivor of rape to strip Arndt of the title. A state government minister even tweeted on Friday that Arndt should "STFU".
So far, the Council for the Order of Australia hasn't budged.

Let's take a look at some of the things Arndt has said in the 26 short days since she was bestowed with one of Australia's most prestigious civic honours on Jan. 26.

1. The police were right to suggest a man who killed his estranged wife and their three children may have been "a husband being driven too far".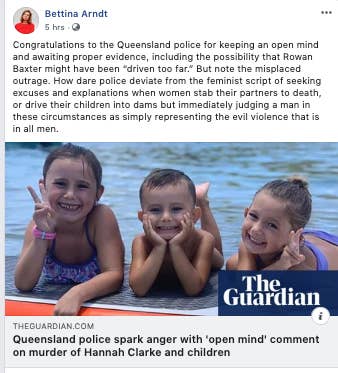 A Queensland Police detective inspector was stood aside on Friday for saying police were considering whether Rowan Baxter, who murdered his family by setting them alight in a car earlier this week and then killed himself, was "a husband being driven too far".
Arndt initially congratulated the police for the comment, and then condemned them after the inspector voluntarily stood aside.
2. Paid domestic violence leave is a "racket".

Anrdt said women can take leave without evidence, and that men wouldn't be believed. She made this claim the same day of the murder-suicide.
3. Arndt's own work poses a threat to advocacy for victims of sexual assault.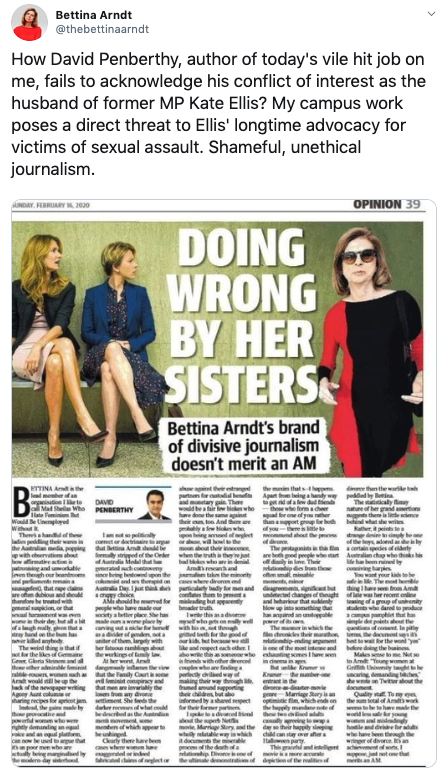 Arndt said in a tweet that her work at universities — she has previously embarked on a "Fake Rape Crisis" campus tour — "poses a direct threat to [former Labor MP Kate] Ellis' longtime advocacy for victims of sexual assault".
4. It's "pathetic" that female judges get interrupted more than men.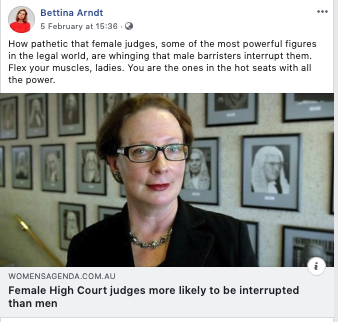 "Flex your muscles ladies."

5. Movember is "reprehensible" for giving money to an organisation that helps women.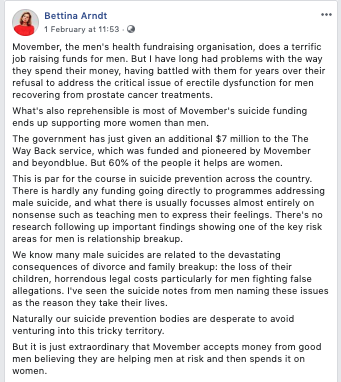 Arndt thinks that the men who raise money for the Movember charity believe it is going to help men and that none of it is going to help women.
6. Women are simultaneously worn out and unable to sleep because they "gnaw the bone".
What bone?
7. Arndt also shared anti-feminist content that turned out to be satire.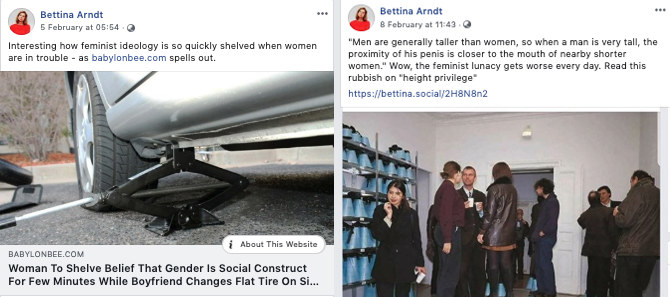 She later apologised for sharing the second one unaware.

8. And some misinformation.