1.
A touchless stationary vacuum that might leave your dustpan without a job. You can sweep over dirt and hair and watch as the vacuum sucks it all up. Then, you can empty the dirt into the trash. Tell the kids it's like playing hockey with dirt. Now, shoot for the goal! 
EyeVac is a small biz that creates touchless and bagless vacuums.
An indicator light will turn on to let you know that the canister is full, and then you can remove the canister and dump the debris in the trash.
Promising review: "I absolutely love this magic floor sucker. I live in the Rocky Mountains with four large dogs and two cats. It makes sweeping not so bad and much more manageable. You just sweep it to the vac and it sucks it up. LOVE IT." —MaryKat
Get it from Amazon for $114 (available in six colors).
2.
Dawn Powerwash dish spray set ideal for people who hate washing dishes. Let me explain. With this power wash spray, you can spray soap on the dish right after you use it, give it a wipe, a rinse, and you're done. No more running a full pan of dishwater, washing as you go is the new way to go!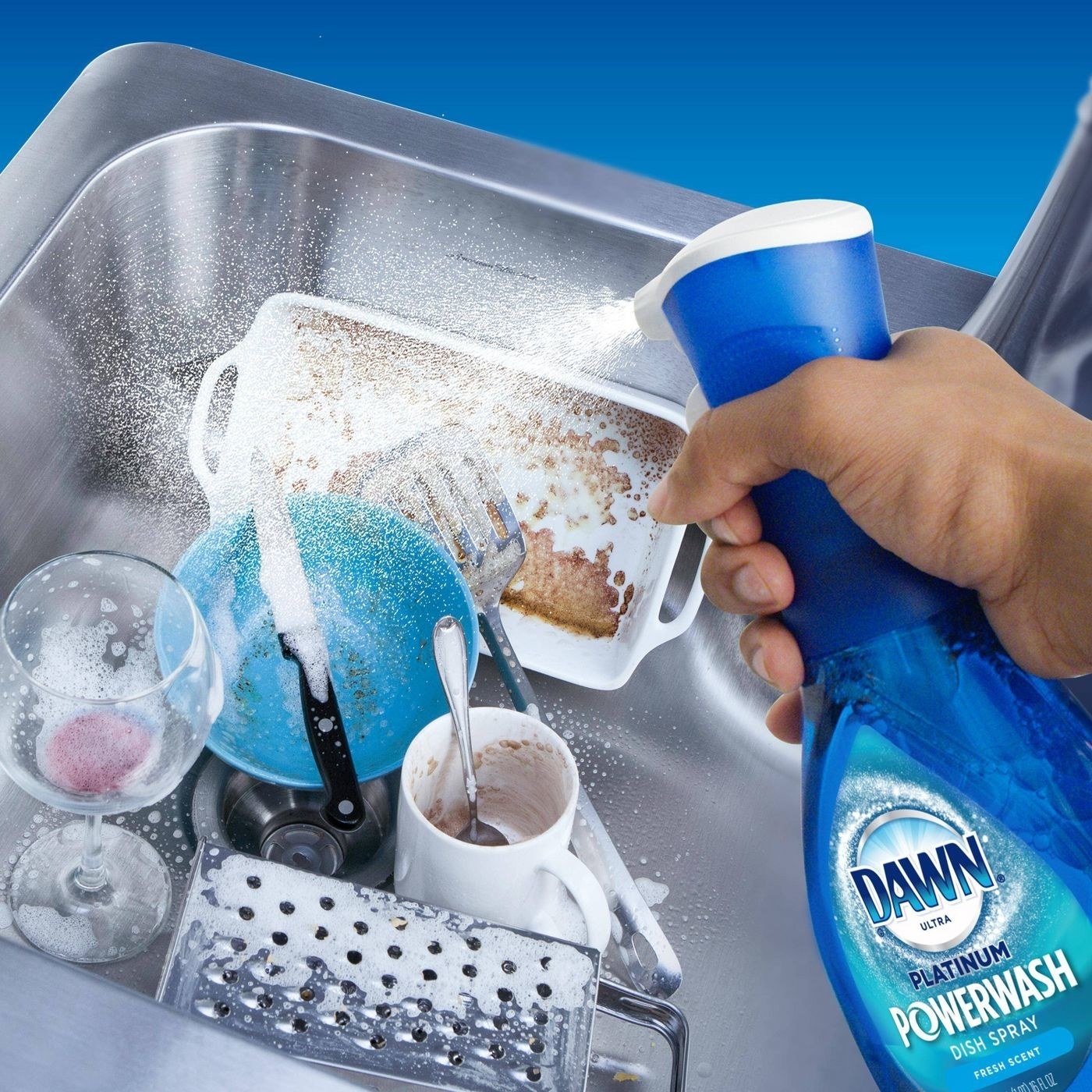 This is one of my must-haves in my kitchen. I hate washing dishes but having this makes it easy to quickly wash a dish before the sink starts to pile up. 
BuzzFeed Shopping editor Elizabeth Lilly says: "I live in an apartment without a dishwasher, and I honestly use that as an excuse to order takeout food instead of cooking. But, as soon as I got my hands on a bottle of this stuff (regular Dawn is my go-to dish soap, BTW), I put it to use on both a saucepan I used to make homemade enchilada sauce *and* the casserole dish I baked those enchiladas, which had a ton of caked-on food. It really does work like I say it does! Like, scary well."
Get it from Amazon for $7.99.
3.
A steaming microwave cleaner for when the "soften butter" instruction goes horribly wrong. Just fill this mama with water and vinegar and pop her in the microwave. She'll get mad, blow her top, and leave your microwave looking brand new. Your Scrub Daddy will be glad to have the day off. 
Promising review: "This product is so amazing, I'm going to get one for all of my children. I am a teacher, and I let my students use my microwave. Usually it takes me half an hour of scrubbing after 31 students have made popcorn, and heated up lunches. This time I used the product, and I literally spent less than one minute just wiping down the microwave!!! I will now keep one in my classroom, and one at my home. A miracle product that actually does what it says, remarkable!!!" —Desiree Barlow
Get it from Amazon for $8.99 (available in three colors). 
4.
A Roborock cordless wet dry vacuum, a godsend for homes with hardwood floors, especially with curious little kids who tend to get a little messy. You won't have to worry about grabbing a mop and then a broom after each spill. This vac can tackle both at the same time.  
Promising review: " My kitchen and the basement have always been the high-traffic area with three kids and a dog roaming around. I am so happy I finally got the Dyad to do all the vacuum and mop in one run to keep my floors clean. Dyad came in with all the parts already pre-installed. It was easy to set up took me less than 10 mins. My kitchen floor is made from natural stone tiles. The surface easily traps dirt and stains. In the past, I had to sweep the floor first, then mop with cleaners several times. Dyad did a great job picking up debris and dirt from the corners and between tile grouts. It also cleaned and removed the dark spots and stains in one mop. I was very impressed. With the full tank of the solution, I was able to clean the kitchen floor multiple times. The battery lasted for a long time. I charged the vacuum to 100% before using it. When I got a voice alert to empty the dirty water container, the battery was at 75%. I like the self-cleaning function in Dyad. All I had to do was empty the dirty water container again after rinsing the rollers. I can't wait to use Dyad in the basement next. :-)" —RC
Get it from Amazon for $449.99.
5.
A can of fume-free oven cleaner you should consider using because you never really pay attention to the inside of your oven and it's starting to look as bad as Tiffany Valentine after burning up in Bride of Chucky.
Promising review: "I rarely write reviews, but this stuff is straight magic!! When we moved into our new home, the oven was disgusting! I absolutely HATE cleaning a freaking oven, but after reading the reviews, I decided to give it a shot. For less than six bucks, what the heck, I'll give it a try! Sprayed it on last night, got up this morning and wiped it out with nothing but paper towels and BAM! My new favorite cleaning product! I'm going to end up doing it again tonight just to have it all sparkly, because like I said, this thing was disgusting, and there were a couple of spots on the door and in the bottom that I missed. If I had felt like putting more effort into it, I could have scrubbed it clean, but let's be real here, ain't nobody got time for that! If you're questioning whether this stuff works, just buy it and prepare to be blown away!" —Brittany Douglas
Get it from Amazon for $6.57.
6.
A llama-shaped duster that's remarkably adorable and works so surprisingly well. You'll probably start Googling llama puns just so you can include them in a positive review.
Promising review: "The only thing that makes dusting bearable is if I get to hold a llama while I do it. I was super shocked at how fast I got it! It's so cute I don't even want to dust with it, but when I did (because man, my house needs to be dusted) it clung to the llama! Which then made me feel slightly bad for the llama being all dirty, but looks like it cleans easily, too! Thank you! Now I have a reason to clean." –Tourmalina
Get it from Amazon for $14.99.
7.
A reusable weighted bottle cleaner for a new dance move that'll leave your water bottles nice and clean. Just drop, shake, and empty. Your liquids will probably taste better now that you've restored your bottle to its former glory. 
Cleanzy Sponges is a small biz started when the founder, John, had trouble cleaning drink containers. This lil' gadget makes it so much easier to get your bottles clean. Each sponge lasts about four months.

Promising review: "The Cleanzy Sponges are awesome!! They are so easy to use, and they really clean your water bottles! I actually don't mind cleaning my water bottles now! I received the Cleanzy Sponges pretty quick, too! It's definitely worth the money, and they are cute!" —Sharon Baker
Get it from Cleanzy Sponges on Etsy for $9.99.
8.
A microfiber window blind cleaner  just begging to ~wow~ the crowd by showing you just how disgusting the in between crevices of your blinds can be. Don't worry, I'm not judging. 
The cleaner also comes with five microfiber duster clothes.
Promising review: "Where has this blind cleaner been for the past 50 years???? I have struggled to keep my blinds clean for so many years and happily found this item. It WORKS!!! And I love that it comes with extra sleeves, and the sleeves are machine washable. The handle is plastic, but I feel confident it won't break any time soon." —marionvgt
Get the six-piece set from Amazon for $7.99 (also available in green).
9.
A microfiber spin mop reviewers say makes mopping quick and easy and helps the floors dry faster, too. Quick dry floors means you can quickly tackle this chore and move on to the next thing on your to-do list. 
Promising review: "Ashamed to say, but I barely ever mop the floors. I purchased this O-Cedar Mop and Bucket based upon the great reviews. I am here to add a 5-star review of my own. This mop and bucket not only cleaned my floors, but it made the entire process easy (and dare I say fun?). I did the entire first floor of my house both tile and wood. Then wanted more fun, so i scooped up the handy handle and carried it upstairs where I continued on to the bedrooms and bathrooms. I don't want to go on and on, but this mop picked up lots of dirt and grime, then popped easily into the washing machine. It came out great. The swirly thing makes all the difference. It wrings out all of the excess water, so it's easy to mop without using too much muscle, which I do not have. And the mop heads are short, rather than long mop heads, which only make for heavier mops. If you're on the fence, go for it, you'll agree." —LauraP320
Get it from Amazon for $53.99.

10.
An all-natural yoga mat cleaner spray useful for removing that sweaty residue from your yoga mat in time for your next session (because the last time you got in downward dog, the smell snapped you right out of the zone and you couldn't find your center for the remainder of the class).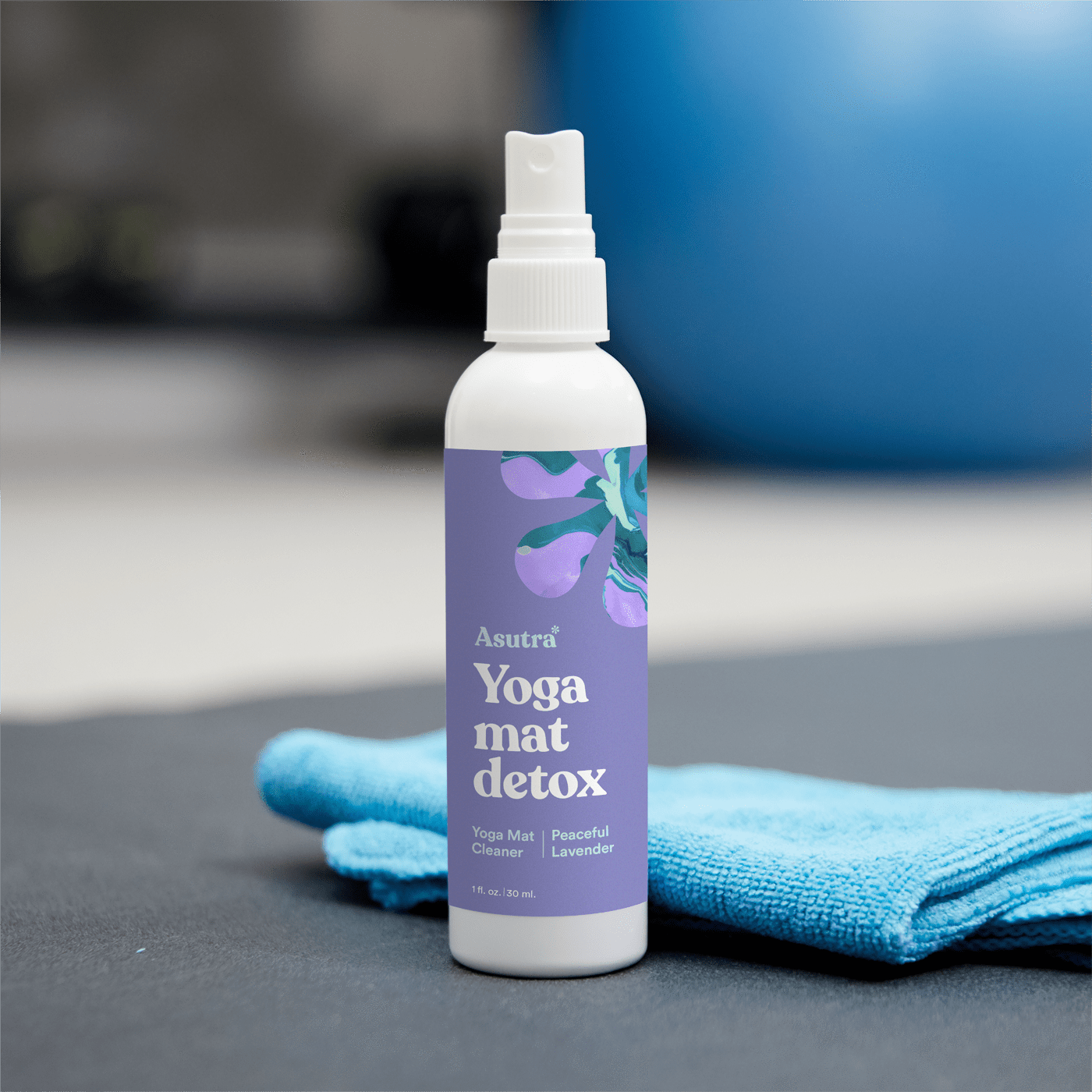 Asutra is a WOC-owned small business making natural self-care products at an accessible price point. The products are made with organic plants, minerals, and essential oils and do not contain parabens, phthalates, or petroleum. This mat spray is made with tea tree oil to help kill bacterial on the mat. It also comes with a microfiber towel to help you clean.
Promising review: "I teach yoga and have recommended this product to many students and fellow teachers. I love the scent and performance of this mat cleaner spray. It doesn't leave a weird residue like others I've used, especially with the help of the little cleaning towel that comes with the purchase. I will definitely order again." —Heather
Get it from Asutra for $12.99 (available in three scents) or from Amazon for $13.99+ (available in 12 scents and packs).
11.
A fizzing toilet tablet in case you want a ~set it and forget it~ way to clean your toilet. Just toss a tab in the bowl, watch it fizz for an oddly satisfying moment, and then flush. It also keeps the bowl smelling like anything other than a toilet, thankfully. 
Pardo Naturals is a Black woman-owned small biz founded by Rita Pardo who created natural body, hair, and home products that wouldn't irritate her daughter's severe eczema.
BuzzFeed Shopping editor Melanie Aman says: "For all the folks who don't enjoy cleaning the toilet — myself included — these dissolving tablets make quick work of a grimy bowl. The tablets are a little hard to dislodge from the plastic container (though that does make me feel confident that they're secure during transit and won't break; mine all arrived intact!), but once you get one out, you drop it in the toilet, and let it do its thing. It'll start fizzing — just like a bath bomb — loosening any stains and streaks in 10 minutes so they come away with a light brushing. I never let the toilet get too bad (and usually it takes awhile for me to notice any buildup since there are only two people in the apartment), so I can't vouch for them if you have really set-in hard water stains or haven't cleaned the commode in six months. But if you're looking to ditch the harsh cleansers in your toilet cleaning routine, this is a great addition to your lineup."
Get six tablets from Pardo Naturals for $10.50 (available in seven scents).
12.
A set of scrubbing attachments to put the elbow grease into cleaning without making you work twice as hard. These attachments fit onto your drill and adds an extra power behind the scrub brushes to tackle bigger projects in half the time. 

Promising review: "We originally purchased this to scrub our tile floors and grout in the bathrooms. We have a dog who slobbers everywhere and the only way to clean it is to use elbow grease. This thing is magical! We've used it on the walls (no paint removed), based boards, door jams and doors, windows, floors, and cabinets. Just dip it into warm soapy water and go to town! Recommending this to all our friends. Cuts cleaning time in half!" —A. Bos
Get it from Amazon for $14.99 (available in six colors).
13.
An all-natural surface scrub made with simple ingredients so you can feel confident cleaning your house without worrying about harsh chemicals.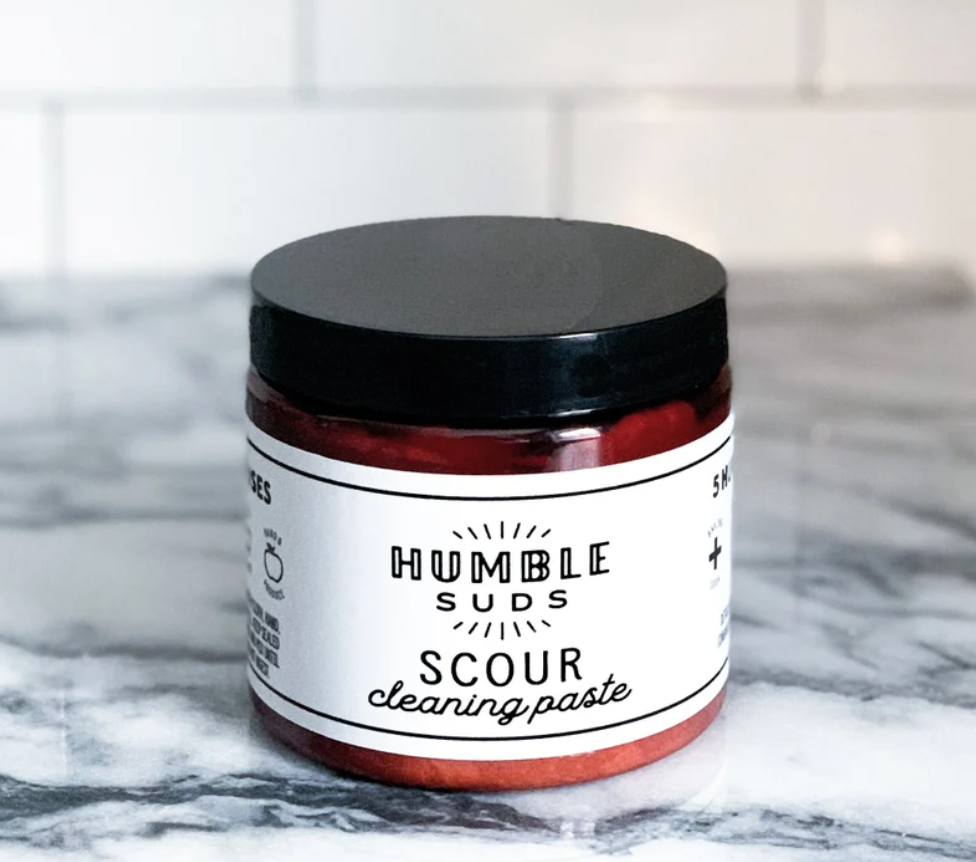 Friends Holli and Jennifer started Humble Suds in 2014 to create trustworthy and clean cleaning products. The cleaners are made with plant and mineral-based ingredients and are always disclosed.
Promising review: "Holy moly, this stuff is like magic. I am allergic to everything, even air, I swear. But I have no issues at all with this product, and it does the job super well. Buy some. I mean it. Like NOW♥♥♥" —Brassy
Get it from Humble Suds on Etsy for $14.95+ (available in two sizes).