Adobe And BuzzFeed Partner Up For Gen Z Ambassadorship Program "Make The Feed"
Ten Gen Z visionaries will join the ranks of Adobe and BuzzFeed to learn the art of storytelling and the power of Creative Cloud through a four-week ambassadorship program.
Adobe Creative Cloud, a suite of leading creative apps, and BuzzFeed, the world's leading digital media company, have launched "Make the Feed," an immersive summer ambassadorship program that provides creative tools, resources, and first-hand experience to the next generation of great storytellers and artists. The four-week program invites ten Gen Z visionaries into the ranks of Adobe and BuzzFeed to learn the art of storytelling and the power of Creative Cloud, culminating in a 2-day takeover of the iconic BuzzFeed.com homepage.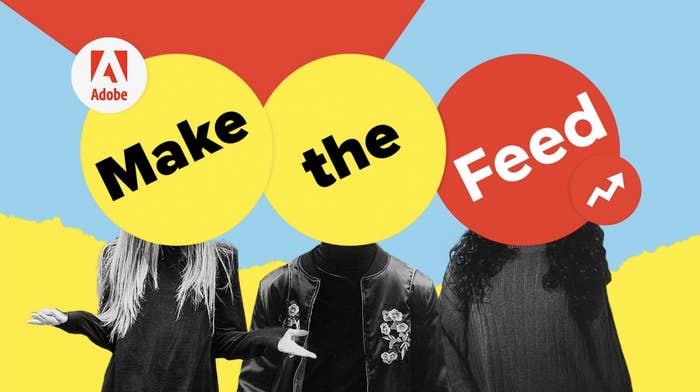 In this first of its kind program, ten emerging creatives have been selected to take classes to master new skills, work with BuzzFeed mentors on creative projects, partner with the BuzzFeed editorial team to help inform and create BuzzFeed content, amplify BuzzFeed content via a robust social strategy, and bring their own authentic and fresh perspectives to the process. The inaugural class of diverse ambassadors – ranging from animators and mixed media artists, to comedians and journalists – will apply their unique expertise to an array of creative assignments.
After the program concludes, the ambassadors will have the opportunity to showcase their work to BuzzFeed's massive audience of hundreds of millions through an epic homepage takeover. On September 1st and 2nd, BuzzFeed will hand over the keys to its main page, which will become the home to exclusive content created by the ambassadors using Creative Cloud tools to tell their stories and amplify the voice of Gen Z.
"BuzzFeed has always been on the cutting-edge, whether it's surfacing the latest memes or using the newest technology, and there's no better way to stay ahead of the curve than to work directly with the leaders of tomorrow," said BuzzFeed's Head of Partner Innovation Jake Bronstein. "We're so excited to partner with Adobe to tap into these Gen Z ambassadors' boundless energy and creativity, and empower them to reach as many people as possible by combining Adobe's creative programs with BuzzFeed's digital strategies."
Throughout the program, ambassadors take courses to master four programs within the Adobe Creative Cloud Suite – Photoshop, Lightroom, Premiere Pro, and Illustrator – and use those new skills to create content formats such as BuzzFeed's trademark quizzes and lists, as well as videos, photography, illustrations, and animation. In order to accomplish their own projects, participants also take generalist courses that tap into creativity and give them tools to execute their visions.
In addition to learning from BuzzFeed mentors, ambassadors also have access to top talent from Adobe and external industry titans through a speaker series. The program pairs Adobe employees and industry leaders to jointly present big ideas and provide tangible takeaways around the power of creativity.
"Expressing creativity through storytelling has always been at Adobe's core," said Ellen Vanderwilt, Adobe's Next Gen Marketing Lead. "We're thrilled to partner with BuzzFeed on this first of its kind program to not only inspire young creators to express their vision with Adobe's creativity tools, but also to give the next generation a platform to bring their stories to the world."
ABOUT ADOBE CREATIVE CLOUD:
Creative Cloud is a collection of 20+ desktop and mobile apps and services for photography, design, video, web, UX and more. Now you can take your ideas to new places with Photoshop on the iPad, draw and paint with Fresco, and design for 3D and AR. Join our global creative community — and make something better together.
ABOUT BUZZFEED:
BuzzFeed is the world's leading tech-powered media company, with a cross-platform news and entertainment network that reaches hundreds of millions of people globally. The company produces articles, lists, quizzes, videos, original series; lifestyle content through brands including Tasty, the world's largest social food network; original reporting and investigative journalism through BuzzFeed News; strategic partnerships, licensing and product development through BuzzFeed Marketing; and original productions across broadcast, cable, SVOD, film and digital platforms for BuzzFeed Studios.