What Has Happened So Far:
The Australian Bureau of Statistics announced on Wednesday that a majority of Australians voted "yes" to same-sex marriage. 7.8 million people (61.6%) voted "yes" and 4.8 million ( 38.4%) voted "no".
All Australian states and territories recorded a majority "yes" vote, with the highest being the ACT at 74%, and the lowest being New South Wales at 57.8%. Participation in the survey was 79.5% or 12.7 million people.
Speaking shortly after the result was announced, prime minister Malcolm Turnbull said: "Now it is up to us, here in the Parliament of Australia to get on with it, to get on with the job the Australian people have tasked us to do, and get this done. This year. Before Christmas."
Liberal senator Dean Smith introduced a bill for same-sex marriage to the Senate on Wednesday afternoon. The debate started on Thursday morning.
The list of speakers on the legislation means debate won't finish until the next sitting week.
See all BuzzFeed News' previous coverage of the $122 million postal survey HERE.
We're done for the day
The marriage debate adjourned at 6pm. It'll start again on the Monday of the next sitting week, on November 27.
That week, expect to see a number of amendments moved with the aim of altering the Smith-turned-cross-party bill.
Thanks for following along!
Peter Whish-Wilson ends debate by paying homage to Bob Brown
OK, the Senate has wrapped for the day. The last speech came from Greens senator Peter Whish-Wilson, who paid tribute to former Greens leader Bob Brown in his speech.
"In Bob's recent writings he's talked about his journey as a young gay man and the kind of literally the kind of torture the mental torture he felt about this issue of not fitting in," he said.
"His latest book that he wrote he talks about a stage when he got to a point where he was going to commit suicide. He was a medical student and he was here in Canberra. He wasn't sure how to do it. And he thought about it and he thought he knew he wasn't a good swimmer and Lake Burley Griffin was very cold. And he decided the best way to do it was to swim across Lake Burley Griffin because he knew he wouldn't make it. And he came very very close to doing it."
"And it was at that point in his life when he faced that decision that he decided that the three things he needed most to get through life... was to remain optimistic, to take action and be himself."
If you or someone you know needs help, you can call Lifeline on 13 11 14.
Matthew Canavan: Don't ignore Australians who did vote "no"
Canavan, the second "no" voter to speak, also started his speech with congratulations for the "yes" side.
He acknowledged same-sex marriage would be legalised, saying "overall there has been a very strong argument put" for same-sex marriage that resonated with Australians.
Canavan, who remains staunchly opposed to same-sex marriage personally, said he hopes to be able to vote "yes" to represent the people of Queensland – but it will depend on the ultimate form of the bill.
"I cannot in good faith and good conscience support a bill that would otherwise compromise fundamental human rights ... I ultimately hope that I can support the will of the Queensland and Australian people."
He also urged senators to not ignore the people who had voted "no", saying they in the main bore no ill will towards people of "a homosexual persuasion" who wished to solemnise a relationship.
Canavan said "There are many Australians who don't feel their views on this matter have been well voiced on this matter – be it through the media, or in this place."
But he also praised "many sections of the media" – specifically naming the ABC – for approaching the survey in a "fair and balanced" way.
We also heard from the newly anointed youngest senator Jordon Steele-John.
Steele-John told the chamber of his advocacy back in Western Australia with LGBTI friends.
"Before I was unexpectedly catapulted into this place, I was working with a group of community members to try and get Rockingham Council to support marriage equality," he said.
He acknowledged two of his friends who got engaged weeks ago, saying they "will now be able to turn that moment of happiness into something that is recognised under Australian law".
Steele-John added he is aware that this is not the end of the journey for LGBTI rights in Australia, adding that the Greens would stay with community beyond marriage.
"I would like to say to you directly that we are still with you. We are still here for you. And we will always fight with you."
Cory Bernardi: Get married, have fun, do what you want to do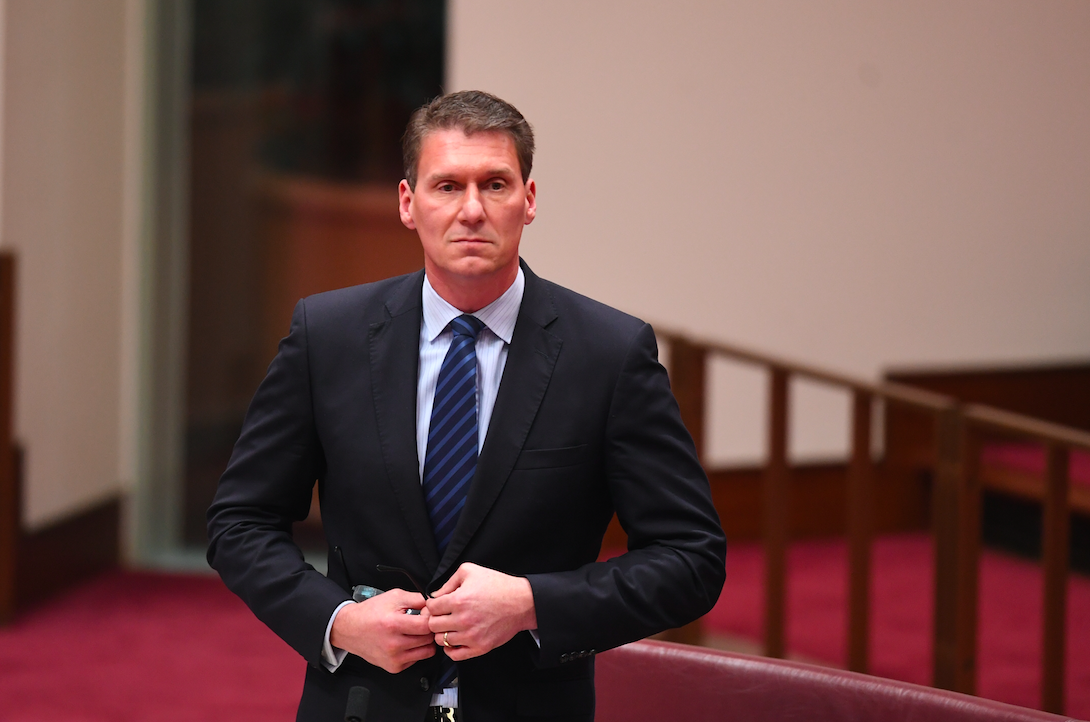 Cory Bernardi, one of the most prominent politicians in the "no" campaign, has admitted defeat in his speech to the Senate.
"I want to extend my congratulations to the yes campaign. What matters in the end is how the Australian people vote and you had an overwhelming victory," he said.
Bernardi was the first "no" voter in the Senate to speak to the bill. In a hint of how it may fare when it comes to various amendments, particularly those put by the far-right elements of the Senate, Bernardi said: "You guys have the numbers to do whatever you want with this bill to go forward."
He said he stood by his argument that there are unintended consequences to same-sex marriage, and asked senators to be mindful of the concerns of "humble no voters", saying they are "not motivated by malice".
"For ten years in this place, I've said that there are encroachments along the way and I've been trying to push back against some of them. I can't push back against this one," Bernardi said.
"I can only say let's think of the principles, of the freedoms that have built our country and made it fantastic."
"I have nothing but good will to you to the same-sex couples who want to get married. Get married, have fun, do what you want to do, I hope you all have at least as happy a time as I've had in my 21 years of marriage."
Derryn Hinch: This has taken "too bloody long"
Derryn Hinch, who is a co-sponsor of the bill told the chamber around 4.30pm that the reform had taken "too bloody long".
"I stood next to Senator Wong in the minutes before the result was announced. While the man from the ABS was doing his Rob Oakeshott impersonation, her inattention was palpable," he said.
"That and her tears of relief, which were shared across this wide land yesterday, rammed home to me just what pressure and discrimination and unfair judgement LGBTQI Australians have lived under for decades, and for how long some of them have campaigned and struggled for this time to come."
Hinch said he had opposed same-sex marriage for years. "It took two women, my then wife and my ex-wife Jackie Weaver to convince me my attitude was irrational and discriminatory."
Labor senator Kim Carr and NXT senator Stirling Griff also spoke this afternoon.
Just... please watch this video of Glenn Sterle.
Jane Hume: I didn't campaign because it wouldn't have changed votes
An interesting speech from Liberal senator Jane Hume earlier this afternoon, who said she chose not to partake in public campaigning throughout the survey.
She said she hadn't attended a rally, issued a press release, covered herself in glitter, changed her social media profile picture or "hashtagged".
"My political bandwagoning and virtue signalling one way or the other was not going to change a single vote," she said.
Later in the speech, Hume said she was glad to have played her part behind the scenes and out of the limelight: "Away from the virtue signals and the political opportunism."
Hume added that she was surprised to find herself crying after the "yes" result was handed down yesterday.
"It got me thinking about that word pride. A word used so much in this debate. And the opposite of pride is shame," she said.
"I hope the shame [LGBTI people] may have felt in the past is diminished in their memories, and erased in their futures."
We're back!
The debate is back on in the Senate. We heard from Greens senator Rachel Siewert, who repeated the party's marriage equality mantra: "Every vote, every MP, every time."
Siewert also told the chamber she feels her own marriage will be strengthened by extending the institution to all Australians.
The same-sex marriage debate has adjourned for now and will be back later this afternoon
Over the past hour, we heard from Nick Xenophon Team senator Skye Kakoschke-Moore, Liberal senator Linda Reynolds, and Labor senator Murray Watt.
(We are yet to hear from a senator who voted "no" in the survey – the first on the list is Liberal David Fawcett, who is at number 14.)
Kakoschke-Moore cited US rapper Macklemore in her discussion of the "no" campaign – running through their arguments and saying: "There has been religion, or as Macklemore would say, a book written 35 hundred years ago."
Reynolds argued that the "yes" vote justified the survey, saying "even the most sceptical" on the opposition benches should acknowledge "we were right in going to the people and giving the people a say".
Watt rebutted Reynolds, saying the "yes" vote doesn't vindicate the process. He also described the scene around That Photo Of Penny Wong Crying from yesterday like this:
"We had a gay Asian woman (Wong), a gay caucasian woman (Pratt), an Aboriginal elder (Pat Dodson), a mischievous young Iranian migrant (Sam Dastyari) and lot of straight white Aussies... and I thought to myself, that's Australia."
Watch Dean Smith's emotional end to his speech – the first in what will likely be days of debate.
Louise Pratt: "No" did not win the argument about marriage – or the arguments about schools, or children
Labor senator Louise Pratt hit out at the spurious arguments of the "no" campaign in her speech, saying that the legislation must not reflect the wishes of those who oppose equality.
"They did not win the arguments about marriage. They did not win the arguments about schools. They did not win the arguments about children. And any forthcoming amendments along those lines must be rejected," she said.
Pratt said that the "no" campaign were right about one thing: that LGBTI people care about more than marriage and will continue to advocate for transgender rights, for inclusive education, and for ending forced surgeries on intersex infants and children.
She also criticised the government, saying she has been "dismayed at the lack of recognition" of the impact the survey had on the LGBTI community.
"I saw the vandalism and graffiti. Stories like the five-year-old boy who came home and told his mums he needed a new family," she said.
Pratt said she was happy that her own son was too young to comprehend the ugliness of the debate. "Yesterday, his dads tell me, he was happily talking about equality transformers," she said.
Watch the end of Rice's speech – "Somewhere over the rainbow..."
Simon Birmingham: The 2004 amendment was wrong then, and even more wrong now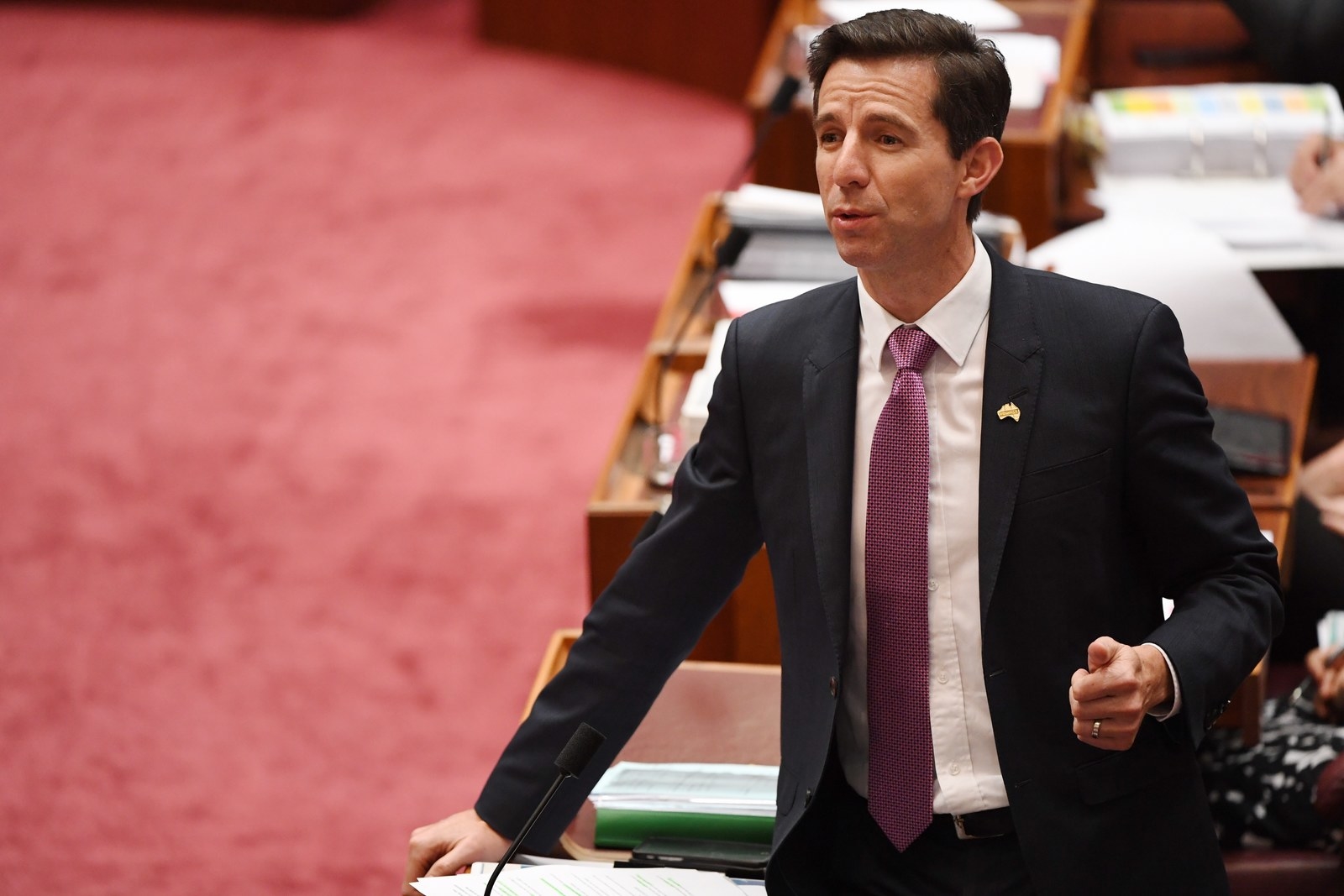 Education minister Simon Birmingham is the first cabinet member to speak in the same-sex marriage debate.
He started off his speech by talking about his "fortunate" life with some "bumps in the road" – the divorce of his parents when he was two, and the death of his father when he was twelve.
One of the most "seminal moments" in his life, Birmingham said, was getting married to his wife, and navigating the bumps of life together with her over the past nine years.
Like Wong, he also addressed the 2004 change to the Marriage Act: "It was wrong then, and if I can say so inelegantly, even more wrong today."
Birmingham said he would not vote for any amendments to the Smith bill that "extend inequality and discrimination".
"I will not be supporting them when the Australian people have spoken to comprehensively that we ought to end discrimination," he said.
Janet Rice: Here are the people behind "LGBTI"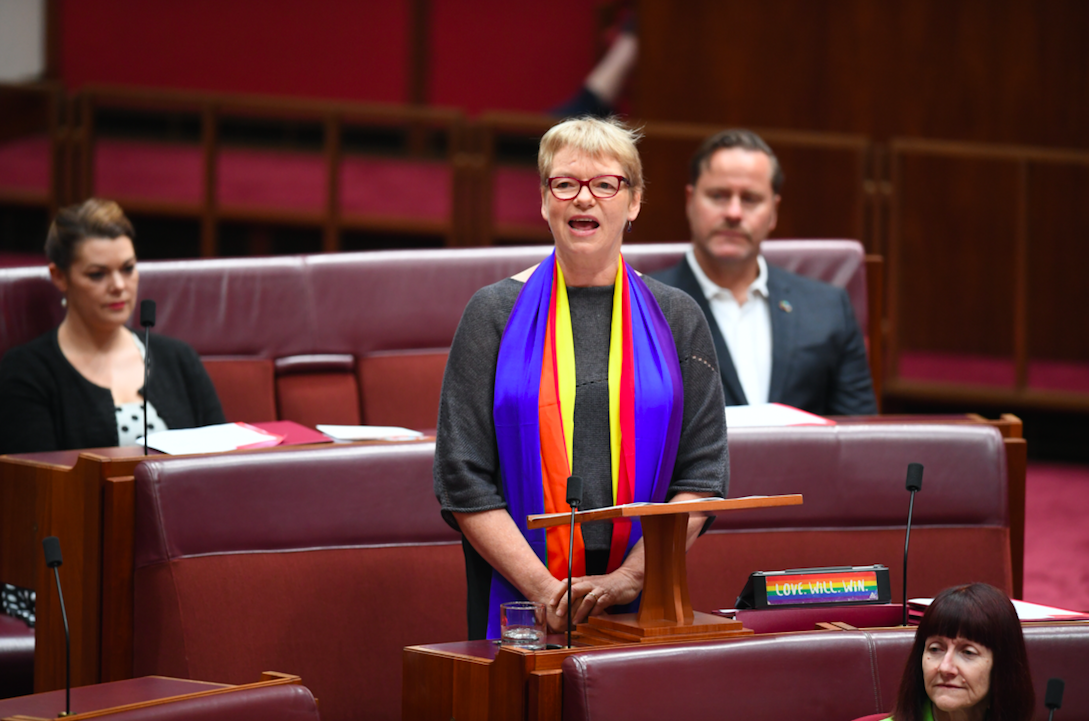 Greens senator Janet Rice has spoken to the bill, a rainbow scarf draped around her neck.
Rice stressed that changing the Marriage Act to "two people" will encompass not just gay and lesbian Australians, but also allow all bisexual, transgender and intersex Australians to marry.
She ran through the letters of LGBTI, telling a personal story for each letter. The "B" and the "T" were Rice and her wife Penny, who is transgender.
She spoke about how she and Penny's relationship changed after Penny transitioned, forcing themselves to "self-censor" displays of affection in public.
Rice also urged "no" voters to get out and meet LGBTI people.
This happened before the debate kicked off – leading advocates from The Equality Campaign pose with four of the five Liberal politicians who co-signed the Smith Bill.
Penny Wong: This is the first bill I think can actually pass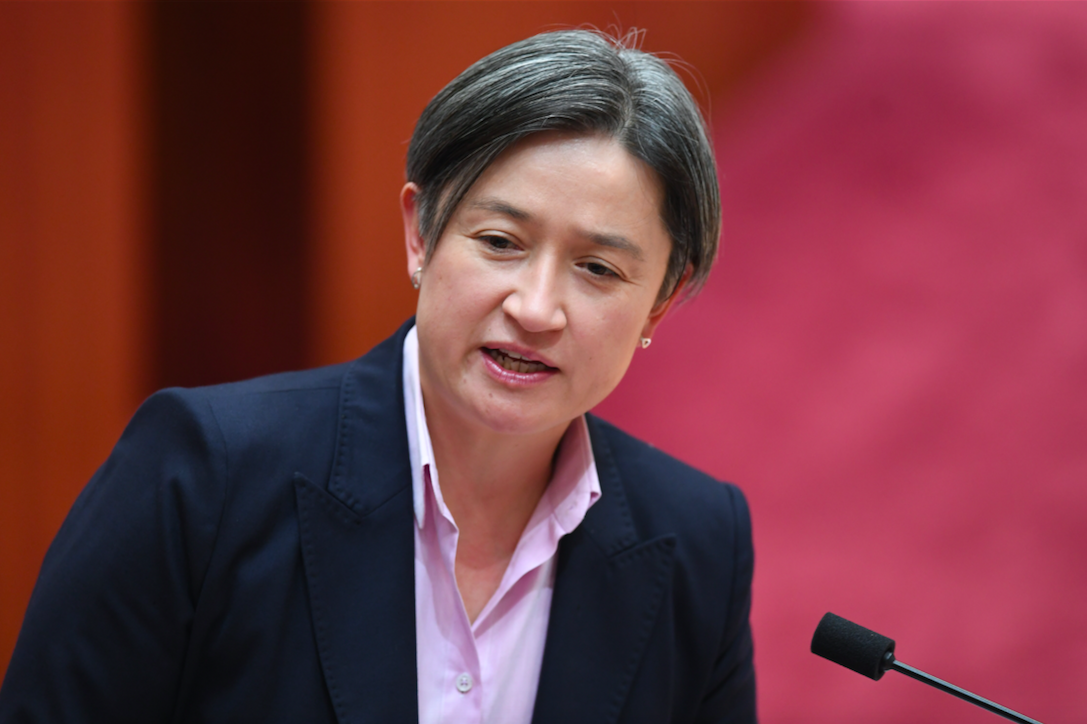 Labor senate leader Penny Wong has just delivered her speech on the marriage bill. It is the 23rd to hit the parliament since 2004 – but the first Wong has put her name to. Why? Because it's the first she thinks will pass.
Wong spoke about experiencing prejudice because of her race as a child, saying she experienced rejection "because of the colour of my skin, the colour of my hair, the shape of my eyes."
"My mother, the third daughter of a farmer from the Adelaide Hills, married a Chinese man when the White Australia policy was still in place," she told the Senate.
Wong addressed the 2004 amendment to the Marriage Act, in which the Howard government and Labor opposition joined to entrench a ban on same-sex marriage in legislation. Bound by the Labor party, Wong voted for that legislation, and has been subjected to criticism for it over the years.
"For me, Labor's support for the Howard government's amendment meant I voted for discrimination against myself," she said, adding that she had decided to stay in the party and fight for a policy change from within.
"In 2004, many considered it untenable to support marriage equality. Now, it is untenable to oppose it," she said.
She finished with a message to her partner, Sophie Allouache, and her two young daughers: "I say to Sophie, thank you for your love and commitment and for all you do. And I say to our beautiful daughters, Hannah and Alexandra, I work for, and fight for, the world I want for you."
This is the speaking list for the Senate today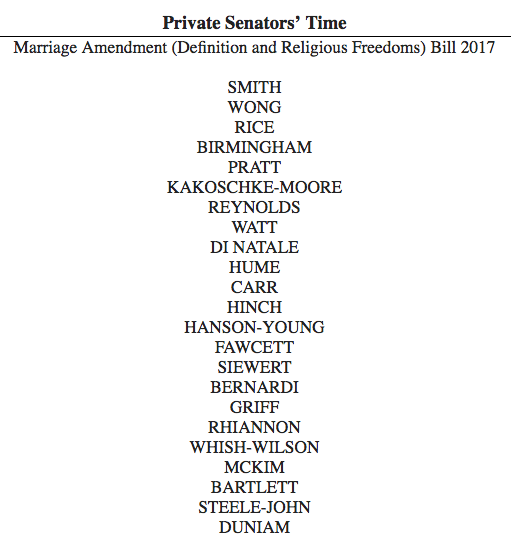 Dean Smith: "This was not just a vote about a law, but a vote about who we are as a people."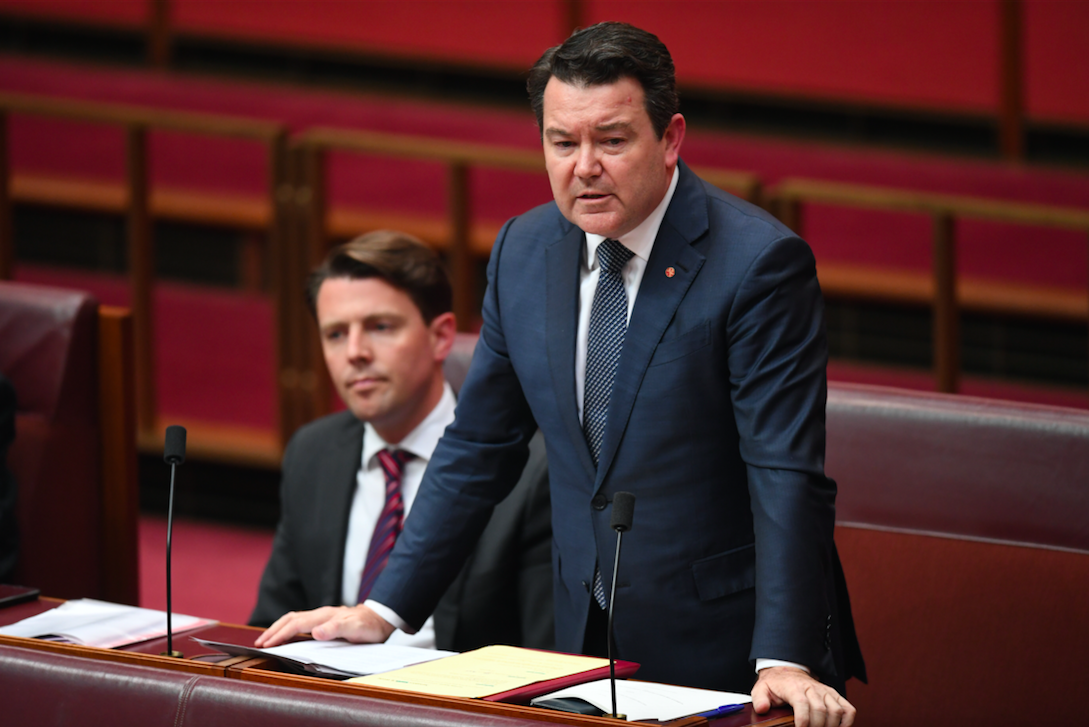 Liberal senator Dean Smith, the man behind the bill with an unprecedented chance of making same-sex marriage legal in Australia, has delivered the first speech of what is likely to be a days-long debate in the Senate.
"This was not just a vote about a law, but a vote about who we are as a people," he told the chamber, in a speech that was met with applause and congratulations from his Senate colleagues.
"I have listened to hundreds, if not thousands, of LGBTI Australians in past years. Many have written, emailed, Facebooked, tweeted, spoken to me in airports and at functions, or simply picked up the phone."
"There is a commonality in all those conversations and in all our lives. It is that of rejection and acceptance, isolation and inclusion, and shame and pride. It's the silent chord that runs through all of our lives, but acutely through the lives of LGBTI Australians."
"All too often, the biggest hurdle for so many is that of self-acceptance – and finding that path where we can honestly reconcile who we are with the hopes and dreams we have for our lives and what we think are the expectations of others."
Smith reached out to people of faith who may feel afraid of a post same-sex marriage world, saying he understands their fears "because they are reflections of the fears that LGBTI citizens have felt through our country's history".
"Fears about acceptance, fears about jobs, fears about hiding part of you, and yes, fears about violence," he said.
Smith also spoke of his conservatism, his Christianity, and praised colleague Warren Entsch – the only straight MP of the five Liberals that first put up the bill – for his work.
A half-full Senate observed the speech, including ministers Simon Birmingham and Marise Payne and Labor senate leader Penny Wong.
A scattering of people populated the public galleries, with a number of prominent advocates – Alex Greenwich, Tiernan Brady, Anna Brown – taking a seat at the back of the chamber.
Four lower house MPs are also in the Senate for the speech: Tim Wilson, Trent Zimmerman, and Trevor Evans, as well as Labor's Terri Butler.
Good morning
Welcome back to the BuzzFeed live blog, covering the twists and turns of Australia's same-sex marriage survey result.
Yesterday saw a "yes" vote of 61.6% returned, and celebrations late into the night across Australia. Today, the issue lands firmly back in parliament. Yesterday afternoon, Dean Smith and co-sponsors from across the party spectrum introduced a bill for same-sex marriage to the Senate.
Debate on it will begin at 9.30am, and we'll be covering all the big (and small) moments here.
Here are the cosponsors of the marriage equality legislation:
The Dean Smith bill has been introduced into parliament, and debate starts tomorrow
After the demise of the short-lived Paterson bill, the government has now allowed Liberal senator Dean Smith to introduce the cross party bill for same-sex marriage into the Senate.
The legislation was introduced without much fanfare, aside from claps in the chamber when all was said and done. Debate over the legislation, including amendments, commences tomorrow at 9:30am and both attorney general George Brandis and Labor's leader in the Senate, Penny Wong, said that it was expected that debate would carry on until the end of the next sitting week (30 November).
Brandis flagged he would introduce several amendments of his own, including a "conscientious objector" clause to allow all civil celebrants, not just religious ones, to refuse to officiate same-sex weddings. He also said he would include an amendment to make it clear that it is not unlawful to have or express a view against same-sex marriage.
Wong told the Senate that Labor was adverse to any new forms of discrimination in the legislation.
"We do have the view that the Australian people voted to lessen discrimination, and not to extend it," she said.
Australian Greens leader Richard Di Natale said the Greens had compromised with the other parties in order to support the Smith bill, and that the Greens would not enter into discussion to further extend discrimination in law.
– Josh Taylor
Senator James Paterson has announced he won't introduce his bill, and will instead work on amending Dean Smith's bill:
"It is clear the majority of senators believe my colleague senator Dean Smith's Bill is where we should start," he said in a statement.
"I will now work constructively with my parliamentary colleagues over the coming weeks on amendments to ensure that the strongest possible protections for the freedoms of all Australians are enshrined in the final legislation."
Who were the 36,686 informal voters? We spoke to a woman who posted in a blank form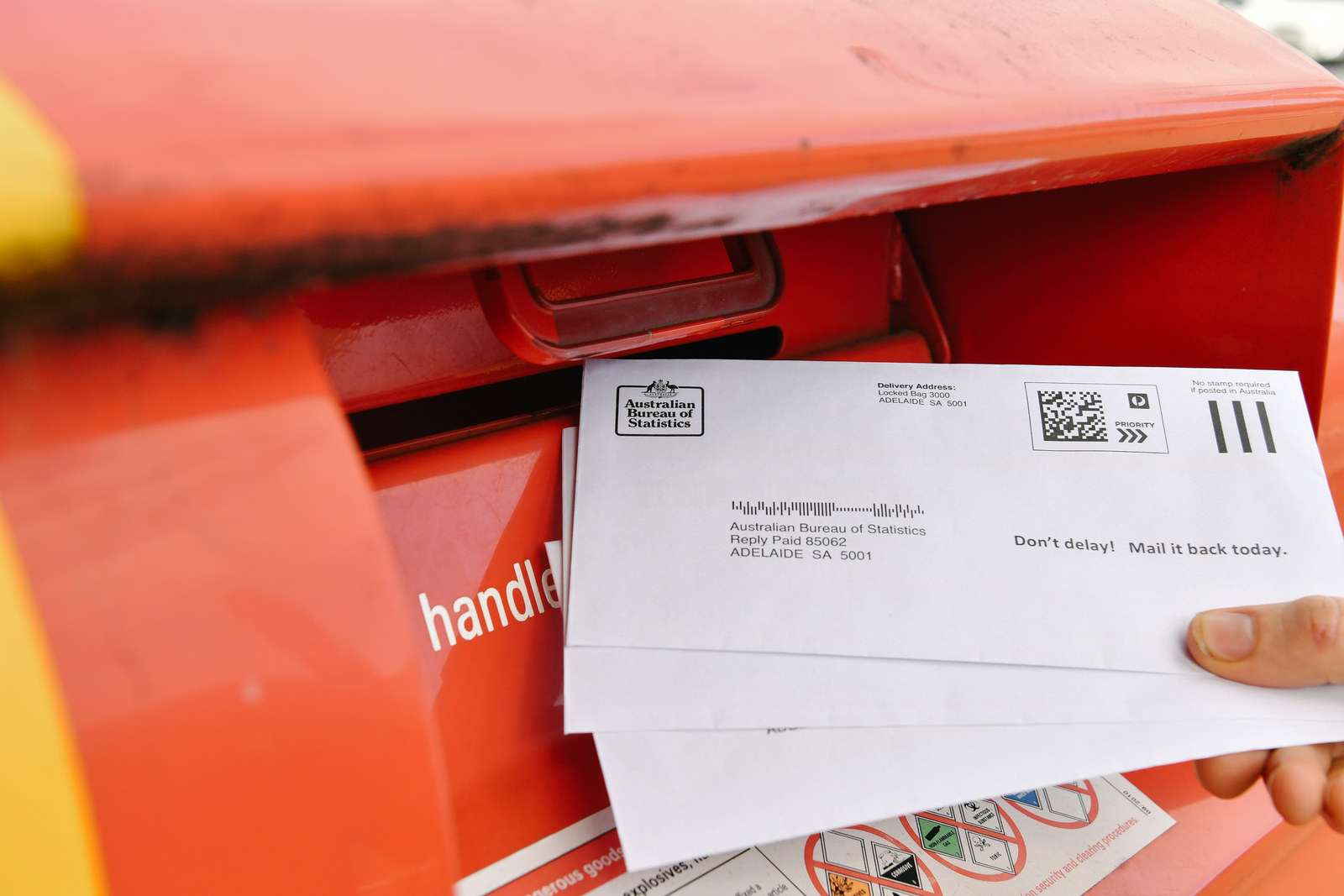 There were 36,686 people voted informal in the same-sex marriage survey. Who are they, and why did they vote this way?
Kim Mansfield-Reid, from Warrawong in the Illawarra in NSW, told BuzzFeed News via Twitter she had posted back a blank form because she opposed the process, but felt it was important her non-vote was counted.
"The form sat on my kitchen bench (with all manner of kids craft, bills, pens and hair pins) as I couldn't decide what to do… either 'yes' or 'informal'," she wrote.
"I thought not sending it in would give the wrong impression – that I didn't care – but that wasn't true. I did care. I saw it there, amongst all that other stuff, every day and I knew the deadline was approaching. I sent it off on the second last day (and also contacted neighbours offering to drop their completed/sealed envelope in our local post box near our local school) as I wanted my 'nonvote' to count."
She's happy with the "yes" victory, but has no regrets about her blank survey form.
Another Twitter user, Catherine, told BuzzFeed News her 67-year-old father had also deliberately voted informal to protest the process.
"He wasn't going to send in a response at all but decided an informal response would be a statistical show of protest versus not responding at all," she said.
– Lane Sainty
Australians in the United States celebrate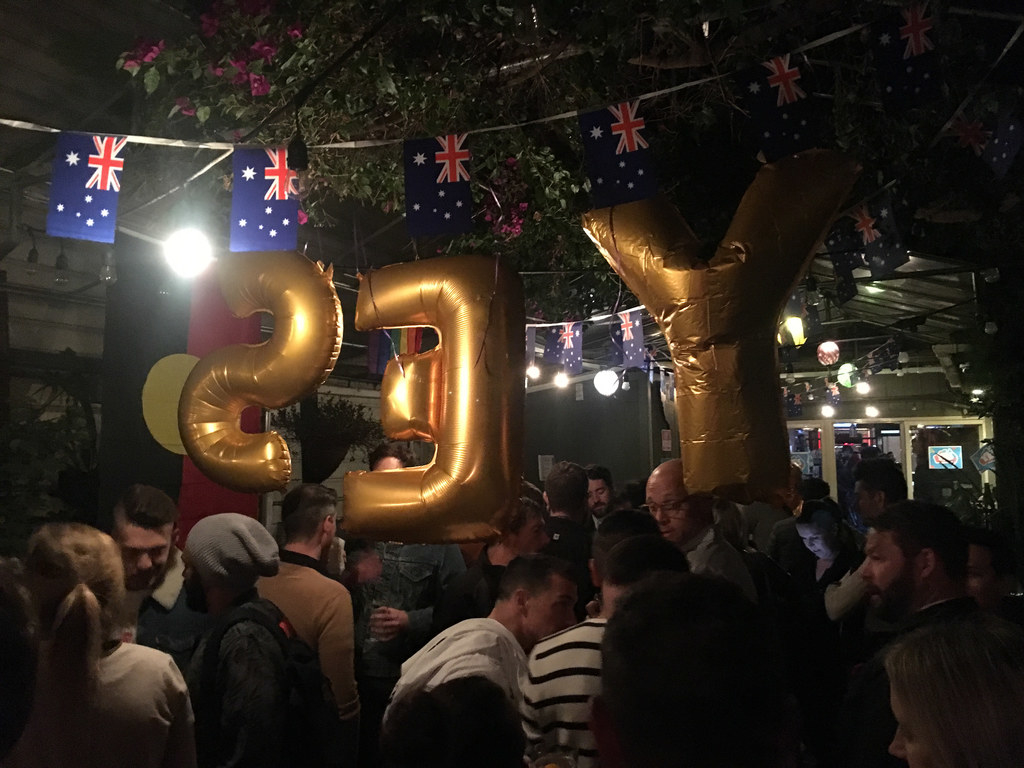 Australians living in San Francisco held a party on the night of the result announcement at Pilsner Inn in San Francisco's Castro neighborhood.
Melbourne software company employee Virginia Murdock, 39, a lesbian, was visiting San Francisco for work and attended the party.
"I married my wife Sophie in 2015 at Brooklyn City Hall while I was working in the US for a year so we could be together in the States," she told BuzzFeed News.
"We were living two lives. We were married in the States; we weren't married in Australia. We were single there, but we couldn't get married to anyone else because of Australian laws. I'm married here right now, but I won't be when I get off the plane."
Former chair of Rainbow Labor in Australia, and former state political candidate, Neil Pharaoh, 33, told BuzzFeed News that he was holding off celebrating.
"I won't celebrate until the legislation passes both houses," he said. "The conservatives will try to muck this up in Parliament. Conservatives care more about the symbolic victories than the actual legal reforms. We've passed a lot of rights that America hasn't.
"I've been this close to marriage equality before and not gotten it, so I'm still sceptical. It's a nice victory, though."
Daniel Harvey, 29, space program manager for Intersection for the Arts, said he was stuck in a meeting when the result came through.
"I was sitting there with all of these people so keyed up and tuning out what they were saying as I kept refreshing my phone on my leg under the table. When it finally let out and we left the room I grabbed my boss, who's also gay, and yelled, 'It's a yes!!'
"Then my dad called me to break the news as I was in a Lyft with all of the people from the meeting, and they didn't know what was going on. Finally we got back to the office and had some wine."
– Blake Montgomery
Parts of Western Sydney voted no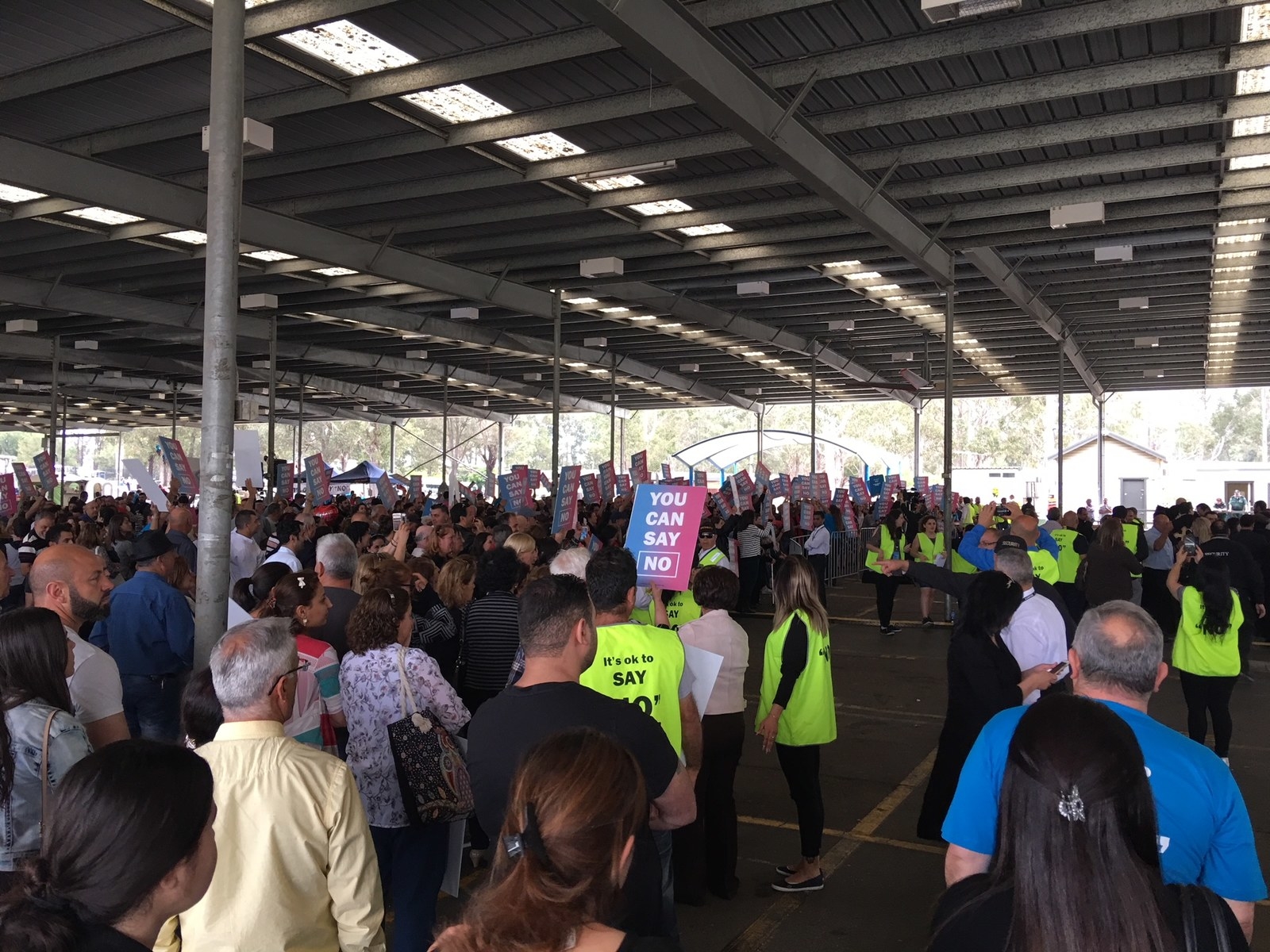 As Gina Rushton reports, of the 17 out of 150 electorates that voted "no", six of the highest "no" voting areas were Labor-held electorates in Western Sydney.
The Western Sydney seat of Blaxland, which includes Auburn, Bankstown and Lidcombe, was the biggest "no" voting seat. This seat, held by Labor MP Jason Clare, was only 26% in favour of marriage equality. Despite this, Clare has said he will vote in favour of same-sex marriage.
The other six seats which voted "no" by the greatest margins were also in Sydney's west: Watson, McMahon, Werriwa, Fowler, Parramatta and Chifley.
The other MPs in those seats have also indicated they will still vote "yes".
During the campaign, BuzzFeed News travelled to Fairfield, in Labor MP Chris Bowen's electorate of McMahon, for what was billed as a "family fun fair" for those opposed to same-sex marriage.
It was attended by about 1,000 people, many from close-knit Orthodox churches. Religious leaders at the event received standing ovations.
There was a wide mix of the older generations, and young families all passionately supporting the "no" side, brandishing the placards, T-shirts and other merch on offer.
Commentators today are claiming that the Muslim population in those areas is the reason behind the "no" vote, but based on the event we attended, the core constituency behind the "no" vote in those locations was Orthodox Christians.
– Josh Taylor
Attorney general George Brandis addresses the "yes" vote in the Senate
Attorney general George Brandis has said he hopes that same-sex couples will be able to get married before Christmas.
In the Senate on Wednesday, Brandis said that the commencement date for when same-sex couples should be able to get married would need to be determined in the legislation, but the aim would be as soon as possible.
"I expect it will be [before Christmas]," he said.
As we reported below, there is a push from Nationals and some Liberal senators to delay the legislation's introduction from being introduced in the Senate this afternoon and debated tomorrow, which could threaten the bill's chances of passing before the end of the year.
Brandis – a supporter of the "yes" side – also said the 61.5% "yes" vote was a little higher than he had expected.
– Josh Taylor
"We shall respect that result," Sydney Anglican leader says.
Anglican archbishop of Sydney Glenn Davies announced during the survey that Sydney Anglicans had donated $1 million to the "no" campaign.
It wasn't enough, and Davies said on 2GB that the church would respect the result.
"We shall respect that result. This is democracy in action."
He said "everyone needed to be protected" now, and said the Dean Smith bill didn't protect people who held differing views about same-sex marriage.
"More than a third of the population don't want this change. We have to care for these people and respect their views."
– Josh Taylor
But what about the bakers?
Liberal MP Kevin Andrews suggested on Sky News this morning that bakers should be able to deny service to customers based on the "conscientious religious belief" of the baker.
In a two-minute exchange, Sky News anchor David Speers was able to extract the following propositions from Andrews:
Christian bakers should be able to refuse to bake cakes for same sex weddings;
Gay bakers should be able to refuse to bake cakes for heterosexual weddings;
Gay bakers should be able to refuse to bake cakes for Christian or Islamic celebrations;
Jewish bakers should be able to refuse to bake cakes for an Islamic wedding;
and Islamic bakers should be able to refuse to bake cakes for non-Islamic weddings.
He's very clear that it's only in relation to weddings, though, not life in general.
There is a lot to unpack in all of this, so BuzzFeed News spoke with a few members of Australia's esteemed baking industry. They are not wild about Andrews' comments.
Michael Shafran, the owner of Sydney's Brooklyn Boy Bakery, has been an active supporter in the marriage equality campaign. He definitely does not agree with any of Andrews' comments.
"I would love to serve any Islamic wedding, a wedding of any faith, any gender denomination," he said. "I don't agree with Kevin Andrews at all. I think he should be focusing on ways to bring people together, instead of dividing them."
Tony Smith, the Baking Association of Australia's executive officer, told BuzzFeed News: "We haven't got a statement to make at all, but anybody that is going to refuse someone for that sort of reason is out of their heads."
Comedian Shaun Micallef suggested a strategy for dealing with any rogue bakers who arced up about it, just in case you were wondering.
– Paul Farrell
Teens FTW
There was much derision and mockery of teens, and whether they knew how to use mailboxes in the lead up to the survey, but the data released by the ABS showed that they had a higher participation rate than any other age bracket under 45.
Three out of four voters in Tony Abbott's electorate voted "yes"
The former prime minister was a leading "no" campaigner, but his electorate overwhelmingly voted to support same-sex marriage at 75%.
The "yes" vote still doesn't justify the survey: Tanya Plibersek
Deputy Labor leader Tanya Plibersek was at the Sydney event. She told BuzzFeed News she feels "just absolutely delighted" by the "overwhelming" result, but added the debate has been difficult for many.
Responding to a question on her gay and lesbian colleagues in the parliament, Plibersek said: "I think the debate has been really hard for lots of people in the Australian community."
"It is very hard to be as high-profile as Penny Wong, for example, and to receive the threats, the hate mail, the judgement of her life and her family. But I don't feel most sorry for Penny Wong. I have felt most sad for those teenagers isolated in their families, ashamed to tell their friends, having their relationships and their same-sex attraction discussed by the Australian community."
Asked if the "yes" vote justified all that, Plibersek said a firm "no".
"This survey was never justified … The cost is not justified and the hurt, the hurt will never be justified." – Lane Sainty
Conservatives push for a delay
The National Party and some conservative Liberal senators are trying to delay the introduction of senator Dean Smith's private members' bill this afternoon.
They want to hold back the introduction and debate of the bill until the next sitting week in late November, making it unlikely same-sex marriage legislation will be passed before Christmas.
Smith's motion, which will be voted on by the Senate this afternoon, specifies the bill has until Thursday, 30 November, to be debated and passed by the Senate. Smith has cross-party support from Labor, the Greens, the Nick Xenophon Team, and senator Derryn Hinch.
Finance minister Mathias Cormann told BuzzFeed News he couldn't comment about any behind the scenes machinations, but said it all depends on whether the motion to introduce the bill is passed in the Senate this afternoon.
– Alice Workman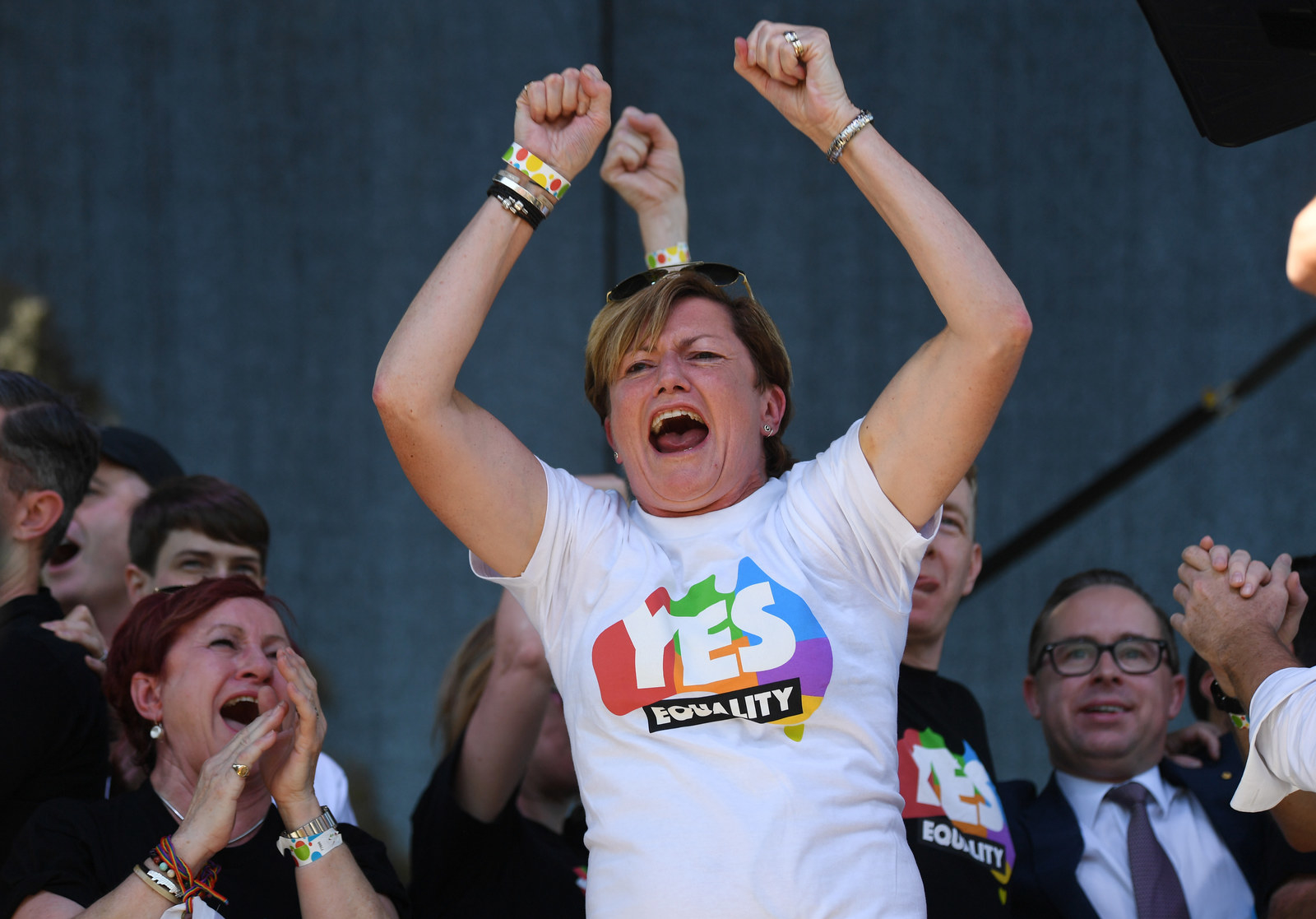 City of Sydney councillor Christine Forster (sister of Tony Abbott) speaks to BuzzFeed News about the result.
"I've just spoken to him," Christine Forster said of her brother.
Shortly after the result, Christine Forster took the stage in Prince Alfred Park to say – with some relish – that the "yes" vote in Warringah, Abbott's electorate, was 75%.
The Liberal councillor and prominent "yes" spokesperson, spoke to BuzzFeed News shortly after a phone call with her brother.
She said he told her he will not attempt to frustrate the passage of the bill.
"He's of the same view as me – that this should be moved through parliament pretty quickly. He has spoken for protections for people of conscience – how that looks on the floor of parliament, we will wait and see.
"I don't think that looks like the Paterson bill, which is frankly disgraceful."
Forster said the conversation was "great" and not at all acrimonious, despite their very public disagreement on marriage.
"Despite what people think, and how they perceive our relationship, he and I have a really great relationship. He's my older brother, I'm his younger sister, that's what it is, and he's a terrific fellow."
Forster, who has a wedding planned for 2 February with her partner, Virginia Edwards, said it had been "a long hard fight for us personally".
"There's been so much riding on this. Unless you're like us and you wanted get married under Australian law, it's probably hard to understand just how much this meant," she said.
She's now relying on parliament to pass legislation before she says "I do".
"It's all booked; beautiful venue on Macquarie Street overlooking the Botanic Gardens," she said. "I hope they pull their fingers out in Canberra and we don't lose our deposit."
– Lane Sainty
People were celebrating the result as soon as it was announced at events in Sydney and Melbourne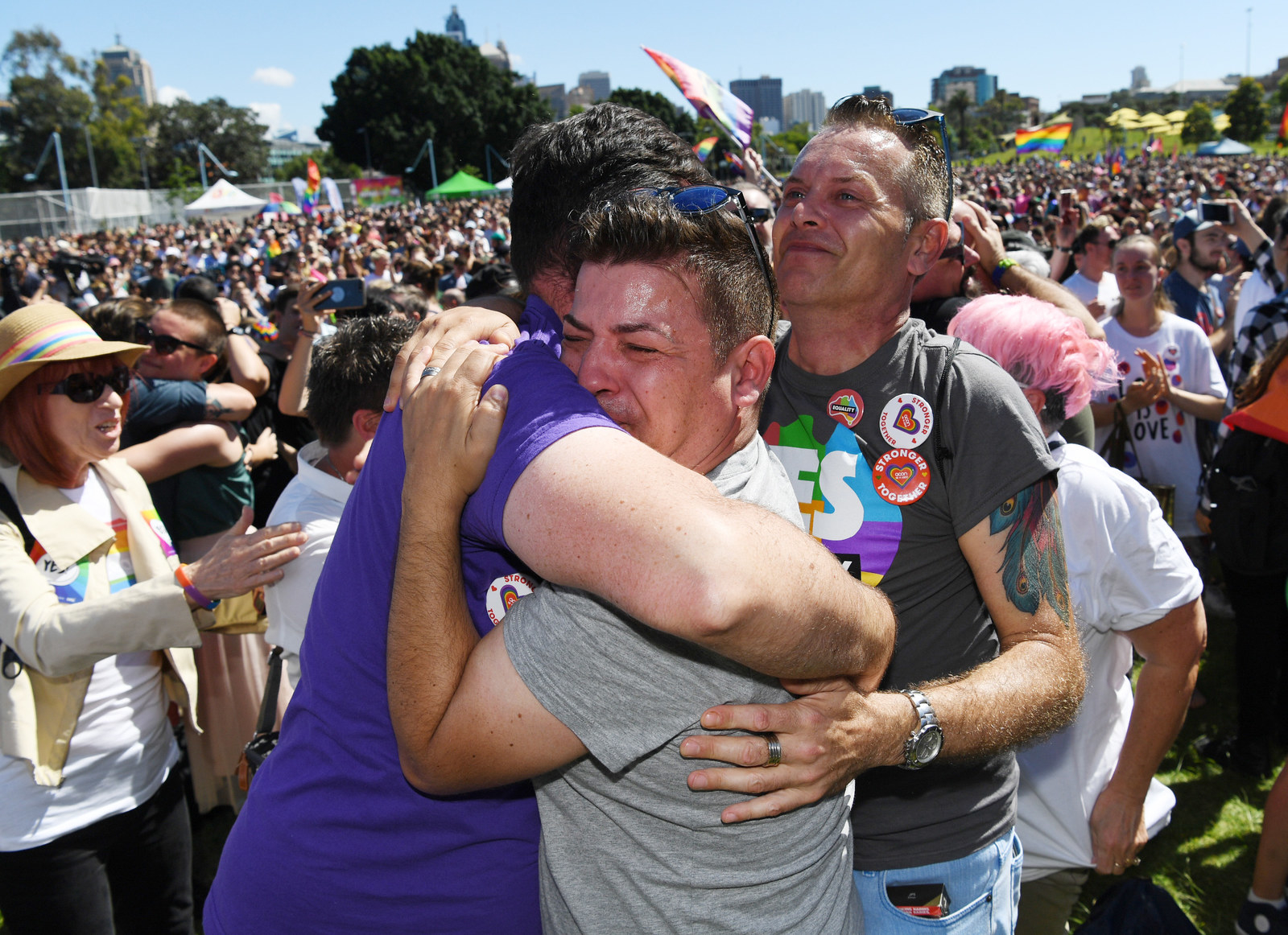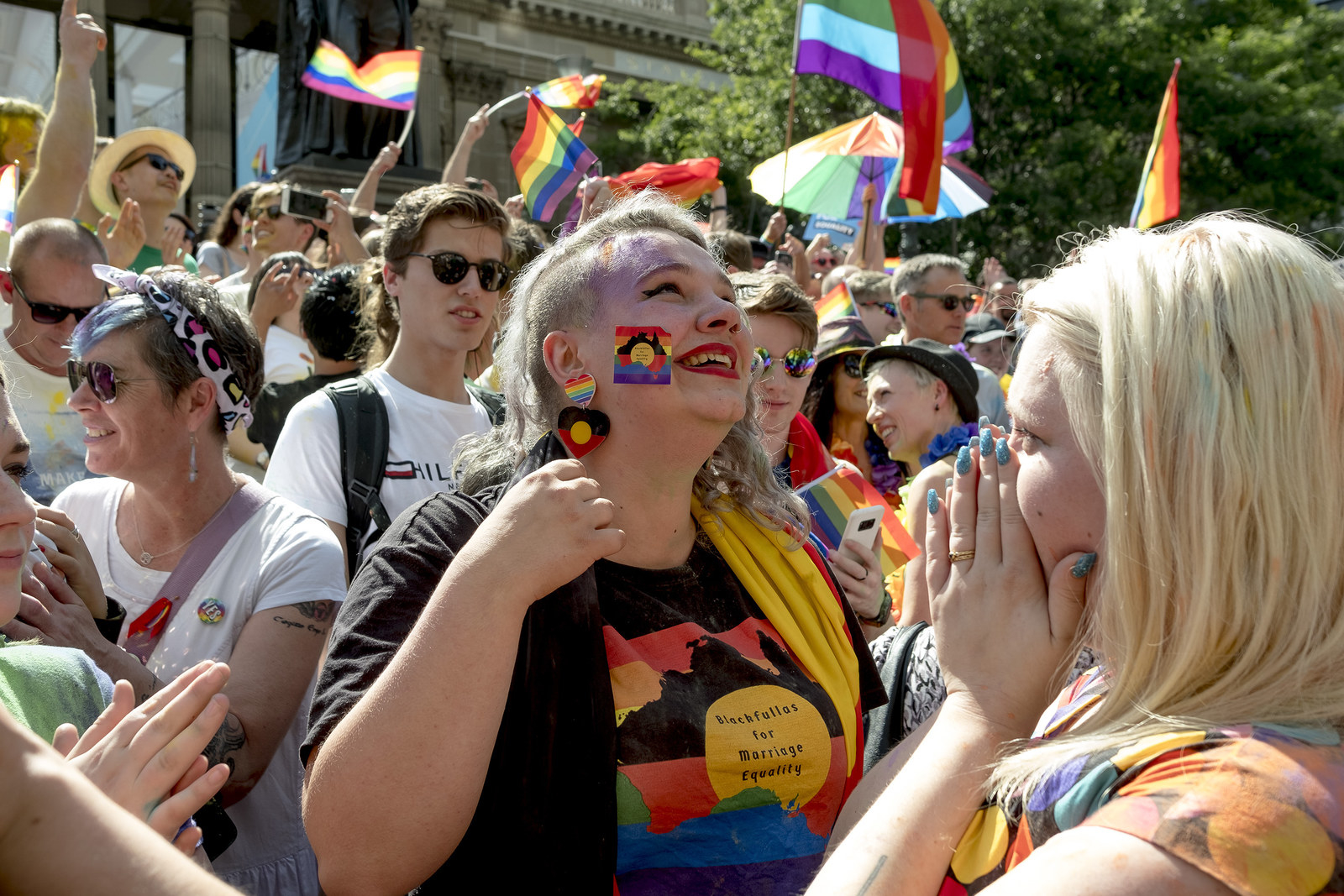 Celebrities react to the "yes" win
We have full coverage of celebrities reacting to the "yes" winning the postal survey on same-sex marriage HERE.
There were about 40 supporters at the "no" event in Sydney
The "no" side responds
There were around 40 people (who weren't members of the media) gathered in Sydney after the "yes" campaign won in Australia's same-sex marriage survey on Wednesday morning.
Leading "no" campaigner Lyle Shelton took to the podium to a lengthy applause. "The democracy hasn't gone our way today," Shelton said.
"While we are naturally disappointed in today's result, we accept and respect the decision of the Australian people."
Appearing on Sky News shortly after the announcement, Shelton said three months of the postal survey campaign wasn't long enough to overturn 10 years of campaigning from the "yes" side (keeping in mind the ACL has been strongly campaigning against the change for over 10 years).
– Gina Rushton and Josh Taylor
Opposition leader Bill Shorten declared it was a "fabulous day" to be an Australian because Australia is ready for marriage equality. He gave thanks to the LGBTIQ community.
"You shouldn't have had to put up with this survey but you embraced it," he said. "I feel for young people who have had their relationships questioned in a way in which I wouldn't have thought we would have seen ever again. Unconditional love always has the last word."
On the ground at the "yes" event
There was a nerve-wracking silence, then resounding cheers, as a crowd of thousands gathered in Sydney's Prince Alfred Park heard the message they had wished upon for months: "Yes" had won.
The crowd was packed with all sorts: rainbow flags, wigs, signs, glitter. The most flamboyant attendees were bailed up by journalists, while others spread out picnic blankets with their kids.
As the minutes counted down, the masses drew closer to the stage, where the campaign leaders, staff and activists, were lined up waiting. After a few rousing speeches, and a video recapping the campaign, everyone turned to watch a live feed of Australian statistician David Kalisch deliver the long-awaited result.
As Kalisch ran through an explanation of the survey, there was laughter at points — a wry groan when he said "quality information", and another when he launched into the participation statistics instead of blurting out the result.
"And the result is?" someone near the stage yelled, laughing.
But then it came — silence followed by a resounding cheer. A wave of elation spread through the crowd as people turned to their loved ones and kissed, danced, screamed, and said: "Are you gonna marry me now, babe?!"
Seconds later, Love Is in the Air started playing on the speakers — sung by none other than John Paul Young himself, quickly joined by Magda Szubanski. The dancing continued for minutes, the huge crowd swaying along with the song.
The ramifications of the vote — the numbers, the bills, the votes in parliament — are all yet to come. But for now, Australians are celebrating.
– Lane Sainty
Labor's leader in the Senate Penny Wong hears the result.
Prime minister Malcolm Turnbull says it is now time to legislate for marriage equality.
"Now it is up to us, here in the parliament of Australia, to get on with it, to get on with the job the Australian people have tasked us to do, and get this done," he said. "This year. Before Christmas."
Finance minister Mathias Cormann said it would be up to politicians to now work together to find common ground on a bill that will pass the parliament.
The stats
The Australian Bureau of Statistics announced on Wednesday that 7.8 million Australians (61.6% of the Australian voting population) voted to support the legalising of same-sex marriage in Australia, versus 38.4% or 4.8 million who voted "no".
All Australian states and territories recorded a majority "yes" vote, with the highest being the ACT at 74%, and the lowest being New South Wales at 57.8%.
A total of 133 out of 150 electorates had a majority "yes" vote.
Participation in the survey was 79.5% or 12.7 million people.
– Josh Taylor
Here's the stage where the announcement will take place
BuzzFeed News is on the scene at the "yes" event
Our reporter Lane Sainty is on the scene at the "yes" event with our video producer Nick Wray.
– Josh Taylor
Politicians and campaigners are preparing for the result, just one hour away.
Eric Abetz is a fan of the Paterson bill
Prominent "no" campaigner Liberal senator Eric Abetz is doing the rounds in the media this morning singing the praises of the Paterson legislation. On ABC News Breakfast he called it a "wonderful embrace of classical liberal values" and a "masterful piece of legislative drafting" on Sky News.
This is in contrast to a wide range of legal experts and politicians across the parliament who have claimed that the legislation would introduce new discrimination against same-sex couples.
Abetz argues that religious freedoms should extend far beyond those who are involved in the church to those who merely hold religious beliefs in opposition to same-sex marriage.
When he was asked whether it would be "a bit odd" to allow this sort of discrimination in Australia, Abetz said, "In a free society we allow people to be odd, if that's what they wish to be."
– Josh Taylor
"I'm anxious": Penny Wong and Matthew Canavan have been on ABC Radio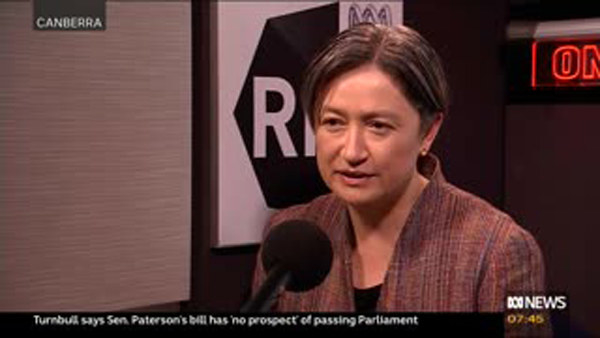 Labor leader in the Senate Penny Wong, who is a strong "yes" supporter, and resources minister Matthew Canavan, who is a strong "no" supporter, have been on Radio National Breakfast this morning.
Wong told the program, "I'm anxious, but we all are – those of us who have been fighting for this for a long time and understand what this means for the country."
She rejected the assertion from various "no" supporting politicians and advocates that extensive exemptions to anti-discrimination law are needed if Australia legalises same-sex marriage.
"What has been argued for is a greater licence to discriminate," she said. "I don't think Australians voted for that. I don't think this survey was a vote on expanding the capacity to discriminate in our society. It was in fact the opposite. It was a vote that was all about whether we should have equal rights for same-sex couples in this country."
Canavan argued that there should be extensive exemptions in any same-sex marriage bill that passes the parliament in the event of a "yes" vote.
He said regardless of the margin of the vote, there will be "millions of Australians who vote 'no'" and they deserve to have their rights protected in the event of a "yes" vote. He also said Australia is not governed by "the tyranny of the majority" – a line that has taken some LGBT Australians by surprise, given the concept of the postal survey.
– Lane Sainty
The two bills
A lot of the commentary today will refer to the clash shaping up between two same-sex marriage bills in the event of a "yes" vote, from Liberal senators Dean Smith and James Paterson, respectively.
Smith's bill would continue the current exemption for religious ministers to refuse to solemnise a marriage; provide a grandfather clause allowing current civil celebrants to move into a new category that would also have the right to refuse; and allow religious organisations the right to refuse to serve same-sex weddings.
Paterson's bill would allow a wide range of service providers, religious or secular, to turn away gay couples asking for wedding services. It would also provide immunity under anti-discrimination law for people who hold, express, and act on various traditional beliefs about marriage, sexuality, and gender.
Government MPs have clashed over the two proposals. Meanwhile, senators from across the political spectrum have signed a motion to introduce the Smith bill to the Senate this afternoon if a "yes" vote is successful – giving it an advantage over its legislative rival.
– Lane Sainty
Same-sex marriage could be legal this month, according to Bill Shorten
Opposition leader Bill Shorten told Fox FM this morning that he was hopeful for a "yes" vote in the postal survey today, but he would continue campaigning even if there was a "no" vote.
Labor has promised to legislate within 100 days of forming government should same-sex marriage not be legalised as a result of today's announcement.
Shorten predicted that marriage equality legislation could pass parliament as soon as 30 November or the first week of December – the final sitting week of 2017.
– Josh Taylor
Good morning
It's result day for the same-sex marriage survey here in Australia. People are eagerly anticipating the announcement at 10am AEDT, which could signal the end of the country's lengthy, vexed, and often ugly debate over whether gay couples should be allowed to marry.
If the "yes" vote wins, it will then lead to a parliamentary debate over the form of the legislation to allow same-sex couples to marry, with legislation expected to be introduced into the Senate this afternoon.
Prime minister Malcolm Turnbull has arrived back in Australia after five days in southeast Asia for the East Asia Summit, while senators will be witnessing the announcement in Canberra during a Senate-only sitting week.
If you're after details of the survey announcement, how to watch it, and what happens next, here's an explainer.
– Lane Sainty