THE BUSINESS CHALLENGE
Building up to the launch of the third installment to the franchise, Ubisoft sought trusted voices to showcase the innovation of Watch Dogs: Legion with never before seen gameplay. In this installment, players can recruit and play as anyone (PAA) from grandma to a secret agent, creating a personalized narrative experience that is unique to every player as they take back London.
GOAL
Reach a broad audience of gamers to build awareness and excitement around the new video game by showcasing the wide variety of characters within the London of Watch Dogs: Legion and show how you can truly play as anyone within it.
STRATEGIC INSIGHT
According to GlobalWebIndex, BuzzFeed is the #1 digital publisher in reaching gamers monthly. While endemic gaming destinations cater very well to core gamers, BuzzFeed content casts the net wider, attracting a broader, more casual gamer. 31.4M BuzzFeed visitors are interested in gaming (1.13x the average internet user), 11.7M have recently purchased a video game (1.61x the average internet user), and 88% of BuzzFeed gamers only visit BuzzFeed.com, not endemic gaming sites.
In 2020 in particular, gaming helped the quarantine clock go by. BuzzFeed's Multiplayer YouTube channel garnered 44.7M monthly views and 7.6M hours of watch time during the height of quarantine in March and April 2020. 1 in 3 BuzzFeeders started playing video games thanks to quarantine, and BuzzFeeders were 28% more likely to have played more games since quarantine started vs the US average, making BuzzFeed the perfect place to reach gamers and drive brand metrics.

MAIN IDEA
BuzzFeed produced a co-branded challenge video featuring Multiplayer talents Ify And Kelsey recruiting their teams from the streets of London as they competed to create the best resistance squad. By using popular creators to give BuzzFeed's engaged gaming audience an intimate view of gameplay, Ubisoft was able to shine a spotlight on the innovation of PAA in an exciting way.
Ify And Kelsey Try To Create The Best Watch Dogs: Legion Resistance Squad
DISTRIBUTION STRATEGY
The custom video was distributed across BuzzFeed O&O, Facebook, and Multiplayer YouTube. Different audiences were tested and optimized to find the most qualified users that will engage with the content, such as viewers with Xbox interests, Twitch interests, Watch Dog Game enthusiasts, BuzzFeed YouTube video watchers, and the Multiplayer audience. The video was also posted by Ify and Kelsey to their IG, Twitter, and TikTok followers.
RESULTS
Paid delivery was 120% to goal, with 41% of all paid views on YouTube, as VCR was the primary KPI.
The video was a hit with the audience, especially on YouTube. In its first 7 days, it had one of the highest watch times of all BuzzFeed videos. The audience watched the video from start to finish with a 69.08% VTR and 448,090 video completes, which comes out to a 54.14% VCR. On Facebook, the BuzzFeed main post exceeded benchmarks in all metrics, delivering a 1.13% VCR – more than double the 0.50% benchmark! This was even more impressive given that this was much longer than the typical video on the channel.

A canvs sentiment analysis of performance on Facebook and YouTube revealed that "Play As Anyone" was noticed and loved across both platforms. Conversation topics on Facebook revolved primarily around gameplay and Ubisoft, while YouTube conversations were heavily driven by Kelsey and Ify, with overwhelmingly positive responses.
A forced exposure study testing the attitudinal impact of the campaign further proved the video's success in achieving brand goals and resonating with the audience.
Clear branding via the title card and mention within the video's introduction boosted awareness of Watch Dogs: Legion, while the social copy, text overlay, and demo of recruiting resistance squads conveyed that the game allows you to play as anyone. Kelsey and Ify infusing their personalities into the gameplay as they built their teams helped increase favorability towards Watch Dogs: Legion.
Watching creators navigating the PAA experience as they built their resistance teams helped viewers follow along with the unique format in an intimate and entertaining way. Two thirds of viewers agreed the content clearly shows the benefit of playing Watch Dogs: Legion.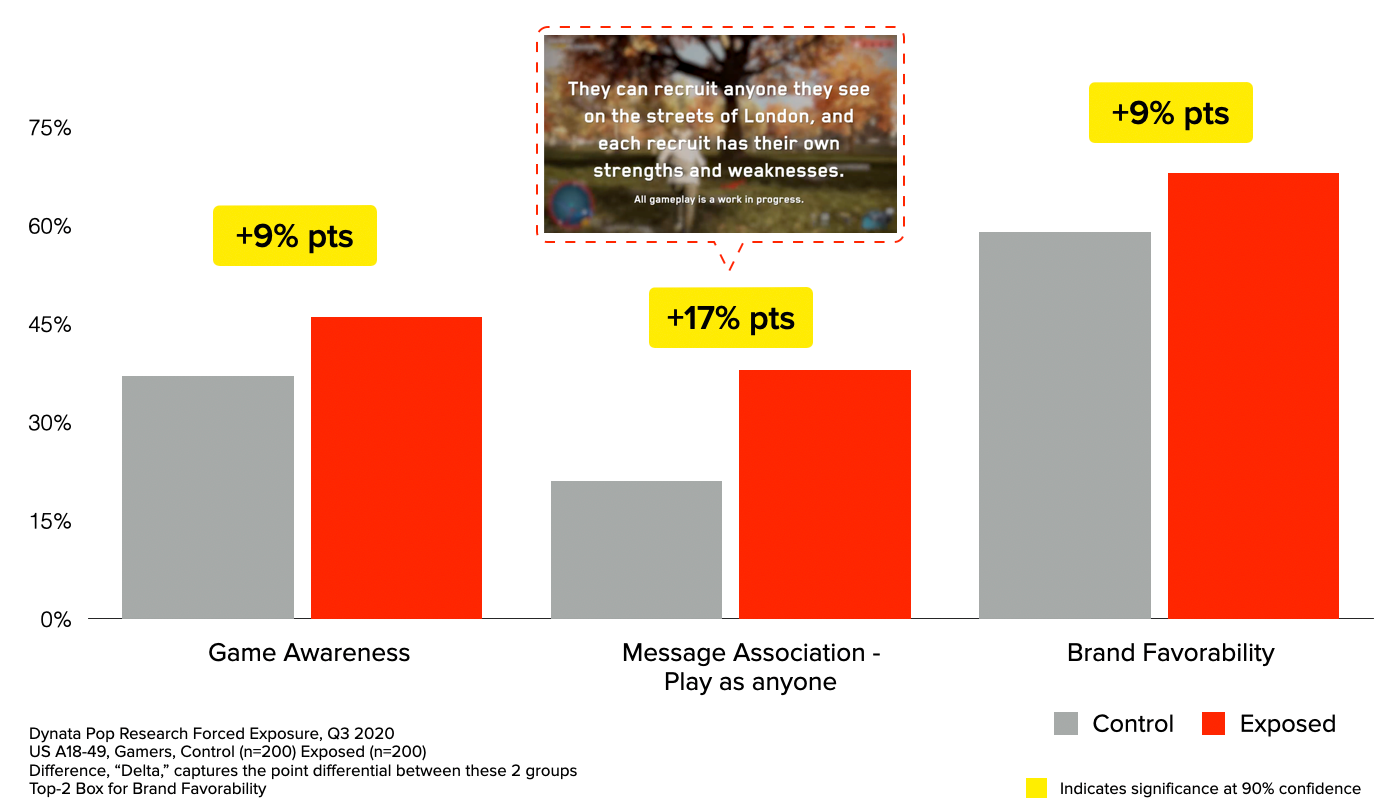 KEY TAKEAWAYS
The Watch Dogs: Legion campaign allowed BuzzFeed to make a branded video in a way that feels natural to gamers and the Multiplayer audience. Despite its length, viewers were heavily engaged and remained tuned in to the content, resulting in a VCR that exceeded benchmarks across multiple platforms. Harnessing the voices of creators to deliver the narrative, the custom video achieved the campaign's KPIs of building awareness among gamers and associating the video game with its play as anyone capability while maintaining authenticity. The huge success of this campaign serves as a template for further promoting Ubisoft games to the broad, engaged BuzzFeed audience.