THE BUSINESS CHALLENGE
The youth of the world are contending with a general feeling of negativity from the sea of bad news ranging from rising youth unemployment to ballooning student debt. Tourism Australia wanted to share its plentiful supply of good news with these young consumers to inform them of and generate interest in Australia's unique destinations and attractions.
---
GOAL
Encourage 18-30-year olds to travel to Australia on a working holiday visa.
---
STRATEGIC INSIGHT
Young consumers represent a massive opportunity for Tourism Australia. They stay longer, spend more and disperse further than any other audience. But they're a difficult audience to define and engage. They vary in age, life stage, location, media habits and reason for traveling.
One thing that unites them are the challenges they face in dealing with the negativity that surrounds them. By disrupting the world's media and taking on bad news in major cities around the world, Tourism Australia sought to flip negativity on its head and find the bloody good stories amongst it all.
We created a two-part campaign featuring both original branded content and editorial content to introduce young consumers to the unique culture and beauty that Australia offers and motivate them to visit.

---
MAIN IDEA
The BuzzFeed audience seeks the life-changing adventure and fun that awaits on a trip to Australia and the content delivered on this desire. The strategic insight was brought to life in a branded campaign that included seven Bring Me travel videos, eight co-branded posts, and twelve Snapchat assets, all distributed across four markets. Tourism Australia also partnered with BuzzFeed to create the BuzzFeed Mateship program, which included a "Mates" Facebook page, recruitment and training of eight 'Mates' from the four markets, as well as 102 posts and 150 videos.
The eight 'Mates' were chosen from more than 220 applicants, learned the fundamentals of reporting and producing in Australia, and then hit the road with BuzzFeed editors to produce content for over 200 days across the six-month project. While on the road, they reported on their travel experiences, including everything from food and wine to nature and wildlife, communicating across both BuzzFeed and Tourism Australia's social channels.

Meanwhile, the Bring Me videos put a spotlight on the nation's treasures through a lens that reflects the way millennials are consuming travel content, immersing viewers in experiences of the country's local culture, wildlife, and culinary destinations to inspire them to book their trip.
Bring Me: Fraser Island
Bring Me: Kangaroo Sanctuary
Other Bring Me Videos: Find the happiest animal in the world on Rottnest Island; Stay overnight at Taronga Zoo, one of the world's most beautiful zoos; Have your mind blown by boozy chocolate cheese at Curds & Whey; Swim and play with sea lions at Seal Cove; Take a romantic getaway to Thalia Haven, a private Tasmanian oasis.
---
DISTRIBUTION STRATEGY
Across all of the elements of the program, we utilised a variety of targeting strategies in order to engage the audiences in each of the four markets. We in particular used BuzzFeed's Bring Me custom audiences, whose demonstrated affinity for travel and experience-based content was an extremely natural fit for the Tourism Australia content. We also tailored our approach depending on the creative, and saw strong performance within the Tasty and BuzzFeed Animals custom audiences for food and wildlife content respectively. We also utilised Facebook targeting to pinpoint those people with a propensity for (and interest in) International travel, both overlaid with our custom audiences and standalone.
As the campaign progressed, we were also able to lean on the retargeting audiences built off the back of the huge reach of the Mates campaign. As a result, we were able to push the more direct "move to Australia" content with an audience that we knew had been exposed to the BuzzFeed Mates and Bring Me videos that showcased Australia.
BuzzFeed's large footprint meant that we were able to access relevant audiences at scale.

---
MATES RESULTS

BRING ME + BRANDED POSTS RESULTS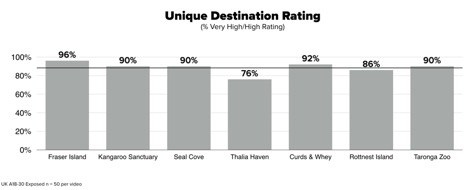 We also conducted a forced exposure study to measure the attitudinal impact of the Bring Me program in the UK. The results proved out the success of the content, with an impressive 89% of those exposed highly rating Australia as somewhere with a ton of unique places to visit.
The content resonated with 18-30-year olds in the UK, as two-thirds found it engaging and nearly half of those exposed indicated that they are likely to visit Australia in the next 2 years.
---
KEY TAKEAWAYS
Australia is both a home and a travel destination, filled with endless adventure, beauty, and culture. By partnering with BuzzFeed's Bring Me and editorial teams, Tourism Australia was able to bring good news and invite the world to explore the magical land down under. This successful partnership captured the attention and interest of youths as one of the most desirable and memorable destinations for young travelers and working holiday makers.
"Tourism Australia engaged BuzzFeed to help put Australia back on the map as a memorable and desirable Youth and Working Holiday destination. Our partnership with Bring Me specifically honed in on core destination experiences that were relevant and engaging for our audience - delivering a diverse content mix to truly showcase all Australia has to offer.

We were really impressed by the BuzzFeed & Bring Me teams professionalism, expertise & excitement that they continually brought to the project."

- Lisa Ronson, Chief Marketing Officer, Tourism Australia