THE SUCCESS STORY
Goal: Drive Awareness & summer relevancy during National Pina Colada Day on 8/10/18
What Happened: By leveraging Tasty, the largest media publisher & food brand on the internet, Malibu generated one of the best performing sponsored Tasty 4-Ways videos to-date. The breadth of Tasty drove high completions and organic views, overdelivering originally planned views by 13.6x!
PINA COLADA TASTY VIDEO
Format: Tasty 4-Ways are an innovative recipe format that highlights the focus ingredient in multiple ways in a single eye-catching video!

BRAND TOUCHPOINTS:
- Opening Bottle Shot
- Organic Product Integration (utilized once)
- Branded End Card (not pictured)
- Pin and BF.com recipe posts in the first two Facebook comments
- Malibu Facebook Handshake
- Facebook & Instagram Paid + Organic Distribution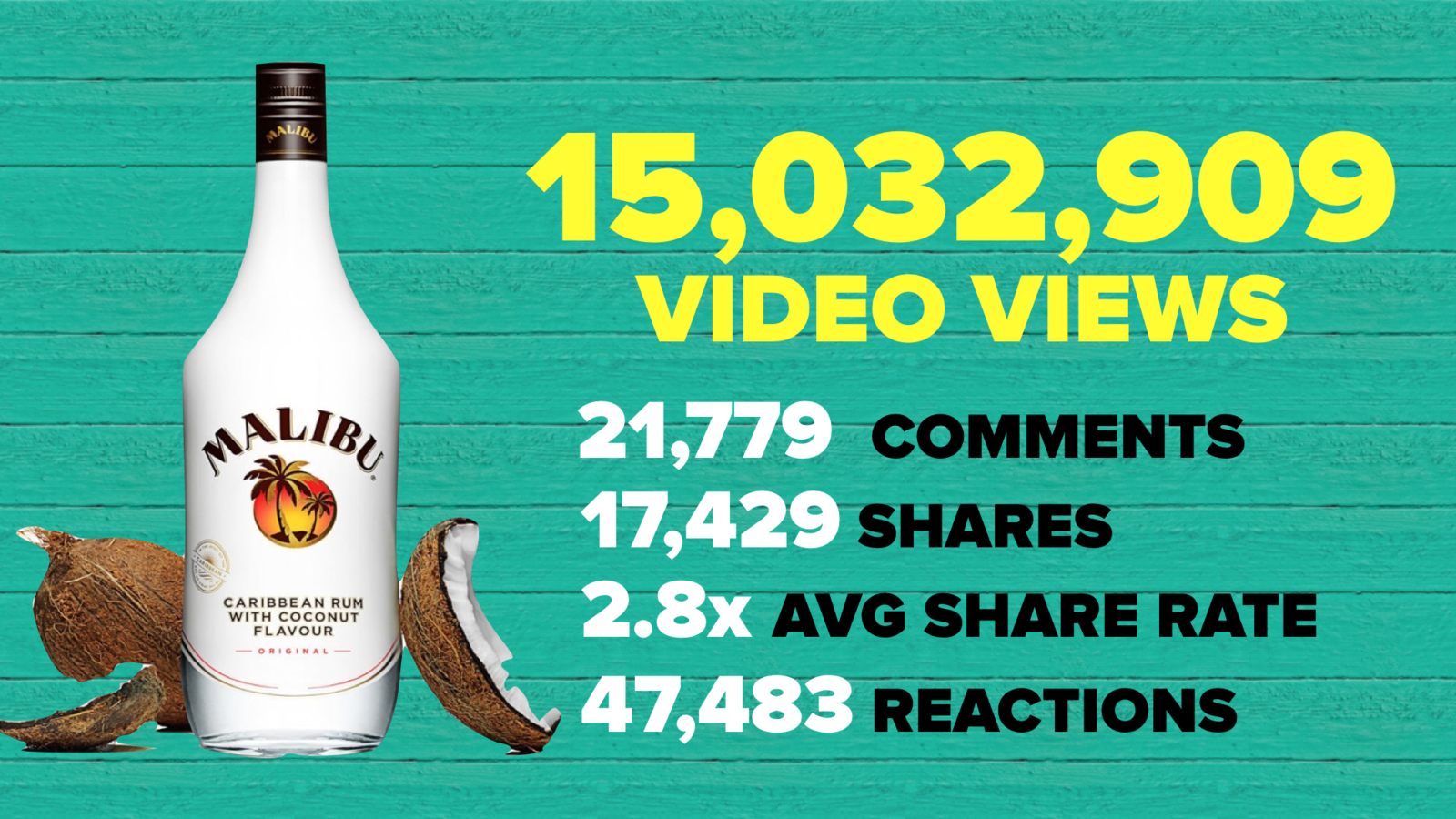 WHAT MADE THIS VIDEO SO UNIQUE?
A new spin on the beloved classic cocktail! We demonstrated 4 different ways to prepare a Piña Colada customized to your own personal taste. First, the video featured easy-to-follow instructions for creating a Piña Colada base using Malibu Rum, then a variety of flavorful mix-ins to add your own unique twist:
Easy to Make

Leaned into different Flavors

Well known recipe people recognize + easy twist

Summer relevancy

KEY HIGHLIGHTS
SEASONAL CONTINUITY: While Piña Colada was intended to drive hype on National Piña Colada day, the content really resonated with consumers across various summer occasions like: camping, cocktail parties, movie nights, bachelorette nights, and more.
ORGANIC PROMOTION WORKS: Our Tasty audiences naturally resonate with the brand and loves Malibu. By leveraging paid & organic distribution from Tasty's platforms we drove massive views and created a catalyst for virality.
FLAVOR IDENTITY: In the internet age, personal taste is a huge part of identity. Tapping into consumer behavior around people identifying with different flavor profiles we saw high engagement with people sharing which variation they were most excited to try.

LEAN INTO TASTY BEST PRACTICES: Recommendations for the 4 flavors were built from editorial insights into what our audience loves. To perfectly marry Tasty & Malibu, we looked to the audience for Piña Colada occasions. We took advantage of aligning with seasonality and utilized visual summer cues so that consumers naturally felt the recipes were timely. They served as the perfect inspire them to make them with friends during summer moments because Piña Coladas are always more fun with company.
THINGS TO KEEP IN MIND WHEN MAKING CONTENT
CONTENT JOBS: At BuzzFeed, we believe that every piece of content should have a "job to be done" in a person's life. When considering Malibu's audience the relevant jobs might include:
Utility: Saves me time or money, Helps me make a decision (what cocktail to make), Inspire me to try something new, Teaches me how to make a Piña Colada
Connection: We should make this together, I want to do this with friends, Look what I made, Doing it for the gram
Emotion: Yum!, Makes me thirsty, Nostalgia, Celebrate summer, Makes me happy
Identity: This flavor is perfect for me / you, I LOVE Piña Coladas, I LOVE Malibu