THE BUSINESS CHALLENGE
A trip to London and Paris tops the travel wish list for American travellers. The Mayor of London, Sadiq Khan, and Mayor of Paris, Anne Hidalgo, signed a ground-breaking agreement to work together to attract international visitors to both cities in a single trip. The announcement of this new partnership generated widespread global media interest, generating over a thousand articles across the world.
The tourism promotional agencies of the two cities, London & Partners and The Paris Convention & Visitor Bureau, along with campaign partner Eurostar, created a campaign to attract a target audience from the US to visit both cities in a single trip. The campaign ran from October 2018 – March 2019.

GOAL
Increase perception and consideration among US millennials for near-term travel to London and Paris in a single trip using Eurostar as the mode of travel between the two cities, by highlighting a variety of experiences that each city has to offer and the ease of traveling between them by Eurostar rail service.
STRATEGIC INSIGHT
A recent study by YouGov revealed that US millennials are putting off a variety of important things in their life and doing so more than any other generation. Results showed that 43% are putting off taking a vacation from work and 55% are putting off doing something on their bucket list (36% and 49% respectively for Americans 35 and older).
London & Partners and The Paris Convention & Visitor Bureau tasked BuzzFeed with creating a campaign that inspired intrigue among young Americans about all that London and Paris have to offer, that would change their perception of the cities, increase consideration and ultimately lead them to take action to book a trip. Based on the strategic insight and the data and learnings from editorial content, a creative partnership with Bring Me! was born, featuring original branded content that followed a group of excited young American tourists as they experienced both London and Paris in a single day travelling via Eurostar.

MAIN IDEA
The Bring Me! audience is motivated to maximize life through new and unique experiences. The Paris to London hero video and two cutdowns delivered on this desire, unlocking new ways for the audience to discover the world around them. From breakfast in Paris at an iconic boulangerie followed by sightseeing and selfies, the group of tourists then headed to the train station and boarded a Eurostar to London, taking them there in under 2.5 hours! Once in London, they visited Mr. Fogg's Residence, a restaurant and bar based on the novel Around the World in 80 Days. The group then headed to the Tower Bridge for perfect views of London to close out their day.
BRING ME!: Paris to London In Under 2.5 Hours
DISTRIBUTION STRATEGY
Media for the campaign was distributed cross-platform, on both BuzzFeed and Facebook. Delivering to multiple groups on Facebook allowed for optimization towards the best performing groups, as well as using audience insights that can be leveraged for the next campaign.
Leveraging this strategy paid off, as results showed the benefit of targeting these different groups. Our custom Travel audience delivered the highest VTR of 35.00%, with a total VTR on Facebook of 34.43% that surpassed the benchmark by 1.3x. Additionally, our custom Dining Out audience topped completion rates at 2.75%, and the BuzzFeed audience delivered the highest engagement rate of 1.50%. Overall engagement for the campaign was 1.12%, exceeding the benchmark of 0.19% by nearly 6x!

We also conducted a forced exposure study to measure the attitudinal impact of the campaign. The Paris to London Bring Me! content was not only able to entertain and stand out from other digital ads, but also intrigued and inspired action among a relevant, young American audience – both Paris and London moved into their travel consideration set and the international travel enthusiasts indicated intent to book a combined London/Paris trip.
The engaging ad also educated the audience that London is an 'open and welcoming' city, and even sparked behavioral changes. The majority of exposed respondents indicated that they plan to take an action, such as finding out more about these cities and investigating costs. Furthermore, 1 in 3 confirmed that they now plan to go ahead and book a trip!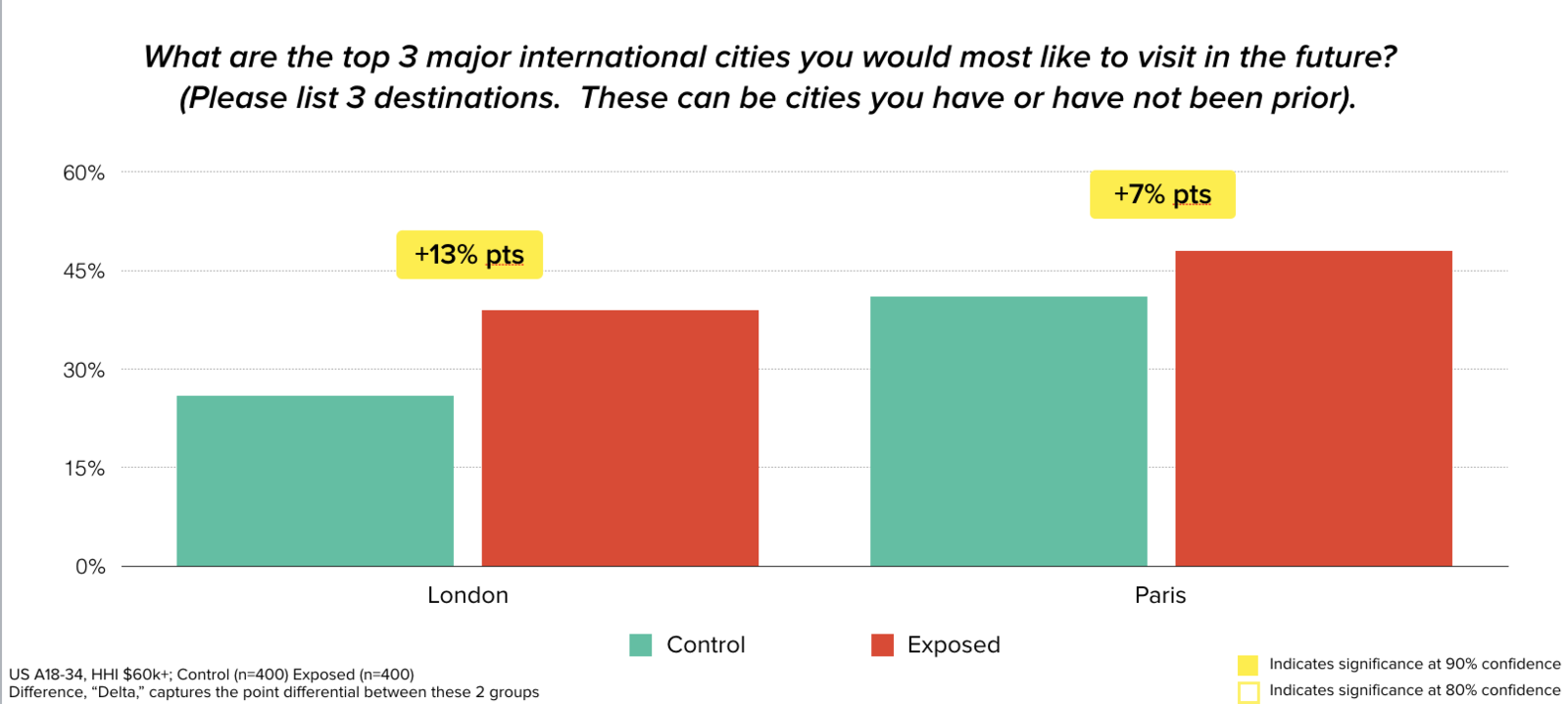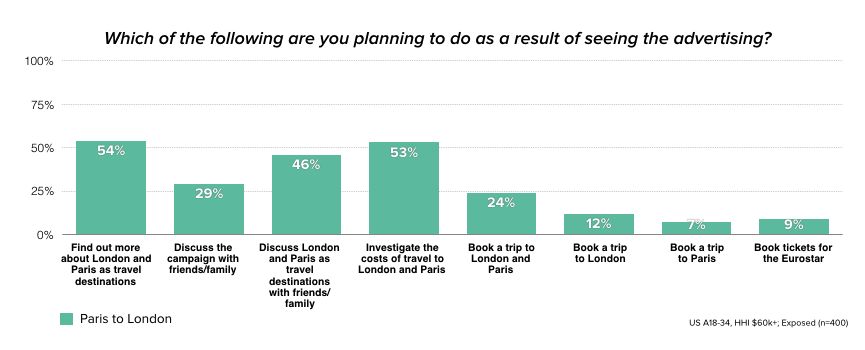 KEY TAKEAWAYS
While London and Paris are timeless cities, there are countless benefits for American consumers to travel to them while still young. The partnership between London & Partners, The Paris Convention & Visitor Bureau and Bring Me! achieved mass awareness and brought these benefits to life, uncovering the new experiences the cities have to offer and persuading viewers to visit them in the near-term. The success of the partnership does not stop here as the Bring Me! audience loves to make recommendations and share their experiences through social media, and we can expect to see their trips documented in the months to come.
"With a remit to help drive perception change and consideration of a visit to both cities as part of one trip, our partnership with Bring Me focussed on leveraging this well-established brand, which fit perfectly with our target audience, and developing a concept authentically crafted for this channel. The creative idea of 'Breakfast in Paris, Afternoon Tea in London' beautifully showcased both destinations as well as the ease of travel between the two cities and the experiences both could offer. Buzzfeed's expert understanding of their data really shone for us in their creation of this truly viral content and how, through their technology, they were able to lazer target our specific niche audience for the campaign. We were delighted with the results and with the collaboration - the Buzzfeed team were fantastic and worked tirelessly to turn this project around in very short timeframes. A great success!"

- Sal Worby, Head of Marketing Campaigns at London & Partners/Visit London