Gordon's UK Success Story
Gordon's partnered with Proper Tasty to craft a summer cocktail recipe using their London Dry Gin that would be perfect for sharing with friends.
THE BUSINESS CHALLENGE
Bank Holidays are the best time for a picnic. The weather is warm and your friends are gathering - it's the ideal occasion for a delicious G&T! Gordon's wanted to provide a great summer cocktail recipe incorporating their London Dry Gin, perfect for a bank holiday gathering.
GOAL
Gordon's sought to position their gin as the essential G&T ingredient while also showing its versatility. To do this, the brand tasked BuzzFeed's Proper Tasty with creating a unique gin cocktail that's perfect for batch summertime recipes to share with friends over a Bank Holiday Weekend.
STRATEGIC INSIGHT
According to data from Kantar Worldpanel, over a quarter of the UK population have purchased gin in the past year, overtaking whisky as the nation's favourite spirit. While tonic remains the mixer of choice, nearly a third of gin serves are now mixed with something other than tonic.
When it comes to seasonality, a fifth of gin drinkers in the UK think summer is the best time to drink gin. One in three say they typically drink gin at celebrations or parties, and that they most enjoy food and drink content that helps spark their imagination.
With new mixer options on the rise and summer around the corner, Gordon's was eager to explore ways to tap into trends like iced tea and alcoholic tea drinks, which are gaining momentum in the UK. Thus the G&Tea was born.
MAIN IDEA
Just in time for Bank Holidays, Proper Tasty evolved the classic G&T into a G&Tea, crafting a recipe for Gordon's Peach & Lemon Iced Green G&Tea. This easy to make beverage used London Dry Gin as the hero, giving several simple steps to keep viewers engaged and inspire them to follow along.
Tasty Recipe: Peach & Lemon Iced Green G&Tea
DISTRIBUTION STRATEGY
The video was distributed cross-platform across BuzzFeed, Facebook, and Instagram. Building off past campaigns, the G&Tea recipe was targeted to the Tasty and Gordon's audiences along with gin and tonic consumers. Paid promotion through the use of these audiences allowed the video to reach consumers likely to engage with the content and lead to conversions.
Blended delivery across paid and organic resulted in high engagement. The 1.81% engagement rate nearly doubled the 1.05% benchmark. The video sparked interaction, with a 0.93% comment rate that exceeded the benchmark of 0.17% by over 5x!


We also conducted a forced exposure study to measure the attitudinal impact of the campaign. Results showed that the G&Tea content effectively kept the Gordon's brand top-of-mind, positioning it as the quintessential ingredient for a G&T, and increased agreement that the gin can be drunk in many ways. The Gordon's brand came through very clearly in the recipe video as a result of both early and consistent exposure through product shots as well as on-screen text overlay.
The recipe effectively inspired intention to make a recipe with Gordon's Gin in the near future among half of viewers. The collaboration positively impacted favourability towards Gordon's, with 6 in 10 viewers saying they feel that Gordon's Gin is a more appealing brand based on its partnership with Tasty.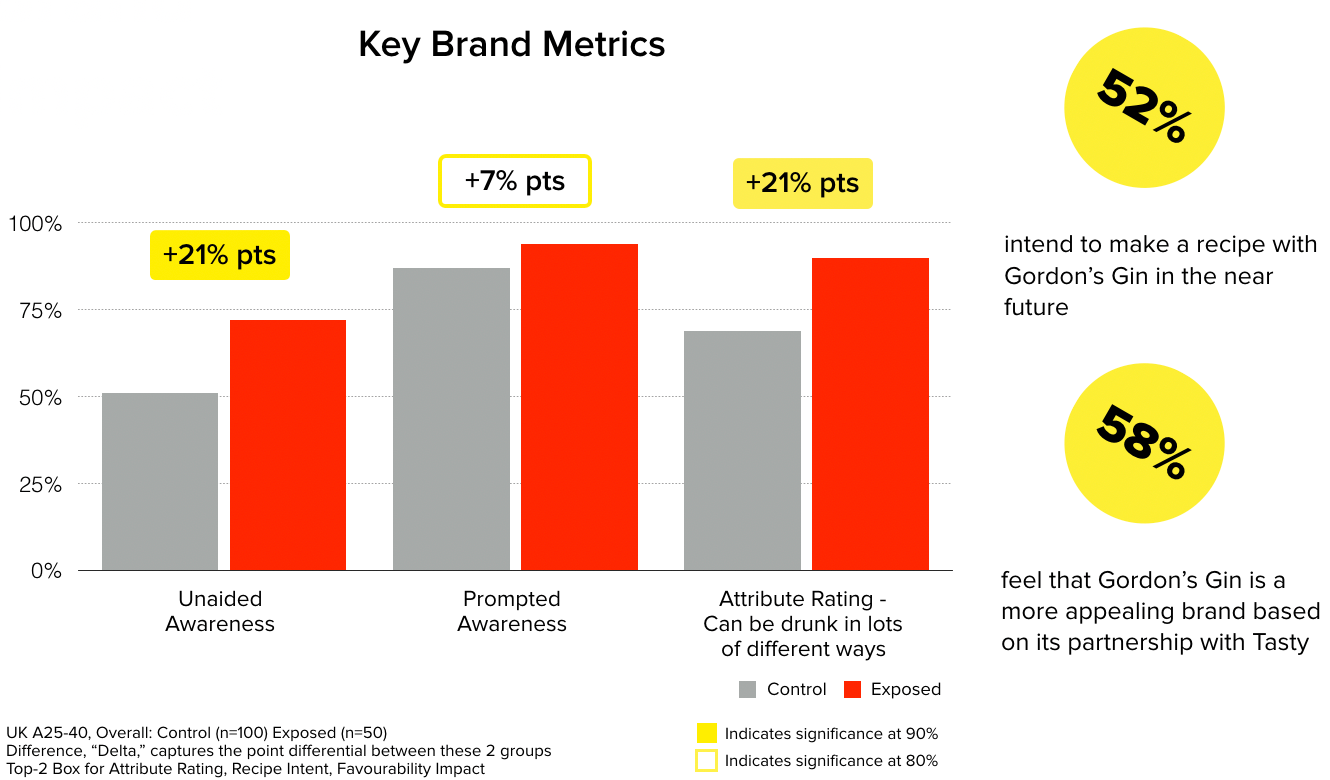 KEY TAKEAWAYS
Strong "Shall We?" occasions are central to the Gordon's brand and align well with BuzzFeed viewers, providing them a serve they are delightfully surprised by and want to try with their friends. Unexpected and accessible group serves, like the Peach & Lemon Iced Green G&Tea, are driving conversations and engagements amongst friends. Over the course of this partnership, BuzzFeed has built an audience of Gordon's fans who are waiting for our next recommendation and we can't wait to please them with more great cocktail recipes in the future.
"BuzzFeed's Proper Tasty channel has provided us with a good platform to reach our audience, and showcase the versatility of Gordon's London Dry Gin, through serve-lead content. Proper Tasty's measurement and evaluation process helped to provide us with valuable learnings that allowed us to continue optimising our content whilst staying seasonally and culturally relevant."

– Jessica Lace, Head of Gordon's, Europe
Please always Drink Responsibly. Drinkaware.co.uk