THE BUSINESS CHALLENGE
Be a Hero has taken on impossible fights and amplified countless stories of incredible heroism in the face of injustice. One of their latest causes is Medicare for All and they sought to humanize suffering to compel consumers to take action and support healthcare for all in our country.
GOAL
Generate awareness of Be A Hero's Medicare for All initiative and emotionally connect with viewers around the cause to inspire them to seek out more information and watch the longer form video on the initiative's website.
STRATEGIC INSIGHT
Be A Hero was founded by Ady Barkan and Liz Jaff to confront members of congress about healthcare injustices using the power of the human story. To amplify their message, Be A Hero sought out BuzzFeed based on their audiences' interest in truth, politics, and activism. BuzzFeed readers are politically active, with 95% that indicated plans to vote in the 2020 Election*. Not only are they politically inclined, but 78% considered themselves informed about healthcare issues*. In fact, three-fourths of BuzzFeed readers said that affordable healthcare for all was an important cause to them in the previous election*.
*Source: BuzzFeed Political Research, August 2020 (via Pollfish)
MAIN IDEA
Capitalize on BuzzFeed's politically active audience to genuinely convey Be A Hero's message through adaptation of the client's emotionally compelling video asset to a BuzzCut. The asset included a strong call to action to connect with BuzzFeed's socially conscious audience.
BuzzCut: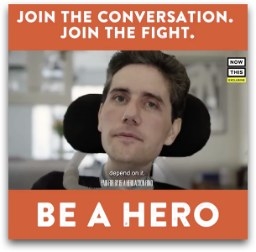 This campaign also included a Spotlight unit which ran on the BuzzFeed site, promoting the brand with a high impact video at the top of the page to captivate visitors' attention. The unit easily allowed viewers to click out and watch the longer form video on the Be A Hero website. 
Spotlight unit:

DISTRIBUTION STRATEGY & RESULTS

With limited spend, the campaign delivered over 3.5 million impressions by tapping into BuzzFeed's engaged audiences onsite as well as on Facebook and Instagram. This efficient strategy garnered more value than expected, with a CPC lower than other publishers. The BuzzCut and Spotlight unit exceeded CTR, VTR, VCR and engagement benchmarks for the category.

Additionally, a Forced Exposure brand lift study measuring the BuzzCut showed +49% point significant increase in association of the "Be A Hero" message with Medicare for All. This impressive result outperformed norms, indicating that the video's message resonated with viewers.
KEY TAKEAWAYS
Be A Hero's partnership with BuzzFeed achieved the initiative's key goals, successfully driving awareness of the initiative, engaging and connecting with the BuzzFeed audience and getting them to click through and visit the Be a Hero site. This underscores the power of BuzzFeed to authentically connect with, engage with, and influence its audience.
"Working with the Buzzfeed team was effortless and straightforward in an increasingly complicated publisher environment. Our partnership provided a decisive advantage to our digital campaign."

- Ryan Mioduski, Middle Seat (Be A Hero Media Agency)