1.
A dainty floral resin coaster that'll protect your antique wooden coffee table from condensation marks while giving your living room a whimsical touch.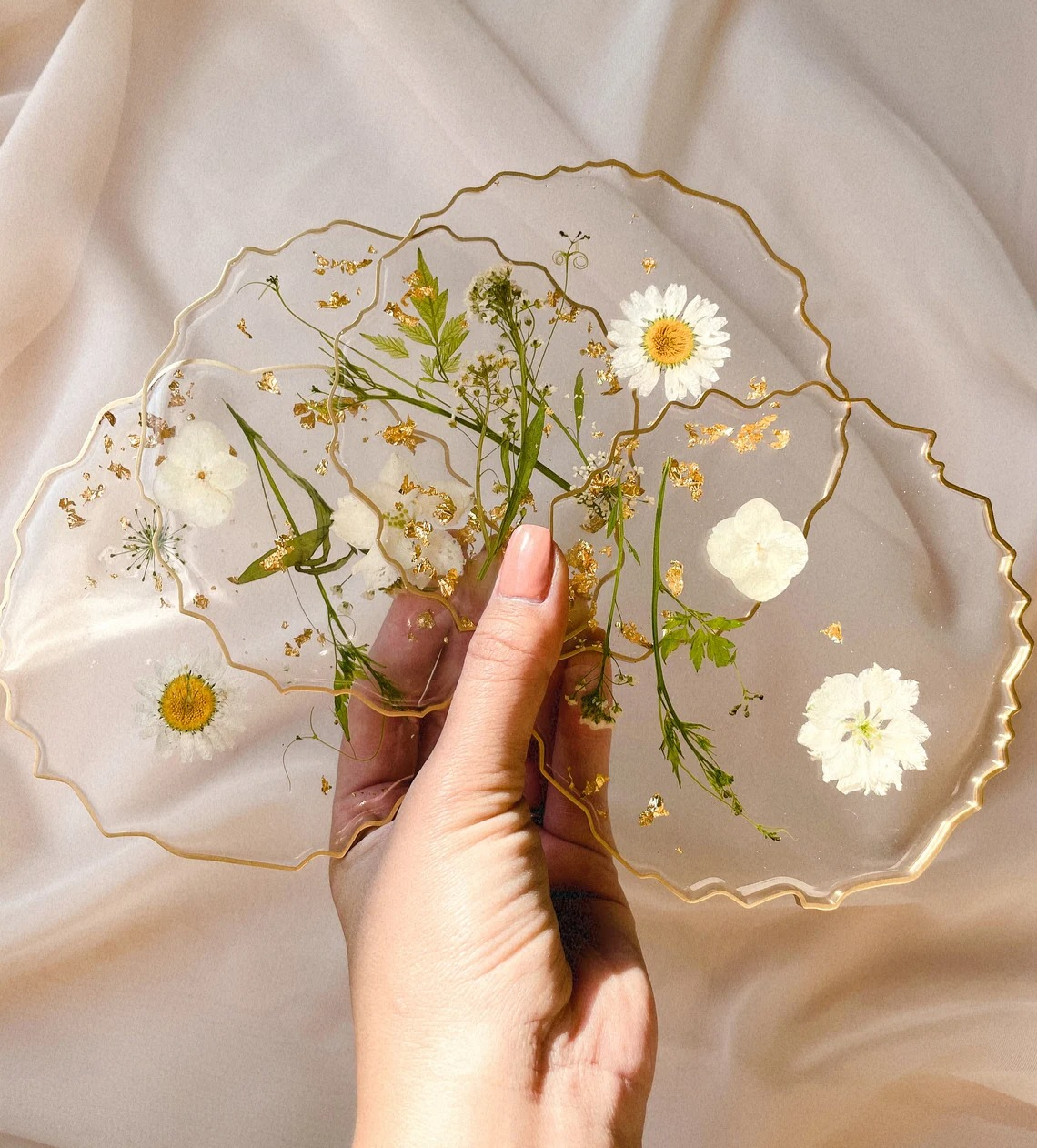 Poppy & Pour is a Los Angeles-based small biz established in 2020 specializing in whimsical keychains, coasters, trinket dishes, and other accessories. 
Promising review: "I'm so excited about these beautiful coasters! They're great quality and I love how each one is unique. They really light up our coffee table :)" —Suzanne Trivette
Get it from Poppy & Pour on Etsy for $14+ (available with or without gold trim, as well as in multipacks).
2.
Our Place's Perfect Pot, which not only comes in a *fabulous* array of fun colors, it'll also replace practically every other cooking tool in your kitchen (it's got 10 functions!). Think of it as a Dutch oven, but way more versatile (and a whole lot lighter). I'm seeing lots of dinner parties in your future. 
It's designed for (*takes huge breath*): boiling, crisping, baking, braising, roasting, steaming, straining, pouring, serving, and storing!
I have this pot at home, and the first thing I noticed about it (aside from its pretty looks) was how shockingly light it was (less than five pounds with the lid!). As a 5-foot-tall weakling, I tend to get nervous whenever I have to lift a cast iron Dutch oven more than a few inches, so I was thrilled when I realized I'd be able to make my favorite hearty meals without the risk of dropping a heavy, piping hot cooking vessel. Plus, it comes with a steamer insert and a wooden spoon with — get this — little grooves that allow it to rest right on the pot's handle, so if you're anything like me and *still* haven't gotten around to getting a spoon rest, this bb's got you covered. Best of all, if you're short on cabinet space, this pot is so beautiful you'll want to display it on your stove for all to admire. 
Promising review: "Love it, in particular the color, weight and functionality. I've been using it weekly to do a rotisserie-style chicken in the oven (amongst using it for other recipes) and it literally is perfect. My only problem — can I justify buying other colors, maybe one for each day of the week??" —Amy T.
Get it from Our Place for $165 (available in seven colors). 
3.
A handy little electric lighter for anyone with a sliiight phobia of using matches. This will help you light all of your favorite candles with confidence, save you money on lighter fluid, and easily reach low wicks in those super narrow candle holders. Bonus: The metallic colors are really pretty, too!

BuzzFeed Shopping's Emma Lord says: "This also comes in other pretty colors, but I am especially partial to this one because I bought it for my parents (their kitchen is entirely pink and one of my favorite places on Earth), and this was SO EASY to use — not to mention super safe! I'm a big weenie about fire (LOL, self-preservation) so I've always stuck to extended-arm gas lighters, but this is much better for the environment (plus cuter), so I feel a lot better about using it. You can read my full Leejie electric lighter review for more deets!"

Promising review: "Works like a charm. I saw this in a TikTok. Knew immediately that I needed it. I love candles and this is so much better than a match or lighter. It's kept a charge for months. I use it several times a month." —dwhite3012
Get it from Amazon for $10.99+ (available in five colors).
4.
A snazzy gold stapler, because even the most mundane tasks are worthy of a little elevation, and it'll make your desk look like it stepped right out of your TikTok FYP.

It staples up to 20 sheets at a time!

Promising review: "I love love love this stapler!!! Besides the fact that it's beautiful, it's extremely easy to use. I have arthritis and other staplers make my hands hurt because you have to press down hard. I'm amazed by how lightly it staples through several sheets of paper at one time. I had ordered another one in red and these staplers don't disappoint. Highly recommend!" —phyllis
Get it from Amazon for $17.84 (also available in red). 
5.
A striking Nordic-style watering can that might actually get you to remember to keep your plants hydrated, since you'll be so excited to use it every time. It's small enough that it won't take up too much space, and its sleek, translucent design makes it as much a piece of decor as your plants themselves. 
Promising review: "This watering can is a functional showpiece. Its green color is both reflective and transparent and compliments your houseplants. Virtually weightless, so filling the can with water makes watering effortless. The entire design is well thought out. It even came with a small square microfiber cloth to keep your can looking like new. Go green!" —L Rose
Get it from Amazon for $13.99+ (available in 10 colors). 
6.
A cheery macrame fruit hammock for keeping your farmers market haul from cluttering up your precious counter space. If you look up "functional decor" in the dictionary, I'm 99% sure a picture of this lovely thing will show up.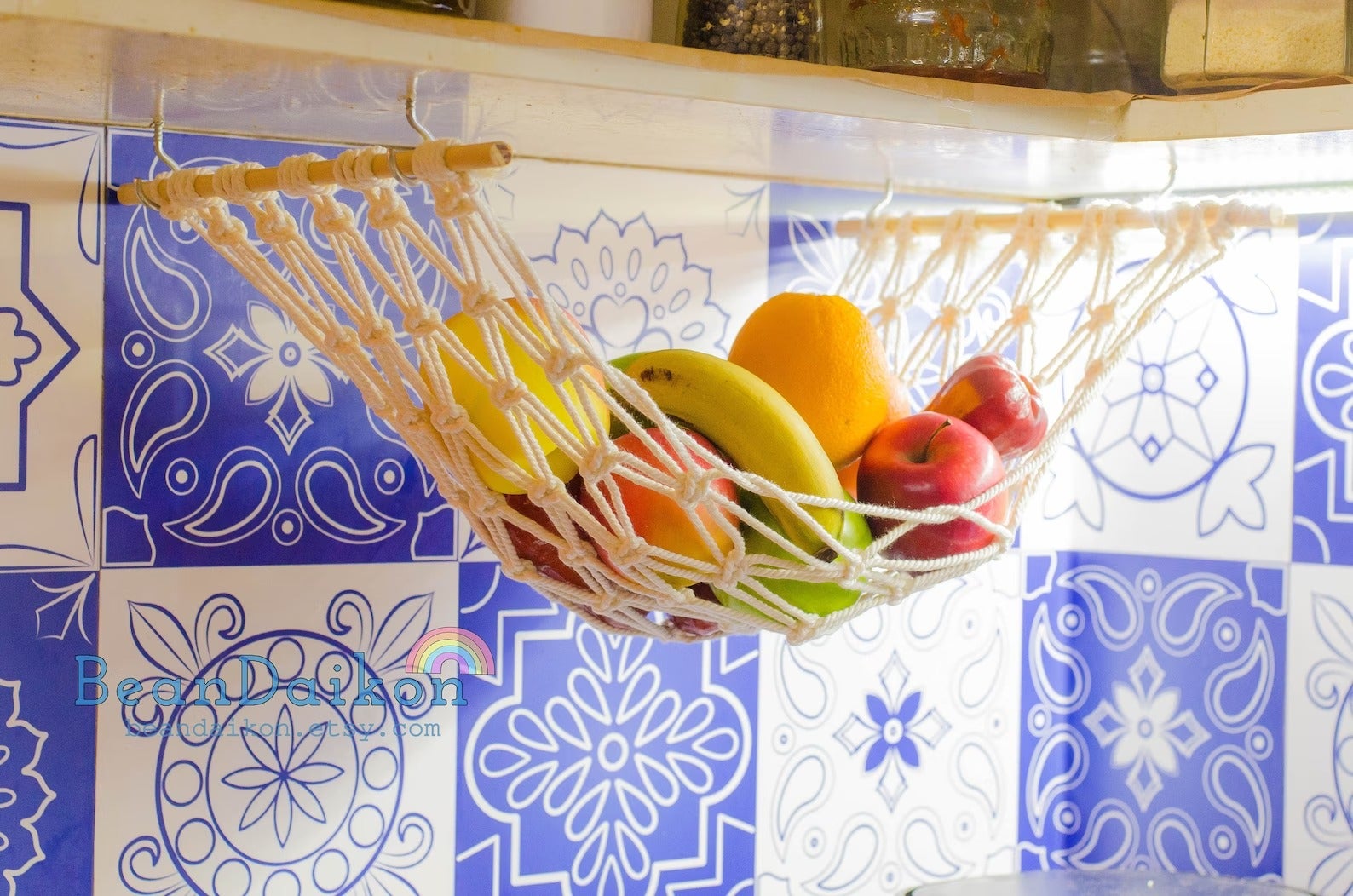 It comes with four hooks for easy installation.
BeanDaikon is a Vietnam-based small biz that was founded by Nhan, a mother of two who learned how to make macrame starting in 2020. The company's boho-inspired designs include wall hangings, shelves, nursery decor, and other accessories. 
Promising review: "This is the best thing ever! Being able to store our fruit in a very aesthetic way where you see everything is great! No more moldy fruit sitting at the bottom of the fruit bowl." —Dohie
Another promising review: "Super cute! I got this as a gift for my friend's RV. It's so perfect for small kitchens. Keeps things tidy. Thanks so much to the seller, she was very communicative." —Jenni
Get it from BeanDaikon on Etsy for $15.19+ (originally $25.31+; available in 25 colors). 
7.
A simple yet stunning wall-mounted mirror, which has a handy little shelf you can grab your keys from while giving yourself a quick once-over before heading out the door. 
Promising review: "For years I had a small table inside the door to hold keys, mail, etc. And for years I would knock into the table with my purse, groceries, or computer bag in the small space. But one needs a place to drop stuff and a mirror to check yourself on the way out. This mirror with a built-in tray is a perfect solution and adorable. Both the mirror and gold frame are flawless. I am really happy with this find." —Sold001 
Get it from Amazon for $75+ (available in gold or silver).
8.
A chic portable vacuum that's much more powerful than its demure appearance would let on. Since it's cordless, it's perfect for bringing from room to room, and its small size makes it great for zapping up those crumbs that are all over your keyboard.
It comes with an adjustable nozzle attachment, USB charging cable, and cover. 
Promising review: "This little vac is amazing! Not only is it pretty and looks like a bladeless fan sitting in my bathroom instead of a vac, it really works! Has two speeds, and I haven't had to use its high speed yet. Thinking of ordering another one in white. Highly recommend!" —Amazon Customer
Get it from Amazon for $69.99 (available in four colors). 
9.
A pretty set of gold cable organizers to keep all of your many charging cords from becoming an unsightly mess on your desk. And they'll also prevent them from falling to the floor!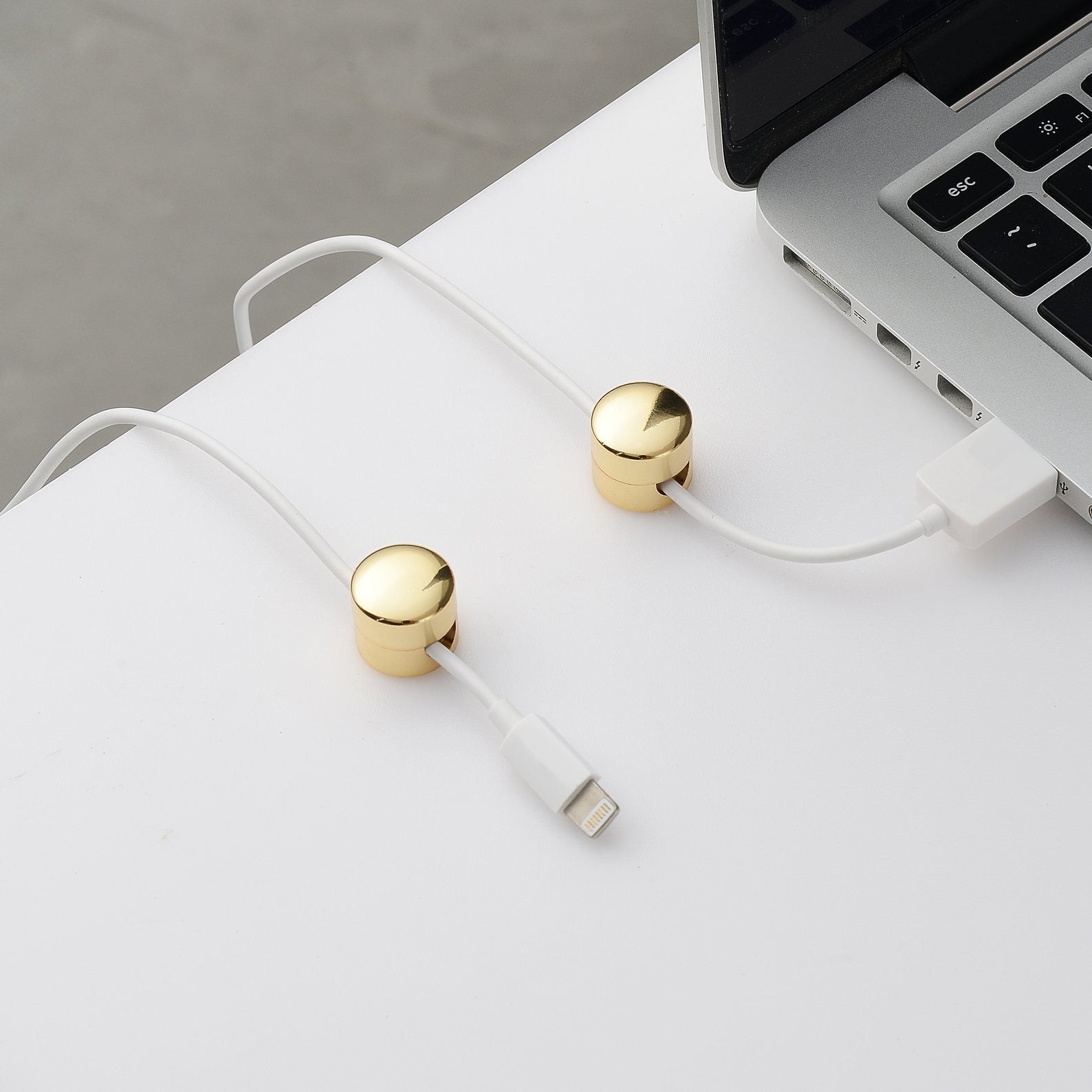 The kit includes double-sided stickers for easy adhesion to your work surface, as well as mounting hardware to use on walls. 
Brighttia is a Brooklyn-based small biz established in 2018 specializing in modern and industrial interior lighting.
Promising review: "These arrived LIGHTNING fast, and they are exactly as described. I've got one on my desk already, and I didn't have to disappear off camera today to dive under my desk and search for my power cable. The finish is gorgeous and I love that they solve an annoying problem so elegantly. Definitely recommend!" —emilyschneider27
Get a set of two from Brighttia on Etsy for $12.98+ (available in eight finishes, as well as in multipacks).
10.
An eye-catching, compact Beast blender that'll make you feel like a culinary ~whiz~ as you effortlessly blitz up ice for your morning smoothie (and it'll become your counter's new favorite accessory). 
P.S. The blending bowl also doubles as a portable thermos and comes with a screw-on drinking lid and carry cap.

I got this blender last summer, and wow, as someone who had firmly decided I was an 'I don't need a blender' person, I quickly changed my mind after the first use. For starters, it's not as large as those super industrial-strength blenders, and it's so aesthetically pleasing that I have it out on my counter at all times. Plus, it couldn't be easier to use — just fill the bowl with your ingredients, pulse, and in a matter of ~moments~ you'll have a perfectly uniform blend of whatever you're trying to blitz. I first tried it out on a smoothie made with frozen bananas and peaches (see it in action on TikTok here!), and it pulverized the icy fruit like a champ. Best of all? It's a total breeze to clean, which, if I'm being honest, was probably the biggest factor in my having waited so long to add a blender to my kitchen arsenal. I can't recommend it enough, 15/10, no notes.
Get it from Amazon for $195 (available in three colors).

11.
A dazzling pack of sparkly sponges to infuse a bit of ~glamour~ into what is most likely one of your least favorite chores. And reviewers say they're just as effective at scrubbing away icky grime as they are pretty. 

Promising review: "These sparkle sponges are by far my favorite!!! The sparkle outside provides gentle scrubbing power, the sponge inside holds the right amount of water, and I love the look of the sparkle!" —NY Holly
Another promising review: "I'll buy these over any other sponge you can typically buy at the supermarket. They hold tons of soap and scrub, but don't scratch. I've actually converted several people to using these. We throw these in the dishwasher every now and then to extend their lives. One sponge lasts months and doesn't get that funky sponge smell." —Jason J
Get a two-pack from Amazon for $7.36 (colors vary). 
12.
A minimalist digital alarm clock that'll make your nightstand so aesthetically pleasing, you won't even be mad at it for waking you up at 5 a.m. — plus, it doubles (quadruples?) as a portable Bluetooth speaker, wireless charger, and night-light!

It has three brightness levels, 16 volume levels, and a rechargeable battery, and is compatible with all Qi-enabled phones.

Promising review: "This is exactly what I was looking for — a bedside clock that has an alarm, LED display, radio option, built-in speakers...and then it has MORE features! I didn't expect the Bluetooth capability, ability to charge my phone, or the night light function (with three brightness settings). It's perfect for my needs and it looks great, too!" —M. Reaves
Get it from Amazon for $46.90. 
13.
A swoonworthy Canopy humidifier, because if you've been holding off on getting one of these essentials out of concern about a bulky, unattractive appliance messing up your home's look, fear no more. This one's compact and comes in such gorgeous pastels and neutrals, you'll want it front and center. 

It hydrates rooms up to 500 square feet (bye bye, dry skin and scratchy throat!), has dishwasher-safe parts, provides up to 36 hours of usage when charged, and is USB rechargeable. Oh, and it comes with an aroma sample kit!

Promising review: "I've had it less than 24 hours and I'm so obsessed that I'm already mentally arranging where I'll place the others that I intend to buy. I want one in every room! I don't know how I ever lived without it. It changed the air in my room in the first hour alone and I was excited to see how it would be by morning. Confirming, it's heavenly. This is going to be a game changer for my asthma since it's something I'll actually use — versus my ugly old humidifier that I never used because I didn't want to leave it out. Soooo how quickly can I get a few more shipped out?!' —Chemin R.
Get it from Canopy for $150 (also available with filter subscriptions, as well as in a larger size and a nursery style). 
14.
A charming set of fruit-printed oven mitts that'll bring a smile to your face even as you're carrying an absurdly heavy, piping-hot casserole dish to the table. And its waterproof, nonslip silicone shell keeps the colorful fabric protected from stains!

Psst: They can go in the washer!

Promising review: "I bought these for myself over the holidays. I am an avid cook and use my oven at least twice a day. I had really crappy oven mitts that were all fabric and stained. The appeal of these was the fact that they were covered in silicone, so any spills and accidents wouldn't stain the beautiful fabric. I have used them at various temperatures (350–500) and haven't felt any heat. I did, however, think they came apart for washing, but the lining is sewn to the silicone. I don't think it will be a problem, though. Great oven mitts and really love the pattern of the fabric!!" —Judy
Get a set of two from Amazon for $22.98 (also available in five other prints and a potholder style). 
15.
A shabby-chic ruffled shower curtain for anyone who thinks their bathtub deserves the same level of linen treatment as their windows. Just make sure Scarlett O'Hara uses your other bathroom. 

It can be thrown in the washer and dryer, and reviewers recommend drying it before hanging it up to get rid of wrinkles. And don't forget a liner!
Promising review: "Beautiful and perfect for my farmhouse style bathroom! It was wrinkled when I got it, but I put it in the dryer for about five minutes and the wrinkles came out. The curtain is so soft and well-made. The top of the curtain is made of a stronger material and the metal rings seem to be reinforced for more durability. I am extremely pleased with this shower curtain!" —Kim
Get it from Amazon for $22.99+ (available in three colors).