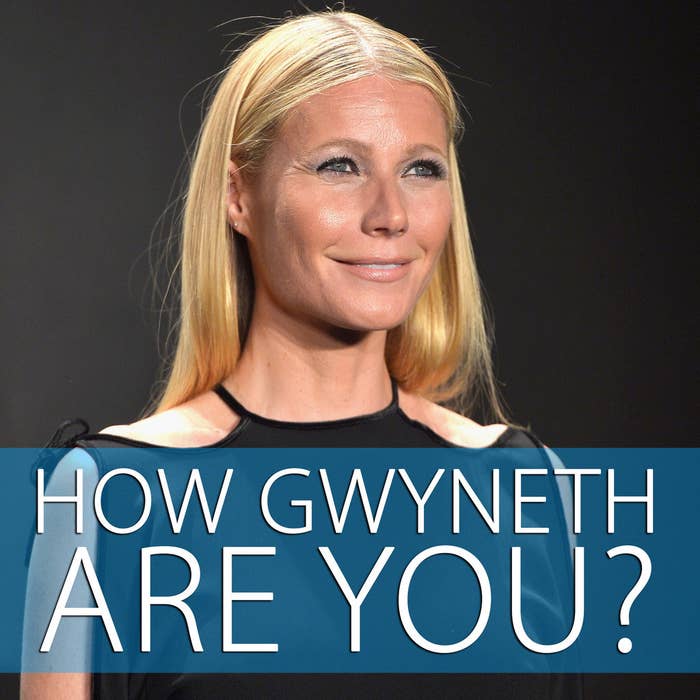 Britta Pedersen / AFP / Getty Images

Your middle name is Kate.

You were born in the 1970s.

You were born on September 27, 1972.

Your childhood was bicoastal.

You grew up with famous parents.

Blythe Danner is your mom.

You named one of your children after a piece of fruit.

Or after a Biblical figure.

You've dated Ben Affleck.

You've "consciously uncoupled" from someone.

You've consciously uncoupled from Chris Martin, specifically.

You're fascinated by the growing science behind the energy of consciousness.

You prefer Europe to America.

You lived part of your adult life in England.

You kind of picked up a Madonna-style British accent while there.

But you think the way Brits pronounce "pasta" and "basil" is awful.

You're a "lifestyle expert."

You have a lifestyle blog.

That blog is called Goop.

Your blog is aspirational.

You've been on a macrobiotic diet.

You've written a cookbook.

You've written a cookbook with Mario Batali.

Salad niçoise is one of your favorite meals.

But your last meal on earth would include oysters and cocktail sauce.

You'd rather smoke crack than eat cheese from a tin.

And you would rather die than let your kid eat Cup-a-Soup.

There's a wood-burning pizza oven in your garden.

Your heart skips a beat every time you see a flowering zucchini plant.

You're fluent in Spanish.

You've gotten your vagina and/or butthole steamed.

You've told others to get their vaginas and/or buttholes steamed.

You're the worldwide face of vagina and/or butthole steaming.

You love inspiring others.

You don't consider yourself to be a smoker.

But you allow yourself one light American Spirit cigarette a week.

You think being drunk is a "bad look."

But you'll never do it again.

You think exercise is a very important part of your daily routine.

You are a fan of the Tracy Anderson method.

You consider Tracy Anderson a close, personal friend.

You consider Beyoncè a close, personal friend.

But your best friend is Cameron Diaz.

You're an Academy Award winner.

You're the face of Estèe Lauder fragrances.

People Magazine has named you "Most Beautiful Woman."

But you've also been named the internet's "Most Hated Celebrity."

People seem to hate you for no reason.

And you've compared that hate to warfare.

Still, they can call you a lot of things if they want.

But they can't call you "complacent."

And you can't pretend to be somebody who makes $25,000 a year.