Piña colada, sunscreen, and ocean breeze — the scents of vacation engulfed us. With the Cancun sun high in the sky, our feet dangled lazily off the cabana lounge chairs as the music kicked on and foam shot from a cannon. The party was amping up at the pool across the way. For the first time in what felt like forever, the thought of work was forgotten, the need to plan was cast aside, and stress rolled away like waves on the beach. It felt like a moment out of a jet-setting model's Instagram feed you casually scroll by late at night. Refreshed drinks in hand, we couldn't help but laugh and cheers the crazy luck that brought two best friends on a much-needed vacation.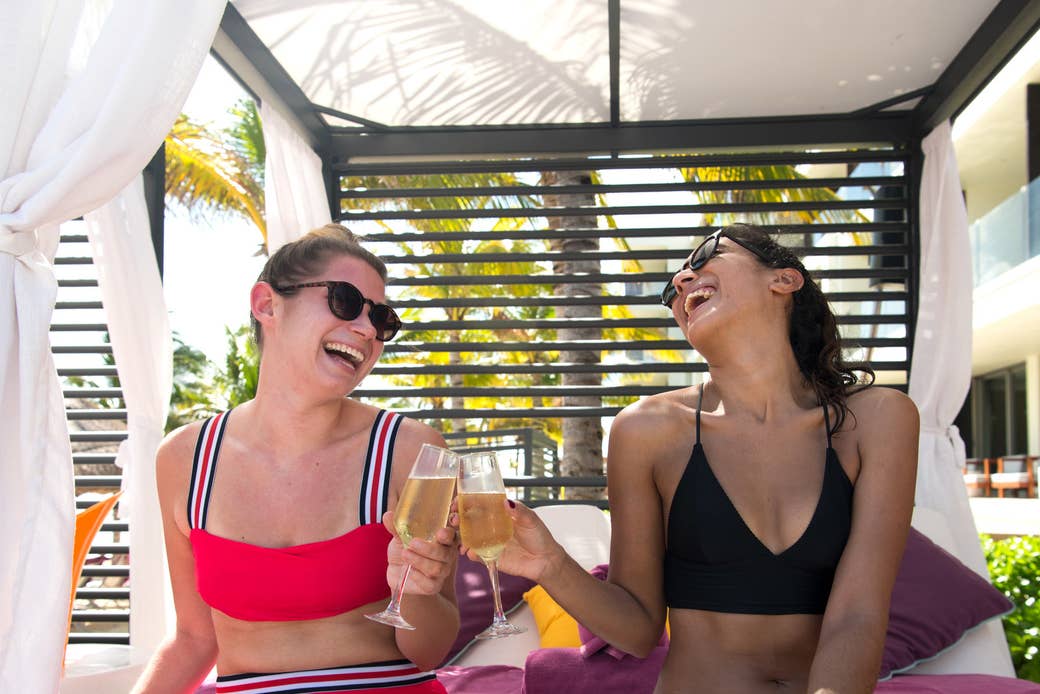 Hi, I'm Emily, and I haven't had a proper vacation in four years.
It's amazing how fast time can pass when you get stuck in a never-ending rut of work, gym, eat, sleep, repeat. In some ways, a closely managed routine is comforting, but after getting stuck under the wheel of my own control freak tendencies for a few years, I was left burnt out and in dire need of some serious R&R.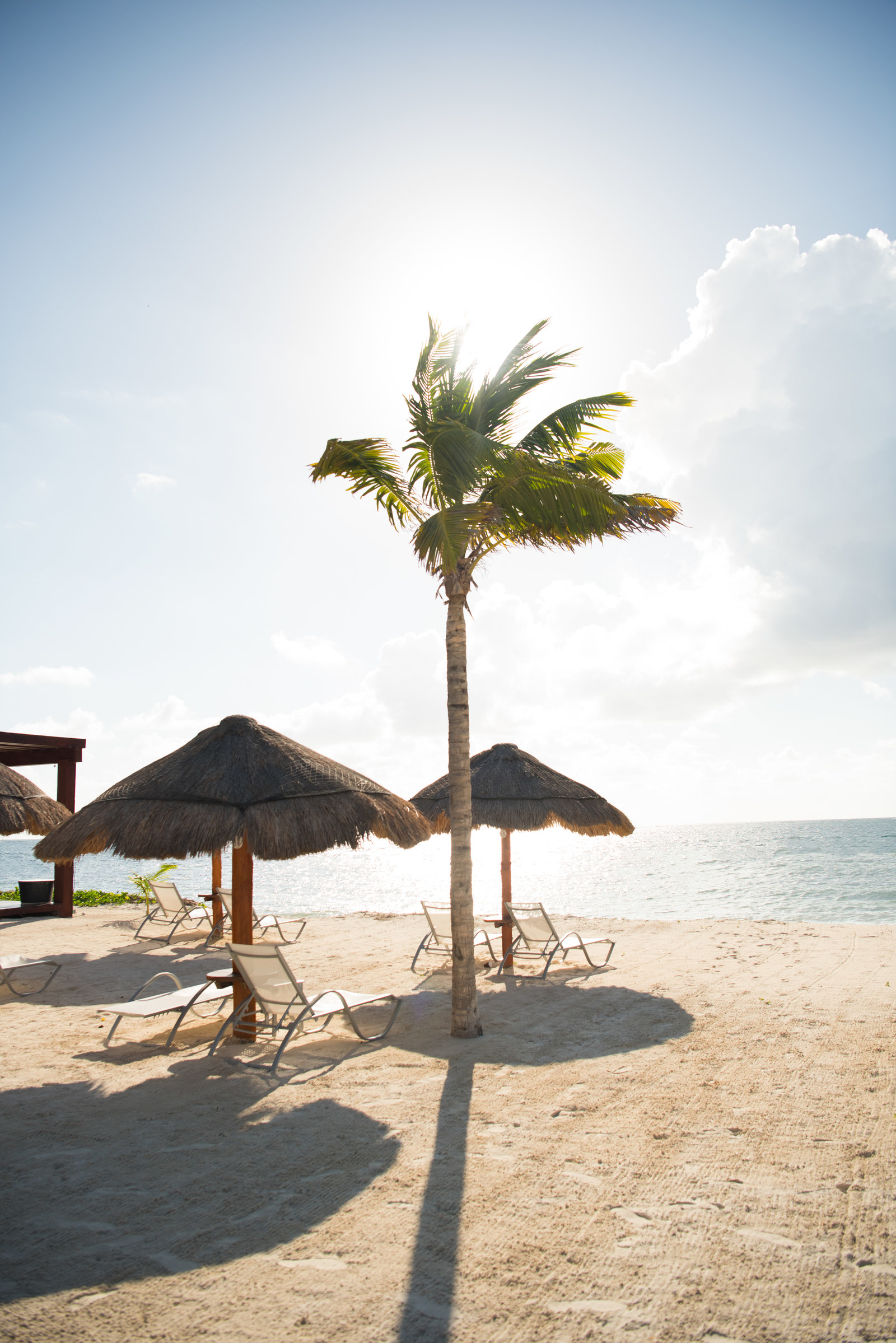 It seemed like the stars aligned, when Breathless Resorts & Spas reached out and invited me to experience Unlimited-Luxury® (where everything is included) at their Riviera Cancun location. I (like any reasonable person in need of a vacation) immediately jumped at the rare opportunity. However, I knew I couldn't leave my control freak ways behind on my own, so I invited Jasmin, my work wife and best friend, who needed a vacation as much as I did.
Jasmin: As someone who goes on the hunt to discover fresh and unexpected things to do outside of work, it's pretty accurate to describe myself as somewhat of a plan initiator among my friends. I love to explore new and obscure things but doing it alone is definitely not my idea of fun, so I tend to wrangle my friends together and pray they don't mind the plans I put into action.
That being said, although I love to live a life where there's room for the unexpected, I feel most comfortable when I have some parameters set in place. And embarking on a new adventure like a vacation, while exhilarating, is a whole other beast and definitely requires some extensive preparation — which I tend to voluntarily put on my own shoulders.
Emily: In the days leading up to our trip, Jasmin and I decided the only way we'd be able to fully embrace a luxe vacation was to let go of our control freak ways and give one another free reign to plan some surprise (but still within comfort zone) activities during our stay at Breathless Riviera Cancun Resort & Spa.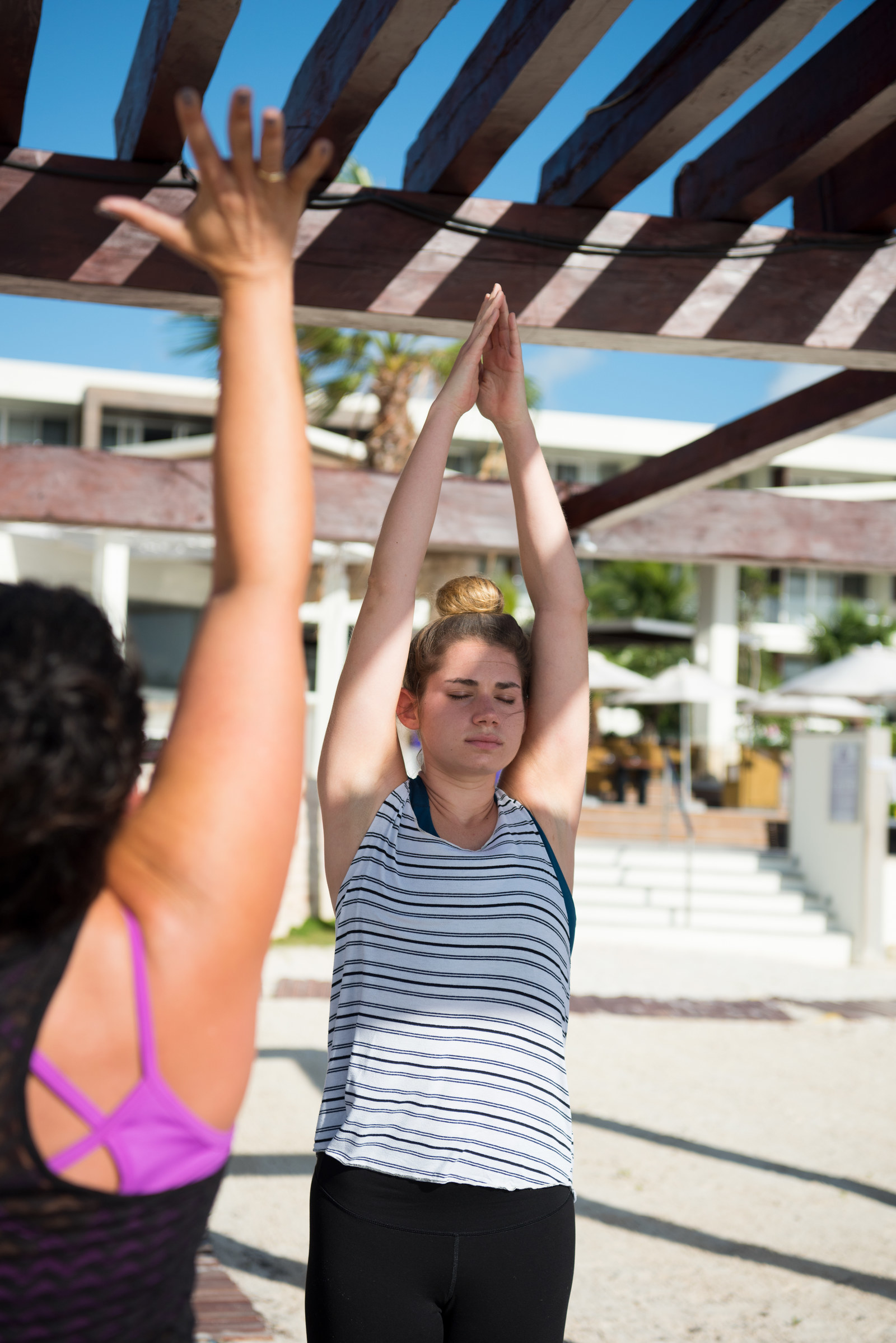 Jasmin: I'm not much of a gym worshipper, but I do love taking fitness classes. Emily, on the other hand, while she is a frequent at the gym, pretty much hates working out in groups. There will be many an occasion where I'll ask her to join me for an after-work class, and let's just say, the response tends to be less than enthusiastic. So since she relinquished control over to me for part of the day, I thought what better way to see her break out of her solo workout routine than to let loose to find some ~zen~ on the beach.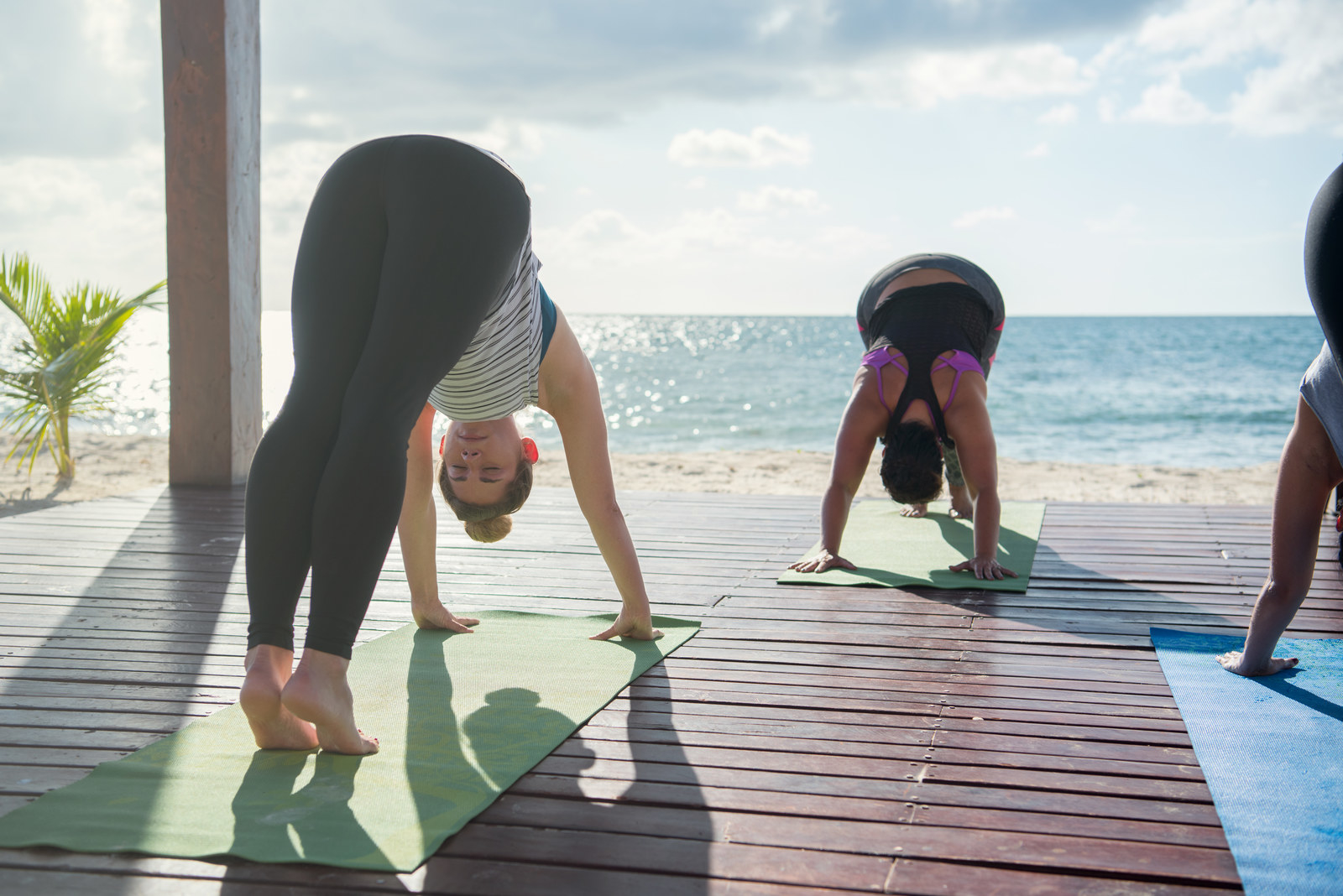 Emily: I'm not a yoga person. I'm the type who prefers heart-pumping cardio over calming my mile-a-minute mind and holding a pretzel-like stretch. When I met Jasmin for a beachside morning yoga session, my initial thoughts were skeptical, but I told myself to fully experience this trip "Vacation Emily" should be open to everything. Yoga was surprisingly rejuvenating as we went through the motions and poses, feeling the warmth of the sun seeping into my skin. The sound of crashing waves on the shore muted my usual thoughts of "What are we doing next?"
Jasmin: Although I was apprehensive to plan this activity for Emily, once we moved through a couple of Asanas, I peeked one of my eyes open to see how she was doing and I was elated to see her moving through each pose with ease — and looking like a total natural!

Emily: Keeping with the fitness theme, Jasmin informed me we were hitting up an Aquafit class in the Energy pool which seemed more my speed.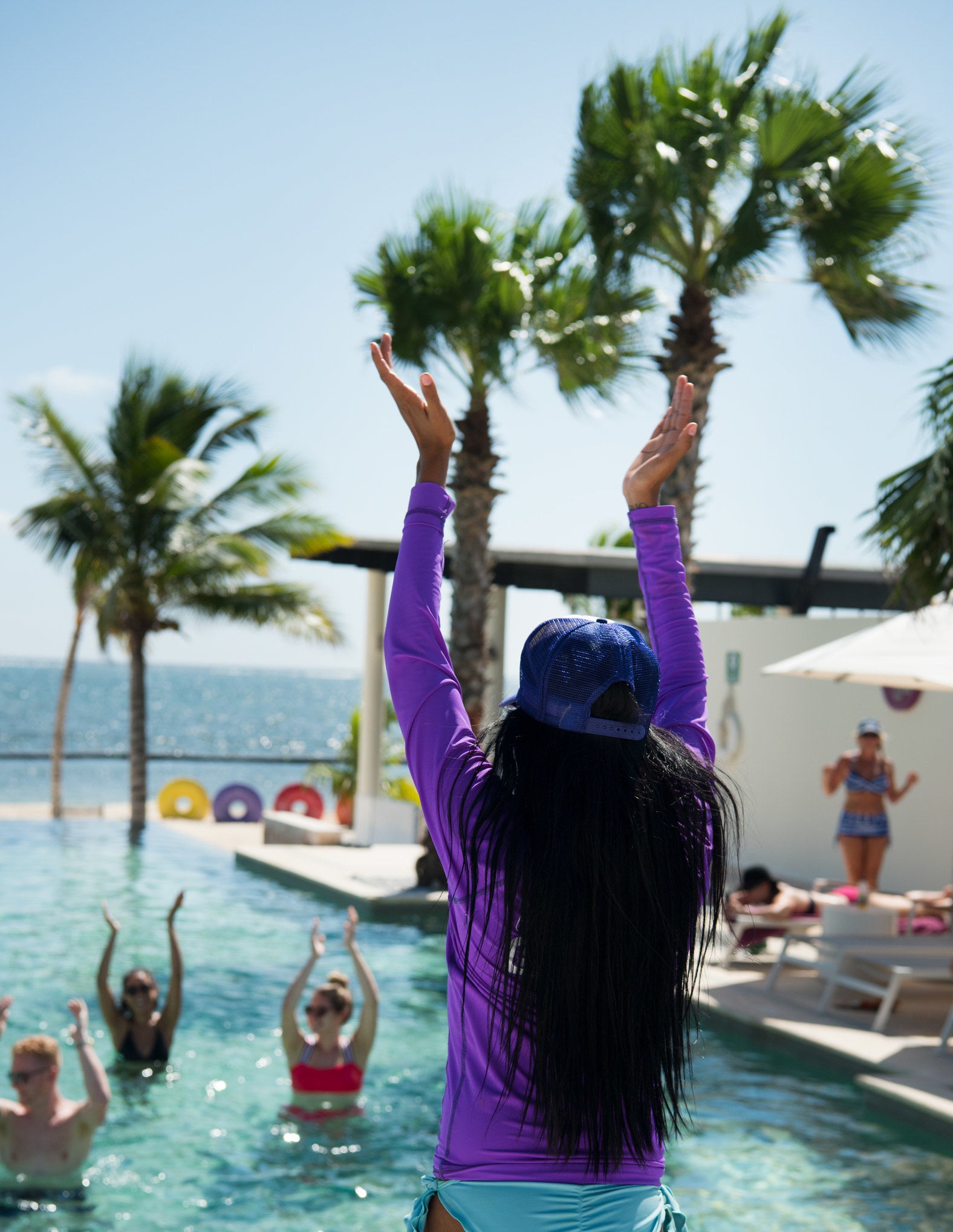 One of my favorite things about Breathless was the three pools that each had unique vibes. Xhale club members had access to the exclusive xhale pool meant for rest and relaxation, the xcelerate pool featured a DJ playing remixes to my favorite songs, and finally the Energy pool was the central hub for activities.
Jasmin: We had such an energetic instructor who took a liking to us, as she picked us out of the crowd to commend us on our efforts. It was a time to just splash around, let loose, and interact with fellow vacationers. I honestly had a ball, and from the fits of laughter we were in, it seemed like Emily did to!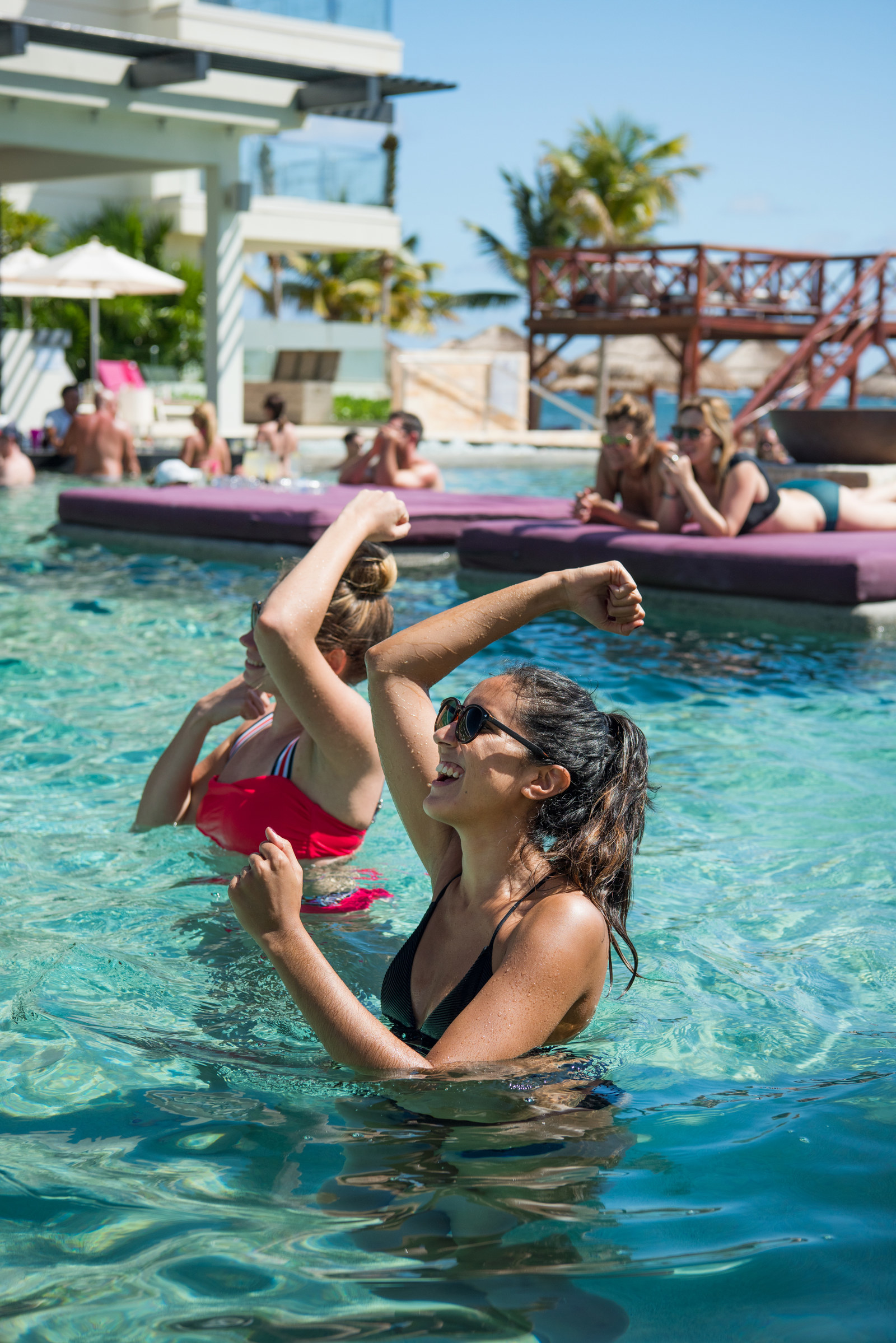 Emily: Even though I am a cardio queen, classes aren't usually my strong suit. When the instructor called us out to join the Aquafit class, I hesitated dipping my toe into the pool but found myself running on the mental high from yoga enough to wholeheartedly jump into the water. Over the course of the class we punched, bobbed, and squatted in the water (which is definitely more enjoyable than out-of-water squats). Sunbathing observers cheered us on as we finished off floating in a circle, hands clasped and cores clenched with other participants laughing along like some sort of goofy, D-level water ballet team.
Jasmin: As soon as I found out the resort offered an afternoon foam party, you better believe I was looking for the sign-up sheet! This was something that was so out of the ordinary for us, so, most likely to Emily's dismay, I added "foam party" to our to-do list!

Emily: Mellowing out, I was ready to spend the afternoon burning through a few chapters of my beach book, but we had arrived at the xcelerate pool in time for the ancient Greek-inspired Olimpo party that also featured a foam cannon! As we danced around to the live music surrounded by foam in the pool, I wasn't worrying about the next unknown activity, just living in the moment, and it felt as if Vacation Emily had finally arrived.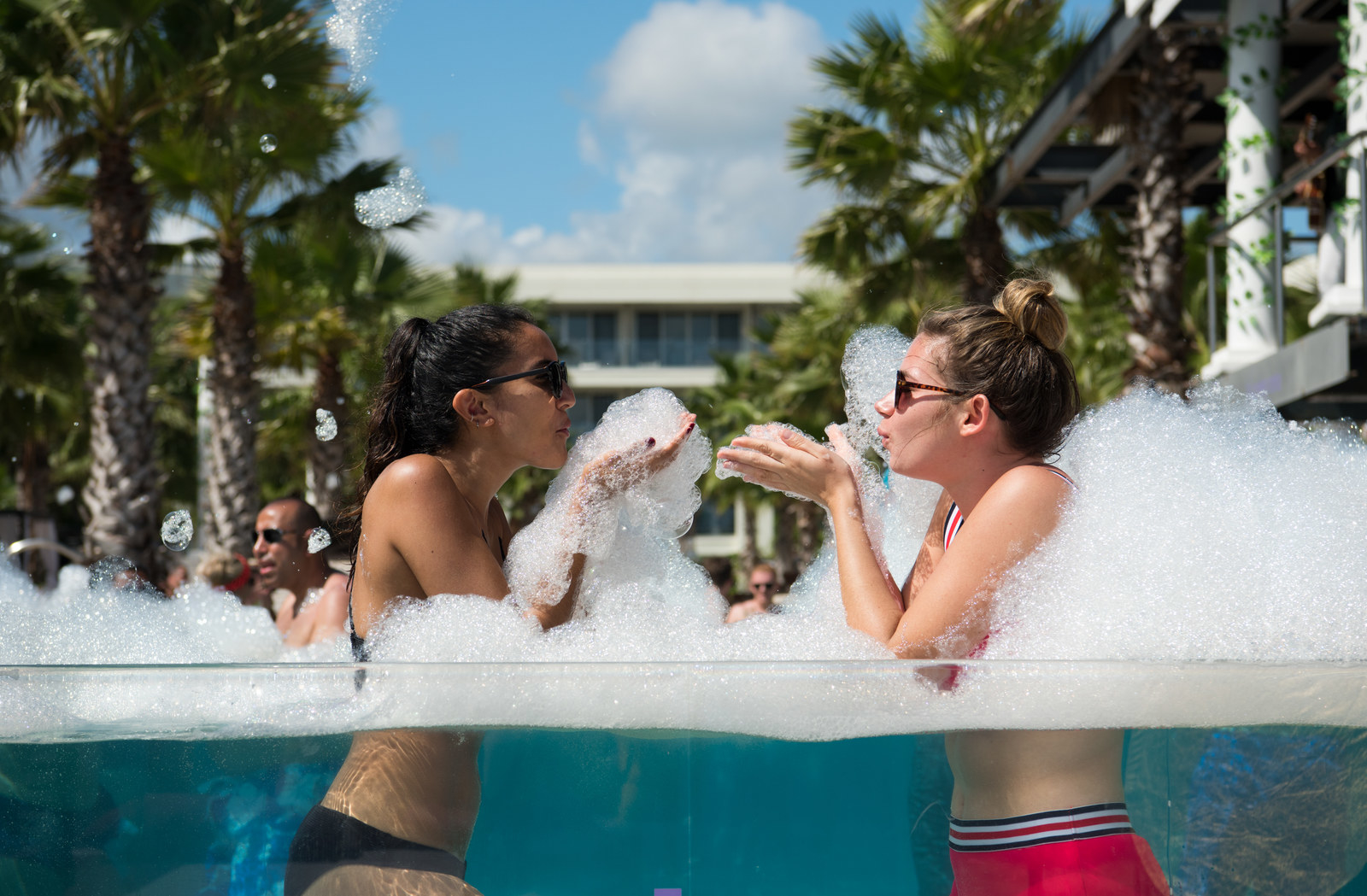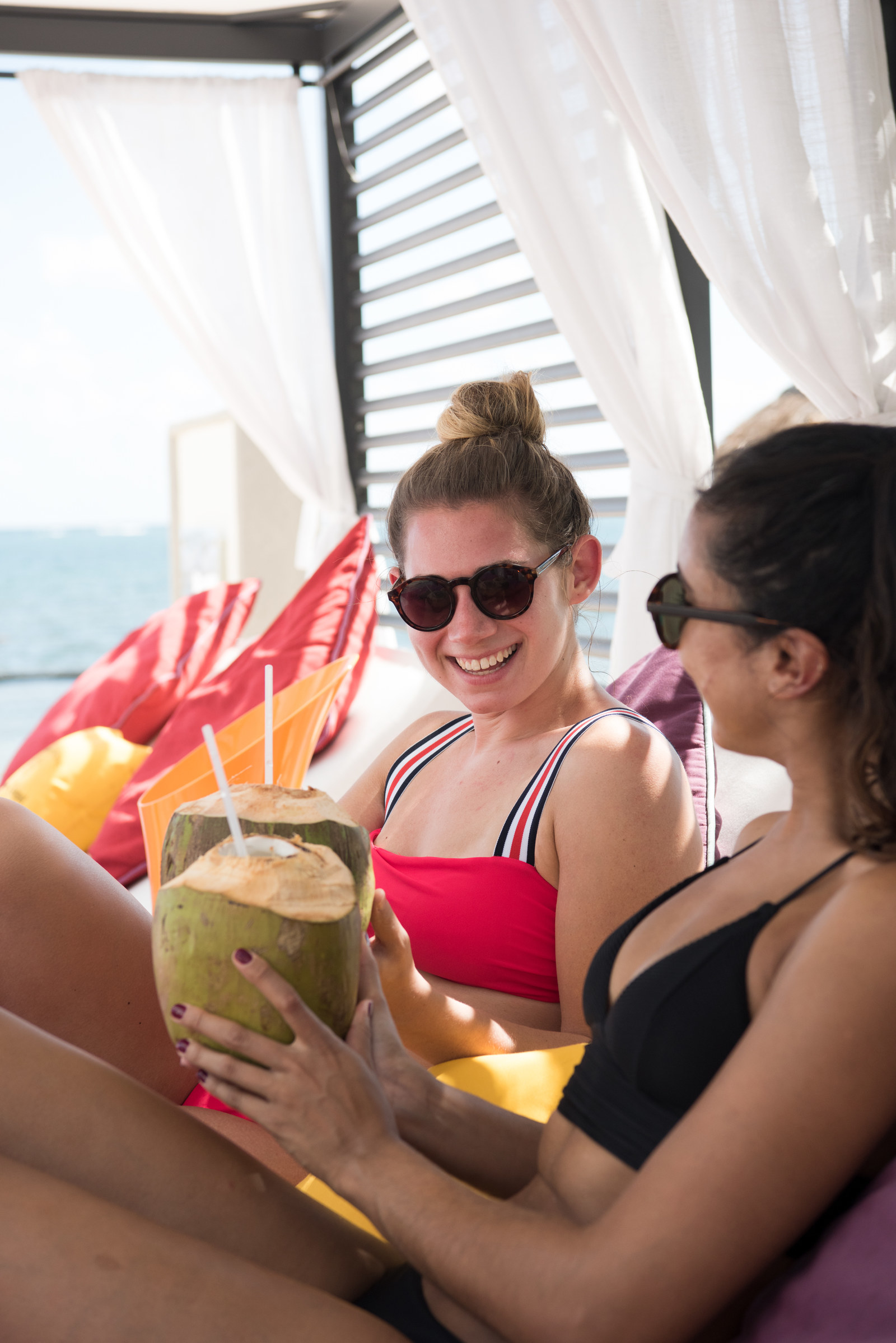 Jasmin: Let's just say Breathless Resort & Spas knew how to bring the fun! The pool was packed with people looking to break up their day with an afternoon pool party, the drinks were flowing, and there was a live guitarist playing along with the DJ; it was quite the experience! When it was time for a break from the action, we retreated to one of the private cabanas and just nestled back onto our loungers, received personalized drink service, and watched the party ensue before us.
Emily: As the afternoon rolled around, Jasmin must have read my mind that I'd want a little down time. We set up shop near xcelerate pool cabanas and sipped out of fresh coconuts and indulged in a glass of champagne or two. Other than the few times we go up to take a dip in the pool, I was finally reaching the level of relaxation my mind and body wanted for so long and nearly fell asleep in my lounge chair.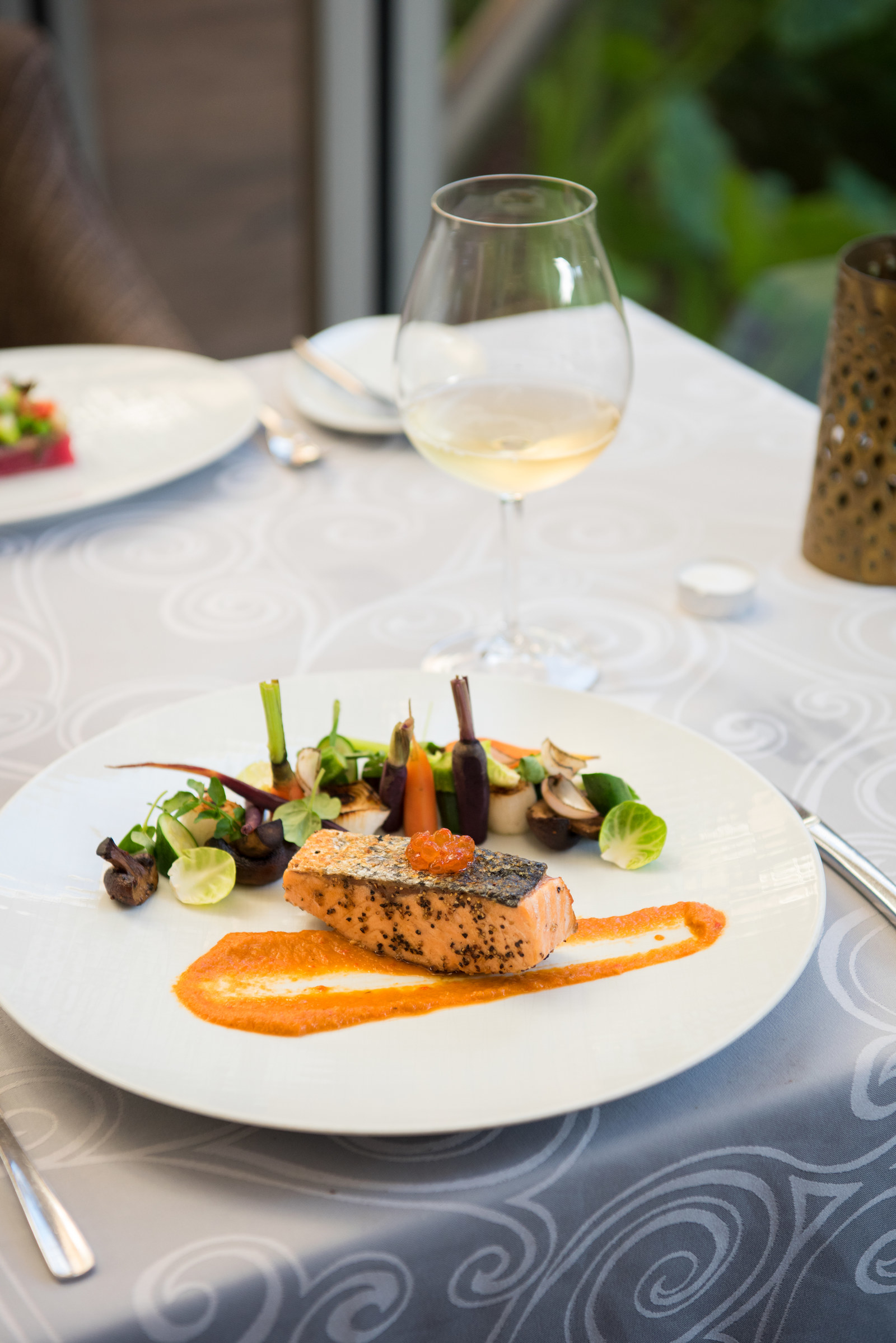 Jasmin: If there's one thing that Emily and I have in common, it's our adoration for food; but when we go out to eat, we tend to opt for the "no frills, just good food" route. So since the theme of this trip was to take a detour from our usual ways, I thought it would only be right to ball out and spoil ourselves for dinner. While exploring the resort, I stumbled upon an ornately decorated, boutique-like restaurant called Coquette. The fancy French offerings on the menu seemed miles away from our usual grab-and-go meals, so I thought this would be a lavish, one-of-a-kind experience that we could both enjoy.
Emily: As a fast food and pizza aficionado, I've always relied on Jasmin to expand my palate over the course of our friendship. While dinner at Coquette was out of my comfort zone, I knew Jasmin wouldn't steer me wrong when it came to delicious food. As tempted as I was to slip into my old control freak ways and peek the menu on the tablet in my room to plan out my entire meal beforehand, the excitement of the unknown surged through me and I decided to for once be surprised. We indulged in an over-the-top five-course meal with wines paired for each portion. I'm not usually a red wine kind of gal, but as we nibbled on our mini chocolate dessert tarts infused with berry flavors, I knew I couldn't have planned the meal better if I tried.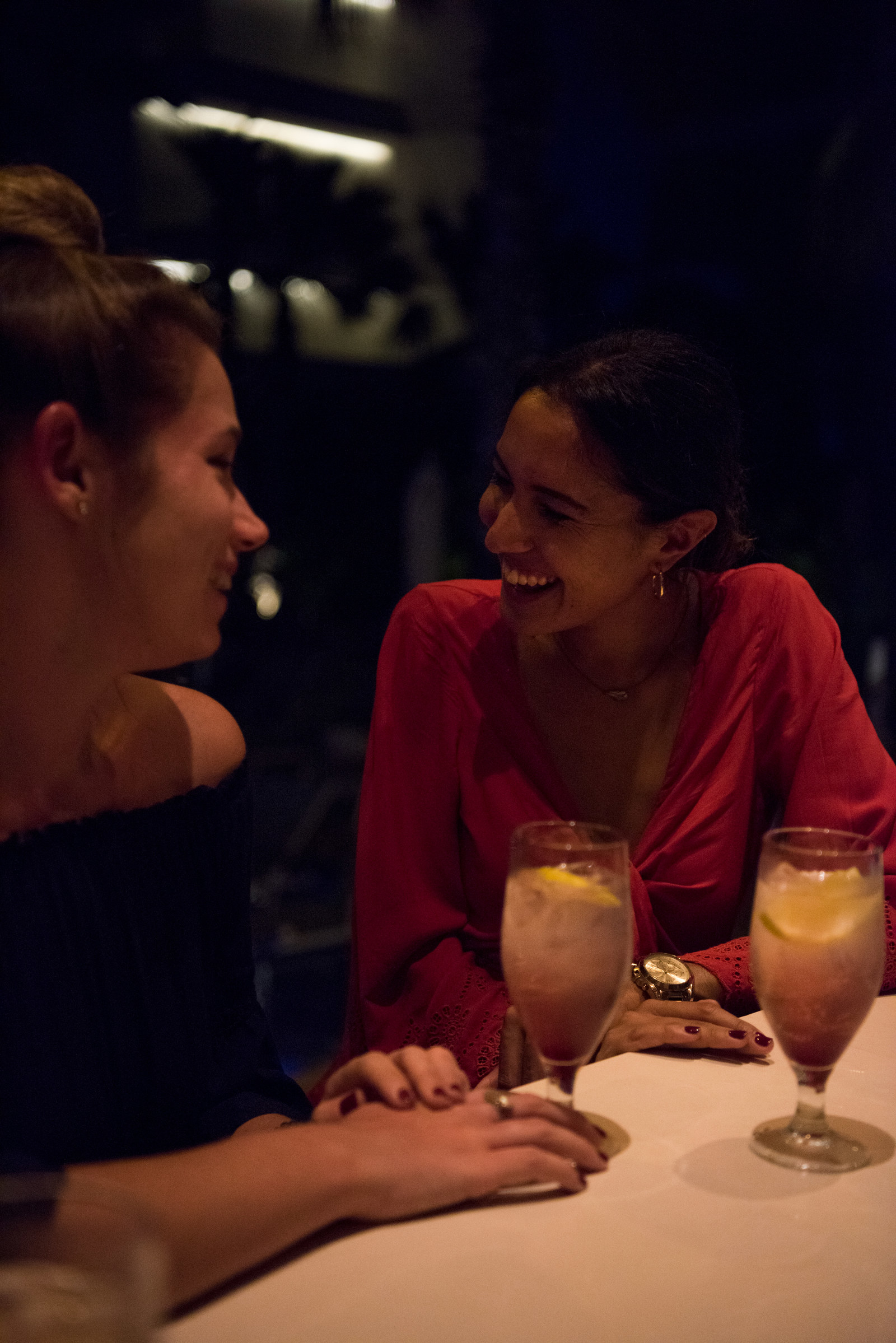 Jasmin: After dinner, we had the opportunity to check out The Bar where the resort helps you answer the much deliberated "What are you drinking tonight?" question with their very own in-house mixologist. I thought this would be a different experience for Emily and I to try, and since we were on the treat yourself train, I thought, Why not get a specially curated beverage made just for us?
Emily: While I usually have particular drink orders when going out, I decided to let Vacation Emily leave it up to fate when we took a seat at The Bar. "Something refreshing," was a horribly vague thing to tell our mixologist, but he delivered with a light and bubbly beverage with gentle hints of cranberry that seeped to the bottom of our glasses for a sweet twist. It was a cheers-worthy moment for Vacation Emily!
Overall, I was relieved that I had a thoughtful friend like Jasmin planning activities to get me out of my comfort zone and routines while also spending some relaxing quality time together.

Emily: Growing up, I loved kayaking on the rivers and lakes near my house, and now that I was in control of our plans, I wanted Jasmin to experience something 100% new and out of her comfort zone while we were at Breathless Riviera Cancun. Surprisingly, she was on board — literally — as long as I promised not to flip our kayak during our high-sea adventure. Even though I was pretty much in control of our little tandem vessel, I was glad Jasmin let me put on the captain's hat and lead her into unknown territory as we paddled our way up and down the shoreline.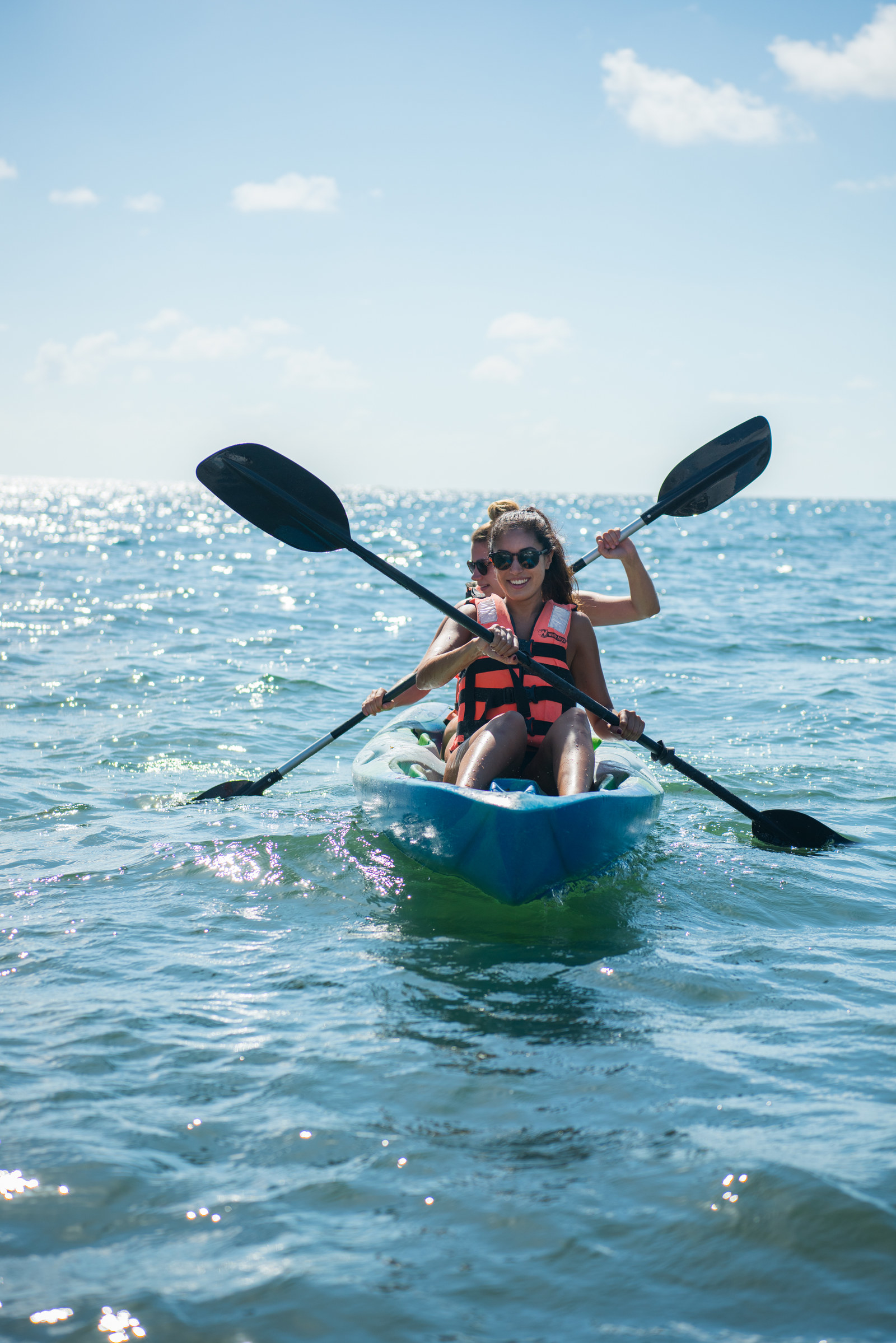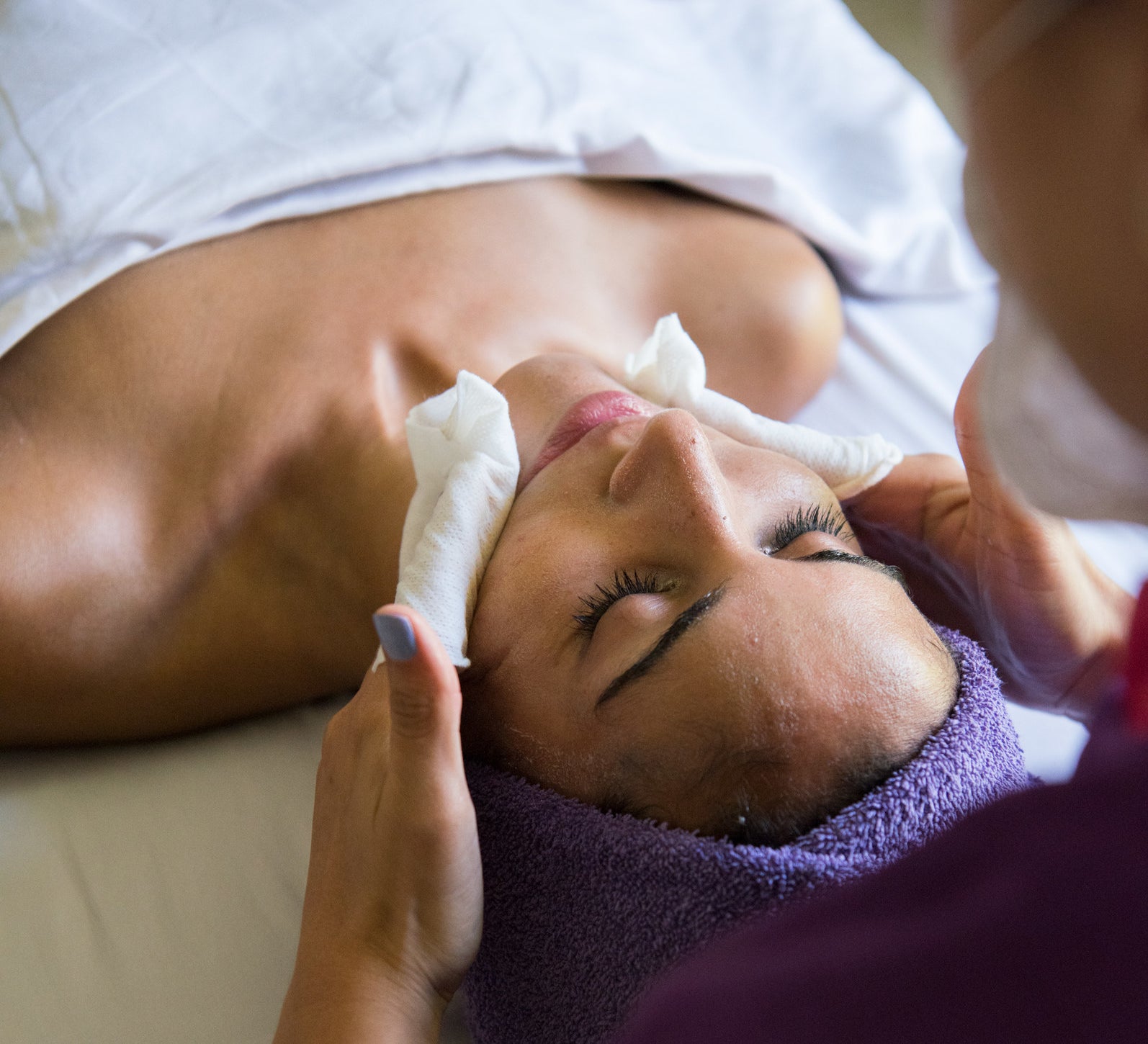 Jasmin: Don't get me wrong, one of the best parts of this vacation was enjoying the complimentary non-motorized water sports, but sadly kayaking is just not my forte; I'm more of a let's power through some waves on a jet ski! kinda girl. However, I tried to keep an open mind as Emily took the lead, and I slowly inched away from my parameter-setting tendencies. As the friendly water activity team got us set up and eased us out onto the water, I instantly felt better about the experience. This was something that I've never had the pleasure of doing with Emily and I think we made a pretty great team, I was in front but by no means in charge. Emily took the reins, or I should say paddles on this one, and all things considered, it was an enjoyable way to spend the morning.
Emily: When I heard Breathless had expansive spa services, I knew I had to take Jasmin there to experience some luxurious treatments at the Spa by Pevonia®. Despite being a skin-care fanatic, I know that Jasmin doesn't treat herself enough to one-of-a-kind spa treatments very often, so I decided to pair a rejuvenating facial with a mani/pedi where we chose each other's nail color combos.

Jasmin: Next up, Emily decided to treat us to a facial and mani/pedi. I never think to take advantage of these services while on vacation, let alone at home in New York, so taking time out to indulge in some self-care at the resort was an exciting prospect.
As soon as we entered the building, we were welcomed with a refreshing beverage and brought through to the treatment area. The sounds of trickling water pitter pattered in the background as I settled into my facial. Cooling lotions were applied to my face as we received a relaxing head and shoulder massage throughout. I truly felt invigorated after the treatment and when Emily and I reunited for our mani/pedis, we certainly had a new glow about us.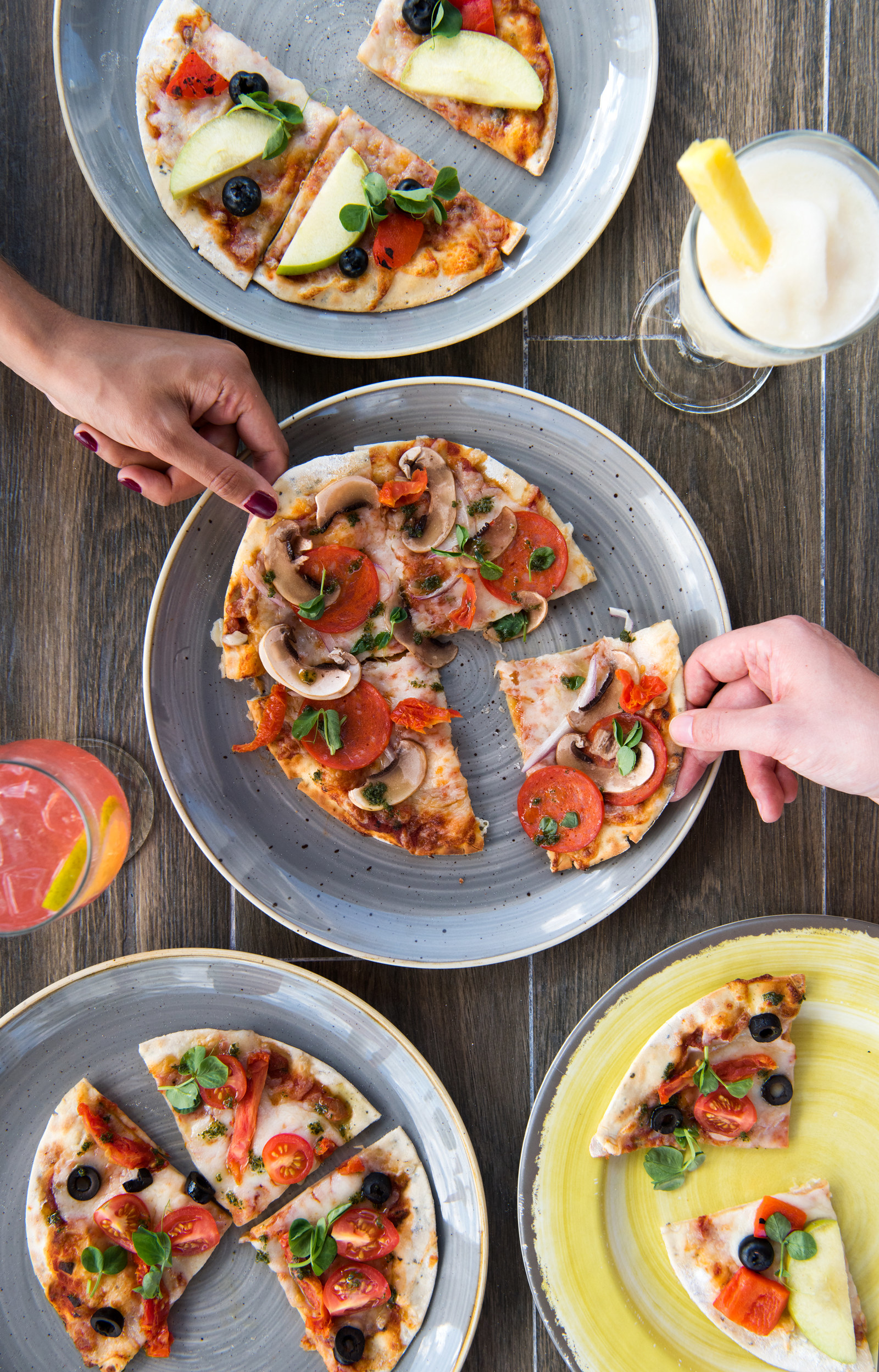 Emily: Days before our trip to Breathless, (true to my know-it-all nature) I browsed their website to get a taste of all the restaurants available at the resort, and once I saw Foam, I knew we had to make a stop there. The beachside views, swing bar, and, of course, pizza were picturesque and enticing enough to warrant a mini photoshoot during lunch. Hello, influencer pics.
Jasmin: I've known for a while that cornhole is a favorite pastime of Emily's, and whenever we're out and it's set up, you can pretty much count on us throwing around a couple of bean bags. So as we wandered over to grab lunch, sure enough we spotted it and made a quick pitstop. True to her reputation, Emily beat me by a mile as I failed to get the bags anywhere near the holes. In spite of that, having the ability to play this wholesome game on a beach in Cancun, definitely made it easier to accept the defeat.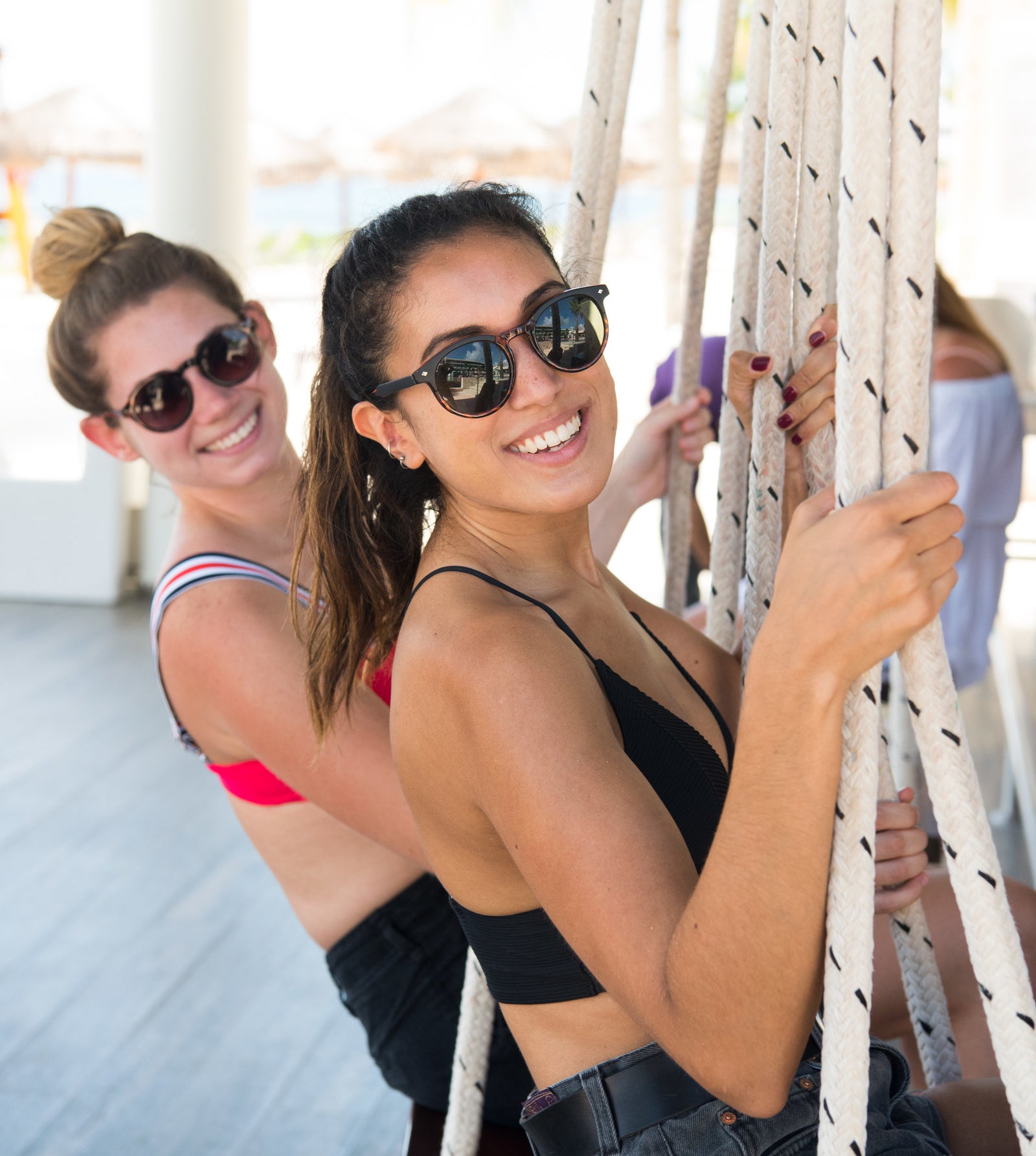 After all the morning activities, we worked up quite the appetite, and Emily chose to stop by Foam, the beachfront pizza swing bar. This place gave us all the vacation feels with fruity cocktails served to our liking and delicious wood-fired pizzas to nibble on as we sat and chatted at the bar. Much to my elation, the action at the resort didn't stop there as we were able to get front row swings to the afternoon activities where vacationers took part in a beachfront dance class. Clapping along, I wasn't even thinking about what was next on our agenda for the day.
Emily: As long as I've known Jasmin, she has been a dancing queen when we go out on Saturday nights. With Breathless's nightclub, After Dark, steps away, the opportunity to release "Dancing Queen Jasmin" in Cancun was too good to pass up, so we definitely had to make an appearance on the dance floor.
Jasmin: I'd like to think Emily knows me pretty well at this point in our friendship, and when I found out she had planned for us to hit the resort's nightclub, it definitely brought a smile to my face. OK, Vacation Emily, I see you!
As I pretty much take any opportunity there is to dance back home, much to my delight, there wasn't anything too dissimilar about this night out. We broke it down, threw our heads back laughing at one another's killer moves and just let loose on the dance floor. With drinks in our hands and smiles on our faces, we danced the night away!
Emily: After a night out dancing, Jasmin and I can be found at one place: a deli getting late night snacks. Post-dancing food was one of our back-home routines I wasn't willing to let go of. But this time, we didn't have to lift a finger in our search for nighttime eats, thanks to the 24-hour room service and a fully stocked mini fridge, so we could go to sleep with tired feet and full stomachs.
Jasmin: Post-club and past 1 a.m., decked out in fluffy Breathless robes, we cozied up on the huge bed with some delivered-to-our-door comfort food. Because what better way to end an action-packed day than indulging in the resort's 24-hour room service?! True to our food-loving brand, we giggled over some nachos and wings as we reflected on the antics of our day.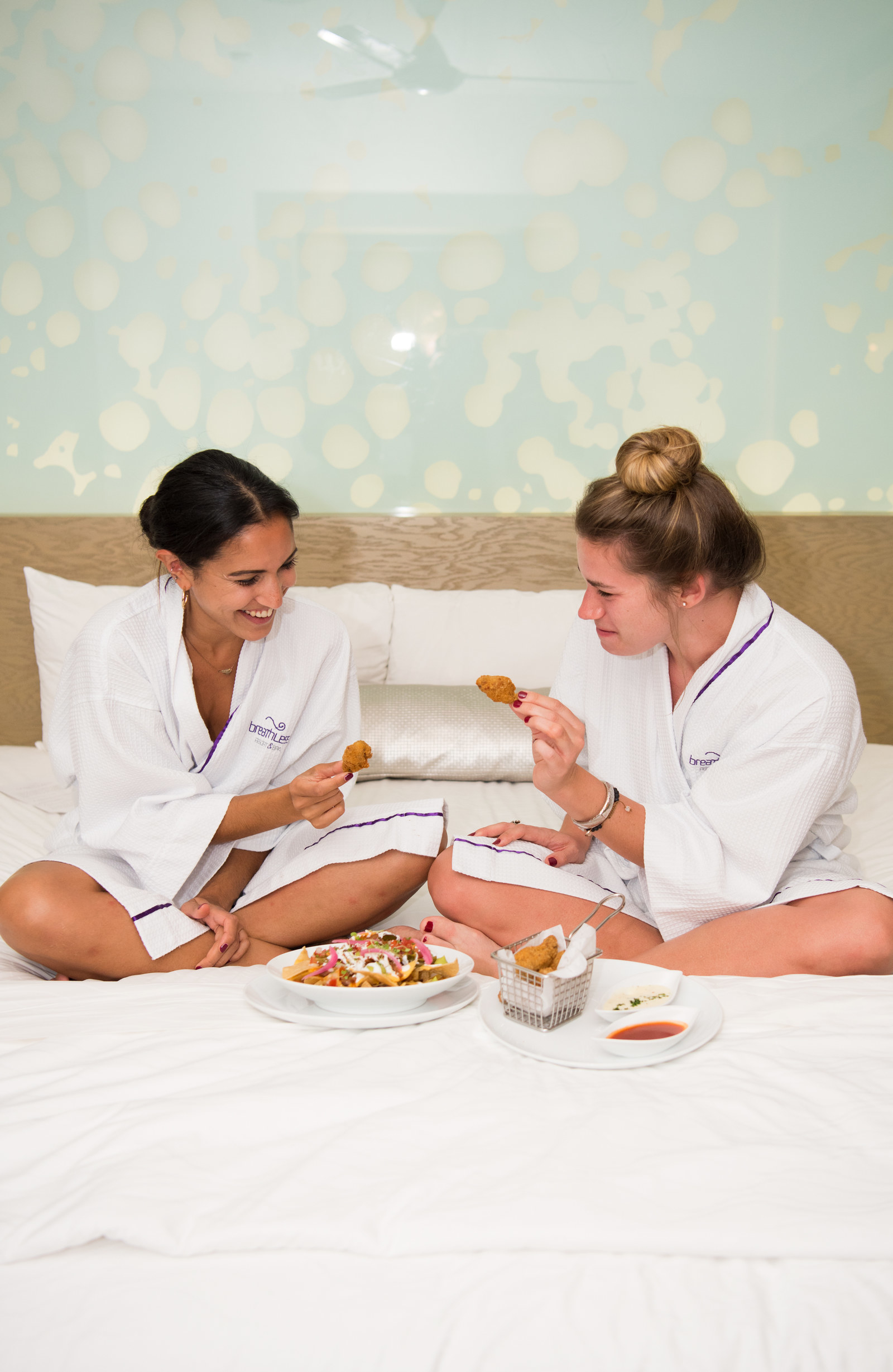 Emily's activities allowed for the perfect balance of action and relaxation, and I've gotta be honest, I was a little taken aback to see this new, vacation side to my bestie who usually prefers the quieter things in life!

Emily: This trip made me realize that I need to start treating myself more often. While I find comfort in my routines, at a resort like Breathless Riviera Cancun, I found that I can have the best of both worlds, living big and breathing deep. I was able to let go and embrace the unknown, allowing my Vacation Emily persona to live in the moment. I'm so glad I had a friend like Jasmin along with me on this crazy ride to share the food, relaxation, and memories. Deep down, I may always be a control freak, but as long as I have adventurous friends and travel companions, little by little I can learn to take a breath from the stress of life and actually enjoy myself on vacation.
Jasmin: I've realized that when you take it upon yourself to be the planner of the group, you fail to fully immerse yourself in the experiences you initiate. Allowing someone else to take the reins on this trip was refreshing; and although there were moments where I may have wanted to take the lead, taking a backseat to actually enjoy the different experiences gave me a fresh perspective. And without a doubt, Breathless Resort & Spas offered the best backdrop to breaking away from our day to day and allowed Vacation Emily and I to have an unforgettable Best Friend Honeymoon.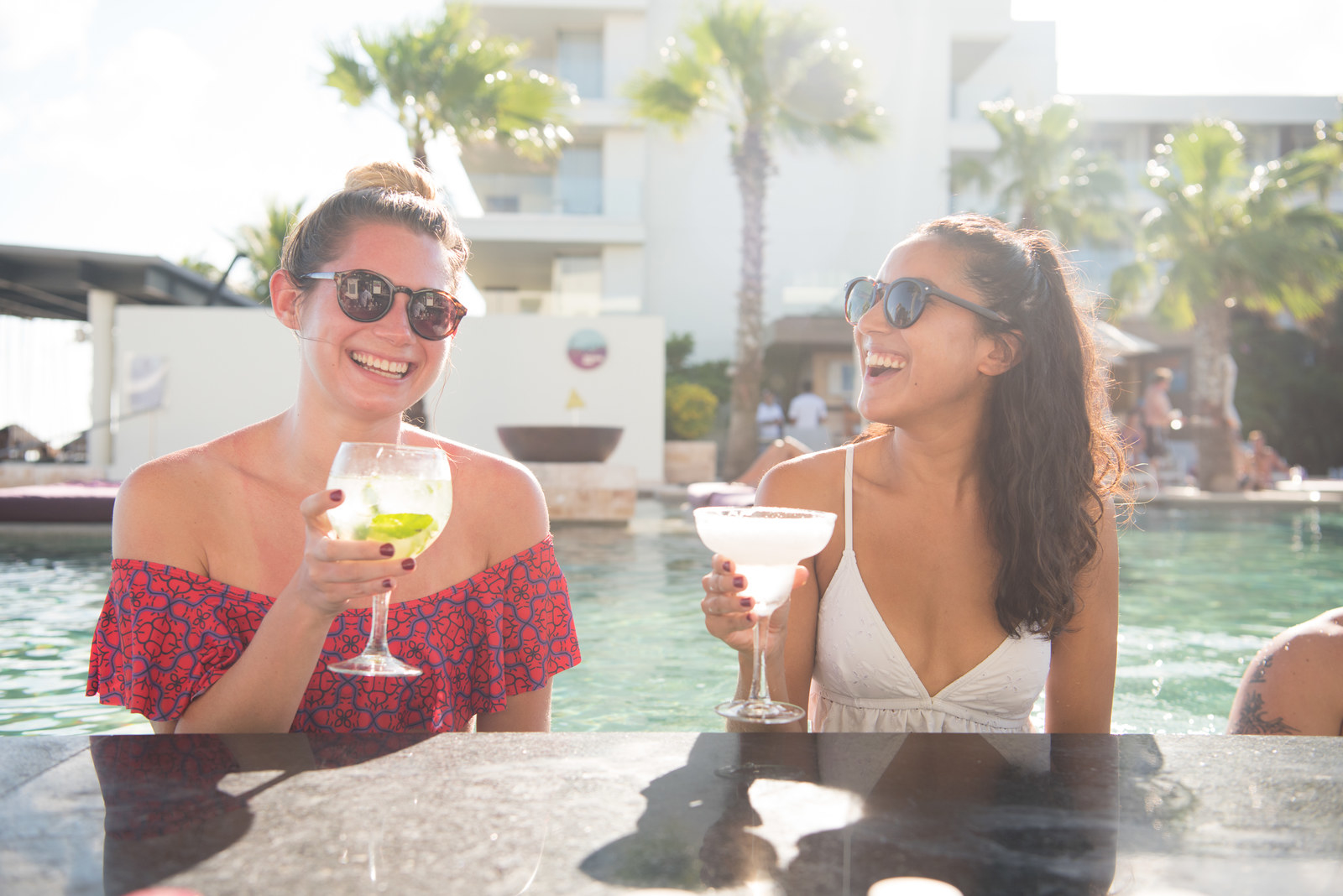 Photos by Sarah Stone for BuzzFeed.
Design by Victoria Reyes.
Whether you're a control freak looking to let go or just want to treat yourself to Unlimited-Luxury®, at Breathless Resorts & Spas, the options for a one-of-a-kind vacation are endless! Located throughout Mexico and the Caribbean, your next vacation is just a click away.