Ethan and Grayson Dolan, 19-year-old twins who have built up millions of followers on YouTube since they burst onto the Vine scene in 2013, have had to tell their fans not to go to their father's funeral after trolls started a campaign urging people to attend.
The Dolan twins announced the passing of their father Sean, who was diagnosed with cancer in 2016, on Sunday. Both Ethan and Grayson said in tweets that they would be taking some time off from social media to be with family.
A few days later, posts on Instagram and Twitter began to surface about the whereabouts and timing of the funeral.
A now-deleted Instagram account uploaded two notes on Sunday, saying the obituary for Sean would soon be uploaded "as soon as the funeral home posts it". By Wednesday, the hashtags #SeanDolanFuneral and #SeanDolanMeetupParty had taken off and other Twitter accounts had emerged promising to tweet out the location of the funeral.

Many of the Dolan twins' fans on YouTube were quick to criticise anyone talking about attending the funeral.

And some have gone so far as post public service announcements about why fans shouldn't attend.
Over the last few days, trolls have begun latching onto both hashtag campaigns, promising things like Taco Bell, merchandise, and free car rides to the funeral.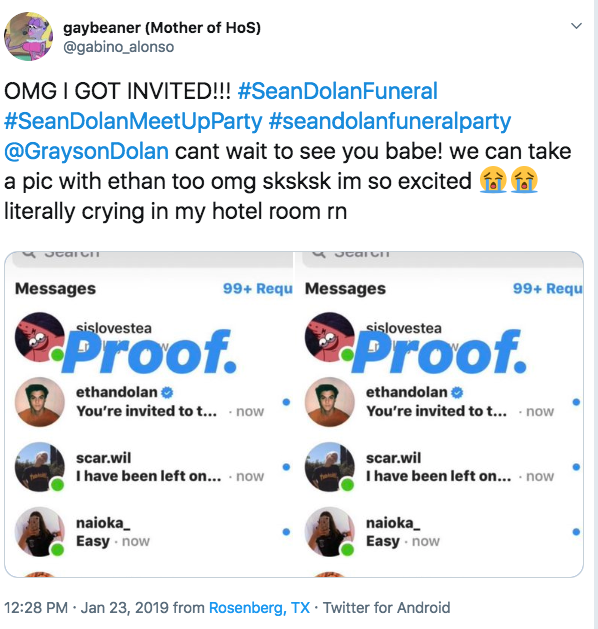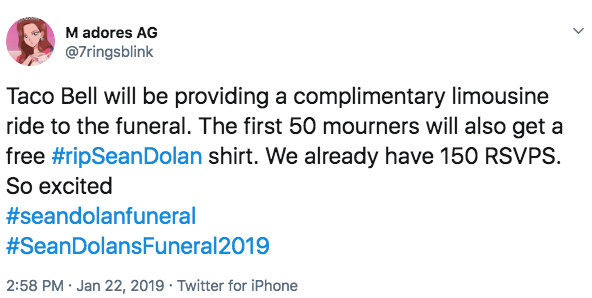 When the Dolan twins tweeted asking people not to attend the funeral it only served to send the trolling into overdrive, with people posting their itineraries for the day with mocking notes like "dress cute" and "please cry".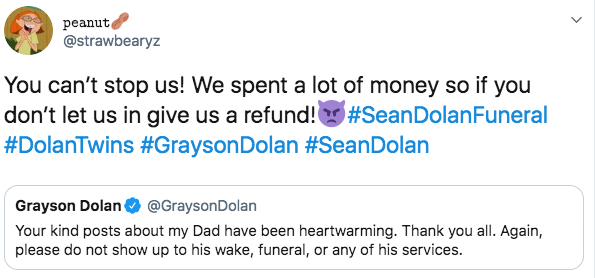 Speaking to BuzzFeed News, multiple fans who had derided others for talking about going to the funeral suspected K-Pop fans were the ones who started the whole thing.

The suspicion comes as one of the twins, Grayson, had already sparked a backlash from K-Pop fans last year for mocking overworked pop stars.
Appearing in a video on YouTube, Dolan pretended to faint before saying "we're like K-pop", a comment that referred to the multiple times Korean pop stars have fainted due to fatigue and overwork.
K-Pop fans did not take the joke well. "Imagine thinking that mocking someone for passing out from being overworked is funny," wrote one person on Twitter. "Yeah people overworking themselves and passing out is so funny," wrote another.
Following a backlash from K-Pop fans Grayson Dolan did comment on the incident in a series of now deleted tweets.
"I want a positive change for overworked stars in ALL industries," he wrote. "Health is extremely important. Don't engage with anyone attacked me, there was a misunderstanding, and I forgive.
"If you are still upset with me, there is nothing else that I can say. I know that I am a genuine and kind person and I am here to do nothing but spread positivity and make people laugh. Everyone makes mistakes. Sorry again if I upset you."
When news first broke that Sean Dolan had died K-Pop fans were slammed, both by Dolan twins fans and other K-pop fans, for mocking the death.
No actual information about Sean Dolan's funeral appears to have been leaked online. Other K-Pop fans have been apologising for the abuse since it began.