This is Daisy Dog.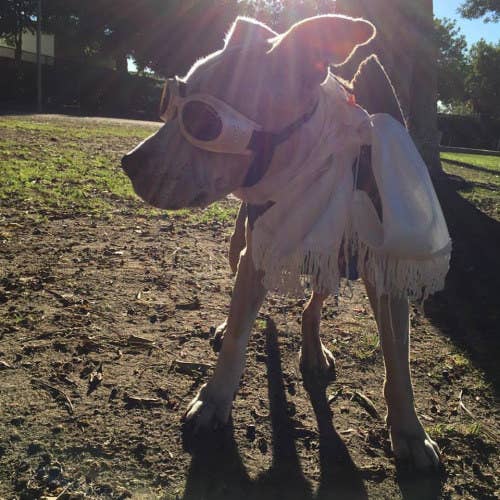 Daisy is a pitbull who was rescued by her owner, Nina, in 2002.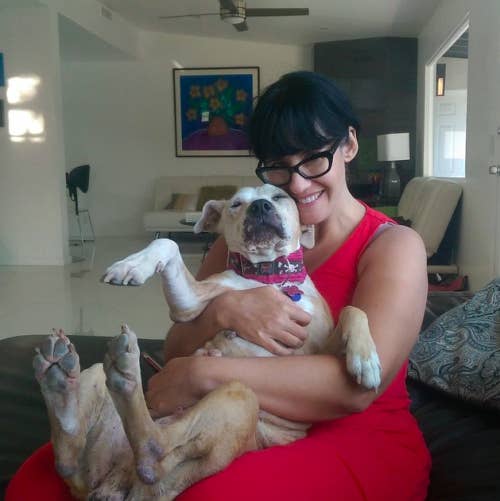 Nina got Daisy from the Riverside County Animal Shelter in California.
Nina told BuzzFeed News she wasn't planning to get a dog on the day she picked up Daisy. She had visited the shelter for work.
"She wagged her tail at me and I just had to get her out of there," wrote Nina on her blog.
"She used to not get along with dogs", Nina said. "It took eight years of doing behaviour shaping on every walk until she was totally cool with dogs."
Daisy has a Twitter account with more than 2,000 followers, where she told people to have a good day and to keep positivity (and dogs) in their lives.
Daisy had plenty of defining features. She liked pizza:
And was a long-suffering Mets fan.
Perhaps most notable, though, were her goggles.
"Daisy had focal seizures that were triggered by bright light," said Nina. "So I bought her the Doggles and thought if they weren't helpful or if she hated them, I was only out 15 bucks."
Lucky for Nina, Daisy loved her new goggles.
Even if she couldn't always get them on just right.
Nina was a writer on Lizzie McGuire, and says she owes her career as a TV writer to stray dogs.
"I found [a stray dog] and took it to the shelter. The woman who ran the volunteer program knew I was a sucker and got me to volunteer. Eventually I met her daughter, who became my friend and mentor and she gave me my first writing job on Lizzie McGuire."
The woman who gave Nina her first job writing on TV turned out to be the very same woman who paired her up with Daisy.
So, Daisy has had a pretty big role in Nina's life, as well as everyone who followed her life on Twitter.
Today, Nina and husband Will made the incredibly tough choice to let Daisy go.
"More than 13 years ago a girl found a dog with no name in a shelter. The dog had been used as a breeding dog and then had been discarded. The girl took that dog home and named her Daisy," wrote Nina's husband, Will, on his blog.
Daisy's health had been deteriorating for the past six months. "She wasn't in pain," wrote Nina, "but going for a walk became going for a stare".
Ultimately, Nina says it came down to one important thing: joy.
"She had no joy," said Nina. "I know that when you choose to have a dog, you're choosing to have your heart broken."
RIP Daisy Dog. You will be missed.