A tweet that jokingly suggested a 3D-rendering of Britney Spears was in fact scientists attempting to recreate the Egyptian ruler Cleopatra has inspired a huge new meme.
The tweet, sent out by a Britney Spears stan account, was originally meant to just be a take on an already popular tweet featuring Lana Del Rey.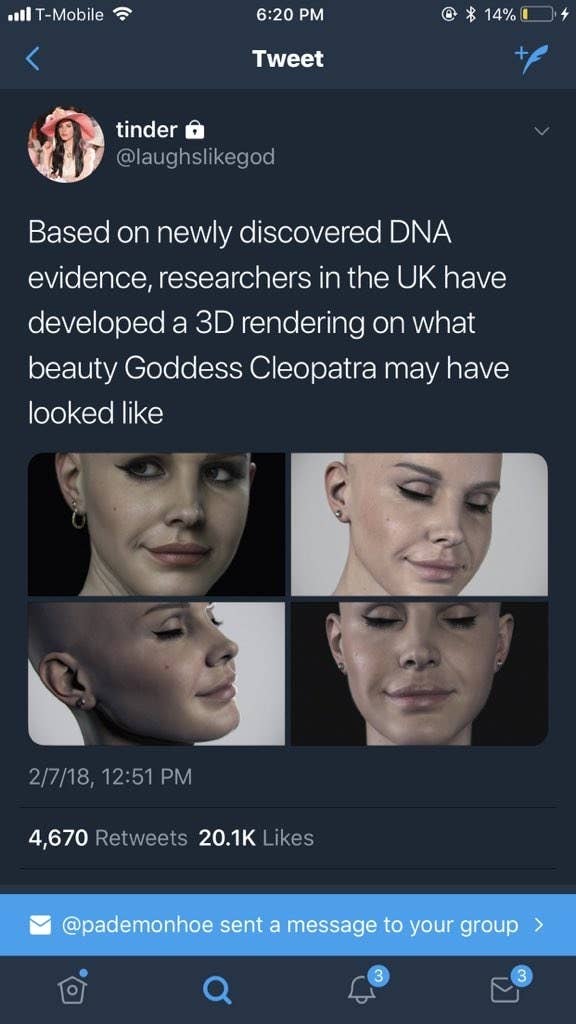 "One of my mutuals has a viral tweet about Lana Del Rey and Cleopatra and I just made it into Britney," the person running the @lovemedown account told BuzzFeed News. They also said most of the responses to the tweet featured people arguing over Cleopatra's ethnicity.
There were also some people upset that no one had read the scientific article...
@Lovemedown said there were some alt-right white supremacists getting in on the discussion, too, "but that was short lived thank God".
Shortly after the initial tweet, another tweet with the simple line "It's Britney bitch" blew the meme up to tens of thousands of people. It has well over 100,000 retweets.
Soon enough, people were posting their own 3D renderings of Cleopatra.
There were... some interesting choices.
And bizarre... familiar renderings...
In truth, no one had iPhones or cameras when Cleopatra was around, so we have to take what we can get from art, literature, and sculpture. That said, I think it's pretty safe to conclude that most of these... are not 3D models of her.