People Were Super Confused With This Comedian's Half-Time Crossover During A Soccer Match
"What an utter, complete disaster."
English Premier League giants Liverpool FC made their long-awaited return to Sydney on Wednesday night, playing reigning A-League champions Sydney FC in an exhibition match.
While the match was a spectacle and included 70,000 fans blasting out Liverpool's iconic anthem "You'll Never Walk Alone", a lot of the attention from those not at the game was on the coverage of the match from ABC2.
Presenters Jules Schiller, Tegan Higginbotham and Steen Raskopoulos tried as best they could, but people were not buying ABC2's coverage of the event.
But it was at half-time, when sideline presenter and comedian Aaron Chen attempted to interview some local supporters, that things really got weird.
The segment, in which Chen accidentally talked about "possessions" instead of "positions", had hundreds of people at home scratching their heads, unable to figure out if Chen was deliberately putting on his awkward persona or if ABC2 had actually rolled out a completely unprepared comedian to cover the sideline.
In the end, it did seem like Chen knew exactly what he was doing. The comedian continued his coverage on Twitter, opening up his DMs to the public and tweeting out some of the messages he had received on Facebook.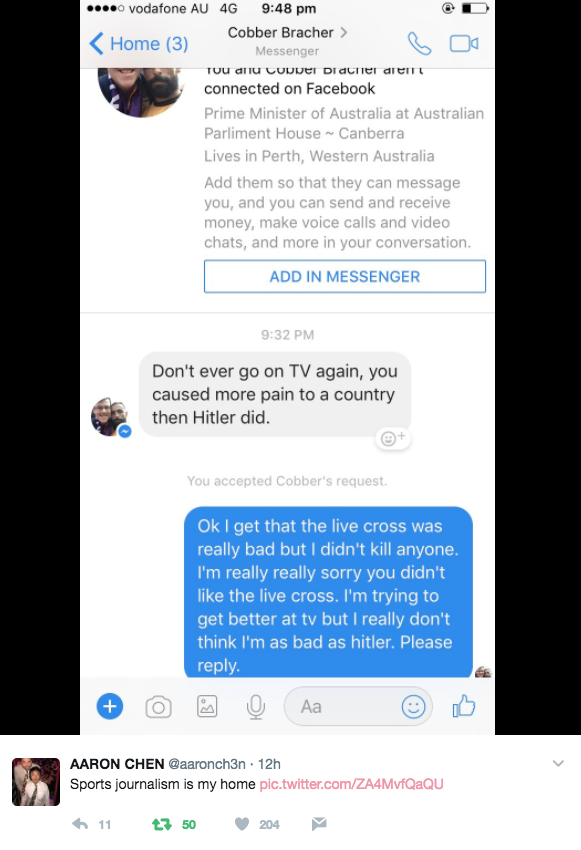 Seems Chen saw his opportunity to cement himself as an artist and did just that.
Football Federation Australia responded to ABC2's coverage of the game on Thursday morning via the A League's official Twitter account. It said the FFA was disappointed with "some aspects" of the broadcast.