Kae Norman, the founder of Rescued With Love, took to her Facebook page on Tuesday to write an open letter to a soldier who was forced to give up his mother's dog.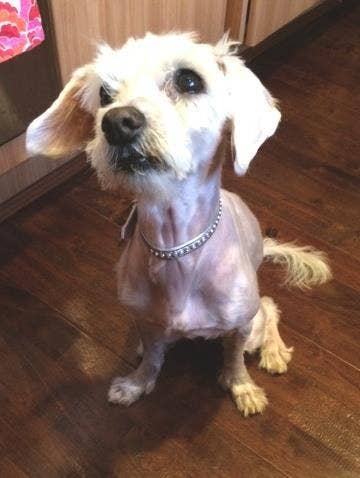 The unnamed man had to leave 12-year-old Prinny with the RSPCA, and subsequently Rescued With Love, when he was enlisted to go to Iraq to fight for his country shortly after his mother died.
The letter begins:
Dear Soldier, you don't know me, but I know of you. I know you were heading to Darwin and then being deployed to Iraq. You are probably going through more than what anyone can ever imagine – and I wanted to ease your mind by letting you know your Mum's dog Prinny is safe and happy with us at Rescued With Love.
I know your Mum passed away and I am so sorry for your loss. Losing parents is hell, and to have to give up Prinny and surrender her to the RSPCA because you had no option would have been an unbearable burden.
I read your surrender form which came with her paperwork, and my heart broke for you, for Prinny and for your Mum. You wrote such beautiful things about Prinny, and what a gorgeous girl she is. You were right, she certainly is.
Older dogs can be tough to rehome, but a veteran found out about Prinny's backstory and adopted her.
We know Prinny is 12 years and 4 months – and it is not easy to rehome a dog that age, I guess you know that, and thought you would give her a chance anyway. The RSPCA did their best, and she was with them for ages – and then a phone call from a kind lady found Prinny on her way to us – and I want to tell you about her new home. If it's ok, I want to tell you a little about that.
Prinny was adopted before she even came to us, because her foster Dad Brendan is a Veteran.
He heard about Prinny's predicament – and wanted to step up regardless. I asked he and his wife to just wait and foster her – but it seems I didn't need to be cautious at all. Prinny has fallen in love with her Dad, and he with her, and they are now inseparable, and very very loved.
The open letter has gotten over 2,000 shares and 6,000 likes since it was posted yesterday.
I don't know where you are, or how to find you to tell you Prinny is safe. Maybe this will find you. All I know is my throat ached when I read your writing on that form when you handed her over – and I could not try to let you know she is safe, and very happy. Stay safe soldier. Kind regards, Kae Norman, Founder, Rescued With Love Inc.
Today, the page announced it had made contact with the original owner of Prinny and that he is going to see her new home soon.
All in all, we're crying happy tears that Prinny found a home. :')