Chasing Asylum At Splendour In The Grass
A small crowd took a break from the loud music and drinking of Splendour in the Grass to watch Chasing Asylum, a documentary on Australia's controversial asylum seeker policies.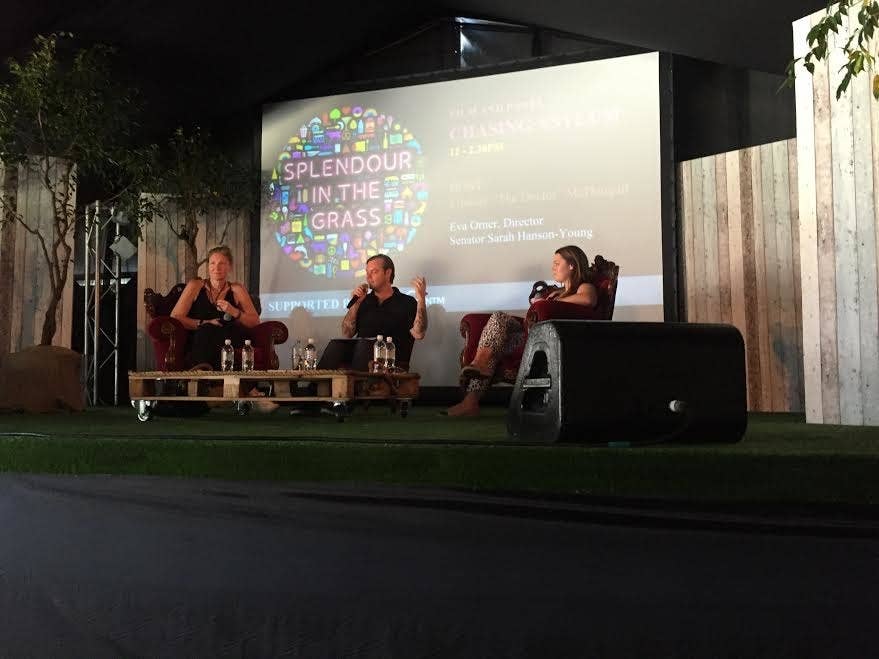 A crowd of around 100 people sought shelter from the 24-degree Winter heat in a tent at Splendour in the Grass today to watch Academy Award winning director Eva Orner's film on the Australian government's asylum seeker policy, Chasing Asylum.
As the crowd of obscure hats, overalls, printed silk shirts and cut-off jean shorts watched the grim footage, the humming of the Pilerats DJs in the Smirnoff Vodka tent 50 metres away humming in the background.
Chasing Asylum is a montage of footage from whistleblowers, security guards, and Salvation Army employees who all worked at the Nauru detention centre – a refugee processing facility run by Australia. Inside the tent, a girl muffled tears as footage played of former prime minister Kevin Rudd announcing Australia's new asylum seeker and refugee settlement deal with Nauru in 2013. During brutal footage showing acts of self-harm by refugees on Nauru, a man with a ponytail put on his sunglasses.
When the film finished, former Triple J-host Lindsay "The Doctor" McDougall took to the stage to moderate a Q&A panel featuring Orner, Greens senator Sarah Hanson-Young, and eventually one of the whistleblowers from the film, Mark Isaacs. "I was gonna say, the whistleblowers all look like normal guys, like they could be at Splendour," McDougall joked as he beckoned Isaacs, who is here for the festival, from the audience to the stage.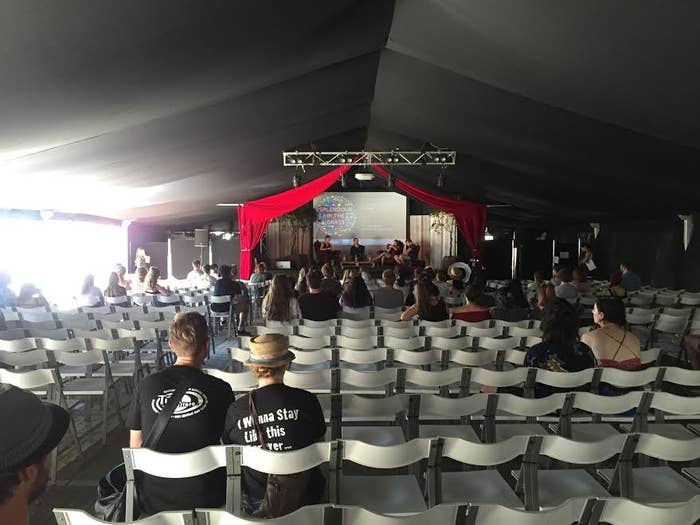 "I need to get every member of the ALP and the LNP into a theatre, Clockwork Orange-style, and make them watch this," McDougall said.

"I can't watch it anymore", Orner said. "It's tough and I think it's really important for people to see it."
Senator Hanson-Young said she's glad the film is finally out, but echoed Orner's sentiment. "I'm not sure I can see it again for a little while. It's pretty harrowing."
"It's been difficult to describe in words what it's like [on Nauru]," she said. "People don't want to believe what's going on, people go 'that's unbelievable'."
A group of boys wearing backwards legionnaires hats poked their heads through the tent. Smiling, they scanned the room, looking into a sea of stern faces before realising that this wasn't the place they were looking for. They left.
Despite pressing from McDougall, Orner refused to go into detail about how she got the footage that makes up much of the film.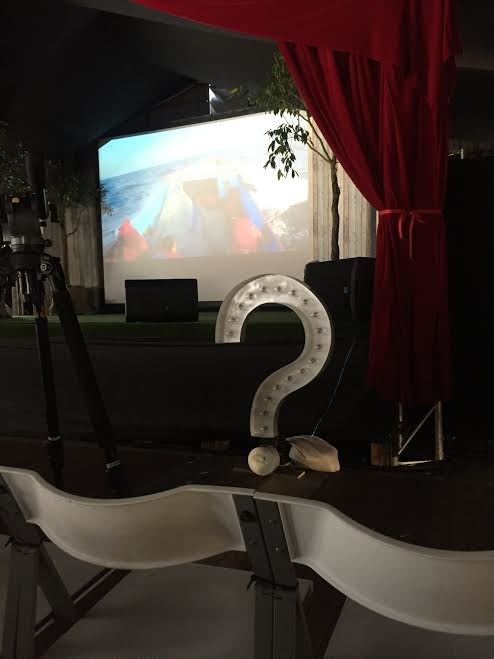 "I would love to tell you guys, but it's a crime," she said. "To think that in a democracy like Australia we can't show this, talk about it, or go there ... It tells me there's something vastly wrong."
Hanson-Young said Chasing Asylum shines a light on the "broken spin" surrounding Australia's detention camps in Nauru and Manus Island. "There's this spin that these camps are processing places... The reality is that that spin is well and truly gone, it's actually a deterrence policy. It is designed to treat these people terribly. They want to break people so they go home and tell others to never go to Australia."
"The reason the government isn't responding [to Chasing Asylum] is because they know it will just fuel the fire," Orner said.
Whistleblower Isaacs described what it was like to arrive on Nauru as a naive social worker.
"You arrive without qualifications, without training, without any ideas of what you would be seeing," he said. "There's no job description or goal. Then you get there and they ask you 'why are you here? How long are we here?' and you realise there's no answer you can give them."
Orner called on the audience to organise their own screenings of the film. "It's up to the public to demand better of our politicians," she said. "They don't want to talk about it."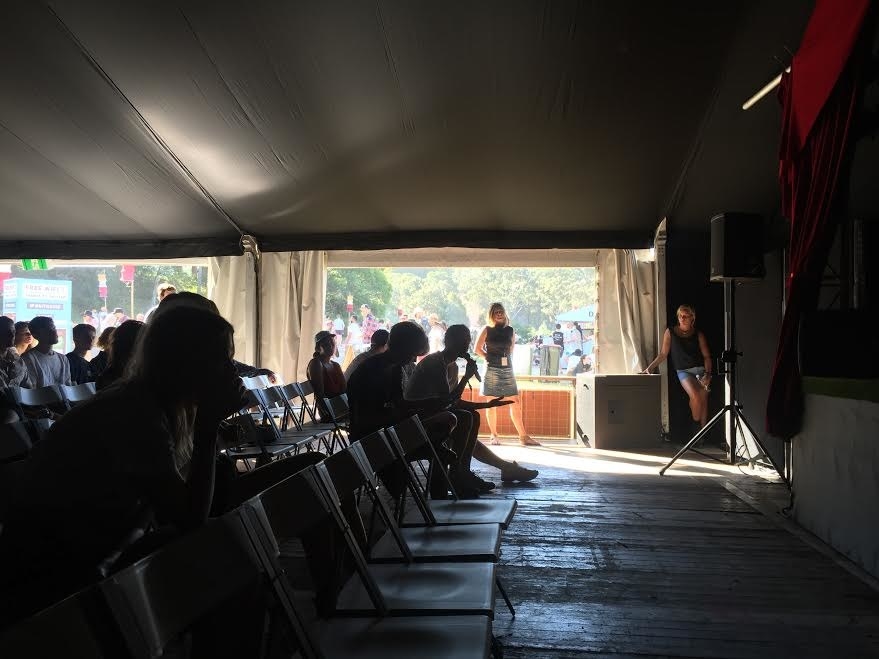 "The [refugees] that you see there, in the film ... they're still there," said Hanson-Young. "We have to give people an option other than a boat ... Border Force can't even stop asbestos getting into the country"

"Asbestos is white," joked McDougall to a smattering of laughter from the crowd.
"I do believe we can make change," said Orner, "but it has to start with people being honest. We are a little xenophobic, and I'm being polite there, and we do need to be honest about who we are."
Splendour in the Grass music festival is happening in Byron Bay, in northern New South Wales, this weekend.

"The Strokes don't play till 10:30pm," a girl said to her friends as we left the tent.