Australian actress Caitlin Stasey has written on Instagram about her own experience with the United States' Planned Parenthood program when she fell pregnant at 22.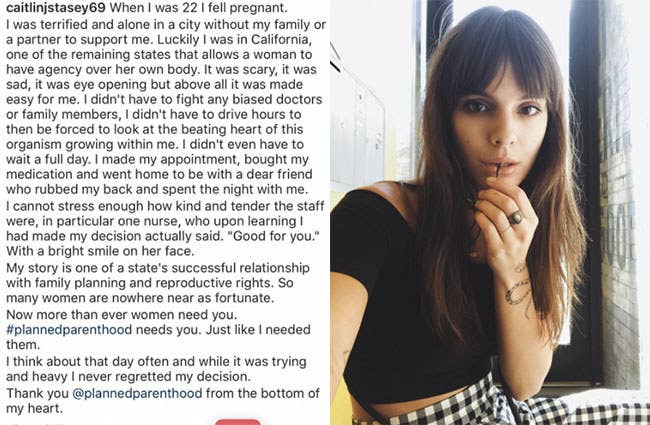 On the Instagram account of her partner, Lucas Neff, Stasey details how she dealt with isolation and fear, but also the solace she took from being a resident of California – a state that allows legal abortion.

"It was scary, it was sad, it was eye opening but above all it was made easy for me," she wrote. "I didn't have to fight any biased doctors or family members, I didn't have to drive hours to then be forced to look at the beating heart of this organism growing within me."
"I didn't even have to wait a full day."
Stasey told BuzzFeed News she hoped her message would encourage others to donate to Planned Parenthood.

Republican President-elect Donald Trump ran as an openly anti-abortion candidate, and his vice president, Mike Pence, is a strong critic of abortion. As governor of Indiana, Pence signed into law a ban on abortions for foetuses with Down Syndrome, which was deemed unconstitutional, and also required women to see an ultrasound of the foetus before they were allowed an abortion.

In March, Trump said there should be "some sort of punishment" for women who seek abortions. He retreated from the comment soon after, but during a presidential debate in October said late-term abortion allows doctors to "rip the baby out" of the womb up to a day before birth. Trump has also said he will appoint Supreme Court justices who will overturn Roe v. Wade to make abortion illegal in the US.
Planned Parenthood has assured the women of America it will stand by them during Trump's presidency.